The error code: 0x80070490 is triggered on various occasions and is quite common among Windows and Xbox users. Although this error does not halt the other processes but is still annoying as it does not allow you to update or upgrade Windows. In this article, we'll learn about fixing:
Windows error code 0x80070490
Xbox error code 0x80070490
Windows mail error code 0x80070490
You can refer to the corresponding section of the guide to resolve this error.
Part 1: How to Fix Windows Update Error 0x80070490?
When you try to update or upgrade Windows or install a new program from Windows Store, the Windows error code 0x80070490 appears due to registry corruption, corrupted system files in Component-Based Services (CBS) or System Component Store (SCS), a virus attack, or disabled system services.
When you encounter this error, a popup message appears, letting you know that the app or update failed to install, accompanied by the error code 0x80070490.
Now that you know the symptoms and causes of this error, let's proceed to its resolution. All the methods in this guide are tested and proven, so feel free to try them!
Solution 1: Use Windows Repair Tool
Easy and Quick
When facing an unknown error, using a Windows repair tool is best instead of applying complex fixes. PassFab FixUWin is a Windows repair tool that you can use to fix Windows error 0x80070490, as it has the capability to scan, diagnose and resolve 200+ Windows errors.
This incredible tool allows you to create a repair disk without accessing the faulty PC. It repairs your computer automatically with a few clicks and without compromising your privacy or data. You can use this outstanding repair tool as follows:
Download, install, and launch PassFab FixUWin on your computer.

Put a USB into a USB port and click Create boot disk now button to create a repair disk.

Wait until the repair disk is ready. Once done, reboot your system.

When the Windows logo appears, hit the boot key.

Switch to the Boot tab and set your repair USB on boot priority. Save changes and exit boot menu.

When the PassFab's interface appears, go to Solution Center and click Automated Repair.

You will be asked to restart the computer after the repair. Click Restart button to do so.

When your computer restarts, try installing the programs/update again, and you will not face error 0x80070490.
Solution 2: Use Windows Built-in Repair Tool (System File Checker)
As stated earlier, the Microsoft error code 0x80070490 is mainly caused by system file corruption. Therefore, you can try fixing it using the System File Checker (SFC), a Windows built-in tool that scans for damaged system files and replaces them with their healthy versions.
Step 1. Click the Start button, type CMD in the search box, right-click, and choose Run as Administrator.
Step 2. 'sfc /scannow' and hit Enter to execute the command and repair corrupted registry files.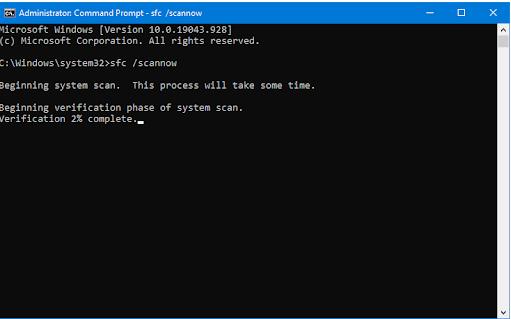 Step 3. (Optional): After scanning, if it shows a CBS corruption message, you need to run the DISM command as follows: 'DISM /Online /Cleanup-Image /RestoreHealth.'
Step 4. Press Windows + R key to open the Run dialog and type services.msc, hit Enter.
Step 5. Look for the Windows Update service, right-click, and choose Restart.
Step 6. Repeat Step 5 for Windows Module Installer.
Step 7. Update Windows again.
If the Windows update fails to install again, move to the next solution.
Solution 3: Resetting WU Components Manually
If SFC did not work, you can reset Windows Update Components manually as follows:
Step 1. Click Start button and launch Command Prompt as administrator.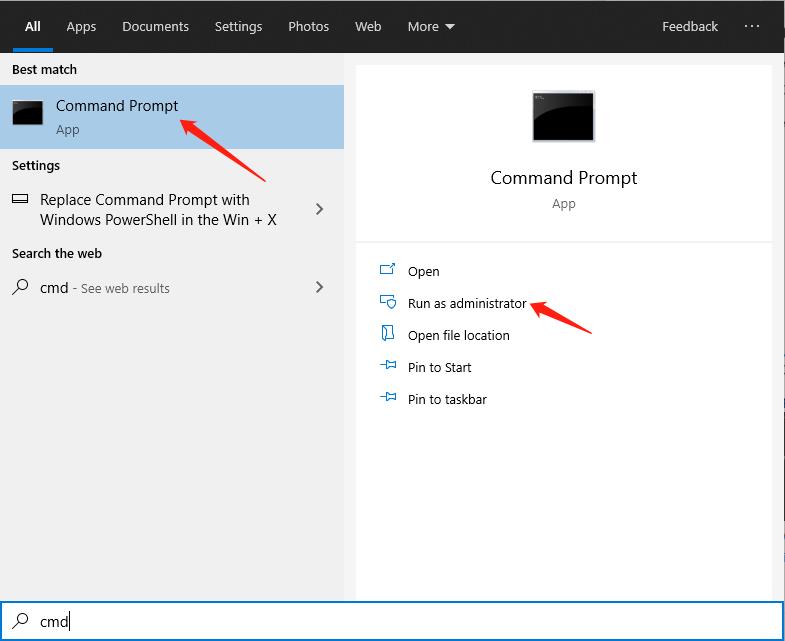 Step 2. Stop BITS, Cryptographic, MSI Installer, and Windows Update services by running the following commands respectively:
net stop wuauserv
net stop cryptSvc
net stop bits
net stop msiserver
Step 3. Now, rename the Catroot and SoftwareDistribution folders as follows:
ren C:\Windows\SoftwareDistribution SoftwareDistribution.old
ren C:\Windows\System32\catroot2 Catroot2.old
Step 4. Finally, restart the services by running the given commands individually:
net start wuauserv
net start cryptSvc
net start bits
net start msiserver
Step 5. Close Command Prompt and perform the Windows update once again.
Solution 4: Perform System Restore
System Restore is another recovery tool that rolls your system back to a certain restore point. This tool comes in handy when the problem occurs after installing a new update or software or changing system settings. However, it is applicable only if you have a restore point.
Step 1: Press Windows + R keys to launch Run dialog, type 'rstrui,' and hit Enter.
Step 2: Click Next, choose a restore point before the problem occurrence, and hit Next again.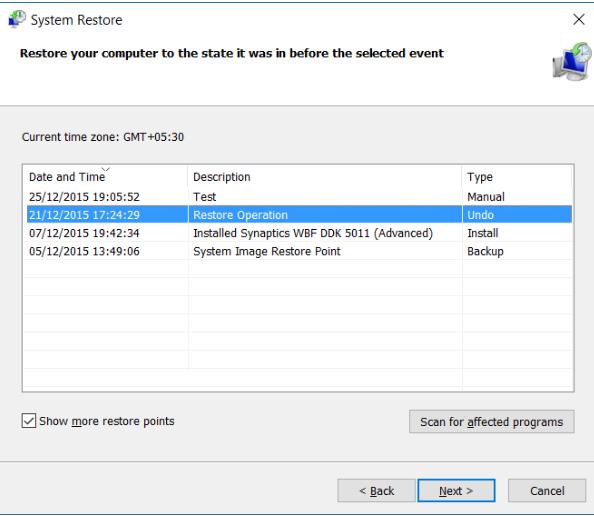 Step 3: Click Finish and then Yes to confirm the action.
Step 4: Wait for your system to be restored. Once done, check if Windows Update still fails.
Part 2: How to Fix Xbox Error Code 0x80070490?
Are you trying to play a game on Xbox but facing Xbox error code 0x80070490? If yes, there's nothing to worry about. You can fix this issue easily after identifying its cause.
This error is mostly triggered when connecting Xbox One to Windows or Xbox Live service outages. The other causes include weak or no Internet connection, faulty Xbox servers, Xbox Live account errors, outdated Xbox applications, or faulty hardware.
Whatever the reason, you can try resolving the error with the help of the following fixes:
Solution 1: Ensure You are Connected to the Internet
The first thing you should check in such a situation is your Internet connection and speed. To do this, connect your system directly to Ethernet or restart your modem.
Solution 2: Restart Xbox Console
You can also try restarting your Xbox console by turning it off and plugging it out of the power source. Now, wait for 10 or more seconds and restart your Xbox. Hopefully, it will resolve the issue.
Solution 3: Check Xbox Live Service
If there is any outage in the Xbox Live service, it causes error 0x80070490. Therefore, you can check Xbox service status by visiting the Xbox Live Status website or official social media accounts.
Solution 4: Reset Xbox Cache
Clearing the Xbox Cache can help if the corrupted data is causing the 0x80070490.
Step 1. Hit the Xbox button on the controller to access the guide.
Step 2: Go to Profile and System -> Settings -> System -> Storage -> Clear local games and apps.
Step 3: Choose Clear All.
Solution 5: Factory Restore Xbox Console
Performing a factory restore is your last option if all the above solutions fail to eliminate the error. You can factory reset the Xbox Console as follows:
Tips:
Note: This will remove all the data. Therefore, it is recommended to back up anything important.
Step 1: Open Settings -> System -> Console Info -> Reset Console.
Step 2: Choose 'Reset & keep my games and apps' or 'Reset and remove everything' based on your preference.
Part 3: How to Fix Windows Mail Error Code 0x80070490?
While attempting to add a Gmail account in the Windows Mail app, many users face the error 0x80070490. When encountering this error, you see a popup message stating, 'Something went wrong, we couldn't find your settings. Error code: 0x80070490'.
Various reasons, including outdated applications, corrupted Mail app, and privacy settings, cause the error code in Mail. Knowing this, we can proceed with the solutions to this error.
Solution 1: Change your Privacy Settings
Check your privacy settings to ensure that the applications installed in your system are privileged to access your email. If Mail and Calendar do not have permission to access your email, you will face Windows Mail error code 0x80070490.
Step 1:Launch Settings app by pressing Win + I keys.
Step 2:Go to Privacy and Security, and switch to Email.
Step 3:Toggle the switch in front of Mail and Calendar to allow them to access your email.
Solution 2: Install Mail and Calendar Updates
If you haven't updated Mail and Calendar app for a long, it might start creating strange issues without any obvious reasons. It is recommended to update the applications as soon as the updates are available.
Step 1: Open Microsoft Store and click on Library.
Step 2: Click on the Get updates button to get the latest updates for all applications.
Step 3: Now, click Update button to install the updates.
Solution 3: Repair Mail and Calendar
Repairing is a utility provided by Windows to repair any application locally on the Windows system. Here is how you can repair Mail and Calendar:
Step 1:Open Settings -> Apps -> Apps and Features.
Step 2:Go to Mail and Calendar -> Advanced options -> Repair.
Solution 4: Reset Mail and Calendar App
Resetting the Mail and Calendar will remove any custom settings.
Step 1: Open Settings -> Apps and Features.
Step 2: Look for Mail and Calendar, click Advanced Options link, and choose Reset.
Solution 5: Fresh Install Mail and Calendar
You can also try fresh installing the Mail and Calendar app if resetting it didn't work.
Step 1: Open Windows PowerShell (Admin) by right-clicking the Start button.
Step 2: Run the following commands to uninstall the app:
Get-AppxPackage Microsoft.windowscommunicationsapps | Remove-AppxPackage
Step 3: Visit Microsoft Store and reinstall Mail and Calendar from there.
Final Verdict
The error code 0x80070490 can occur on different occasions, such as while updating Windows, using Xbox, or integrating Gmail with Mail for Windows. This article proposes the best ways to fix this error in each situation.