Let's say you are in the middle of documenting a critical project. And all of sudden, your laptop fails to follow your instructions and rest numb. What'd you do now? Why is your keyboard not working after you installed the windows 10 update? Is it due to hardware failure or a bug in the software? DON'T WORRY. Whatever the issue is, we have got your back. In this article, we will quickly guide you through the best solutions for Windows 10 keyboard not working problem. So, let's begin.
Part 1: Why Is Keyboard Not Working in Windows 10?
Your Keyboard may stop working because of the following reasons:
Your keyboard hardware faulty
The connections between your keyboard and your PC stop working, and your USB may not work as expected
Missing or corrupted keyboard driver
Software conflicts
Your keyboard settings
Part 2: Solutions for Windows 10 Keyboard Not Working
Method 1: Connect Your Keyboard to Another Computer to Identify Your Problem
Let's first identify the actual cause of the issue to know what exactly it is that needs to be fixed. All the laptop problems, including windows 10 keyboard not working issue, can be due to 2 reasons. It can either be due to a damaged hardware or any corruption in the software.
To identify the hardware issues, you can restart your computer and press F2, F8, F12, or Delete to enter the BIOS interface. Now, if you are unable to boot your system to BIOS, it's the hardware issue. For this, you'll have to rush to a professional system specialist. However, if you smoothly landed on the BIOS and all the arrow keys are working fine, then my friend, it's the SOFTWARE that needs to be fixed.
Alternatively, if you are using a desktop PC, you connect your keyboard to another PC. If your keyboard works well on another PC, you will know the problem lies in the software. So, in case of hardware issues, you simply have to replace the hardware or get it repaired by an expert. Alternatively, if the issue is with your software, you need to jump to the next methods quickly.
Method 2: Disable Filter Keys
In Microsoft Windows, filter keys is an accessibility option that lets the keyboard ignore the repeated strokes of the user. Filter keys on your windows 10 laptop may also be one of the causes of KEYBOARD NOT WORKING issues. To disable the filter keys option, follow the steps mentioned below:
1. Click the Action Center present in the lower-right corner of your desktop screen. Then, select All Settings.
2. Now, Click on Ease of Access option in windows setting menu.
3. Now, Click on Keyboard in the menu.
4. Scroll down the menu. If the "filters keys" toggle is ON, turn it OFF, and it will resolve the stubborn "keyboard not working" issue on your windows 10.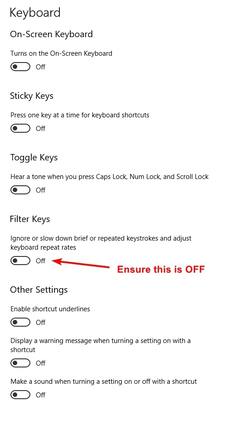 Method 3: Update Your Keyboard Driver
Windows 10 is equipped with an automatic driver update feature. However, there are times you need to update the device drivers manually. Therefore, if your keyboard is not working, it may start working after you update drivers manually on windows 10.
You have two methods to update your drivers. You can either download the drivers manually or use an automatic driver update tool available on the internet. Let's take a look at both of them.
Option 1- Manual Update
To manually install the driver updates, you need to refer to the Microsoft website. Here, download the updates for your laptop manually to fix the "keyboard not working" issue. For this, you can either attach a USB keyboard to your laptop or use an on-screen keyboard, if you have a touchscreen feature. Other than that, you can download the keyboard updates on another laptop and then transfer it to your laptop. Typically, this is way too time-consuming and tiresome.
Option 2- Automatic Update
Manual updates require lots of time and energy. Alternatively, you can opt for an automatic driver update tool to avoid this tiresome process. One such easy-to-use tool is Driver Easy. It automatically downloads the CORRECT drivers necessary for your keyboard as well as USB ports. You don't have to fret about searching the exact cause or risk downloading the wrong drivers. Driver Easy comes in 2 versions; the free and the PRO version. However, PRO version is quicker and will resolve your driver issue in just 2 clicks. Moreover, it comes with a 30-day money-back guarantee clause. Let's see how to use Driver Easy in some simple steps:
1. First, download Driver Easy and install it on your PC.
2. Next, you need to run the software and click Scan Now. It will automatically scan your PC for potential driver problems.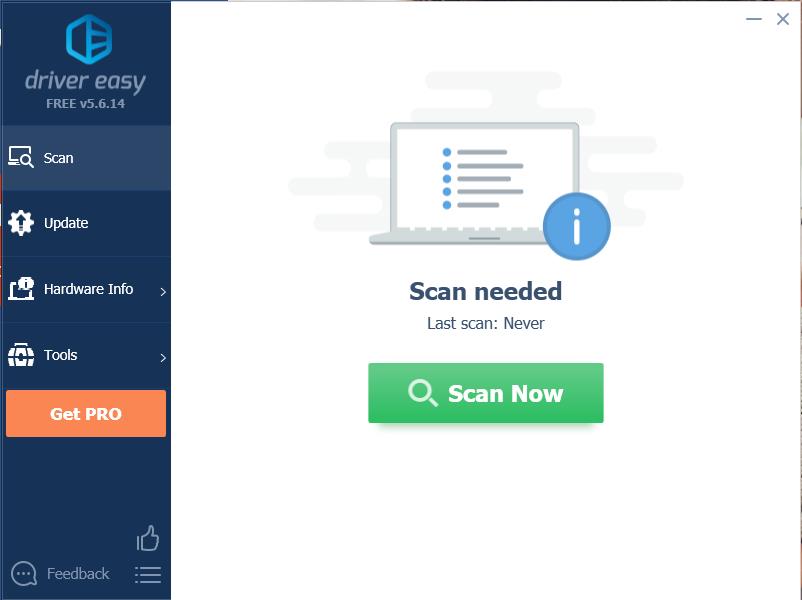 3. Driver Easy will show you a list of out-dated devices on-screen. Click Update next to keyboard device option or any device that you want to update. On the contrary, you can click Update All to automatically install updates for all of your out-dated drivers. However, to automatically update all available drivers, you will be directed to the upgrade subscription window. That's because the Update All feature is a part of their PRO version.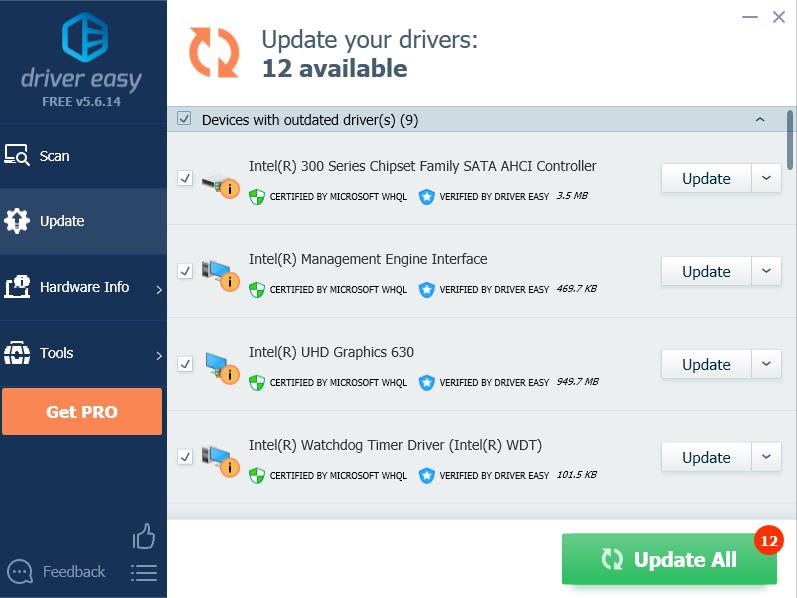 Method 4: Uncheck Allow the Computer to Turn Off this Device to Save Power
If all the above techniques fail and you are still questioning, "why is your keyboard not working", you can try to disable the power settings on your Windows 10 laptop. Check the steps below to disable the power management setting.
1. Go to Device Manager by pressing Windows + X keys.
2. In the device manager, expand the Universal Serial Bus Controllers menu.
3. Double-click the USB option. It can be "USB Root Hub" or Generic Generic USB Hub.
4. Then, move to Power Management tab.
5. Here, uncheck the box "Allow the computer to turn off this device to save power" and click OK.


6. Finally, restart your laptop.
Summary
A computer or laptop without keyboard is of no use. It is really not bearable if the keyboard stops working amid a critical task. You just stare at the screen to see all your stroking go in vain. We have compiled the best 4 windows 10 keyboard not working solutions. I hope you have been able to resolve your issue regarding keyboard not working after update in Windows 10. In case you forgot the password for your Windows in hassle, you can try a fantastic, easy-to-use tool called PassFab 4Winkey. It will help you remove, reset, or even bypass the windows password without any hassle.