Does your HP laptop screen goes black randomly? Are you facing an HP laptop screen black error? You are not alone. Many Hp users have reported encountering this error on various occasions, such as:
HP laptop black screen with cursor on startup
HP laptop black screen with a cursor before login
HP laptop black screen with cursor after login Windows 7/8/10/11
HP laptop black screen after update
HP laptop screen goes black while working
It can be caused by a corrupted graphics driver, outdated BIOS, faulty RAM, corrupted system files, or a hardware problem. But we gather some proven fixes from Hp community and Microsoft Community to get rid of it.
Part 1: How to Fix HP Laptop Black Screen with Cursor in Different Scenes?
Fixing the black screen errors is quite simple if you know the potential culprit. Here are the best ways to resolve HP Envy laptop black screen with cursor Windows 10 in different scenarios:
Scenario 1: HP Laptop Black Screen With Cursor After Login
1. Check for Background Processes
Too many background processes running on your system can cause the HP laptop screen issues, as your system can get overheated and malfunction. So, you can use Task Manager to see all the processes and terminate any unnecessary program(s):
Step 1: Open the Task Manager by pressing CTRL + SHIFT + ESC keys together.
Step 2: Look for the programs you think are unnecessary in the Processes tab.
Step 3: Select each program at a time and terminate it by clicking the End task button on the lower-right corner of the screen.
2. Restart the explorer.exe Process
The explorer.exe is a system process that manages the desktop, taskbar, and other related things. If this process crashes or freezes, you may face an HP laptop black screen with cursor Windows 10 after login. Here is how you can restart this process to abolish error:
Step 1: Hit the CTRL + SHIFT + ESC keys to open the Task Manager.
Step 2: Switch to Details tab and search for explorer.exe.
Step 3: Choose the process once found and hit End task.
Step 4: Reboot the computer to restart the process.
Hopefully, the black screen error will be resolved after this.
3. Update the Graphics Driver
The Graphics driver is a program that handles all the graphics-related tasks and works with the OS to display output on your screen. If this driver is not up-to-date, it can cause display issues. You can update the graphics driver easily as follows:
Step 1: Open the Device Manager by typing in the Search box.
Step 2: Look for the Graphics Adapters and right-click on the driver.
Step 3: Choose Update driver and let the system automatically look for the driver software.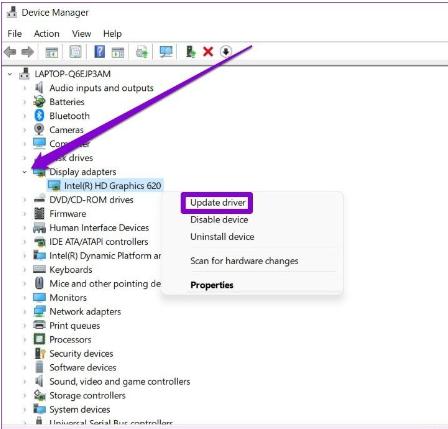 After updating the graphics driver, you will no longer face HP Envy laptop screen issues.
Scenario 2: HP Laptop Black Screen With Cursor Before Login:
1. Check External Devices
If the issue appeared after you connected an external device to your computer, the device might be interrupting system routines and causing the problem. So, the easiest fix is to detach all the external devices. Now, restart your PC.
If no error occurs, it shows that one or more of your external devices are causing the issue. Identify the faulty device by connecting one device at a time and restarting your computer.
2. Perform a Hard Reset
A hard reset usually resolves Windows errors. Following are the steps to perform hard reset:
Step 1: Turn off your computer and remove all the power sources (AC Adapter, Battery, Power cable).
Step 2: Press and hold the Power button for 20 to 30 seconds to drain the remaining power.
Step 3: Reattach the power source and turn on your PC.
Your HP laptop will boot normally and show no black screen errors.
3. Try Safe Mode
Safe mode helps you diagnose and troubleshoot Windows errors by launching only essential drivers and tools. When your PC boots into this mode, it stops all the unnecessary background processes and startup programs. You can enable the Safe mode by following the steps below:
Step 1: Turn off your PC by pressing and holding the Power button for 10 seconds.
Step 2: Hold the Power button again for 10 seconds when the Windows logo appears. Repeat this unless Windows Recovery Environment (WinRE) launches.
Step 3: Under WinRE, choose Troubleshoot->Advanced options.
Step 4: Go to Startup Settings and choose Restart.
Step 5: Press 5 or F5 key to boot your system in Safe mode.
If your system boots successfully, it indicates a problem with third-party software or malware.
Scenario 3: HP Laptop Black Screen With Cursor – Other Unusual Situations
1. Run System Restore
If you face an HP laptop black screen with cursor after update, the update files might be corrupted, and you may need to undo all the recent changes. To do so, you can restore your system to a restore point.
Please note that this solution only applies if you have certain restore points. Here are the steps to restore the changes:
Step 1: Restart your computer and press the F11 key multiple times unless the Choose an option screen appears.
Step 2: Choose Troubleshoot->Advanced options->System Restore and choose your user account.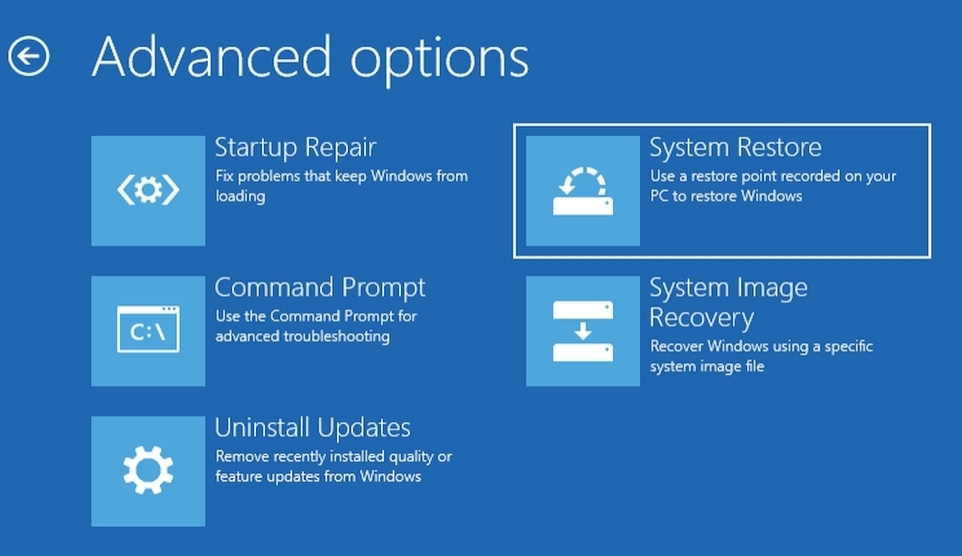 Step 3: Choose a restore point, hit Next.
Step 4: Click Finish button to start restoring.
2. Perform a System Repair
System repair is a built-in utility to troubleshoot Windows errors automatically. You can access this tool in Windows Recovery Environment as follows:
Step 1: Press the F11 key several times unless you enter Windows Recovery Environment (WindRE).
Step 2: Click Troubleshoot->Advanced options and click Startup Repair.
Step 3: Wait for the Windows to diagnose and resolve the issue.
Hopefully, your computer will not show an HP Envy laptop black screen on startup with cursor again.
Part 2: The Easy and Quick Solution for Various Scenes of HP Laptop Screen is Black
If you tired of trying various methods above, you can try the specific Winodws black screen repair tool, PassFab FixUWin. It is a comprehensive tool designed to scan your computer for corrupt system files, automatically replacing them with their healthier versions. This utility can fix a range of Windows errors, including blue/black screens, boot loops, and restart loops. Its professional interface ensures user-friendly troubleshooting.
Install PassFab FixUWin on another PC, put in USB, and hit Create boot disk now button.
Choose your USB drive and click Next.

Wait for the program to burn boot instructions on your USB. Once ready, switch to a problematic PC.

Boot your computer through a bootable USB.
Click Automated Repair.
Click Start Repair and then Restart to reboot your computer.
When your PC undergoes PassFab's repair process and restarts, the black screen error on Hp will not occur again.
Conclusion
Many users face black screen errors in Windows systems. Some report it occurring while using the computer, while others say it occurred before or after login.
This guide has described the 9 best ways to fix anHP laptop black screen with cursor Windows 7/8/10/11. Out of all the workarounds, the most recommended is PassFab FixUWin due to its convenience and ease of use.