While trying to boot your computer, you may sometimes see a message on the screen stating that the boot device not found. The error sounds somewhat terrifying as you cannot start your computer if it does not find a bootable device. Many people panic in this situation and end up buying new hardware or spending 100s of dollars repairing their computer. However, in this article, you will learn about the best fixes for the "no bootable device Windows 10" error in Dell. The methods proposed in this article also apply to PC brands other than Dell.
Part 1: What is Boot Device?
A storage device with boot instructions and settings required to start the computer is called a boot device. It can be a hard disk, CD/DVD, Floppy disk, USB, Flash Drive, etc. A computer needs a bootable device to start functioning. The most commonly used bootable drive is a hard drive in which the operating system is stored and contains drivers required to load boot instructions into computer memory.
You need a boot device when you start the computer. It is also known as Bootable Media.
Part 2: What does "No bootable device" Mean?
The computer contains a software called BIOS that helps the computer startup. It does not require any operating system. When the computer starts, it looks for a bootable media to load the operating system. When it fails to locate any boot device or if the system files in the bootable device are damaged or not found, it shows a black screen having a message stating "no bootable device".
Part 3: What Causes No Bootable Device Windows 10 Error?
When your computer fails to find a device from which it can load the system files and other data required to start the computer, it shows no boot device found Windows 10 error. However, here are some reasons why you may face this error.
You may face this error when you insert an unbootable media into the computer and set it on priority in the boot order in BIOS settings. The device that contains the operating system must be on boot priority,
If your hard drive gets damaged, the computer fails to locate it.
Corrupt system files
Virus or malware
Damaged motherboard
Part 4: How to Fix Boot Device Not Found Windows 10?
If you are facing no boot device found dell laptop problem, you can try fixing it by following the ways given below.
Method 1: Remove and Reconnect Peripherals
The first thing that you should try in an attempt to resolve the Windows error is removing and reconnecting all the hardware components in your computer. First, shut down your computer, remove the power cable, and disconnect any external hardware such as the keyboard, mouse, hard disk, USB, CD, etc. Leave it for a minute and reconnect all devices. Make sure everything is plugged into the ports properly. Now, restart your computer. If you still see the same error, try out the next method.
Method 2: Fix Corrupt MBR
One of the common causes behind the no boot device available dell error in Windows 10 is a corrupt MBR (Master Boot Record) of your system drive. You can fix the corrupt MBR as follows:
Step 1. Plug Windows Installation Media into your computer and start it.
Step 2. Choose a language and region and click Next.
Step 3. Click on the repair your computer link on Install now screen.
Step 4. Choose Troubleshoot and then Command Prompt from Advanced options.
Step 5. Now, type the following commands one by one and press Enter after each:
Step 6. Exit the Command Prompt and restart the computer by removing Installation Media.
If corrupt MBR were causing the issue you are facing, it would surely be fixed.
Method 3: Set your Hard Drive on Boot Priority in Boot Settings
If you accidentally or intentionally changed the boot order and set any device on priority, it may be the cause of the no bootable device Windows 10 error. Here is how you can set your hard drive on boot priority.
Step 1. Restart your computer and press the DEL key to enter BIOS setup.
Step 2. Switch to the Boot tab and move your hard drive on top by pressing the + key.
Step 3. Press the F10 key to save settings and exit the BIOS settings.
Your computer will restart automatically if the issue is resolved, or it will show the same error again.
Method 4: Smart Repair by PassFab FixUWin
Hot
This fix is for you if you are looking for a smart and efficient way to eliminate a boot device not found error! PassFab FixUWin is a Windows repair tool that rescues you from getting stuck on a boot loop, a blue or black screen error, any booting error, etc. The best thing about it is that it automatically scans your disk for any damaged or corrupt files and replaces them. Its accuracy and versatility allow you to resolve any PC issue within a few clicks and in minimum time. Here is how you can use this outstanding tool to resolve the issue:
Download and install PassFab FixUWin on any accessible computer.
Run it and insert a USB into the computer. Click on Create boot disk now button.
Switch to the faulty PC and insert the bootable USB after burning successfully.
Restart the computer, press the boot key, and set bootable USB on priority and hit Enter.

When the computer restarts, you will see PassFab FixUWin's interface.

Click Automated Repair. PassFab Fixuwin will scan and diagnosis your computer and fix it automatically.
Click Restart to reboot your computer.

Now, the amazing Windows repair tool PassFab FixUWn will have repaired your computer, and you will no longer see any problem while booting.
Method 5: Use System Restore
If you recently installed a new software that you doubt could be the culprit behind the problem, you can revert your Windows to a restore point as follows.
Step 1. Enable Safe mode and restart Windows.
Step 2. Open Control Panel, go to Recovery and click the Open System Restore link.
Step 3. Select a Restore point, click Next.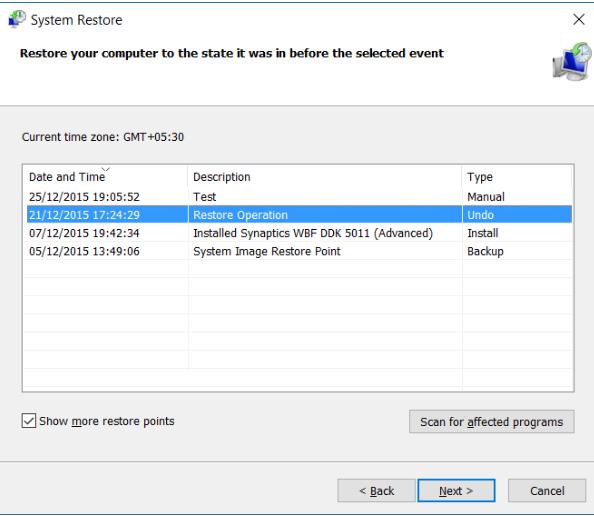 Step 4 Follow the instructions on the screen to complete the operation.
Now, after performing a restore, your computer will restart automatically. Please note that you may lose some applications and software by performing a system restore.
Method 6: Check the Internal Status of the Hard Disk
If the internal hard disk of your computer gets damaged or corrupted, you may see a boot device not found error. So, to ensure that there is no problem with your hard disk, run the CHKDSK command.
Step 1. Start computer with Windows Installation Media.
Step 2. Click on Repair your computer link and follow the path: Troubleshoot -> Advanced options -> Command Prompt.
Step 3. Type chkdsk c: /f /x /r and hit Enter key.

Step 4. Let the command complete and restart your PC.
If there were any problematic files on the hard disk, they would automatically be fixed by running the above command.
Method 7: Activate the Primary Partition
Your hard disk has a separate partition called the primary partition that stores the operating system. If that partition is inactive, the processor fails to load the operating system from there, notifying Dell that no boot device is available.
Step 1. Boot your computer from Windows Installation Media and click Repair your computer link.
Step 2. Click Troubleshoot -> Advanced options and open Command Prompt.Step 3: Type list disk and hit Enter.
Step 4. Type Select disk 0, press Enter.
Step 5. Now type list partition, and press Enter.
Step 6. Type Select partition 1. Hit Enter.
Step 7. Finally, type active and press Enter.
Step 8. Restart your PC.
Now that you have set the primary partition as active, you should no longer see the no boot device found Windows 10 error.
Method 8: Replace Hard Disk
If none of the above solutions worked for no boot device found Dell laptop error, it is time to replace your hard disk. Unfortunately, something has completely damaged your hard drive, and all the data stored on it is gone.
FAQs
1. Is it possible to have a bootable hard disk and still get a bootable device not found error?
Yes, if the bootable device you are using is damaged, contains corrupted files, or the boot order is not set to boot from this device, you may get a bootable device not found error.
2. Can I fix the no boot device available Dell error myself?
Yes, you can try different ways to fix the issue before visiting a repair shop, and you may succeed in resolving the issue yourself. However, it is not recommended for those who do not have much knowledge about how computers work.
3. What is the best way to fix the said issue?
The best yet most recommended way to fix the no bootable device found Windows 10 is by using a third-party tool such as PassFab FixUWin.
Conclusion
Boot issues are the worst problem you face with your computer, and these problems are quite ambiguous as they can happen for various reasons. In this article, we have addressed the no boot device available Dell error.And the best fix to this error is using PassFab Fixuwin as its poweful function and no need to find the problem manually.