When your Windows PC shows a Blue screen error, it means that some critical error is causing it. If you do not resolve it, your computer may not remain operational. So, you should always pay attention to the error message displayed on the BSoD with its stop code. The ntoskrnl.exe BSoD is a common BSoD error that appears when the Windows kernel executable fails to load. If you are facing this issue, you will find the best solutions to resolve Ntoskrnl.exe Blue Screen error.
Part 1: What is "ntoskrnl.exe" process? Is it safe?
A part of the Windows operating system critical for using and starting up the computer, especially for connecting computer hardware and software components, is ntoskrnl.exe. It is 100% safe as it is a process of Windows OS, and if there are any issues with this part of the OS, your computer stops working.
The kernel is a small piece of OS loaded into the memory and controls the components like CPU and GPU when you perform an action.
This process is also known as "Windows NT Operating System Kernel Executive" and is required for accessing PC hardware and managing memory.
Part 2: What's the Symptoms of ntoskernel BSoD Error?
When there is any problem with your computer, you can identify it by the symptoms your computer shows. The symptoms of the blue screen ntoskrnl.exe Error include the following.
System reboots randomly
PC being slow
High CPU usage
Overheating
Part 3: What may cause the ntoskrnl.exe BSoD error?
Behind many PC errors, there is not one culprit; instead, a variety of factors can cause a particular error. Here are some common reasons behind the ntoskrnl.exe blue screen.
Outdated or corrupt device drivers
Damaged RAM
Low memory
Overclocked devices
Corrupt or damaged system files
Part 4: How to Fix ntoskrnl.exe Error?
Fix 1: Check your RAM
Damaged RAM is the most common culprit behind ntoskrnl.exe error. Hence you should check for its integrity first using the Windows memory diagnostics tool as follows.
Step 1: Open the Start menu and search memory to open Windows Memory Diagnostics Tool.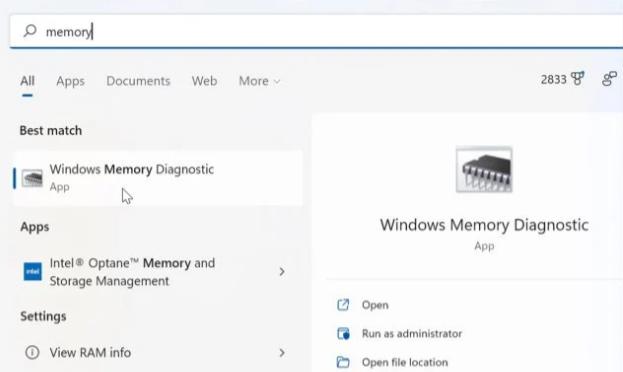 Step 2: Click on Restart now and check for the problems (recommended) link.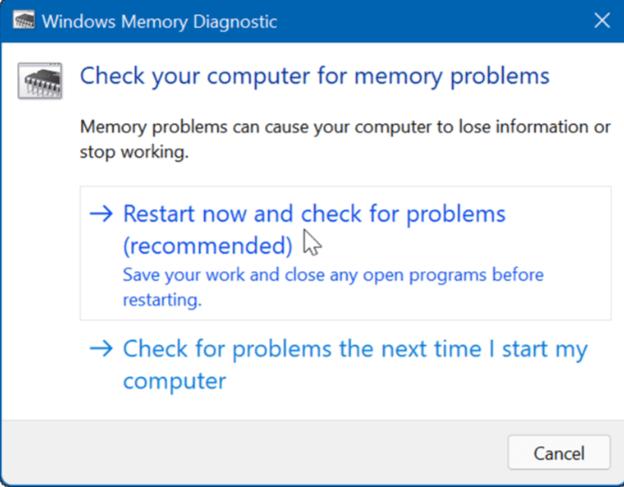 Step 3: Let your computer restarts and reboot into the memory diagnostics tool to check for issues.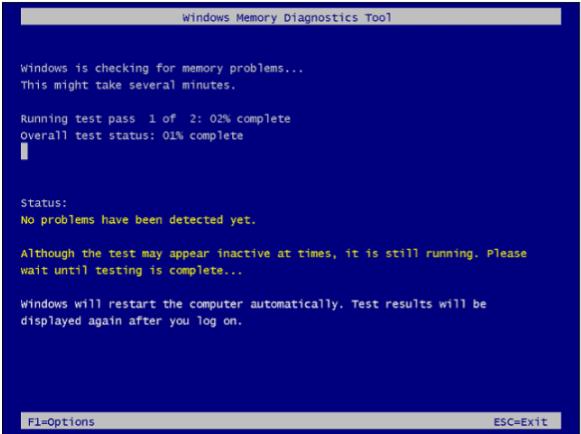 If the scan displays any issues with RAM, you may need to replace it.
Many blue screen errors occur due to damaged or corrupt system files, and ntoskernel is one of them. So, if you are facing this error for the same reason, the best way to fix it is by PassFab FixUWin.
PassFab FixUWin is an amazing suite designed to resolve Windows errors in just a few clicks. It is a simple tool that automatically detects corrupt files and repairs them. With complete confidence, you can use it to resolve any blue/black screen error, PC crashing problems, memory issues, etc. Here is how you can use it after installing it on any other PC accessible to you.
Launch PassFab FixUWin and click Create boot disk now.
Insert a USB, choose it from the list and click Next.
Now, switch to the faulty PC and plug the bootable USB into it.
Restart the computer, press the boot key, set your USB on priority, and reboot the PC.
Click Automated Repair.
Click Restart to reboot your computer.

When your computer restarts now, you will no longer face the ntoskrnl.exe blue screen error.
Fix 3: Fix Corrupted File With SFC Command
The System File Check command is used to check for corrupt system files in the Windows operating system. You can detect damaged files and perform the required actions to repair them. Here is how you can use it to resolve the ntoskrnl.exe blue screen error.
Step 1: Open Command Prompt (Admin).
Step 2: Type sfc /scannow, press Enter.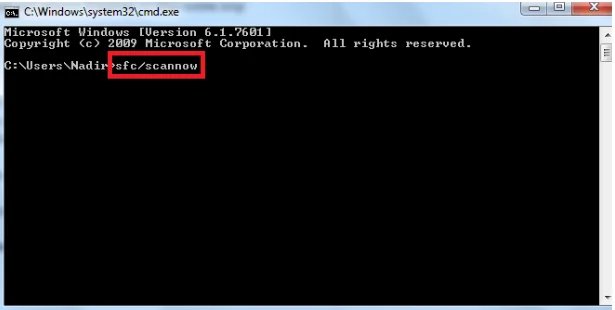 The scan will start automatically. It will also repair any damaged files. Let it complete, and restart your computer afterward.
Fix 4: Fix Corrupted File with DISM Command
Another command to fix damaged files is the DISM command. Like SFC, it scans for corrupt files and replaces them if found. The only difference is that SFC only checks the system files, whereas the DISM scans faulty files in Windows System Image. Here is how to use the DISM command to repair the ntoskrnl.exe blue screen issue.
Step 1: Open Command Prompt (Admin).
Step 2: Type DISM /online /Cleanup-Image /RestoreHealth. Hit Enter.

Again, let the scan complete. If it finds any issue, it will resolve it, and you can then restart your computer.
Fix 5: Reset Overclocking Settings for your Devices
Overclocking is a way of speeding up your hardware devices beyond the limits specified by their manufacturers. If you have overclocked any of your devices, it may cause overheating, system crashes, and even a ntoskrnl.exe blue screen error. So to reset the device settings to default, you can use third-party software or the BIOS/UEFI settings. The process may vary from device to device or operating system to operating system.
Fix 6: Update Device Drivers
Any outdated device driver can cause the ntoskrnl.exe BSoD. If you have any pending updates for any device driver, you can install it as follows.
Step 1: Open the Start menu and search Device Manager; open it.
Step 2: Right-click on the device driver that needs to be updated and click Update driver.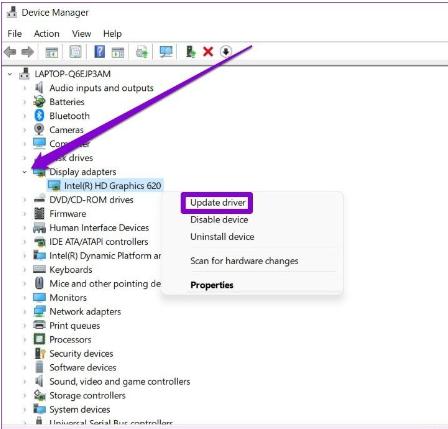 Step 3: Select the option as shown in the following image.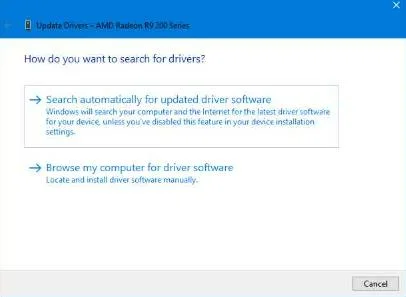 The system will automatically download and install the missing driver update on your computer. Now, you can ensure that the issue is fixed by restarting your computer.
Fix 7: Perform System Restore
Another fix that you can try to resolve the ntoskrnl.exe error is by performing a system restore. You will need Windows Installation Media to work through this process. Once you get access to it, follow the following steps to proceed.
Step 1: Boot PC with Windows Installation Media.
Step 2: Click on Repair your computer link and then go to Advanced Options.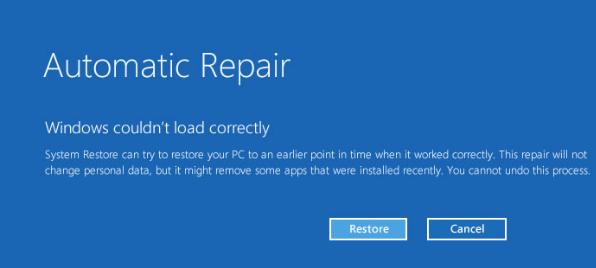 Step 3: Navigate through Troubleshoot -> Advanced Options -> System Restore.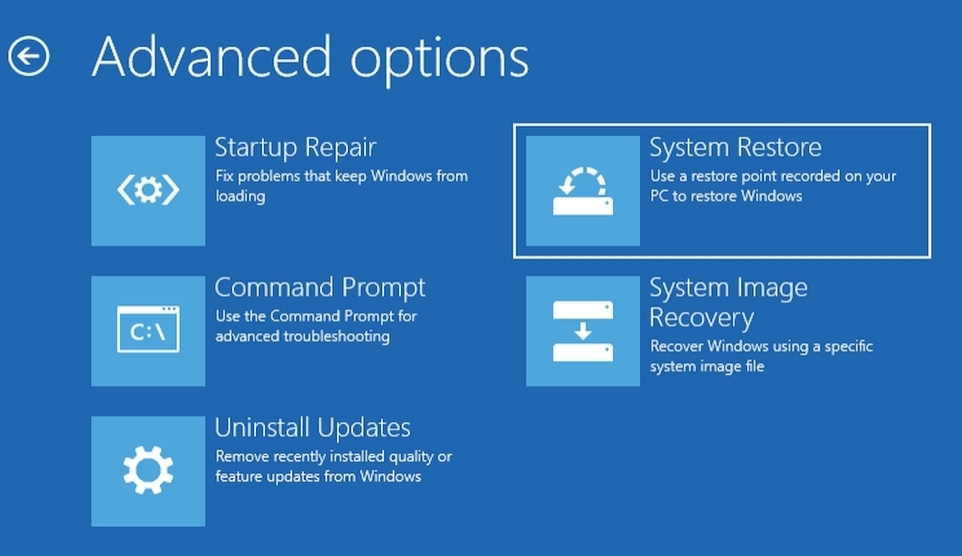 Step 4: Click Next when you see the following screen.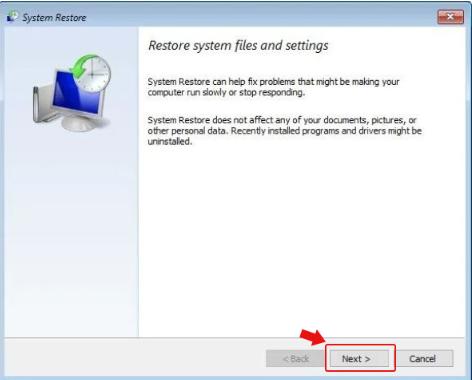 Step 5: Now choose a restore point (if any).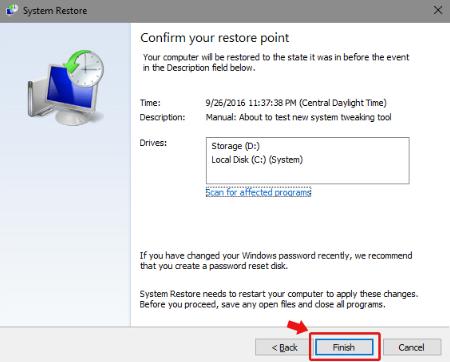 Step 6: Click Next and then Finish to start the restore process.
After the restore completes, you will revert to the previous version of Windows, and all the recently made changes will be gone.
Tips:
The biggest drawback of this method is that you may lose data during this process. However, if you are facing such an issue, there is nothing to worry about!
PassFab FixUWin's Data Recovery feature will help you recover all your lost data. It will scan for all the recently deleted files and folders and let you choose which files to restore and which to delete permanently. This tool comes in handy when critical data gets deleted due to an error or the system restore.
Fix 8: Reset Overclocking Settings to Default
You can reset any overclocked device to its factory default settings by following the steps given below.
Step 1: Restart your computer and press the corresponding key to enter the BIOS settings.
Note: The BIOS key differs from PC to PC.
Step 2: Now navigate to the Exit menu, and with the help of the arrow keys, move to the Load Setup Defaults option.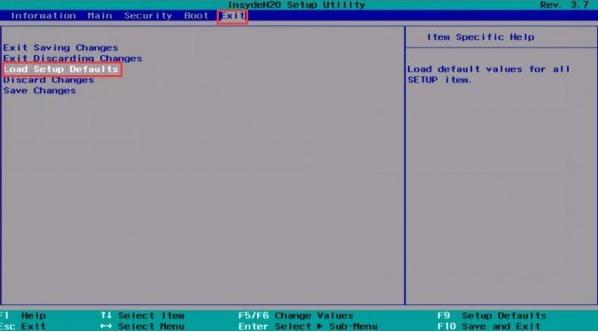 Step 3: Press Enter and confirm the operation by pressing the 'y' key.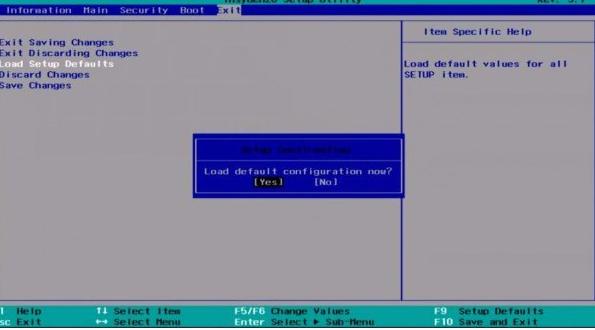 Step 4: Save settings and exit the BIOS setup.
Your computer will restart, and you can check whether the issue is gone. The performance of your computer may decrease after resetting the overclocked devices to their default settings.
Conclusion
The ntoskrnl.exe blue screen error is faced by many Windows users worldwide, and many people end up losing data or selling their computers, thinking that this error is unresolvable. However, this article has defined different ways to get rid of the blue screen ntoskrnl.exe Windows 10. You can follow any method, but the best yet most recommended way is by using PassFab FixUWin. Besides resolving any Windows error, this amazing Windows repair tool helps you quickly recover your lost data.