The blue screen pfn_list_corrupt is a common error. This error occurs when the PFN (Page Frame Number) list gets corrupted, and your computer fails to access it. Many users throughout the world have reported this error. Many people think such errors are impossible to resolve by self, but in this article, we have gathered the best possible ways to get rid of PFN list corrupt Windows 11.
Part 1: What is PFN List?
The PFN (Page Frame Number) list is a database that contains the memory addresses of all the system files. The hard disk uses it to identify the location of each file on the physical disk. The PFN list helps the system to allocate the memory to the new processes. It is responsible for the smooth working of your PC, and if the PFN list gets corrupted, your PC crashes, and you see a blue screen with the stop code PFN list corrupt. When this error happens, your PC fails to perform any task. However, upon restarting the computer, it may function normally, but it will crash again eventually.
Part 2: What causes Stop Code PFN List Corrupt Error?
Different factors contribute to the occurrence of PFN_LIST_CORRUPT blue screen Windows 11, some of which are mentioned below:
Faulty RAM
Corrupt system files
Outdated drivers or pending Windows updates
Hard disk failure
Virus or malicious programs
Overclocked memory
Besides all the reasons mentioned above, when you do not shut your computer down properly, or sudden power failure and system crashes happen, they can cause PFN list corruption as the processes do not get enough time to complete or get suspended completely.
Part 3: Symptoms of PFN List Corruption
When the PFN list gets corrupt, your PC shows the following symptoms:
Recurring system crashes
PC works slowly and hangs a lot
You see BSoD errors (such as PFN_LIST_CORRUPT)
Sometimes, the BSoD PFN list corrupt can lead to sudden data loss and other serious issues, especially when a damaged hard drive causes it.
Part 4: How to Diagnose PFN_LIST_CORRUPT Error?
Before attempting to resolve a problem, you must diagnose it properly. To diagnose PFN list corruption in Windows 11, you can use different tools such as,
Event Viewer
System File Checker (SFC)
Blue Screen Viewer
Identifying and studying a problem before attempting to resolve it is recommended as it can lead to other serious problems such as data loss, damaged hardware, corrupt operating system, etc.
Part 5: Best Solutions to fix PFN_LIST_Corrupt in Windows 11
Solution 1: Use PassFab FixUWin
The best solution to fix PFN_LIST_CORRUPT Windows 11 is the incredible Windows repair tool PassFab FixUWin. This amazing tool is specifically programmed to resolve all Windows-related problems such as blue/black screen of death, PC crashing, stuck on boot loop, etc. You can also use this outstanding tool to recover any lost data and much more. Here is how you can use it to get rid of the addressed issue.
Download and install PassFab FixUWin to a accessiable computer.
Plug a USB/cd/dvd and click Create boot disk now.

Let the bootable media be created.

Restart the faulty PC and plug in the bootable drive.
Press the boot key repeatedly upon startup, set USB on priority, save, and exit the boot menu.
And you will see Passfab FixUWin' interface. Click on Automated repair.
After repair complete successfully, click Restart to reboot yoru computer.

When your computer restarts, the PFN list corrupt Windows 11 issue will be gone.
Solution 2: Update your Drivers
If, for some reason, the device drivers installed on your PC do not get updated, they can cause different issues, including the BSoD PFN list being corrupt. So, first of all, you should update all the drivers as follows:
Step 1: Open the Device Manager.
Step 2: Look for the driver with an exclamation(!) mark and right-click on it.
Step 3: Click Update driver and choose the suitable option to update the driver.
Repeat the above steps to update all the outdated drivers you find.
Solution 3: Check your RAM
Some blue screen errors, such as PFN_LIST_CORRUPT, indicate faulty RAM. When the RAM is damaged, it does not function properly, and you may face strange errors, difficult to identify. So, before moving to some advanced solutions, check your RAM for problems first:
Step 1: Open the Run dialog, type mdsched.exe, and hit Enter.
Step 2: Choose Restart now and check for problems(recommended) option.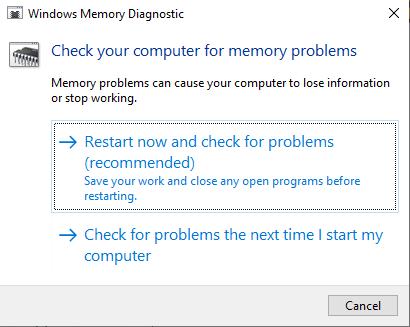 Your computer will restart, and Memory Diagnostic Tool will test your RAM for problems. You will see a message on the screen if it finds any fault.
Replace the RAM immediately if it is damaged. If not, you can try other ways.
Solution 4: Check your Hard Disk
Sometimes, the hard disk gets bad sectors that corrupt the data stored in those sectors. If the corrupt data includes system files, it can contribute to PFN list corruption. So, you can diagnose your hard disk as follows:
Step 1: Open the Command Prompt as Admin.
Step 2:Type CHKDSK /f and press Enter.
The command will execute and check the disk for errors. Any errors or bad sectors found will be displayed on the screen.
Solution 5: Run BSoD Troubleshooter
The BSoD troubleshooter is in-built into Windows 11/10. You can run it to resolve PFN_LIST_CORRUPT Windows 11.
Step 1: Open Settings and go to Update & Security.

Step 2: Switch to Troubleshoot tab in the left navigation.
You will see a blue screen troubleshooter on the screen.
Step 3: Click the Run the troubleshooter button.
Continue the process by following the on-screen instructions. You can use this troubleshooter for any other blue screen error.
Solution 6: Run SFC Command
System File Checker (SFC) is a built-in tool to scan system files for errors and corruption. SFC command can be run as follows:
Step 1: Run Command Prompt as Admin.
Step 2: Type sfc /scannow. Press Enter.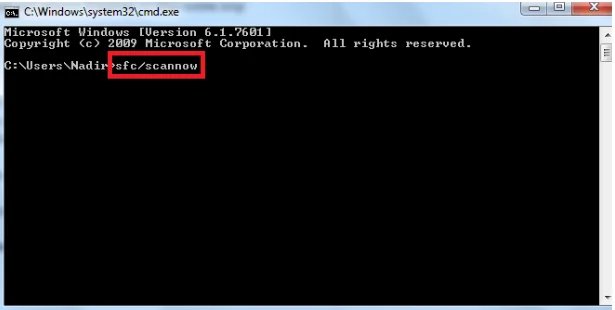 The scan will start, and the tool will fix any damaged files automatically. After scanning, you can use your PC with no PFN_LIST_CORRUPT issue.
Solution 7: Use DISM Tool
The DISM tool is used to redeploy the system image if it gets damaged. You can use this tool by running the DISM command as follows:
Step 1: Open Command Prompt as Admin.
Step 2: Type DISM /Online /Cleanup-Image /RestoreHealth and press Enter.

The DISM tool will check the system image and replace it with the healthy one if damaged.
Solution 8: Run Antivirus
If you doubt your computer might have caught some virus or contains a malicious program, you can scan your PC by running a virus scan. You can use Windows own Virus & Threat protection tool or a third-party antivirus software to do this. You must remove the malware from your PC as soon as the antivirus detects it, as it can cause more damage to your PC.
Solution 9: Disable Memory Overclocking
Overclocking is one of the major reasons behind PFN_LIST_CORRUPT, and it causes various other memory issues. If you previously overclocked the CPU, here is how you can disable overclocking:
Step 1: Restart your computer while holding the Shift key through the Power options.
Step 2: Go to Troubleshoot and then Advanced options.
Step 3: Click UEFI Firmware settings and select Restart.
Step 4:Use the corresponding button to restore your UEFI settings.
Now, when your computer restarts, the overclocking will be disabled. Hopefully, you will no longer face the PFN list corrupt Windows 11 error.
Solution 10: Perform a System Restore
If you recently updated your Windows OS or installed some software, or made any changes to your PC settings, you can perform a system restore to revert those changes as follows:
Step 1: Reboot your computer while pressing the Shift key.
Step 2: Click Troubleshoot and then Advanced options.
Step 3: Choose System Restore.
Step 4: Choose the restore point to which you want to revert. Click Next.
The system will restore all the settings and applications to the selected point. When your computer restarts, you may observe some changes in it.
Part 6: How to Avoid PFN_List_Corrupt Error in the Future?
You can prevent the pfn_list_corrupt Windows 11 error from recurring by taking the following measures in the future:
Keep all the drivers updated. It is recommended to automate the installation of all the updates. Also, update Windows as soon as you receive the updates.
Never install a program from unauthorized sources. Never click on unknown links, and do not download any files from the Internet unless you are sure they are not harmful.
Check your hard disk regularly for errors and bad sectors.
Perform virus scans regularly.
Conclusion
Memory issues are the riskiest and most difficult to resolve, as you might end up losing your critical data. When there is some problem with memory, you see different errors, most of which are blue screen errors. In this article, we have addressed one blue screen error, i.e., PFN list corrupt Windows 11, that occurs when the system fails to access the database responsible for keeping track of allocated memory addresses for processes.
You must resolve this issue on its first occurrence to avoid any big loss, such as data loss or sudden system crashes. The best yet most recommended way to resolve the PFN_LIST_CORRUPT issue is using PassFab FixUWin.