Trying to use Line out (Back Panel) for speaker, Speaker is not being Detected and error is coming Speaker Setup (Unknown) OFF. from Microsoft Community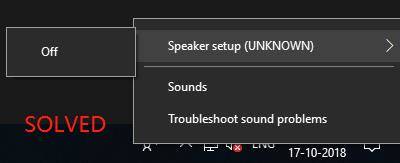 Are you having the same Speaker Setup Unknown issue Windows 10 in your computer? Recently many Windows users find the sound is not working and reporting this speaker setup unknown issue. This article will tell you what this error message is and how to fix it.
Part 1: What Is Speaker Setup Unknown Issue?
Generally speaking, your computer will automatically detect your speaker once it's plugged in, and start working properly. However, sometimes your computer fails to detect your plugged-in speaker, due to hardware connection problem or something, then you will find your computer audio is not working at all, and you may also see Speaker Setup Unknown issue.
Another possible cause is that your speaker settings are not configured properly, and it won't play any sound and you will see this error message.
Nevertheless, whichever reason it is, you will find a solution for your speaker issue in this article. Keep on reading.
Part 2: Top 4 Ways to Fix Speaker Setup Unknown
I'm seeing Speaker Setup Unknown on my computer, how do I fix it and get my sound back? Well, don't panic. In this part, we gather 4 solutions to fix this problem.
Way 1: Try Connecting Speaker to Another PC and Identify the Cause
Usually when you encounter audio problems like sound not working, speaker not working, or errors like Speaker Setup Unknown, you should think of hardware faulty. Sometimes it can be a hardware issue, and you need to figure out whether it's a hardware issue or a software issue.
If it is a hardware issue, you will need to identify whether the problem happens because of your computer or because of your speaker. Therefore, you should unplug your speaker from your current computer, then plug it into another computer, and test if it works or not.
If your speaker still doesn't work connecting without another computer, it is possible that there is something wrong with your speaker and you should consult the manufacturer for assistance.
If your speaker works properly in another computer, then the problem lies in the current computer and you can follow the solutions below to fix it.
Way 2: Set Speaker as Default to Fix Speaker Setup Unknown
As mentioned above, when the audio settings are set improper for you speaker, your computer will show you Speaker Setup Unknown message. So in this method, you will learn how to set up your speaker properly to make it work again.
Step 1: Right click on the speaker icon at the bottom on the right, then click Playback devices.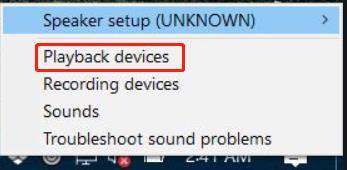 Step 2: In the Sound pane under Playback tab, click your speaker to select it.
Note: if you can find your speaker in the list, right click on the empty area in the pane, and click Show Disabled Devices. Then you will see your speaker device showing here.
Step 3: Click Set as Default.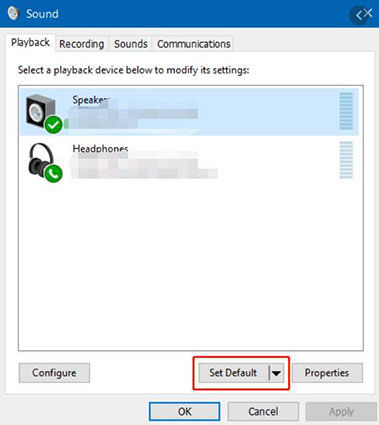 Step 4: Click Properties on the same pane.
Step 5: In the new pane, click Advanced tab.
Step 6: Choose a different format for your speaker, and click Test.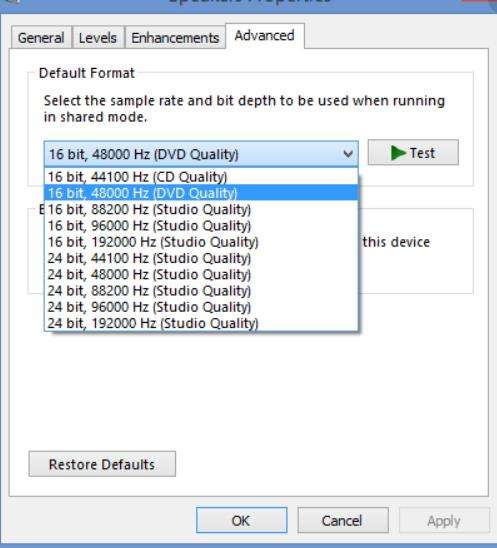 Step 7: Click Apply and OK to save.
Now check if your speaker is working or not.
Way 3: Troubleshoot Audio Device
When you see Speaker Setup Unknown Windows 10, you can run Windows Audio troubleshooter to troubleshoot your problem and automatically fix it. Windows troubleshooter is a built-in utility that helps you with your Windows hardware problems.
To run Windows Audio troubleshooter, here's how to do it:
Step 1: Search control panel on the search box from your computer, then click Control Panel to open it.
Step 2: Choose to view by large icons or small icons.
Step 3: Click Troubleshooting.
Step 4: Click Hardware and Sound.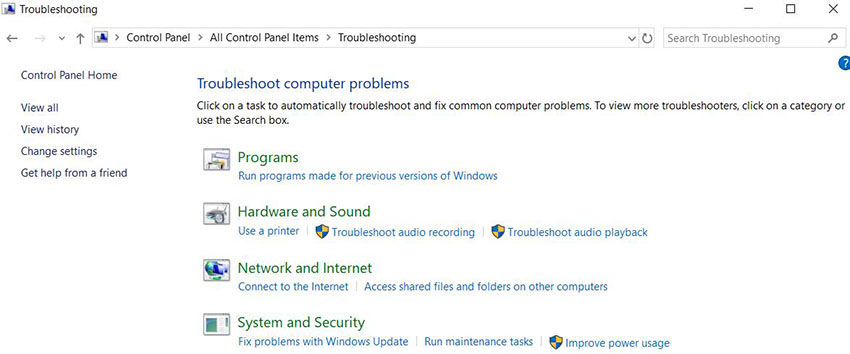 Step 5: In this pane, you will see lots of troubleshooting for most of hardware devices in your computer. Click Playing Audio. This will help you find and fix problems with playing sound.
Step 6: Then the troubleshooter pane will show up. Click Next to start.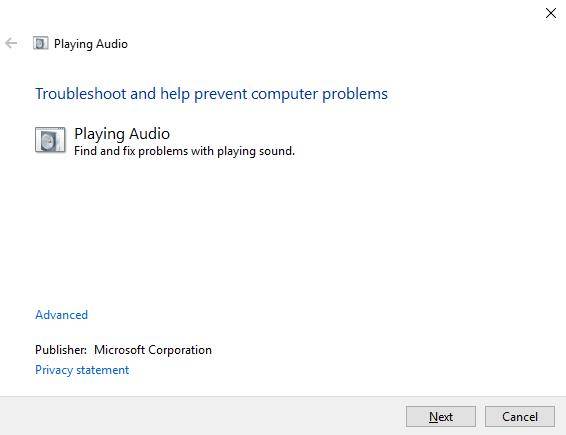 Step 7: Windows will start scanning and fixing problems for you. Wait until it's finished.
Step 8: After finishing, reboot Windows.
Now your problem should be fixed. But you still see this setup error, try the next method.
Way 4: Re-install Your Audio Device Driver
Usually your speaker can be working after connecting when your audio driver is working without any problem, as a driver is crucial to the connection between your PC and your speaker. If you see Speaker Setup Unknown in Windows 10, it is likely that your audio driver is missing or corrupted. Therefore, you should update your audio driver to the latest version.
There are two options too update your audio driver:
Option 1: in Device Manager
Device Manager allows you to check and manage hardware devices and drivers, so you can update your audio driver in Device Manager.
Step 1: Press Windows + X, then click Device Manager to open it.
Step 2: Expand Sound, video and game controllers by double clicking it.
Step 3: Right click your audio device, and choose Update driver.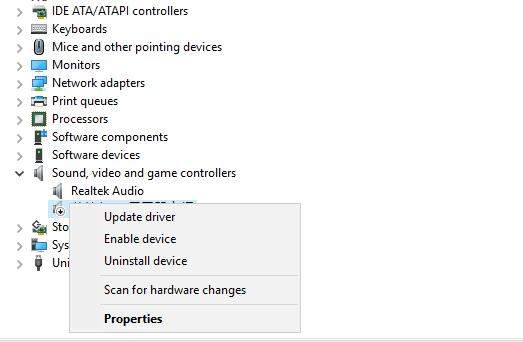 Step 4: Choose Search automatically for updated driver software.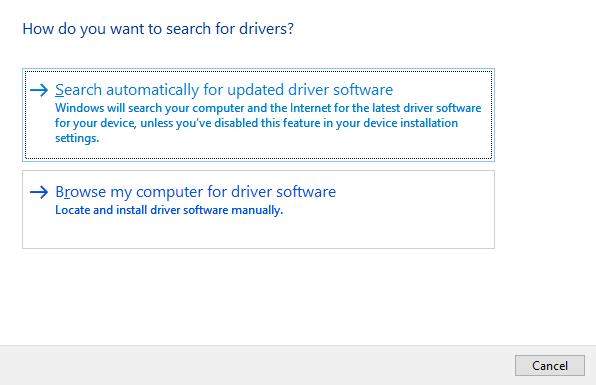 Step 5: Windows will search for the latest available driver for your audio device.
Step 6: Wait for it to be completed.
Now test and see if your audio works and the error message disappears.
Option 2: via Professional Driver Updater - Driver Easy
You can also update your audio driver to fix Speaker Setup Unknown, via a driver updater like Driver Easy. It will scan your computer to the driver problem and recommend a solution for it.
Step 1: Download and install Driver Easy.
Step 2: Launch the software, and click Scan Now.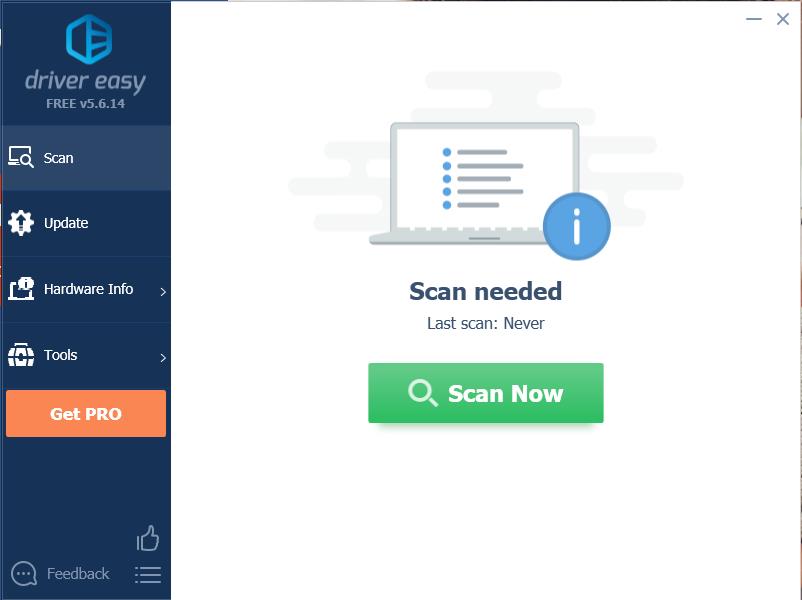 Step 3: The software will scan your computer and show you the drivers with problems. Click Update or Update All for your audio device driver.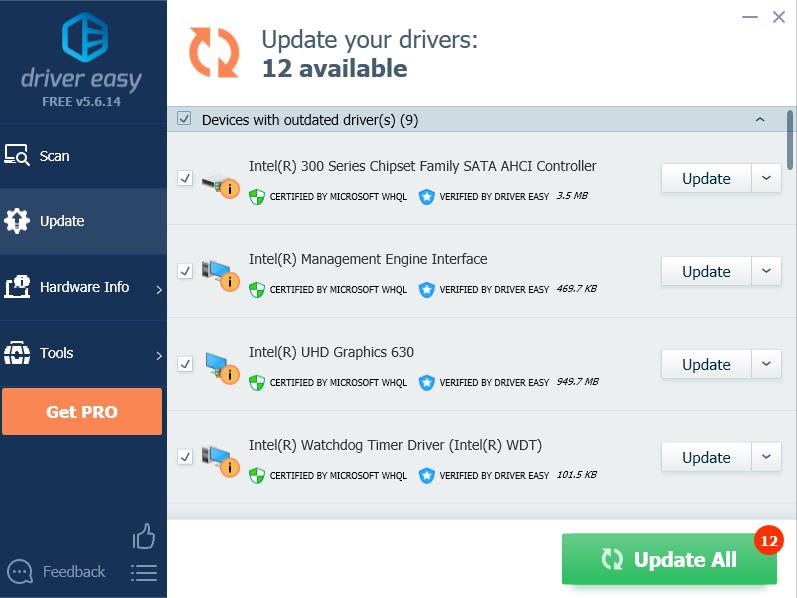 Step 4: Driver Easy will download and install the driver for your computer.
Step 5: After finishing installing, reboot Windows.
Now check if your problem has been fixed.
Summary
These are the four easy methods for Speaker Setup Unknown error message. You should identify your problem first, then configure your audio settings, troubleshoot audio problems, and update your audio driver to fix it. Hope you can fix your problem with the help of our article. By the way, if you forgot your Windows computer password, you can try PassFab 4WinKey to remove or reset your Windows password very easily.