Whenever your Windows PC falls into an error, it attempts to resolve it automatically by running the Automatic Repair feature. When the Automatic repair cannot repair the error, you get two options: reset or refresh the PC.
"There was a problem resetting your pc windows 10" is a common error faced by many worldwide. This error appears due to a damaged recovery image file. Many users have reported it, and it seems impossible to resolve this error. You will see the best ways to eliminate this error in this article. The solutions proposed in this article apply to Windows 8/10/11.
Part 1: How to Identify There was a Problem resetting pc?
Fixing issues with Windows reset is not difficult, and before taking your PC to a repair shop, you should try the following fixes that we have gathered for you in this guide:
When Windows is resetting, it stops in between and displays an error message stating, "There was a problem resetting your pc; no changes were made."

Besides the above message, this error has several other variants, such as "There was a problem resetting your PC Surface Pro 4" and "there was a problem refreshing your PC".

Corrupt or damaged system files
Missing files from older updates
Misconfigured Windows Update component
Windows Update Service is unavailable
Antivirus or Windows Firewall interruption
Low disk space
Part 2. How can I Fix Error 0x800f0922 in Windows 11?
Fixing issues with Windows reset is not difficult, and before taking your PC to a repair shop, you should try the following fixes that we have gathered for you in this guide.
Method 1: Smart Repair by PassFab FixUWin
Looking for a quick and simple fix to deal with a problem resetting pc? PassFab FixUWin is the solution for you!
PassFab FixUWin is a magical Windows Repair tool that scans your computer to find the potential reasons behind an error and attempts to fix it. It can resolve any Windows error, including blue/black screen, PC crashing, boot/restart loop, etc. As mentioned earlier, the addressed issue is generally caused by a corrupt recovery image file; hence you can use PassFab FixUWin to repair and recreate the recovery image file.
Install and launch PassFab FixUWin on the problematic PC.
Connect a USB device to your computer and click on "Create Boot Disk" option in the software.

Let PassFab FixUWin create a bootable media.

Restart your computer and access the boot menu by pressing the designated key.Set the bootable USB device as the first priority in the boot menu and save the changes.
Once you've saved the changes, click on the "Automated Repair" option in the PassFab FixUWin software.
After the repair process is completed, click on "Restart" to boot up your computer normally.

After restarting, try resetting the PC again. The error you were facing will be resolved after running PassFab FixUWin.
Method 2: Run System File Checker (SFC) Scanner Tool
The System File Checker (SFC) is the best tool to repair damaged system files, and this fix can also resolve the "There was a problem resetting your PC" error as well.
Step 1: Open the Command Prompt Windows as Administrator.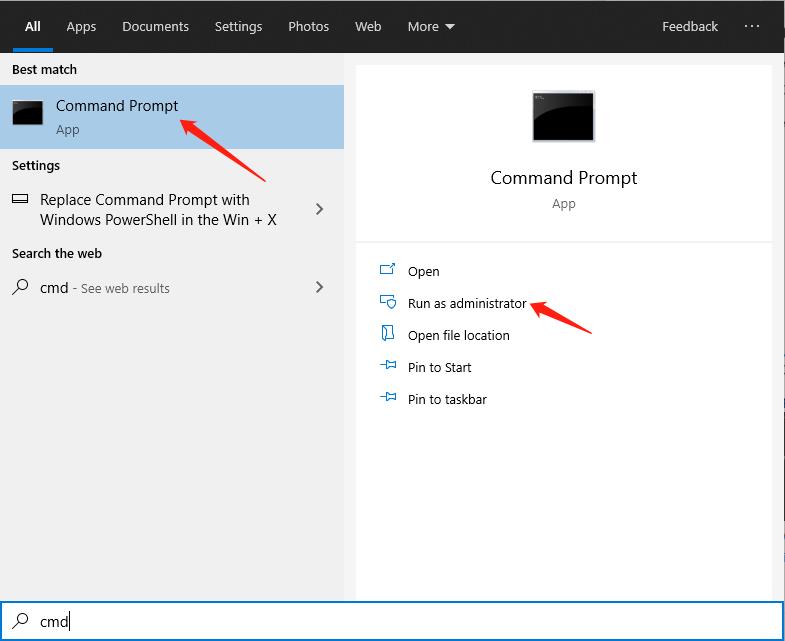 Step 2: Type sfc /scannow. Press Enter.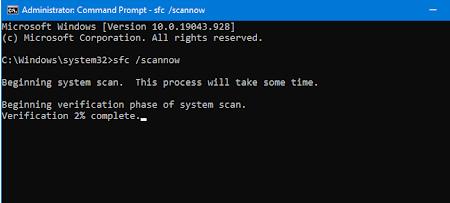 Let the SFC tool scan and repair any damaged system files. Ensure you do not close the Command Prompt or shut down your PC during this process. Otherwise, the tool will not work. After the scan has been completed successfully, restart your PC and try resetting it again.
Method 3: Run DISM Command
Disk Image Servicing and Management (DISM) is another tool that scans for problematic files and repairs them automatically. This tool repairs explicitly corrupt system image files and can be used.
Step 1: Open the elevated Command Prompt (Admin).
Step 2: Type DISM /Online /Cleanup-Image /RestoreHealth. Hit Enter.

Step 3: Once the tool has completed the scan, you can restart your computer, and hopefully, the issue you were facing will be resolved.
Method 4: Run Microsoft Recovery Agent
Microsoft Recovery Agent helps recover the system from errors and reset your computer. To use this utility, you can run the ReAgent.exe file by following these steps.
Step 1: Launch Command Prompt(Admin).
Step 2: Type reagentc /disable, and hit Enter.

Step 3: Now, type reagents/enable, and hit Enter.

After running these commands, you can reset your PC if a faulty reagent.exe file causes the problem.
Method 5: Restore System
If you recently updated your system to the newer Windows version or installed software and you doubt that the problem is appearing due to those updates or programs, you can restore your computer to the previous state by performing a system restore.
Step 1: Open the Start menu, type Restore in the Search box, and press Enter.
Step 2: Switch to the System Protection tab and click the System Restore button.
Step 4: Choose a restore point and click Next.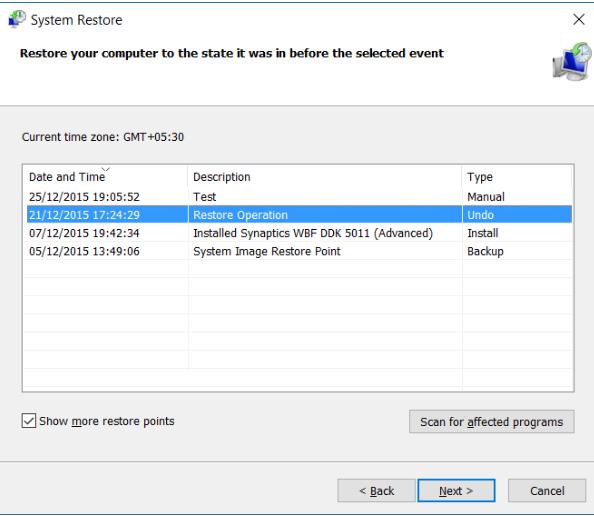 Step 5: Click Finish to start the restore process.
The system will start restoring itself to the chosen restore point, and you cannot perform any task during the process. Please note that any program installed or changes made will be removed from the PC when you perform a system restore. We recommend that you back up your data before using this method.
Method 6: Run Startup Repair
The Startup Repair utility helps you resolve errors preventing your computer from starting normally. You can use this tool to get rid of problems resetting HP Stream PC.
Step 1: Press the Power button for 10 seconds on your PC to shut it down.
Step 2: Restart your computer and repeat step 1 when you see the manufacturer's logo to shut it down again.
Step 3: Repeat steps 1 and 2 at least thrice to enter Windows Recovery Environment (WinRE).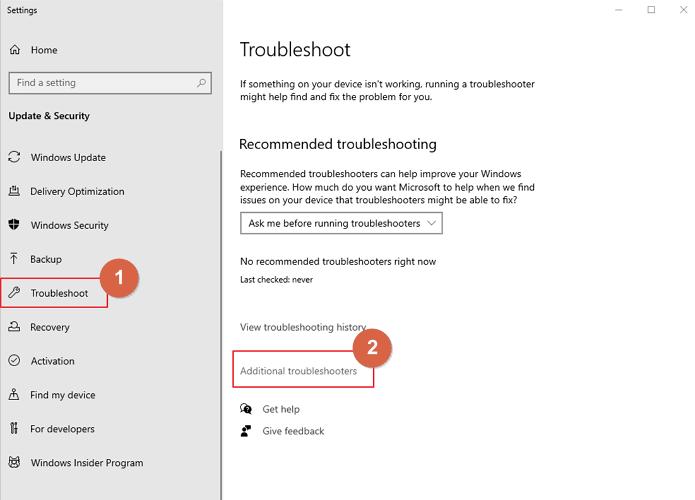 Step 4: When you see the Automatic repair screen, click Advanced options.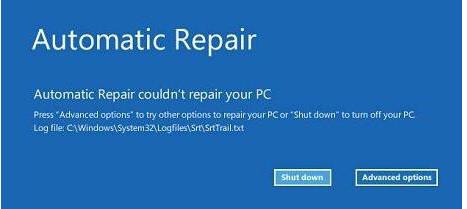 Step 5: On Choose an option screen, choose Troubleshoot and then Advanced options.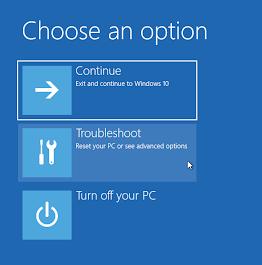 Step 6: Click Startup Repair under Advanced options and restart your computer.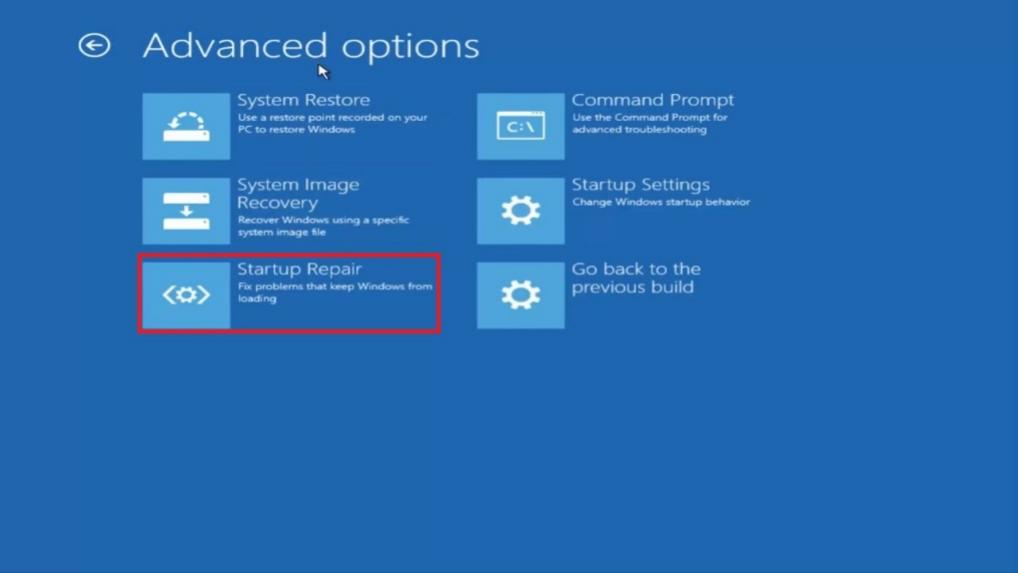 Windows will run the Startup Repair tool and resolve any issues interrupting the startup process.
Method 7: Use Windows Defender to Refresh your PC
Windows Defender has your back if you try to refresh your PC and fail multiple times. Although the Windows Defender tool is crafted to scan and remove any viruses, malware, or suspicious files from your PC, you can use it to refresh your Windows PC.
Step 1: Open the Settings app -> Update & Security.

Step 2: Switch to the Windows security tab from the left navigation and click Open Windows Security.
Step 3: Scroll down to the Device performance and health option and choose it.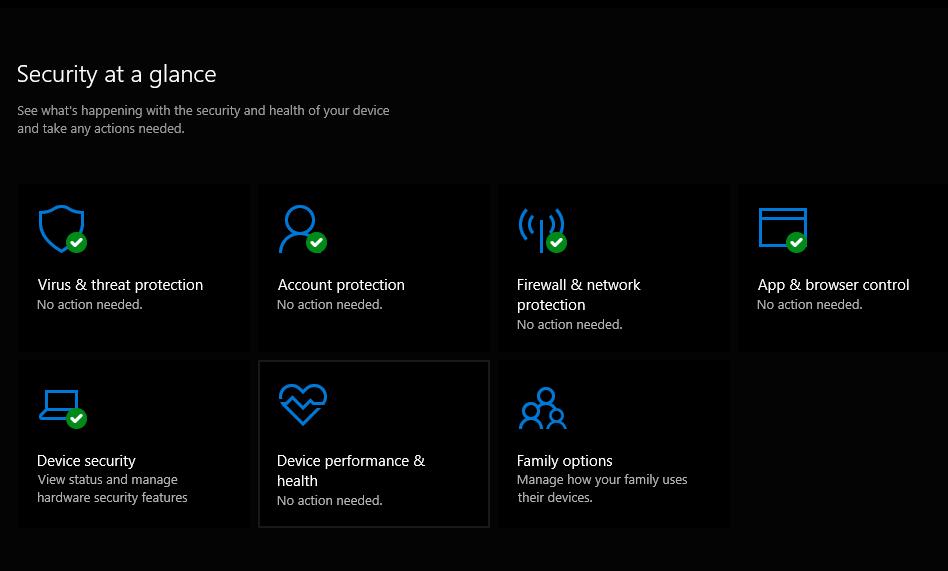 Step 4: Click the Additional info link under the Fresh start section.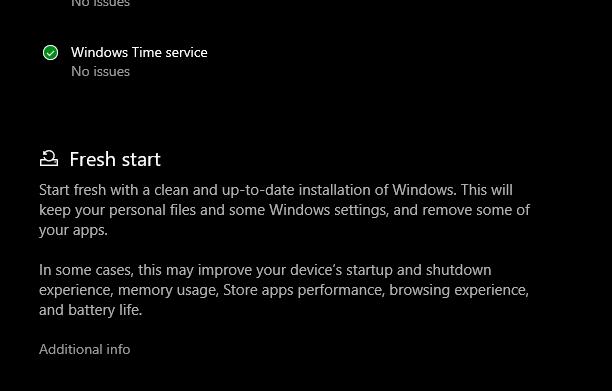 Step 5: Click Get started and follow the on-screen instructions to proceed.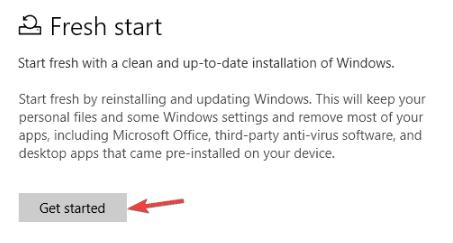 Try to update Windows after you have run the above commands successfully.
Method 8: Change System and Software Registry Name
This method can restore critical system files, including the system registry, to eliminate malware or repair damaged files. To rename the system and software registry, you must access Command Prompt, which is applicable even if you are stuck on a reset loop. Here is how you can implement the fix:
Tips:
Please enter the commands carefully, as one wrong command can lead to more severe errors.
Step 1: Open Command Prompt (elevated mode).
Step 2: Type cd %windir%\system32\config, hit Enter.
Step 3: Type ren system system.001, press Enter.
Step 4: Run ren software software.001 command at last.
Step 5: Exit the Command Prompt and retry resetting the PC.
Method 9: Fresh Install Windows 10/11
If none of the above-mentioned solutions helped you get rid of the "Windows 10 problem resetting pc" error, the last resort you have is reinstalling Windows. Reinstalling Windows will provide fresh Windows with no errors, custom settings, or third-party software. This way, you can eliminate any errors that might be stopping you from using your computer effectively. You can perform a clean install through a bootable media.
Part 3: Best Practices: How to Prevent Future Errors?
To avoid this error in the future, you should follow the standard ways to reset your computer. Resetting your PC is not complicated, but due to various methods to do a certain task, you sometimes face different errors. So, here are some measures to take to prevent its recurrence:
Reset your PC through Settings -> System -> Recovery -> Recovery Settings -> Reset this PC -> Reset PC.
You can also reset your PC using the backup and restore methods.
Make the right choices while resetting the PC, such as what files to keep and what to remove, etc.
Part 4: FAQs about "There was a problem resetting your PC"
1. How do I force Windows 10 to reset without a password?
If you have lost the password of your Windows 10 PC and want to reset it, you can use Windows Installation Media as follows:
Plug in Windows Installation media to your computer and restart it.
Set the installation media on boot priority.
Choose Language and keyboard preferences, click Next.
Click the Repair your computer link on the bottom-left corner of the screen.
Navigate through Troubleshoot -> Reset this PC.
Choose whether to keep your files or remove everything and proceed by following the on-screen instructions.
2. How long does resetting a PC take?
Resetting a PC takes somewhat between 30 minutes to an hour. However, it depends upon your PC configuration. Besides, if you doubt it is taking longer than the average time, or you see "There was a problem resetting this pc" error, you should troubleshoot it immediately.
3. Are the troubleshooting methods for the "There was a problem resetting this pc" error applicable to Surface Pro 2 and Lenovo laptops?
Yes, all the methods mentioned above apply to all PC brands, and you can try them all to eliminate problems that occur while resetting a PC.
Summary
To fix the "There was a problem resetting your PC" error, try using the methods we mentioned above. If these methods don't work, PassFab Fixuwin can be a powerful solution. With its simple interface, you can easily diagnose and repair Windows-related issues, including the resetting error. It's a reliable and efficient solution that can save you time and frustration.