Since the release of Windows 11, many users have had to upgrade their PC to fulfill their hardware requirements. Windows 11 is a resource-hungry operating system that requires a lot of hard disk space and at least 4 GB RAM with so many other hardware configs. Upgrading to this newest Windows version was impossible for many users because not everyone could afford it. Keeping this in mind, the NTDEV team has released a streamlined version of Windows 11, removed all the useless features and made it compact and compatible with lower PC configurations.
In this article, we will introduce you to the Windows Tiny 11 release, and you will learn how to get Windows 11 22H2.
Part 1: What is Tiny 11 Windows?
A streamlined version of Windows 11 modified and released by the NTDEV team is Tiny 11. It is a compact version of the actual Windows 11 OS. In this Tiny 11 version, all the unnecessary programs that do not affect the system's performance and functioning have been removed. These programs include Microsoft Store, Little Abacus, Little Painter, etc. Windows Tiny 11 release requires only 9GB hard disk space and can run even if you have 2GB RAM.
The goal of this Windows Tiny 11 version is to bypass the hardware specification restrictions implied by the actual Windows 11, which disabled many Windows users from upgrading to the newest Windows version. Although there are ways to bypass these restrictions for the official Windows 11 version, it was still difficult to execute on older PCs due to its size. However, the Tiny11 can run very smoothly on old computers. If you wonder how to get Windows 11 22H2 in compact version, Windows Tiny11 is the answer.
Although it sounds amazing to have a new operating system without spending a penny on new hardware, there are some pros and cons of Windows Tiny 11:
Pros
The system occupies less memory space
Smooth performance even with 2GB RAM
Small file size
Windows 11 22H2 based version
Cons
No default browser
Unsuitable for general users
No traditional Chinese
The system can be unstable sometimes
Part 2: How to Download Tiny 11?
To install Windows Tiny 11, you have to download tiny 11 ISO image file. Microsoft has not officially released it, so you can get it from the Internet Archive's website.
Step 1.Go to Internet Archive's Website.
Step 2.Click on Login to view this item button.
Step 3.If you already have an account, use your credentials to log in. However, if you are new to the site, click Signup for free link, fill in the required fields, and signup.
Step 4.Click the down arrow beside the ISO IMAGE link.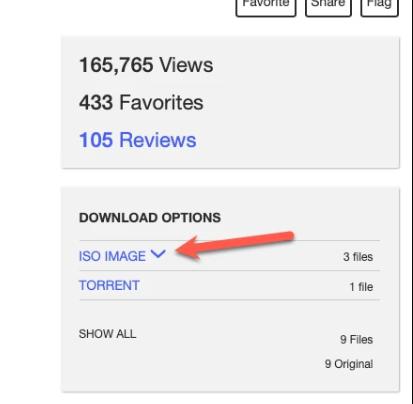 Now, download the tiny 11 b2(nosysreq).iso file to bypass TPM secure boot requirement. If your PC meets TPM and other requirements, you can download tiny 11 b2.iso.
After downloading the ISO image file, you can burn it on a USB flash drive and install it like any other Windows version.
Part 3: What does Windows Tiny 11 Exclude from Windows 11?
The NTDEV has released the following list of features removed from Windows 11 in the Tiny 11 version:
News
Clipchamp
Xbox
GetStarted and GetHelp
Weather
Office Hub
PeopleApp
ToDo
Solitaire
Mail and Calendar
PowerAutomate
Alarms
Sound Recorder
Feedback Hub
Your Phone
Maps
Internet Explorer
Media Player
OCR for en-us
QuickAssist
Speech support
LA57 support
Media Player Legacy
Wallpapers
Edge
TTS for en-us
Tablet PC Math
OneDrive
The NTDEV missed removing Microsoft Teams from Windows Tiny 11, but you can always remove it from the Apps menu. Moreover, if you want to get any of these programs, install them from the Windows Store or enable certain features from Control Panel.
Part 4: How to Fix Different Kinds of Update Errors in Windows?
While installing updates, you may encounter different problems even if your system meets the minimum hardware and software requirements for that update. Sometimes, the situation becomes frustrating, especially when you have tried running the built-in troubleshooter and adopted different ways of solving the problem. In such circumstances, the best option to get rid of such issues is using the best Windows repair tool PassFab FixUWin.
PassFab FixUWin is an amazing diagnostic tool that scans your Windows system for potential issues and eliminates them automatically. This magical tool can resolve over 200 Windows errors, including Windows update errors. It supports all modern Windows versions and has a super high success rate stunning with 3 different system repair mode for different situations. All you need to do is install the program, create a bootable disk, boot the problematic PC with bootable media, and perform troubleshooting.
Why PassFab FixUWin?
Automatic error detection and resolution
Easy-to-use interface
Simple 3-step process
Free System repair disk creation
It is 100% safe to use and works without any privacy intrusion
24/7 technical support
Supported for all PC brands and all modern Windows versions
Developed and managed by 10-year experienced developers team
30-days money-back guarantee
Conclusion
Windows Tiny 11 is a new simplified version of Windows 11 from which the unnecessary components have been stripped off. In this article, we have discussed what is Windows 11 Tiny, how to download it, and what features have been excluded from it. At last, we have proposed the best solution, i.e., PassFab FixUWin, to the errors you might face while upgrading your system to the latest Windows updates.