"I recently upgraded my motherboard along with other parts but after a day or so Windows 10 was deactivated. my Microsoft account is linked and it gives me the option in the troubleshoot menu to choose what device to reactivate, but when i chose to reactivate one i get an error saying "unable to activate windows, We cant reactivate windows on this PC, please try again later." This has been going on for about 2 days now." From a Reddit User


Are you having the same problem? If you are seeing the same error and unable to reactivate Windows after hardware change, then go no further! This article will tell you what the error is and how to fix it and reactivate Windows without any issues.
Part 1. What Message You May See When Unable to Activate Windows?
A large number of Windows users may have forgotten the Windows license key because it has been a very long time since they purchase the license key. Therefore, after hardware changes, it is common if you are unable to activate Windows and you may see error messages like these:
Windows reported that the hardware of your device has changed. Error code: 0xC004F211
We can't activate Windows on this device because you don't have a valid digital license or product key. If you think you do have a valid license or key. Select Troubleshoot below. Error code: 0x803F7001 (/0xc004c003)
We couldn't activate Windows. Try activating Windows again or contact Microsoft support and reference the error code. You can go to Settings for more information. Error Code: 0xc004f014
Unable to activate Windows. It looks like the hardware on this device has changed. Make sure you're connected to the Internet and try again later. (0xc0ea000a)
Whatever error messages you are encountering, we will show you how to reactivate Windows in the next part.
Part 2. How Do I Reactivate Windows After Changing Hardware?
When you see the error of unable to activate Windows 10 after hardware change, don't panic. You can troubleshoot your problem and then reactivate it without hassle.
Troubleshoot 1. Run Activation Troubleshooter If You Have A Digital License
Microsoft Windows includes the troubleshooter tool to help when your computer is up. So if you are having a problem in activating Windows, the Activation troubleshooter would be the first option to try.
Step 1: Press the Window and I key to bring up the Settings app.
Step 2: Click Update & Security.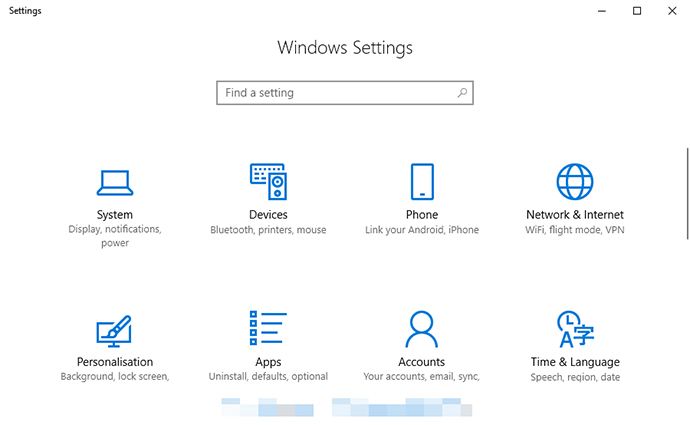 Step 3: Click Activation > Troubleshoot on the left.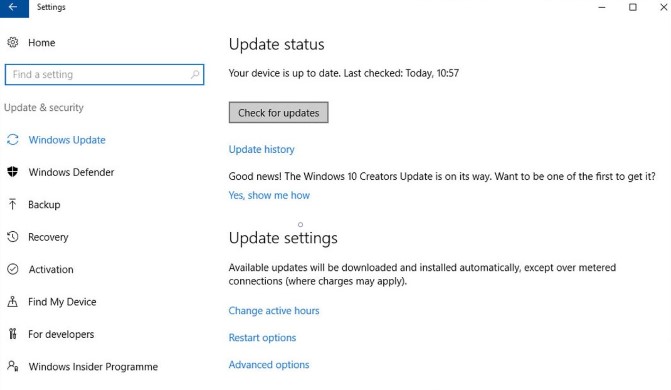 Step 4: Select I changed hardware on this device recently, and Next.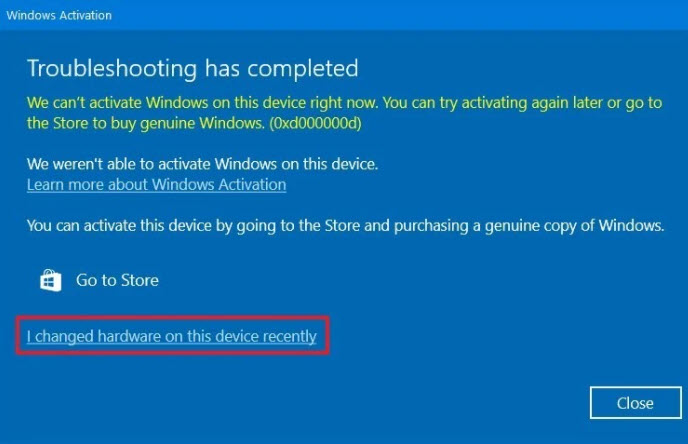 Step 5: Type your Microsoft account name and password, and then click Sign in.
Step 6: A list of registered devices will show up. Choose the device that you are having a problem with, and check the box for This is the device I'm using right now. Click Activate.
In doing so, your computer will be activated again.
Troubleshoot 2. Enter Your Product Key If You Don't Have A Digital License
If you don't have a digital license, then try your product key to activate Windows:
Step 1: Click the Start button > gear icon to open the Settings app.
Step 2: Click Update & Security.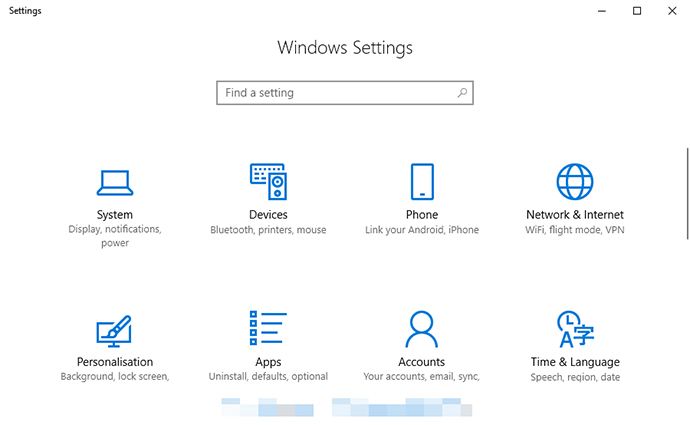 Step 3 Go to Activation > Change product key.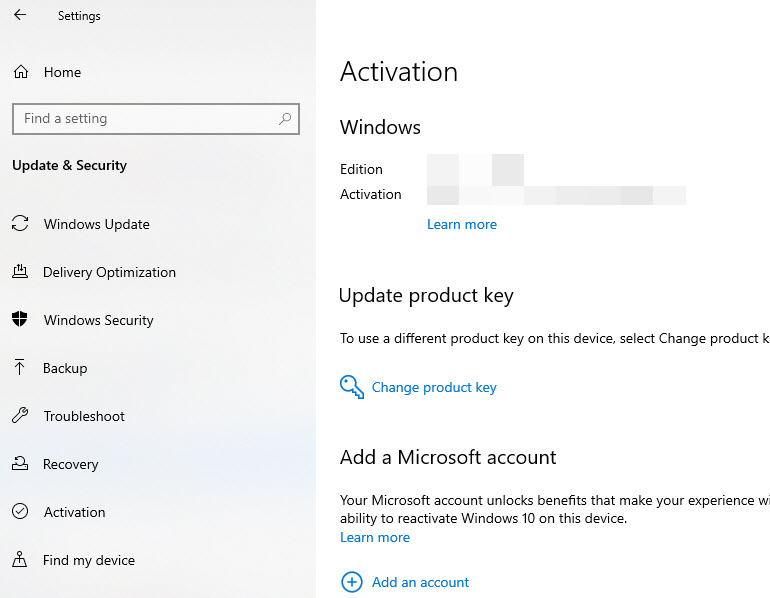 Step 4: Enter your product key and activate it.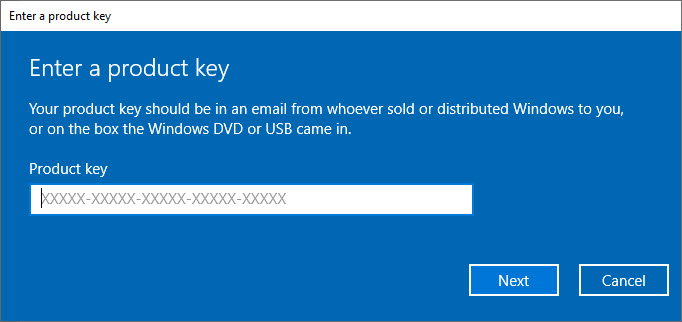 If this method didn't work for you, don't give up. Head to the next method.
Troubleshoot 3. Reactivate Windows Using PassFab Product Key Recovery If You Forgot Windows Product Key
If your Windows computer was activated by your product key, and somehow you have forgotten the Windows product key, there is a way to retrieve your Windows product key. You can try PassFab Product Key Recovery.
PassFab Product Key Recovery is a remarkable tool that recovers your product in your Windows computer, including Windows product key, Microsoft Office license key, and Microsoft Visual Studio serial key.
To recovery Windows product key using this tool:
Step 1: Download the application from the official website, then install and launch it.
Step 2: On the main interface, click Get Key button. Then the app will start scanning and detecting the available product keys.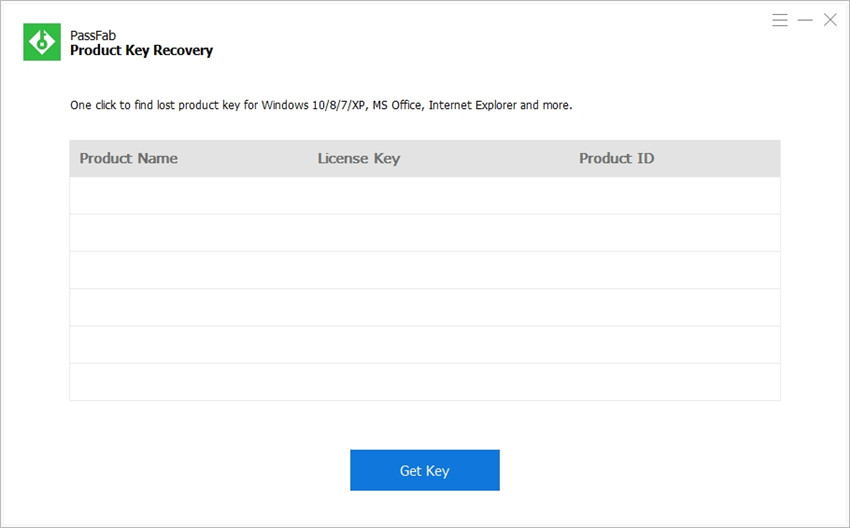 Step 3: After that, you will be presented with all the detected product keys, including your Windows product key.
Step 4: Click Generate Text, and save the key into your computer.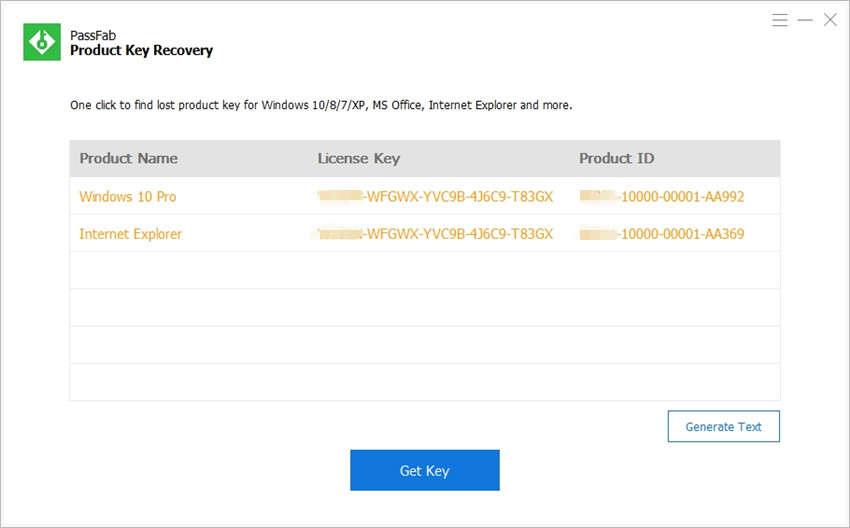 Free Download
For Win 10/8.1/8/7/XP
Secure Download
Finally, copy the product key and activate Windows with the key.
Troubleshoot 4. Purchase Windows 10 Digital License If You Don't Have Digital License or Product Key
However, if you don't have digital license or product key, thus you are unable to activate Windows after hardware changes, we would suggest you buy a Windows 10 digital license.
If you have no idea how to purchase Windows 10 digital key, then follow these steps:
Step 1: Press Windows key and I to open the Settings app in Windows. Then click Update & Security.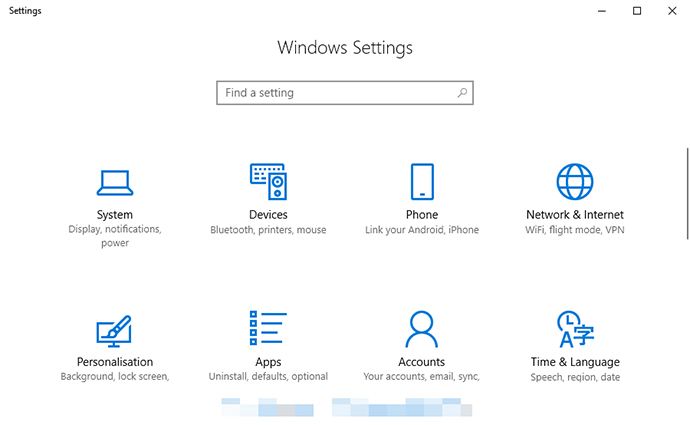 Step 2: Go to Activation > Go to store.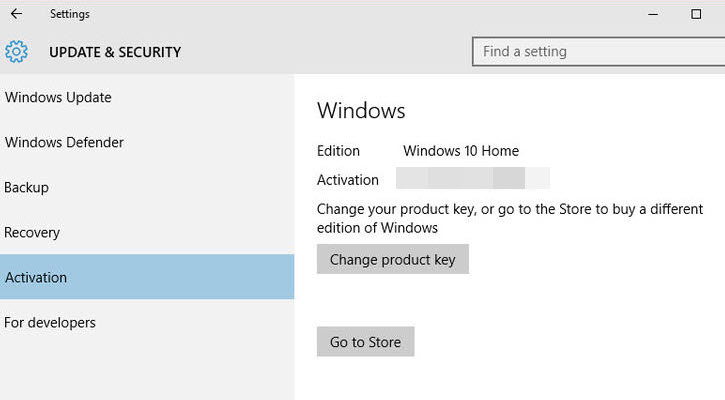 Step 3: You will be directed to the Windows Store. Then choose the Digital License you want to buy, and finish the purchase process.
Step 4: Microsoft will give you a Digital license after purchasing. Go to Settings > Activation, and activate Windows using the digital license.
Troubleshoot 5. Contact Microsoft Chat Support for Help
If none of the methods above helped, the last thing you can do is to contact Microsoft Chat Support for help. The Microsoft support team will figure out the problem and help you through.
1. Simply click Contact Microsoft Support page.
2. Describe your issue in details. For instance, you have upgraded the hardware of your Windows computer, but you are unable to reactivate Windows even after trying Activation Troubleshooter.


3. Microsoft support will get back to you for further assistance. Good luck!
FAQ: People Also Ask About Unable to Activate Windows
Q1. Do you need to reinstall Windows after replacing motherboard?
No. It is not necessary to reinstall Windows after replacing motherboard. If you have changed the hardware for your computer, Microsoft will ask you to reactivate Windows, and you can reactivate it to continue using, but you don't have to reinstall Windows operating system.
Q2. How do I remove Windows activation?
To remove Windows activation notification or watermark, you can run services.msc in the Run box, and go to Software Protection (or sppsvc), and stop this service. Reboot Windows to take effect.
Q3. What happens if you never activate Windows 10?
You are allowed to use Windows 10 without limitation for 30 days after installing without activation. If you never activate Windows 10, that doesn't matter because you can still use Windows 10 for a long time, but some features will be disabled, such as personalized settings, and there is a watermark on your desktop screen.
Q4. How many times can you activate Windows 10?
It depends. If you upgrade from a retail Windows 7/8/8.1 to Windows 10, then you can activate Windows 10 without limitations. If Windows 7/8/10 was preinstalled in your computer motherboard, then you cannot reactivate it because it is an OEM license.
Q5. Why does Windows keep asking me to activate?
There are various reasons why Windows keeps asking to activate:
1. If you enter a wrong activation key, then it will keep asking to activate;
2. Your computer will forgot the license key after reinstalling Windows, so it keeps asking to activate;
3. Windows will need to be reactivated after hardware changes, such as replacing CPU or motherboard;
4. Windows updates may forgot your license key so you will be asked to reactivate after Windows update.
Read Also: How to Find Windows 10 Product Key in Registry Instantly
Final Words
Here we go. If you are having an activation error in your Windows PC - unable to activate Windows after hardware changes, then you will find the troubleshooting steps here. We have showed you the various error messages of this issue, and guided you the troubleshooting process. If you have any problems with your Windows product key, do forget to try PassFab Product Key Recovery - an ultimate tool to retrieve Windows product key and other license keys in your computer.