iCloud comes with a unique security feature to protect your devices and private data. iPhone Activation Lock works with the Find My feature to provide a secure lock activated on all devices by default.
However, is it possible to unlock an icloud locked iphone and how to bypass Activation Lock can become the problems if you don't remember your iCloud account and password or buy a used phone with an already logged-in account. Many Apple users have come across the issue of iCloud activation Lock removal where they are unable to access their devices.
To counter the issue, multiple software and online tools are available to remove the iCloud ID from your device so you can set it up again. We have gathered the best iCloud removal tools through which the iCloud lock can be disabled. Read the guide below to find yourself a suitable solution.
Tips before Bypass iCloud Lock
Ask Seller to Sign out iCloud account

Turn off Find My iPhone before reset/restore
Once you have followed the above mentioned tips, it's time to take deeper dive to unveil different methods to bypass iCloud lock:
How to Bypass activation Lock on iPhone - 5 Methods
Method 1: Bypass iCloud Lock with DNS Server
Wondering how to bypass iCloud activation lock for free? Try using the DNS bypass procedure.
What is DNS Bypass?
Domain Name System (DNS) translates your domain into IP addresses through which devices communicate. The DNS servers change the activation path enabling iCloud to unlock. When you try to activate iPhone or iPad using DNS, your original Apple server to the iCloud DNS server. This can be achieved by manually changing the server while connecting to a wireless network.
Few things to keep in mind using the iCloud DNS server for iCloud unlock:
No assurance of the process. You might need multiple tries to make it work.
Supports older devices with iOS 8 to iOS 10.
You might risk exposing your internet traffic to a third party.
You cannot access all iOS features. (only the website, camera, listening to music)
This is a temporary method, and your device is still in the state of being activated.
Here's how you can use the DNS method to remove iCloud lock:
1. Insert the Sim card.
2. Switch on the phone and select your language and country.
3. Select a wireless network. If you are connected to the WI-FI, click on Forget Network. Otherwise, click on the "i" next to the network name.
4. Scroll down and click on Configure DNS.

5. Select Manual and enter the iCloud unlock DNS server IP addresses depending on the region. Remove the old IP address from the ISP modem.

List of DNS bypass servers:
USA: 104.154.51.7
Europe: 104.155.28.90
Asia: 104.155.220.58
South America: 35.199.88.219
Australia and Oceania: 35.189.47.23

6. Connect to a wireless network.
7. A screen will appear displaying that iOS is trying to connect to Apple's activation server. Select the backlink option.
8. Your device will redirect to iclouddnsbypass.com. Here, you will find a predefined list of apps from which you can send texts, take photos, watch videos, etc.
Method 2. Bypass iCloud remotely from iCloud
If you are stuck and don't know how to bypass iCloud lock on iPhone 6, this method is worth exploring for you.
You can visit iCloud.com to remotely bypass the iCloud lock on iPhone 6 if you face these two scenarios:
If your iDevice is not in your access.
If you purchase a second-hand iOS device, ask the seller to follow these steps.
Open your web browser, sign in to iCloud.com with your Apple ID.

Go to "Find iPhone".

Tap the "All Devices" option.
Choose the device that you wish to bypass from iCloud.

Tap Erase.

Click Remove from Account.

Now, your iPhone will be erased and restart automatically.
Method 3: How to Remove Activation Lock by Using Software
PRODUCTS
1.PassFab Activation Unlocker
2.WooTechy iSalvor
Supported operating system
Windows and Mac
Windows and Mac
Supporting Devices
iPhone 5S- 13
iPad (2013 - 2019)
iPod touch 6 & 7
iPhone 5S- X
iPad (2013 - 2019)
iPod touch 6 & 7
Supporting version
iOS 12-15
Windows 10/8.1/8/7
MacOS 10.11-11.1
iOS 12.0 and later
Win 10/8.1/8/7
MacOS 10.13 - 10.15>
Price
1-Month/5 Devices-$29.95
1-Year/5 Devices-$39.95
Lifetime /5 Devices-$49.95
1-Month/1 iOS Device-$39.95
1-Year/1 iOS Device-$49.95
Lifetime /5 iOS Device-$69.95
Feature:
Jailbreaks the device and turn off activation lock, making it accessible to you.
Few things to keep in mind while using software to unlock your iPhone:
Bypasses all kinds of locks from iPhone, iPad, and other Apple devices.
Provides a quick and reliable fix in no time.
Enables access to Wi-FI and Apple ID in iTunes or App Store.
Doesn't allow the use of telephone calls or iCloud of your new Apple ID
Activation Lock appears again upon restarting the device or updating the IOS. However, you can use the software to unlock the activation lock again.
1. PassFab Activation Unlocker
How to delete an icloud account if you don't know the password? PassFab Activation Unlocker is designed to disable iCloud Activation Lock by either bypassing the activation lock or turning My iPhone off. It is an effective software for removing the iCloud lock making the device easily accessible to you. Follow the steps below to fix how to remove activation lock without previous owner 2020 by using PassFab.
Launch the software

Select [Remove my iCloud Activation Lock]. Read the agreement and click on Start. Connect your device via a USB cable and jailbreak your device.

Jailbreak Procedure for Windows:

The software downloads the jailbreak as soon as the device is connected. When jailbreaking is completed, click on [Start] to remove the activation lock from the device.

Lastly, click on Done.

Your device is free from the lock, and you can now access it.
2. WooTechy iSalvor:
WooTechy iSalvor is a quick solution for bypassing iCloud activation iPhone 6 or other versions. It is one of the top essential activation unlockers to remove iCloud lock, once and for all!
Launch the software

Select the [Bypass iCloud Activation Lock Screen]. Click on the Start button.

Connect your device

Jailbreak Procedure for Windows:

For the windows system,the software doesn't have a jailbreak tool. However, you can click on Jailbreak Tutorial and follow the instructions to jailbreak your device. After you're done, click on Finished Jailbreak to proceed to bypass your device.

Bypass Activation Lock Screen

Your device information will be displayed on the screen. Confirm the info and click on Start Bypass. If the process is successful, a Successfully Bypassed! Screen appears. Click on Done, and you are ready to use your device!
Method 4: How to Bypass Activation Lock by Using Online Tools
If you're wondering how to unlock a locked iPhone without the need to jailbreak your device and how to bypass activation lock for free, then you can use online unlocking tools.
Feature:
Bypasses iPhone activation lock with the IMEI provided online
Few things to keep in mind using the online activation unlocking tool:
The process and slow, and you might end up waiting 12-72 hours for feedback.
There isn't effective customer service. Chances of risk and fraud.
You must have the IMEI code to use online activation tools.
Online iCloud Bypass Tool 1: IMEIdoctor
While going for an online solution, IMEIdoctor is a reliable option with a 4.41 customer rating. It provides a high-quality service, saving you from the hassle of using software or jailbreaking your device. You just need to send your details, and the company will unlock your device. Follow these few easy steps to fix how to bypass activation lock with IMEIdoctor:
1. Get your IMEI number.
2. Provide the IMEI number to the website, select your device model and click on Unlock Now.
3. After the payment is processed, you will get a confirmation email.
4. Wait for a few days. After the unlock is successful, you will get another email. Then you can access your phone.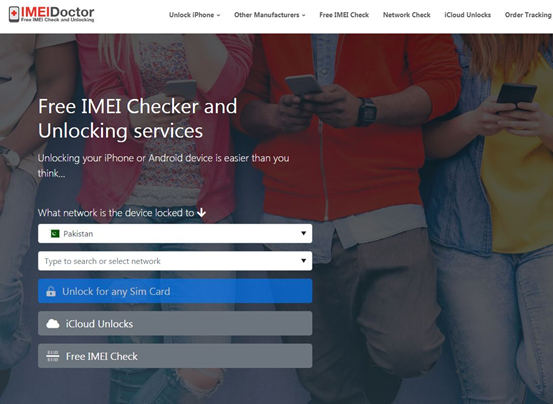 Online iCloud Bypass Tool 2: Appleiphoneunlock
Appleiphoneunlock is yet another efficient online tool for iCloud activation lock removal and make your device accessible again. It claims to unlock your Apple iPhone lock within 72 hours so you can set up your device just like normal. Here is how to bypass iCloud Activation Lock with appleiphoneunlock:
1. Go to appleiphoneunlock.uk.
2. Select iCloud Unlocks option.
3. Enter your IMEI or Serial number.
4. Select your device model and click on Unlock iCloud!
5. You will be directed to the payment process. Fill in the details to proceed further.
6. Now, you need to wait for approximately 72 hours, and your device will be unlocked!
Online iCloud Bypass Tool 3: icloudbypassonline
1. Go to www.icloudbypassonline.com
2. Scroll down, and you will find a Start Unlocking box. Click on Unlock Now.
3. Enter your device model and IMEI number and click on Start.
4. After loading is completed, select a pricing plan and proceed with the payment.
5. Wait for a few hours, and you will be notified when your device unlock will be successful.
Method 5. iCloud Unlock Bypass with Apple Support
Bypassare iCloud iPhone 6 with Apple Support is more legit to set up your iOS device. Prepare the proof that the iPhone is yours and go to Apple Support Store to let them unlock your iPhone.
In this guide, I have unveiled top 5 methods about how to bypass iCloud lock iPhone on your iOS device. You can choose any that suits your requirements to setup your iDevice. I recommand PassFab Activation Unlocker as the best solution. If you have any questions, feel free to contact us.
What You should Know about iCloud Bypass.
1. How to find IMEI on a locked iPad?
You can get the IMEI number of your device with the steps below:
If your device is activated, you can get your IMEI by dialing *#06# or you can go to Settings > General > About. Scroll to the bottom to find your IMEI number.
If your phone isn't activated, select the "i" icon from the activation screen, and you will get the IMEI.
2. What does iCloud Lock mean?
Apple provides its users a secure system with the iCloud lock to prevent any misuse of the device. It is a feature introduced from iOS 7 and made a part of the Find My app. It asks the user of the iCloud ID and Password to access the device. In case you don't know them, your device remains locked.
3. Is Apple activation Lock removal service legal?
Apple Activation lock bypassing legality has been much of a debate; however, it is legal to bypass your iCloud Lock.
You might get prosecuted for owning a device that is stolen or illegally owned by someone. This too, is not because of unlocking the phone but of information theft.
The need to bypass your iCloud becomes essential when you have forgotten the iCloud login credentials or bought a new phone whose previous owner is out of reach.
Final Words:
iCloud lock restricts access to your device. To be able to use the device, you need to enter the iCloud ID and password. Most users face the activation lock issue where they don't have the login credentials to unlock their device. There are several unlock solutions and tools that assist you by removing the iCloud account. I hope our guide answers all your queries regarding iCloud activation lock removal and helps you with the unlocking!