iCloud Activation Lock secures your account even if you have lost your device. If your activation lock is enabled, nobody can gain access to your account. However, it creates a problem when you have bought a used phone, and its iCloud is locked, so it's of no use to you. In this article, we will tell you what iPad Activation lock is, and how to use bypass code to enter your iCloud (2018 & 2019 updates). So, let's get started.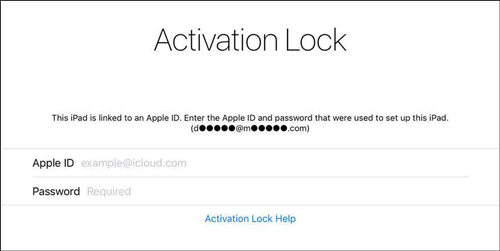 Part 1: What is iPad Activation Lock Bypass Code?
Let us first start with what the iPad Activation Lock Bypass code is, and then we will see how to use it to enter your account. Basically, Activation Lock is a security measure that will prevent unauthorized access to your device. If your device is locked with an activation lock, it is impossible to control your device without knowing Apple ID and password. Nobody can use it, erase its data, or even reset it without unlocking it.
It is beneficial when you want to secure your account in case of a theft. Even if your device gets stolen, the person won't be able to access your phone in any way. Now, if you have set the activation lock and forgot the Apple ID or password, you can still access your phone with the help of Bypass codes.
Apple devices are equipped with the feature of Bypass codes that are unique codes created when you first enable the Activation Lock. These codes are stored in the system manager. Bypass code can be used to bypass the Activation Lock of iPad even when you can't remember the Apple ID or password.
Part 2: How to Use iPad Activation Lock Bypass Code
So, now you know what iPad activation lock bypass code is, let's now look at how to use the activation lock bypass code to enter into your iPad device (2018 & 2019 updates). Check the steps below on how to use the activation lock bypass code.
01

Go to the profile manager devices sidebar. Then, click Devices.

02

Select the device and click the About tab. Then, select the security triangle and locate the bypass code.

03

In the Apple ID password box, enter the bypass code. You can leave the name box blank.

04

The activation lock will be removed, and the device is erased. You will have to set up the iPad device again with a new Activation Lock and Bypass code.
Part 3: How to Bypass iPad Activation Lock with Tool (100% Work)
Now, you know how to use a bypass code to remove the activation lock to enter the Apple Device. Let's talk about the scenario where you have purchased a used device, and the previous owner handed over the device without removing the activation lock. It will be useless for you.
So, here we bring a third party software for you to use and enter to iPad and iCloud account and bypass the activation lock without using a bypass code. PassFab Activation Unlocker is an effective and easy-to-use software. Let's see how to enter and bypass iCloud activation lock without the use of a password or code.
However, let's first take a look at the advantages or services that PassFab Activation Unlocker has to offer:
It not only removes iCloud Activation Lock without a password but also erases activation lock on iPhone, iPad, and iPod without Apple ID and password.
You can regain access to your iCloud without Apple ID and password.
It supports a wide range of devices like Phone 5S and iPhone X.
Also, it works on iOS 12.3 and later versions.
You can use W-Fi and download apps once the activation lock is removed. However, you won't be able to use SIM card settings.
Now, let's move to the step-by-step guide on how to use the PassFab Activation Unlocker. It will bypass your devices like iPad, iCloud account, etc. in three simple steps. So, let's begin.
Step 1. Connect Your Device to Computer
01

Download and install PassFab Activation Unlocker on your computer. You can download it from the official website of PassFab.

02Once downloaded successfully, launch the software. On the main interface, select "Remove iCloud Activation Lock", and click the "Start" button present on the bottom right corner.

03Then, you will see an agreement window on the screen. You should read the agreement carefully. Then, click "Next."

04Now, connect your iPhone or iPad on which you want to bypass the iCloud activation lock. You can use a USB cable to connect it to your computer. Once you connect it, your computer will automatically detect the device and download the jailbreak tool for you.

05Once done, insert a USB to burn the jailbreak tool in.
Step 2. Jailbreak the iDevice
01Once the buring process is done, it will show you a guide how to jailbreak your device. Read it.

02Restart the computer and boot from the USB. Follow the guide to jailbreak your device.
Step 3. iCloud Activation Lock Removed
01After the successful jailbreak, open PassFab Activation Unlocker again, you will see the "Start Remove" option appearing on the screen. Click it to bypass the iCloud activation lock.

02Finally, click "Done" once the unlocking process is complete. Congratulations on successful bypass of iCloud activation lock on iPad or iDevice without a code.
You can also watch this video tutorial about how to bypass iPad activation lock:
Rounding Up
If you have purchased a used phone or iPad with activation code enabled, you can bypass the activation lock with the help of bypass code. Here, we first shared what activation lock bypass code is for the iPad and other iDevices. Then, we shared a method, how to use the bypass code to remove activation lock and enter the iPad or iCloud account (2018 & 2019 updates). Lastly, we shared a step-by-step guid for a fantastic software, PassFab Activation Unlocker, to access your iCloud account without the Apple password.