iPad users take their iPad with them almost everywhere because of its perfect size. They have it mostly while traveling. Let's imagine a scenario where you are about to use your iPad in an airplane and a sudden realization comes over you. News flash! You have forgotten your iPad passcode. Now, imagine how boring your whole journey will be without your gadget.
We have provided you with a list of some easy methods to make sure that you can unlock your locked iPad in little to no time. This list contains some of the best tried and tested methods that will unlock your iPad. I am sure after going through all of this you will not be asking the question that 'what to do if you forgot iPad password'.
Method 1: Unlock Forgotten iPad Password with iTunes
iPads are definitely cool. They increase productivity and makes working extremely flexible. But what to do if you forgot your iPad password? A locked iPad means you cannot use it or access any content in it. So, if you forgot iPad passcode, you must be wondering how do you unlock an iPad.
If you forgot iPad password and your iPad is disabled now, you can try to unlock it via iTunes. Even if you haven't synced your iPad to iTunes, this method will still work. It has very basic instructions. Follow them carefully to resolve your issue:
Firstly, connect iPad to any computer system with the help of a USB cable.
Open iTunes on your PC and start locating your device.
When you select your device, you will have two options; 'Back up now' or 'Restore backup'. If you have not backed up your iPad, then select the first option (this will easily sync you with iTunes).
If you have backed up your iPad previously then you need to select 'Restore backup'.
Now, you need to choose the most recent backup.
In a while, all your data will be transferred to the PC and your device will be unlocked.
Method 2: Forgot iPad Password, Unlock with PassFab iPhone Unlocker
Firstly, the best method that I would like to introduce is to use a powerful tool named PassFab iPhone Unlocker. This is an extremely professional tool that will allow you to unlock disabled iPad quickly and easily. The best part about this tool it's the simplicity of its instructions. You absolutely do not need to have any extra knowledge to unlock your iPad. All you have to do is follow the easy-to-use and interactive interface and you are good to go.
part from being extremely user-friendly, it also saves plenty of time. It guides users with easy and simple steps that do not need much time to understand. Hence, if you are looking for the number one method to disable iPad then I am sure you would love to use PassFab iPhone Unlocker. Follow these steps to unlock your iPad with PassFab iPhone Unlcoker.
Step 1. First of all, you need to launch PassFab iPhone Unlocker on your PC/Mac. When you reach to the main interface, select 'Unlock Lock Screen Passcode'.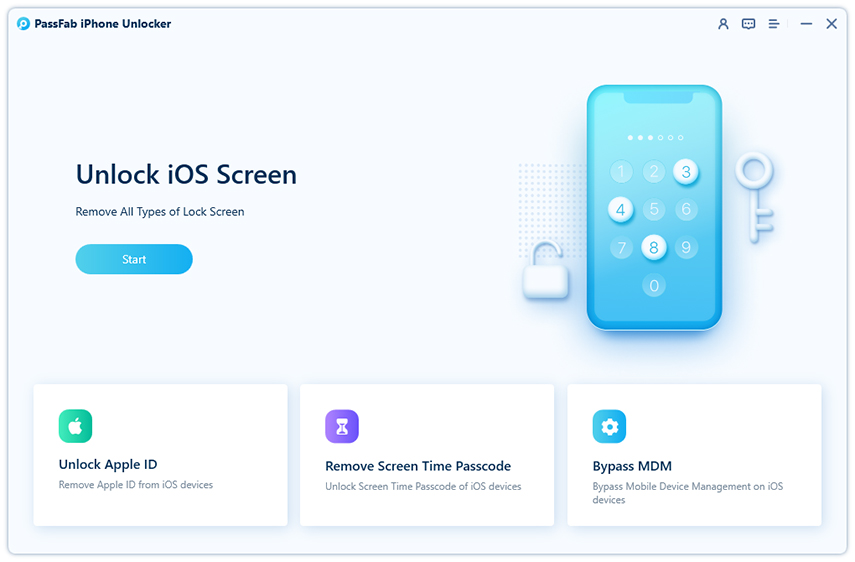 Step 2. Connect your iPad to the computer system and click on 'Start'.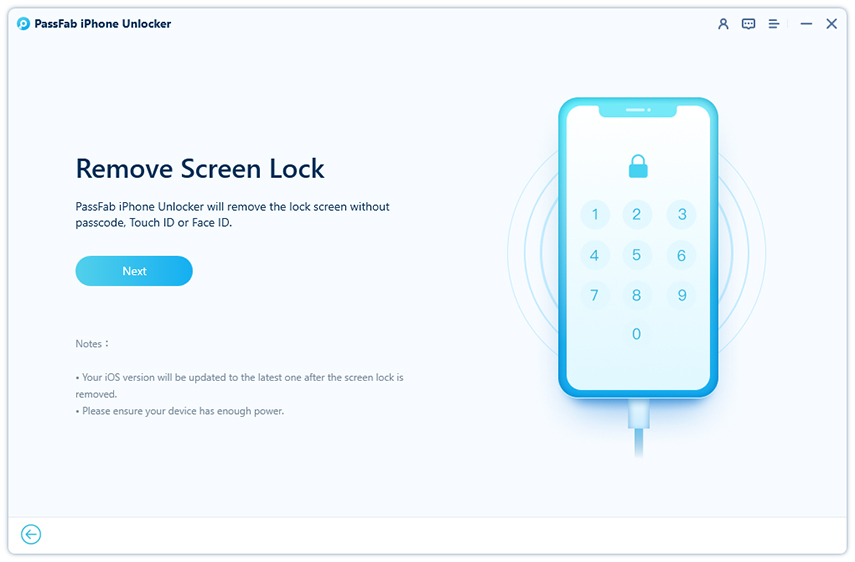 Step 3. Now, it will ask you to download the firmware package. Simply, choose the path to save the file and select 'Download'. The firmware package will start downloading.
Step 4. When the download is successfully completed, click on 'Start Unlock' so that the passcode can be removed.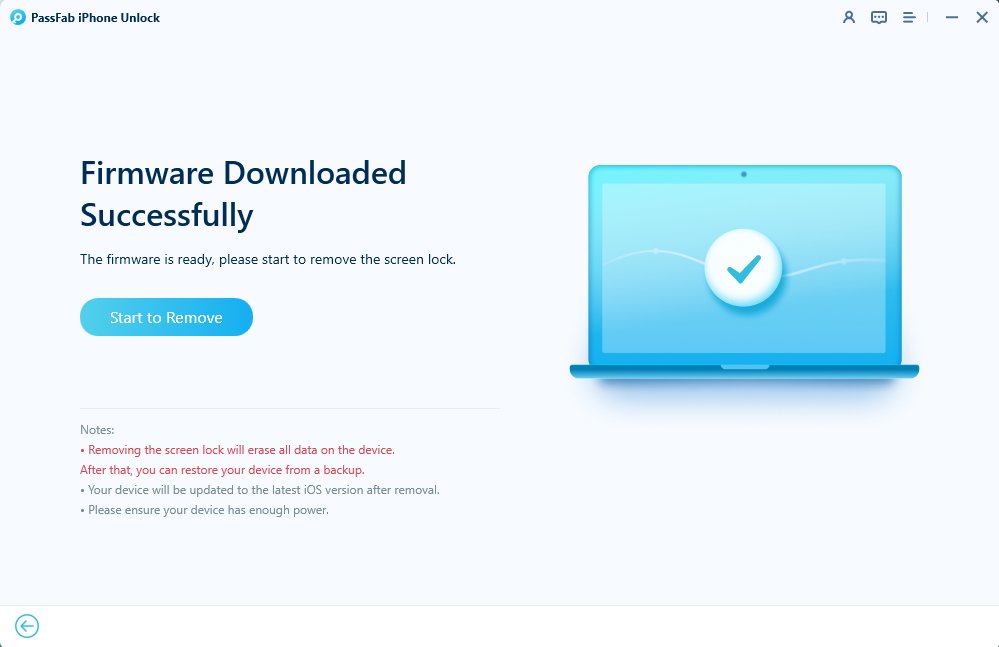 Step 5. Voila! Now you can easily unlock your phone without having to enter any passcode.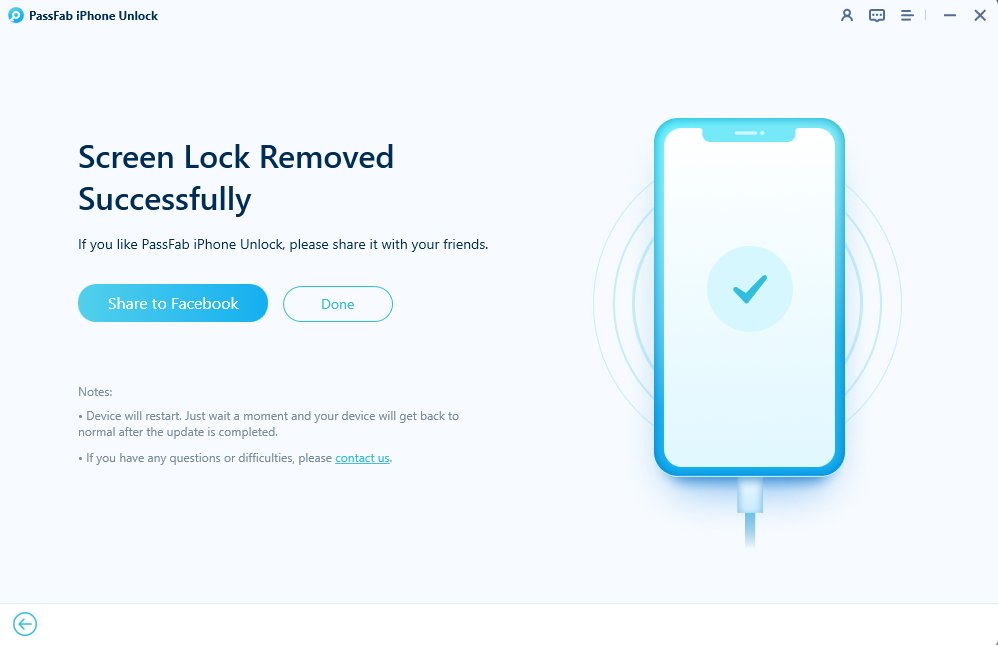 Method 3: Unlock Your Forgotten iPad Passcode with iCloud
Being one of the leading companies of the world, Apple has definitely made things easier for its users. Apple provides many services and one of them is iCloud; solely dedicated to iOS devices. This service can help you in unlocking your iPad within minutes if you forgot iPad passcode. Here are the step-by-step instructions to unlock your iPad with iCloud:
Direct to the link of 'Find my iPhone' page on any computer system.
Sign in to iCloud by using your Apple ID that is linked to your iPad.
Find your device in the list of all devices.
Now, click on 'erase iPad'. Re-enter your credentials so that you can recover your iPad.
Make sure to turn on the iPad and wait for some time while iCloud is erasing all information on the device.
Restart your iPad. This will bring you to the setup screen.
Click on 'Set up your device'. This will start the reconfiguration of your device.
Finally, select 'Restore from iCloud Backup'. Choose the most recent one and your iPad will be restored without the forgotten passcode.
Method 4: Unlock Forgotten iPad Passcode in Recovery Mode
If your iPad has completely refused to unlock, it can leave a very bitter feeling with you. The last method that we are going to use to unlock a disabled iPad in Recovery Mode. I am sure if you go through all of the instructions very cautiously, you will be successful in recovering your disabled iPad. So, here are all the steps that you need to follow to unlock your iPad in recovery mode.
First of all, launch iTunes on your computer system and make sure you turn off your iPad.
Now, press the home and power button together and hold them up to at least 10 seconds.
Apple logo would appear on the screen of your iPad. Make sure you don't let go of the home button as yet.
After a short while, you will see the iTunes symbol on your screen which suggests that your iPad is now in recovery mode.
Connect your iPad with your computer system and iTunes will detect it.
Now, a dialogue box will appear in front of you asking you to restore the device.
Make sure you click on 'OK' to restore your iPad.
FAQs About Forgetting iPad Password
Q1: What if I forgot my iPad password?
Well, forgetting passwords is a very common thing. So, you don't need to worry much about it. We have mentioned four methods in this article through which you can unlock your iPad. Read them out and I'm sure it will be a huge help.
Q2: How do I reset my iPad to factory settings without the passcode?
You can easily rest iPad to factory settings by holding the home and power button simultaneously. This will make the Apple logo appear on your screen and will take you to settings feature.
Q3: How do I remove the password from my iPad?
If you no longer wish to have a password on your iPad, then simply go to settings and turn off your passlock from there.
Fina Words
If you have reached the end of this article then I am hoping all your issues related to disabled iPad are perfectly resolved now. Now, whenever you think "what if I forgot my iPad password", you know how to unlock it. With that note, make sure to use the best method of unlocking iPad that is by using PassFab iPhone Unlocker. I am sure you won't be disappointed. I hope you liked the content of this article. Also, if you still have any questions, make sure to leave them in the comments section and we will try our best to answer your queries as soon as possible. Thank you!