"Hi? Can you help? I'm trying to log into iTunes backup, but after entering the wrong password a few times, I realized that I forgot my password! Is there any way to solve this problem?"
-An user from Apple community
Most iPhone users usually store photos and some important information on iTunes backup. It will auto backup your data once you turn this feature on. It is for this reason, many users will forget iTunes Backup password if they didn't type it often. So, it means your data has been locked. But, there is nothing to be afraid. In the post, we will tell you how to restore your iPhone from backup.
Part 1: No Password to Restore iPhone Backup How to Do?
When it comes to restore iTunes backup password, we all try to research about the solution of the problem over Google in the first place. In real, there are actually no free ways available that can directly help you to restore backup password of iTunes. But yes, you can reset the backup password setting off your device for free.
Note: You can restore iTunes backup password by using third party tool, we recommend
iPhone Backup Unlocker
. You can check it in situation 3.
Situation 1. If users iOS version is iOS 11-iOS 13.3.1
In this very situation, if your iDevice is operating on iOS version lower than iOS 11, then you would have to factory resetting your device to remove the backup password setting. Here's how to do it.
Launch "Settings" over your iPhone and get into "General". Scroll down to the "Reset" option and select "Erase All Content and Settings", confirm your actions and you're done.
In case you wish to protect your data, first enable iCloud backup feature under Settings > iCloud > Backup > iCloud Backup > Back Up Now. Ensure to stay connected to a high speed internet connection till the backup completes. Once done, proceed with erasing your device with the steps above.
Caution: Making an iCloud backup require huge amount of time, especially when users have a whole lot of data and on top of that have a slower internet connection.
Situation 2. If the iOS version is iOS 11.
Now, if your iDevice is operating on iOS 11 version, then you can simply reset the backup password setting by opting for "Reset All Settings". This will certainly not going to erase your personal data like photos videos etc. but yes will reset all settings over your iPhone like passwords, wifi connections, touch ID etc. Here's how to do it.
Launch "Settings" > opt for "General" > scroll down to "Reset" > hit the "Reset All Settings", confirm your actions and you're done.
Situation 3. If the iOS version is iOS 13.4.1
Well, if your iOS verison is the latest version. There is a little difference. Once you click "Erase All Content and Settings" there will show a windows, which you need to confirm documents and data are being uploaded to iCloud. Then click "Finish Uploading Then Erase".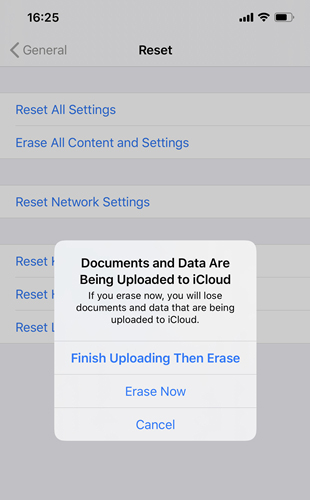 Part 2: How to Restore iTunes Backup Password in All iOS Versions
There is no free way to waive off the the backup password from your device if your don't wanna lose your data. So, here comes the iPhone Backup Unlocker for your rescue. With this powerful tool, you're not only empowered to retrieve the iTunes backup password but also enables you to remove backup encryption settings of your device and also helps you in removing Screen Time passcode.
Steps to restore iPhone backup password
Step 1: Begin with /powsing the official website of PassFab iPhone Backup Unlocker and download your copy from it. Install it afterwards and launch it over. From the main screen of the program, hit on the "Retrieve iTunes backup password" option and head further.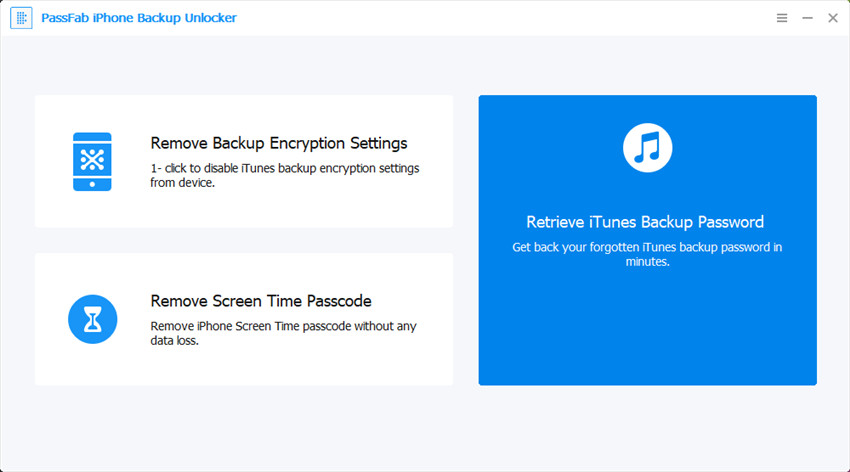 Step 2: Your entire iTunes backups that you've made will automatically be detected and displayed over the screen. Just in case you didn't find your desired backup file, hit on the "Import backup files" link to import the preferred iTunes backup file.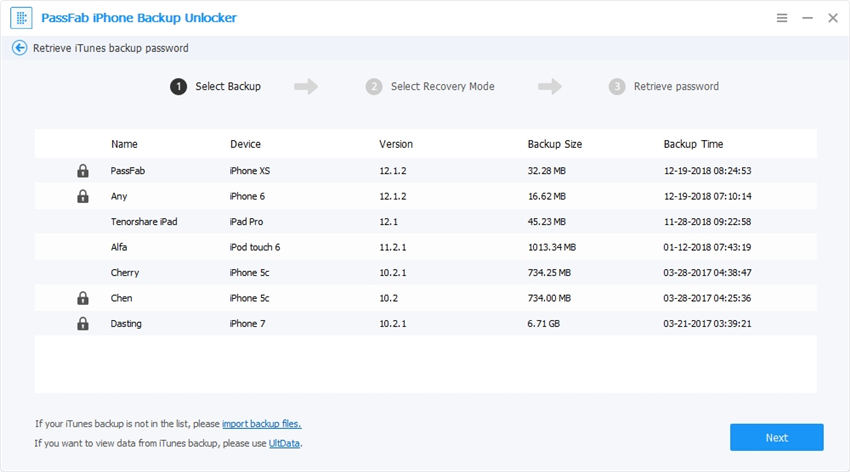 Step 3: Now, opt for the one you require and then out of the 3 password attack modes, select the one that suits best to your needs. Hit on "Start" afterwards.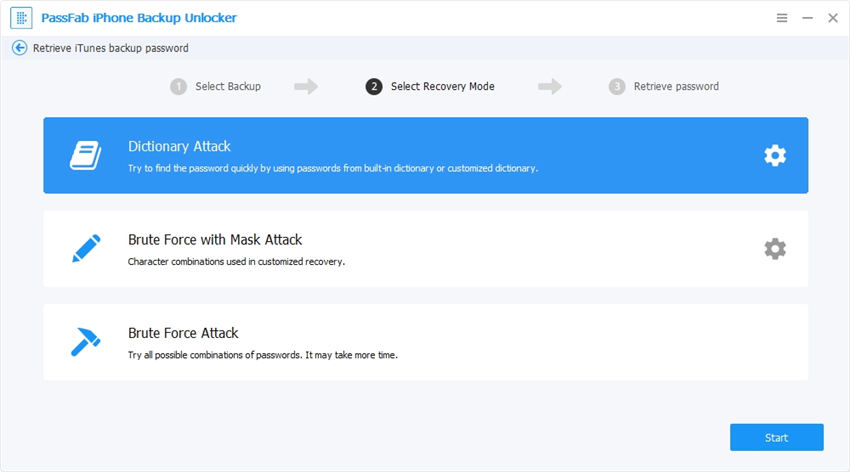 Step 4: The password recovery process will now be initiated. Please wait for the process to complete as it can take up to a few minutes to hours, depending upon the complexity of your password.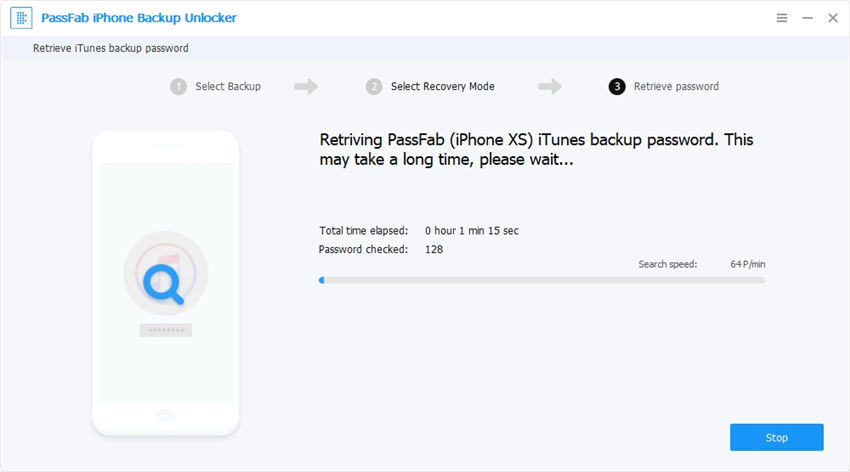 Step 5: Upon completion, a pop-up window will appear displaying the password of your iTunes backup file.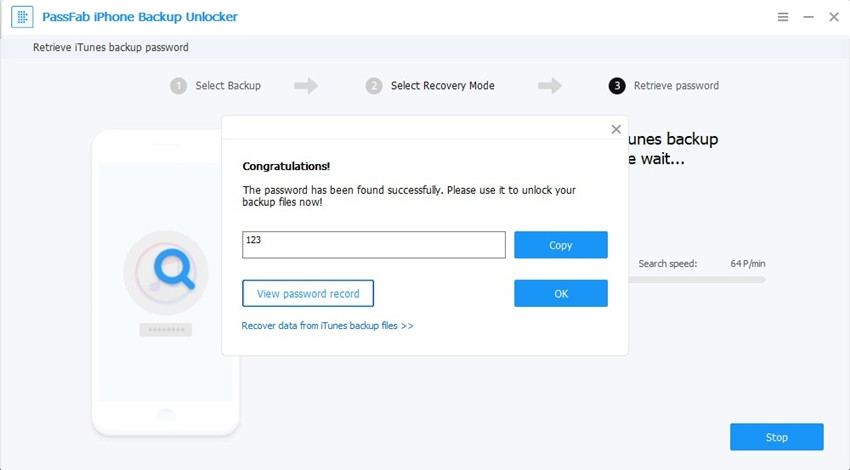 Final Words
We now firmly believe that you no longer need to worry about your query what is the password to restore iphone backup as you can quickly recover the itunes restore backup password with one of its kind tool PassFab iPhone Backup Unlocker and that too, without any hassles.