"I am getting a weird request on my iPad. I just restored from my iTunes backup. After that, I was asked for my Apple ID once. I entered it, and then I was asked for it a second time. After I entered the Apple ID the second time, I was asked to enter my Mac password."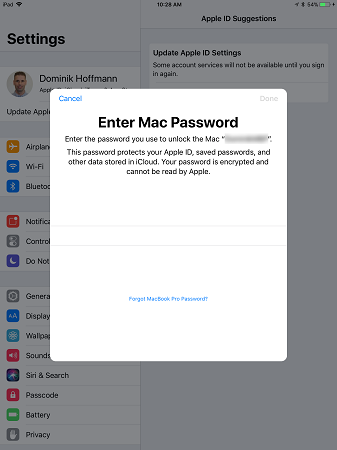 If your iPhone or iPad was asking for your iPad or iPhone password, then it would be understandable. But the device asks for Mac password, which is a very strange situation. This is an odd situation. People won't have any idea of what is going on. Even we had no idea what happened in the beginning. But we figured it out. If you want to know more about this problem, read the article below.
Part 1: Why Your iPhone/iPad Ask for Mac Password?
A few iPad users have been complaining about a very specific issue. After restoring their iOS device, they are getting a message. It is asking them to 'Enter Mac Password'. Then, it says, Enter the password you use to unlock the Mac 'name here'. The password protects your Apple ID and stores data in the iCloud. It is encrypted, and even Apple can't read the password.
So, why are you getting enter the password you use to unlock the Mac? In short, this can't be described as an error. This may sound really odd, but this is Apple, working to protect your security.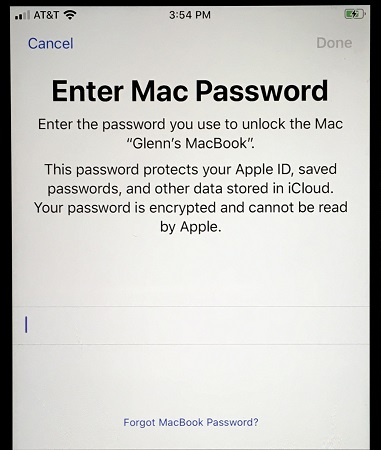 Part 2: How to Solve Enter Mac Password on iPhone/iPad
So, the biggest question is the solution. If iPhone asks for Mac password after the restore and if this is Apple working on my security, what can I do to fix it? Well, the simplest answer is to type the password for your Mac, and get on with it. But in some cases, users have said that they don't remember the Mac password. So, whatever situation you are in, following the solutions below.
Method 1. Enter Mac Password on iPhone/iPad If You Remember It
The simplest way to get rid of this problem is to type the password for your Mac. You can check out the image for this error again; there is a box at the bottom. Type the password for your Mac and execute it.
Method 2. Click Forgot MacBook Password If You Forgot It
If you are asked to enter Mac password but forgot it, then we recommend resetting the MacBook password using the Apple ID. The steps are simple; check them out below.
Step #1: On the Apple menu, select 'Restart'.
Step #2: Click on your User account and then click on the question mark. After that, click on the arrow next to it to 'Reset it using your Apple ID'.
Step #3: You will be asked for your Apple ID. Type it and click 'Next'. Then, follow the on-screen instructions.
Method 3. Find Saved Mac Password with iCloud Keychain
The last final method is to locate the saved password using the iCloud Keychain when you are asked to enter Mac password iPad. The Keychain Access Utility on the macOS stores all your password securely. It includes passwords for websites, servers, networks, applications, and more. But it is not easy to access those list of passwords in the Keychain. Several steps are involved. We have detailed steps below. You are welcome to check them out.
Step #1: Click on 'Go' and Choose 'Utilities'.
Step #2: Under the Utility option, you will find 'Keychain Access'. Double-click on it.
Step #3: In the 'Keychain Access', click on 'passwords' and choose the password for your Mac.
Step #4: Then, click on the 'Show Password' option when the popup appears.
Step #5: Finally, enter your Keychain password and click 'OK'.
When you have provided all the necessary credentials, the Mac password will be visible on the screen.
Extra Tips: How to Find Saved Password in iPhone and iPad
In the previous part, we learned that you have to use the Keychain Access to locate the saved passwords on a Mac. But on and iPhone or iPad, things are a bit different. If you want to locate saved passwords on these iOS devices, then it is best to use a professional tool to access the saved passwords easily. There are several promising options on the internet, but we recommend using PassFab iOS Password Manager. This is one of the best password managers on the market. Effective, relentless, and convenient to use. You can check out the user guide below.
Step #1: Complete the installation of the program on a computer.
Step #2: Then, connect the iOS device to the computer and run the Password Manager.
Step #3: After the iOS device is connected, and it is detected by the program, a new panel will appear. Click on "Start Scan'. And then click 'Continue' to proceed.
Step #4: The program will thoroughly scan the device. It will take a few moments of your time.
Step #5: After the scan is finished, you will have the option to view different passwords. Click on Screen Time Password.
Step #6: You can easily check out the password from here. But you also have the option to export it. Click 'Export' to export the password to Chrome, 1Password, Dashlane, and more.
You can choose to export the password here, but just noting it down on a piece of paper will be enough.
Final Words
Therefore, if you are being asked to type your Mac's password, then type it and proceed. There is nothing to worry about; this is not a scam. It is just Apple securing your data. But if you don't remember the password, then you have the option to reset it or recover it via Keychain Access. But if you are looking for a saved password on an iOS device, then PassFab iOS Password Manager will be more effective.
People Also Ask About Mac Password
Here are answers to a few Mac password related question frequently asked by macOS users.
Q1. Is the Macbook password the same as Apple ID?
No, not. The MacBook password is something you use to unlock your Mac. But this is not your Apple ID password. The Apple ID password lets you access the iTunes Store, App Store, Apple Books, and more Apple services.
Q2. How do I recover my Mac login password?
You can make the Mac password recovery using the Keychain Access, where all your passwords are stored.
Q3. How do I find my Mac username and password?
You have to navigate to the 'System Preferences' and then click on 'Users & Groups'. There is a padlock sign at the lower-left corner of the panel; click on it. Type your Admin password.