If you have an iCloud locked iPhone,well, you're not alone. This happens a lot of time with people buying a second hand/used iPhone or when you forget your Apple ID password. You might now be wondering how to unlock iCloud locked iPhone, correct? Worry no more! We're always here to rescue you from troublesome situations with the best possible solutions! Therefore, we have specifically drafted today's post on how to unlock iCloud locked iPhone X/8/7/6/5. Without waiting any longer let's delve in to this matter.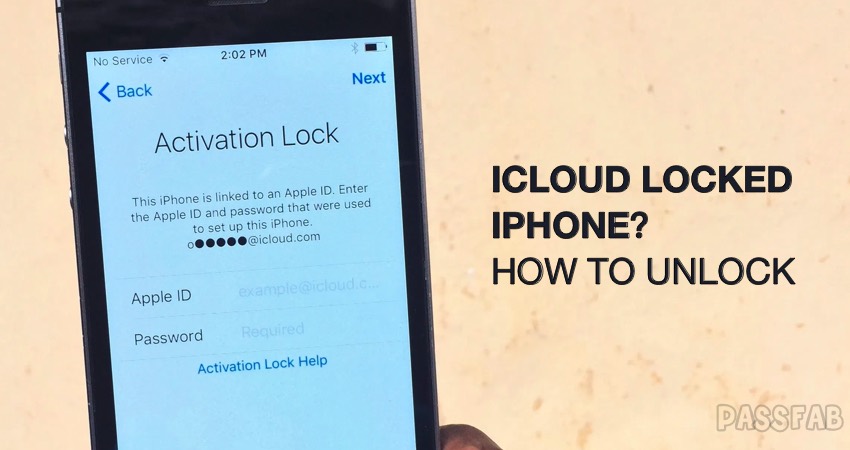 Part 1: Is It Possible to Unlock an iCloud Locked iPhone?
The very first thing that clicks our mind is that is it possible to unlock an iCloud locked iphone? Well, the good news reads, "Yes it is possible to unlock icloud locked iphone" and that too, when you don't even have the credentials.
For your information, the "iCloud Activation Lock" was introduced by Apple in the initial phase of 2014. That implies, your iPhone/iPad/Apple watch gets locked with your private iCloud account. So that only you can have fully fledged access to its administrative privileges when it comes to erasing, locking or resetting your device, unless you plan to share the credentials of your private iCloud account with someone. And hence, the only possible way left to get into your iDevice by reactivating it is via iCloud user ID and password.
Part 2: What does It Mean When iCloud Is Locked?
Apple iPhones have a unique user ID registered with the device in order to make use of the services to the fullest. You're required to setup an iCloud ID as a part of the "Set up as new iPhone" process. During the process, you also need to enable Find My iPhone service of iCloud and as soon as you do that, your unique credentials are registered with the Apple account and your device becomes iCloud locked iPhone. These credentials are not only saved over your device but are also stored over the Apple server's as security precaution for future mishaps like your device gets stolen or lost etc.
So, what happens if iCloud is locked? If someone, who doesn't know the iCloud credentials of your iPhone, tries to gain access to it then the device is of no good for him or her as they won't be able to do anything with it. But, if in case, you yourself forget the credentials then it will really be troublesome for you.
Now, that you've understood the in depth iCloud Locked iPhone Meaning, hop on to the next section to get started with solutions to unlock icloud locked iphone!
Part 3: How to Unlock iCloud Locked iPhone X/8/7/6/5
Section 1. How to Unlock by "Erase all content and settings" in Settings
iCloud Activation lock is highly effective security function built in your iPhones. As stated above, there's only one way to unlock icloud locked iPhone 6/7/8/X and that is by entering the correct details followed by erasing all contents and settings of the iPhone afterwards.
Step 1:

Assuming that you've entered the correct iCloud account credentials and have reached the home screen of the iPhone. The first thing you need to do now is sign out of iCloud account registered over it.

For devices running on iOS 10.2 and older: Head to "Settings", opt for "iCloud" and then "Sign Out".
For devices running on iOS 10.3 and higher: Head to "Settings" followed by "Apple ID [your name]" on top, then "Sign Out".

Step 2:

You may require punching in the Apple ID and password again to confirm your actions.

For devices running on iOS 10.2 and older: Hit on "Sign Out" again followed by "Delete from My iPhone" to proceed further.
For devices running on iOS 10.3 and higher: Hit on "Turn Off" to proceed further.

Step 3:

Lastly, you need to get into the "General" section of "Settings" and then scroll down to "Reset" option.

Step 4:

Hit on it and opt for "Erase all content and settings" followed by confirming your actions. Upon completion of the process, you device will be rebooted and you will no longer witness the iCloud Activation Lock.
Section 2. How to Unlock by Using iCloud
So that was about how to unlock icloud locked iphone when you have the credentials handy with you. But what if you don't have them with you? How will you unlock icloud locked iphone? Well, here's the solution for that situation too.
Step 1:

Call the person from which you've bought the iPhone and ask them to log into the iCloud.com using the original user ID and password that was utilized to initially activate the iPhone.

Step 2:

Then opt for the "Find My iPhone", select the "All Devices" drop down at the top followed by selecting your iPhone that you need to get unlocked.

Step 3:

Now, hit on "Erase iPhone" and opt for "Remove from Account" option.

Step 4:

Once they remove the iPhone from their account, reboot your iPhone and voila! The iCLoud Activation Lock is no longer crops up on start up.
Bottom Line
Since, you now know how much trouble can a iCloud Activation Lock bring to you or to the person you sell icloud locked iphone. Therefore, it is advisable to unlock icloud locked iPhone and then it depends on you to either sell it or hand it over your family member or some friend. If you forgot iCloud Activatoin Lock passcode or just want to bypass iCloud lock, here is a recommended method for you, which is PassFab Activation Unlocker. By using this tool, you can easily solve the iCloud lock issue.