When it comes for your data security iPhone doesn't compromise on it. They got one of the best data security techniques. Restriction passcode iPhone is the answer to parental control that most of the windows user is aware of it. It helps when you are not around, and your child starts using your phone. Without 4-digit restriction passcode, you can control the access of certain features and applications. But the problem occurs when you forgot iPhone restrictions passcode. The tensest and annoying moment. Now the restrictions are for both you and your child. But don't worry, we are here to help you. We have multiple ways to reset your iPhone restrictions passcode running iOS 11 and below.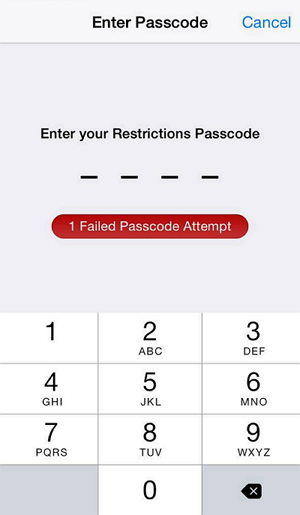 Part 1: How to Erase Restrictions Passcode on iPhone
You will need a personal computer with the latest version of iTunes in it. This might result in data loss, so do backup your data and then perform the procedure. "Find my Phone" must be turned off from iCloud settings because this feature provides some extra security to your iPhone. If all pre-conditions are OK, you can proceed with the procedure.
Connect your iPhone with your PC via USB cable and start iTunes.
Now navigate to the "Summary" tab. Here you will see the "Restore iPhone" button click on it.
A confirmation message will be shown, click "restore" button.
iPhone software update agreement will show up, after reading click "Agree".
Now sit back and wait for iTunes to download and restore your iPhone.
Once the process is successful, your iPhone passcode restriction will be removed, and all features will be available to you. As warned earlier that data may lose during this process so do backup your data.
Part 2: How to Reset Restrictions Passcode without iTunes
Don't wanna use iTunes? Here is a good way which can help you reset passcode which includes iPhone 11/11 Pro/11 Pro Max with 3 styeps. The tool named PassFab iPhone Unlocker, it safely removes passcode in just minutes and helps you regain full access to your iOS device. Not only the passcode you can by-pass locked Apple Id on your iPhone. You can't perform any action without passcode removal by iPhone Unlocker. If you have made up your mind for using this program, here is a complete guide to its usage.
Download and launch PassFab iPhone Unlocker on your computer, two options of key features will be shown on the interface. Select "Unlock Lock Screen Passcode".
A "Start" button will appear on the interface but before clicking that does connect your iPhone via USB cable.
Now the software will ask you to specify the location where the firmware will download.
Once the firmware is downloaded successfully, "Start Unlock" button will appear on your screen. Click on that.
Once the passcode removal is successful, a strong message will be shown.
If you already have the firmware, you can skip from step 4 and click on select firmware instead of download. After specifying the location, the procedure is the same.
Part 3. How to Recover Restriction Passcode on Windows and Mac
1. For Windows Users
This section is for windows user only. You need to download iBackupBot for iTunes from the internet. iBackupBot lets you control your backup and manage your iPad, iPhone, or iPod touch data. The backed-up information includes text messages, notes, call history, contact favorites, sound, and widget settings. Download iBackupBot on your windows and follow up the procedure.
Connect your device with PC and create Backup of your device using iTunes.
After creating backup, launch iBackupBot.
List of directories will be shown. Now navigate to the following directory: System Files > HomeDomain > Library > Preferences.
Find and right-click the file with the name "com.apple.springboard.plist." Open the file with any text editor.
From the file find the following lines:

<key >SBParentalControlsMCContentRestrictions<key >

<dict >

<key >countryCode<key >

<string >us<string >

</dict >

Paste the following code after </dict>:

<key >SBParentalControlsPIN<key>

<string >1234<string >

Now save the file and close it. Connect your device and restore it from backup you created earlier.
By this whole procedure, you have successfully changed the restriction passcode to 1234. Once your phone is restored from the backup, your passcode will be 1234.
For Mac Users
On Mac, this might be a little tricky, but if you proceed carefully, it will be not that much hard. So, do perform each step accurately.
Connect your iPhone with Mac and backup your files with iTunes. Note the location where the iOS files have been extracted.
On your Mac download and install "iPhone Backup Extractor" by allowing it to "Read Backups" from your iPhone. "iPhone Backup Extractor" can read the "Restrictions Passcode" on your Mac.
Once extracted "iOS files", find "com.apple.springboard.plist" and open it. After that, find "SBParentalControlsPin" and see the number in front of it. This is your passcode. In our case, it's 1234.
Doing this might seem easy, but it's tricky. You can note the passcode from here and use it to remove or change passcode of your iPhone.
Summary
These were the only solutions to our knowledge that could be helpful once you forgot restrictions passcode on iPhone. You can find more solutions to by-pass restriction passcode, but the solutions, as mentioned above, are straightforward and fully secured. PassFab iPhone Unlocker is the recommended product due to its performance, result, security and ease of use. The backup data will not be compromised and it should remain intact. Apart from that, you can buy passcode locked iPhone and easily unlock it for your usage.