Living in the current age of technological development is not only a blessing but also a curse. Security issues are one of the major debates of the 21st century. Technology has not only transformed our lives but has also hugely impacted the concepts of cybersecurity and privacy issues.
Today, Apple is one of the leading giants in the world of mobile technology. Despite being one of the biggest companies in the world, it still faces cyber-security issues, such as the iPhone Mail-demon security flaw. Research indicates that almost 900 million iPhone users are vulnerable to this security breach in the iOS world. Even today, the majority of users have iPhones with this security flaw that makes their data accessible by hackers. In this article, we're going to talk about what the iPhone Mail-demon security flaw exactly is and how one can keep themselves safe. To find out more, continue reading!
Warning: Mail-Demon Flaw Can Affect All iPhone Users
If you are an iPhone user, there is a huge chance that you can be affected by the iPhone Mail-Demon Flaw. As scary as that sounds, it is unfortunately very true. Before reaching any absurd conclusions, let's first find out what iPhone Mail-demon security flaw exactly is. In simple terms, the iPhone, or any other smartphone, allows you to save your personal and confidential information on it. It not only acts as a phone, but also a digital wallet, your shopping cart, and a cinema screen. The iPhone security flaw makes all this confidential information vulnerable in the hands of the hackers. This means that a hacker can easily gain access to your bank account information, your login credentials, and social media passwords that are present on the phone. The iphone mail is most vulnerable in this situation. The contents of the mail can be accessed by a professional hacker in little to no time at all. This makes a user question that is iPhone mail app even secure at all?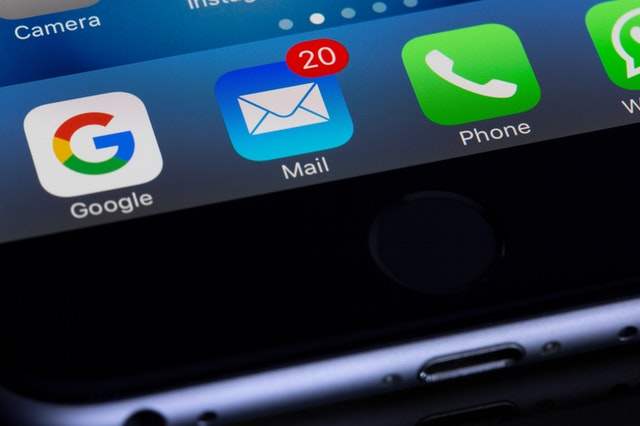 The iPhone Mail-demon security flaw was discovered recently in the iPhone gadgets that have put millions of Apple users in doubt over the company policies. Usually, when something like this happens, users expect that they will be given some positive hopes from the company itself. For the iPhone Mail-demon security flaw, Apple has stated that they have found zero evidence that can prove that their customer's data is vulnerable and is at risk of hacking. Apple also calmed the iPhone users by saying that if this bug exists, then they will surely launch a new software update to give maximum security to their user data. Despite the act of consolation by Apple, the more doubtful users will remain in fear of data security. This gives rise to another question: How can we save our confidential data from the iPhone Mail-demon security flaw?
It is essential and crucial to understand that the vulnerability risk attached to the iPhone Mail is too high. What one can do is start using other apps (For instance, Gmail) to protect their data from potential hackers. This will lower down the risk of your iPhone being hacked and misused. Experts are advising the iPhone users to delete their Mail app altogether to avoid any kind of risk or security threat. The iPhone Mail-demon security flaw is one of the largest security vulnerabilities in the history of iOS.
Before heading our different ways, we would like to talk about an additional safety and security measure that can help you iPhone users to recover your data in case of emergencies.
Extra Tips: Recover Your Mail Account and Password via iOS Password Manager
In light of the iPhone Mail-demon security flaw, losing your iPhone Mail account and important credentials can seem like a fairly possible situation. If you are ever going through a difficult time where you are not able to access your Mail account or Apple ID, you can simply use PassFab iOS Password Manager to view all of your confidential information. You can use this application to find Wi-Fi passwords, retrieve website and app credentials, show Apple ID password, screentime passcode, mail account, and credit card information. To do that, you just have to follow these simple and easy steps:
1. Download and install PassFab iOS Password Manager on your PC/Mac.
2. Now, connect your iPhone with the computer and launch the application.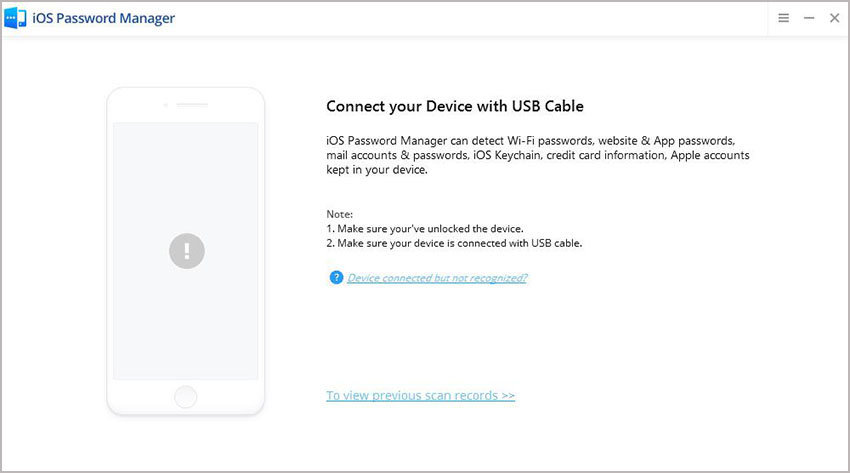 3. Click on'Start Scan. PassFab iOS Password Manager will begin scanning your device for passwords and login credentials.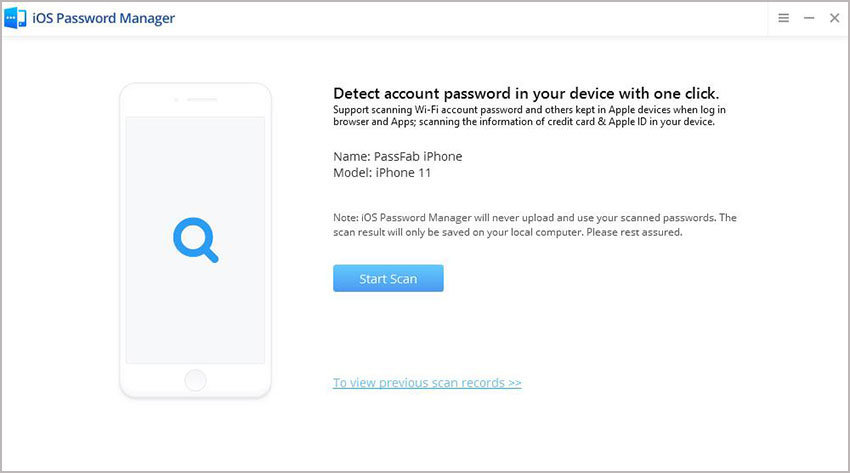 4. After the scan is completed, you will see a list of passwords, Wi-Fi information, email logins, Apple ID, and personal credentials.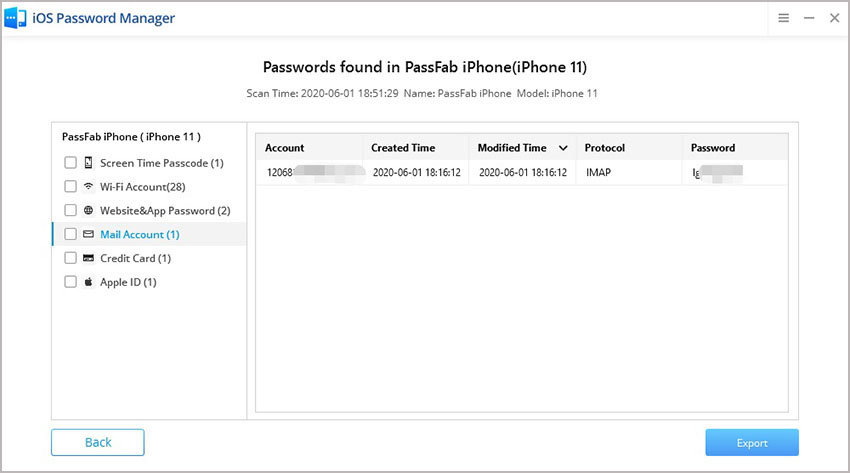 5. Find the password that you want to get access to.
6. Finally, click on Export to download the password file on your computer.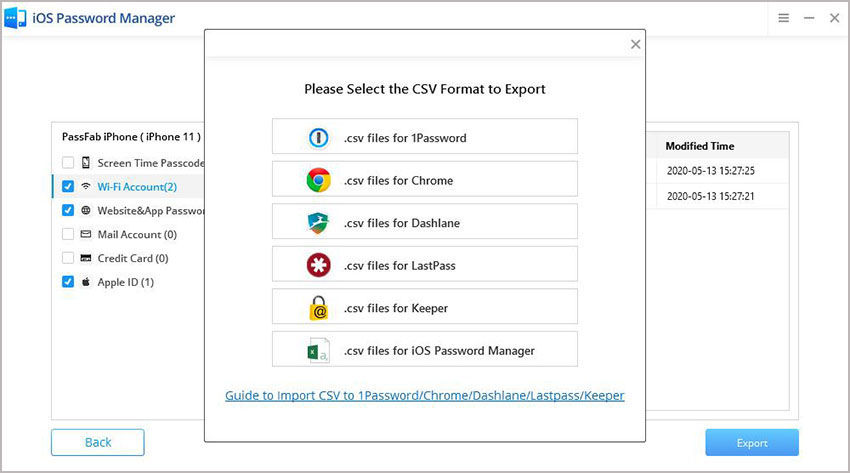 Summary
The advancement in technological development is putting a serious risk to the concept of security and privacy. On that note, one of the major examples is the iPhone Mail-demon security flaw. Millions of iPhone users have their personal information and confidential credentials on their iOS devices. This security flaw in iPhone's mail makes this information vulnerable and accessible to potential hackers. On the contrary, Apple has stated that they were not able to find any concrete evidence toward such a security threat. However, if such a risk exists, user data protection will be their first and foremost priority in all matters. On this note, PassFab iOS Password Manager allows you to retrieve your Iphone mail account and password in case you loss them. With that, I bid you a farewell, and Good Luck!