If you are someone who loves games or likes to download plenty of gaming applications, you must be aware of ISO image files. In case you don't know, ISO file is a single file that retains the copy of all the data of an optical disc like CD or DVD. These ISO image files are often used to distribute large programs on the internet that are then burned to an optical disc.
Generally, you can use free ISO software to burn your ISO image. In this article, we will tell you some fantastic free ISO burner software to burn ISO to DVD. Additionally, we will also tell you how to use the most efficient yet free ISO burner to burn image to DVD in great detail. So, let's get started.
Part 1: Free DVD ISO Burners
First of all, let's have a brief overview of some of the free ISO burner software to burn ISO file to DVD. Then, we will check six best DVD ISO burners, including their pros and cons. In last, we will explore all the steps to burn the ISO image to DVD. So, keep reading.
You will find many free ISO DVD burners on the internet. Some of the well-known software such as:
Free ISO Burner

IMGBurn

ISOBurn

ISO Workshop
Each of the software has its plus points and downsides as well.
Pros:
Usually the free ISO burners are lightweight and easy to use.
It's totally free.
Cons:
Most of the free ISO burning software has outdated UI design.
They don't support multiple operating system.
They are only limited to basic burning operations.
Keeping all the areas in mind, we have compiled a list of 6 best DVD ISO burner software to burn ISO to DVD.
Part 2: Best ISO DVD Burners
Check out the following ISO DVD burners. Look at the pros and cons of each of them and then choose the ISO burner that works best for you. So, let's begin.
Top 1: PassFab for ISO
The first and the most efficient ISO DVD burner is PassFab for ISO. It is an exceptionally fantastic tool because it is pretty fast when it comes to burning ISO image to DVD. Check its pros and cons below:
Pros:
It is a very easy-to-use ISO burner with intuitive user interface.
It is 100% safe to download.
It supports importing ISO files from your computer or downloading ISO files from Microsoft.
It not only burns the ISO image file to disk but also makes it bootable.
It is compatible with 32-bit as well as 64-bit systems.
It allows you to burn ISO image on CD, DVD, USB, memory card, etc.
Moreover, it supports two partition schemes, MBR (BIOS boot) and GPT (UEFI boot)
Cons:
It's not totally free. But the paid version allows you to enjoy make bootable USB.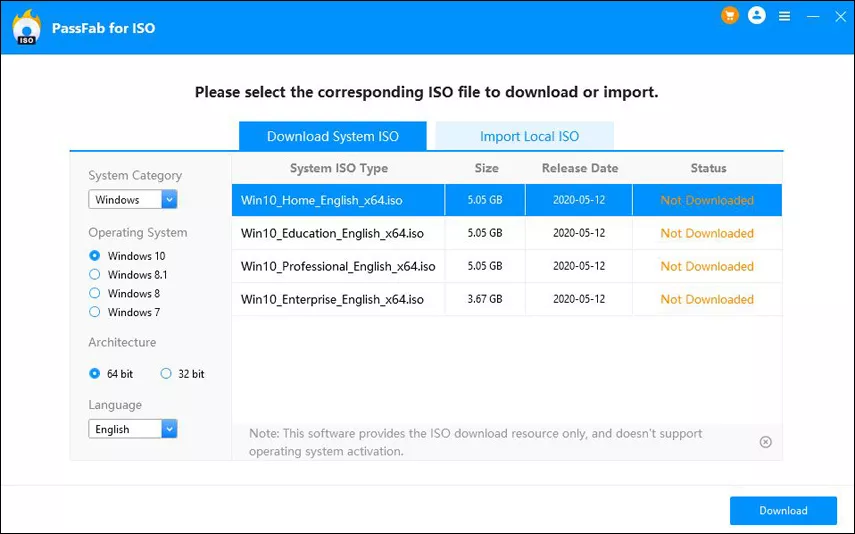 Top 2: iSeePassword WizBurn
The second-best DVD ISO burner to burn your ISO image is iSeePassword WizBurn. It allows you to burn ISO to a disk like CD, DVD quickly.
Pros:
It can burn ISO files on USB, CD, and DVD.
Also, it supports Windows XP, Vista, 7, 8, and 10.
It supports MBR as well as GPT partition styles.
Cons:
You need to buy its purchased version to use a free update feature.
It doesn't support Mac and Linux.
It doesn't provide ISO files for users to download.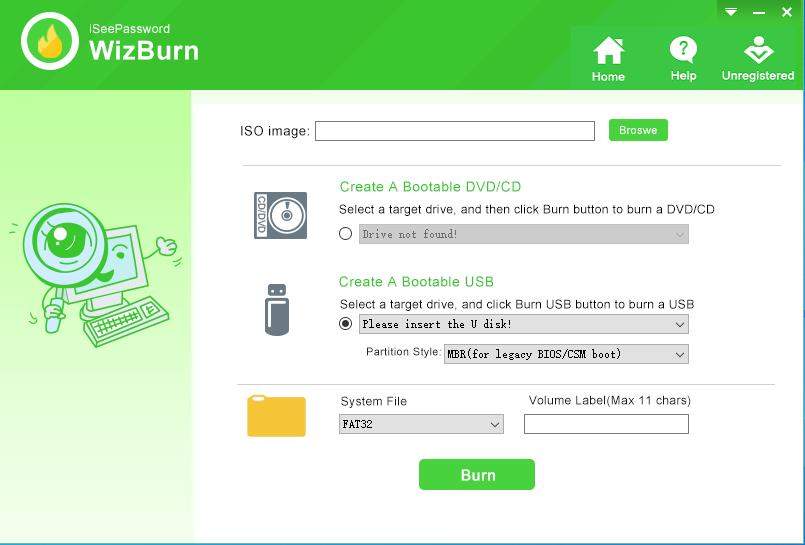 Top 3: Passcape ISO Burner
Here is another best ISO Burner that will create a bootable disc out of ISO images. Passcape ISO burner has many features. Moreover, they gradually update it to make it more efficient.
Pros:
It supports partition schemes.
Passcape doesn't require any installation to use the software.
It works even when you haven't yet installed any DVD on the system.
Cons:
You may require administrative privileges to use some of its features.
Also, the software needs modification in a basic setting.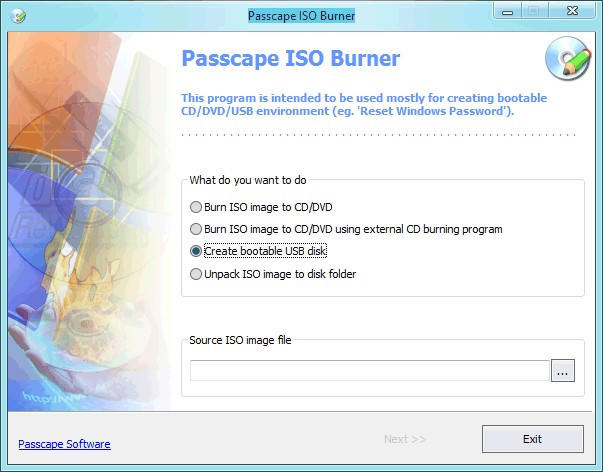 Top 4: UUkeys ISO Mate
UUkeys ISO Mate is not only a DVD ISO burner but also supports USB thumb drives.
Pros:
Its new feature offers dual support for USB and DVD ISO burning.
It is very easy-to-use and has a simple design.
No complex options.
Cons:
It requires a lot of time if the ISO file is more than 5 GB.
Also, UUKeys has no advanced option to control the burning process.
The reserved cache space in your DVD is not utilized.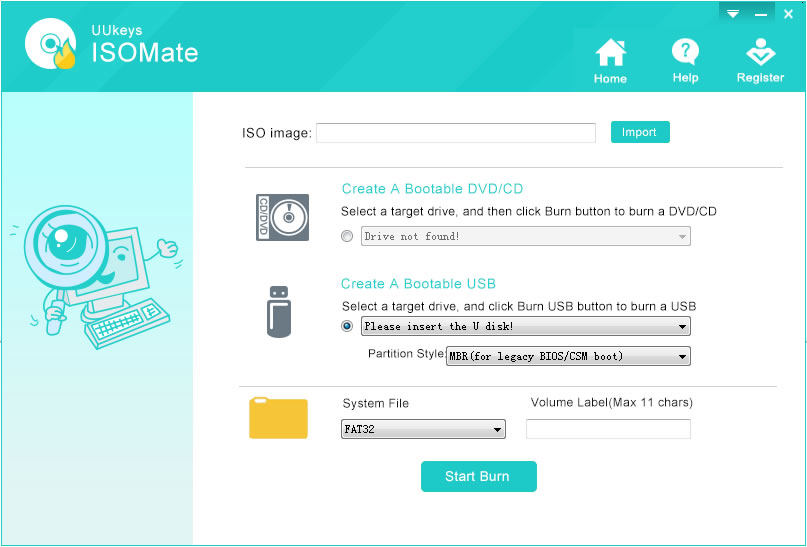 Top 5: WinISO
WinISO is a professional windows utility tool. It can burn an ISO image file to CD, DVD, and even Blu-ray Disc.
Pros:
WinISO has full Windows technical support.
Moreover, it can extract, edit, and rename ISO image files within original files.
Cons:
It is free. However, the free version of WinISO has limited features.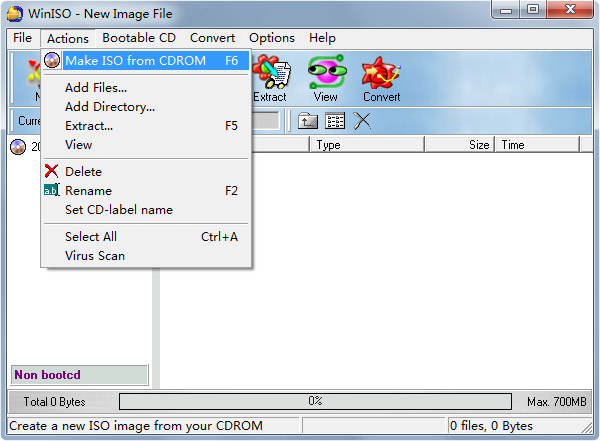 Top 6: PowerISO
If you want an easy-to-use iso burner to burn to DVD, PowerISO can be the right choice for you.
Pros:
It supports all CD, DVD, BD image files and supports the XFS file system after their new update.
PowerISO supports 32 and 64-bit systems with windows versions including, 10, 8, and 7.
Also, it has a drag and drop feature that can help you create a bootable CD, DVD.
Cons:
To use the full features, you need to buy their premium version.
The interface gives you an old-school feel.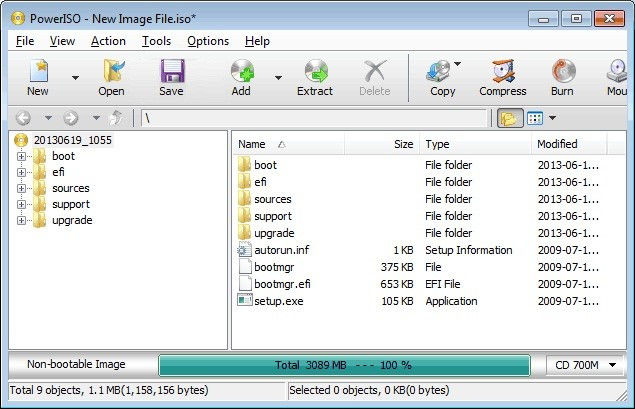 Part 3: Burn ISO to DVD Using PassFab for ISO
Now, you have seen all the best software and features. Its time, you choose the most efficient of them. Here, we will explore a step-by-step guide on how to use PassFab for ISO burner to burn to DVD. So, check the steps below:
01

Download and install PassFab for ISO from its official website on your PC. Launch the program, and you will see the main interface.

02

If your ISO files have been downloaded and saved in your computer, click Import Local ISO to import it; If you don't have an ISO image in your computer, click Download System ISO, then select your preferred ISO image to download.

03

Now insert the CD/DVD into your computer, and click Burn.

04

The program will start burning ISO into your inserted CD/DVD or USB drive.
After burning successfully, you can use this burnt bootable disk to install operating system in your computer. You can follow the on-screen instructions to boot your computer into BIOS to boot your computer from inserted CD/DVD/USB.
Summary
ISO file is a single image of all the data on the optical disk. You may need free software to burn it to DVD. Generally, you can find many DVD ISO burners on the internet. Here, we brought you the six best ISO burners and 4 simple free burners. We also discussed a detailed guide on how to use the most useful of them, i-e PassFab for ISO. PassFab for ISO is a DVD burner to burn your ISO image to DVD quickly and efficiently.
Part 4: FAQs about ISO DVD Burner
Q1: What is the best ISO creator?
PassFab for ISO is free and has impressive features that burn the ISO file to CD, DVD, USB, and also make it bootable.
Q2: Can I just copy ISO files to DVD to make it bootable?
No, merely copying the files to DVD won't make it bootable. For a device to be bootable, hidden startup OS files need to be burnt into the media. You can do it by creating an ISO image.
Q3: How do I burn an ISO to a DVD?
You can try free software to burn ISO to DVD. PassFab for ISO is one of the best ISO burners that comes with amazing features and burns ISO to DVD pretty fast.