The easiest way to try out Linux by installing it is by using a USB flash drive. Just like any other Linux distributions, Ubuntu also offers an ISO disc image which is downloadable. In order to turn this ISO file to a bootable USB drive you would require an effective tool. Through this article you will know about the different ways in which you can carry out the process of burning Ubuntu ISO to USB. At the end we will also talk about the best way in which you can burn ISO to USB in an easy and convenient way. You can choose any of these methods based on your requirement.
Way 1: Ubuntu Burn ISO to USB Using Startup Disk Creator
Startup Disk Creator is an application which is in-built in Ubuntu. You can use the following steps to make use of this to carry out Ubuntu burn ISO to USB.
Step 1: From the "Dash" menu select "Show Applications".
Step 2: Open the Startup Disk Creator by clicking on it.
Step 3: Select the source ISO file and also the USB device and click on "Make Startup Disk".
Step 4: Confirm the process when prompted.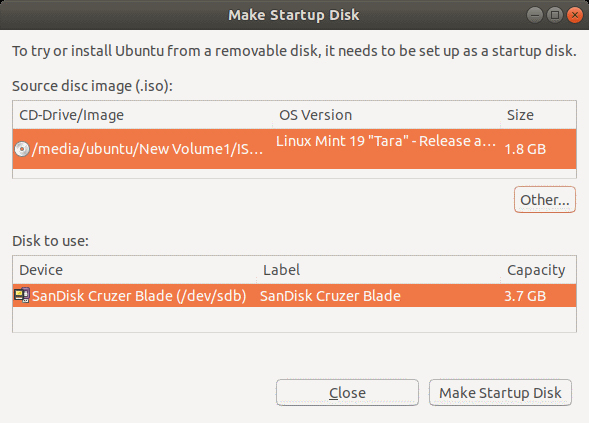 You would have successfully burned ISO to USB.
Way 2: Ubuntu Write ISO to USB Using UNetBootin
Unlike the previous tool, UNetBootin is a tool which does not come pre-installed in the system. Initially you would have to download this tool after which you can follow the steps below to burn Ubuntu ISO USB.
Step 1: To install UNetBootin, launch Terminal and key in the following command:
sudo add-apt-repository ppa:gezakovacs/ppa sudo apt-get update sudo apt-get install unetbootin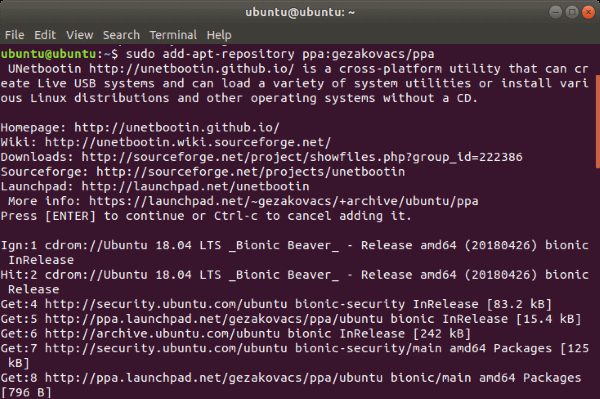 Step 2: Once this is installed, select the version and the distribution.
Step 3: Select "USB" as "Type" and select the USB drive from the drop down menu and then click "OK".
All the necessary ISO files will be burned to USB after this.
Way 3: Make Bootable USB from ISO Ubuntu Using ddrescue
The easiest way to convert ISO to USB for free is by using Terminal commands. You can carry out Ubuntu write ISO to USB by following the steps mentioned below.
Step 1: Install ddrescue by keying in the following command:
sudo apt update sudo apt install gddrescue
Step 2: Enter the following command to see all the USB drives connected to your system: sudo fdisk -l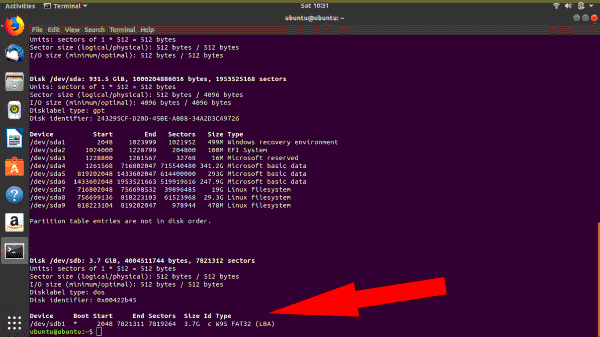 Step 3: Verify the block device name for your USB from here and enter the command below: ddrescue path/to/.iso /dev/sdx --force -D
Here, you will have to use the block device name of your USB instead of x and path/to/.iso.
Once the process is finished you can then easily boot into the USB stick.
Extra Tips: How to Burn ISO to USB on Windows
If you want to find out an easy and fast way to burn ISO to USB on Windows, then you must try out the method of carrying out this process with the help of PassFab for ISO tool. This is an excellent tool which is highly recommended by several satisfied users. The entire process of burning ISO to USB becomes so simple that even a novice user can carry out this complicated procedure. Follow the steps given below to use this tool to burn ISO to USB on Windows.
Step 1: Download, install and launch PassFab for ISO tool on your computer.
Step 2: Choose "Download System ISO" to download ISO file or choose "Import Local ISO" to import your downloaded ISO file.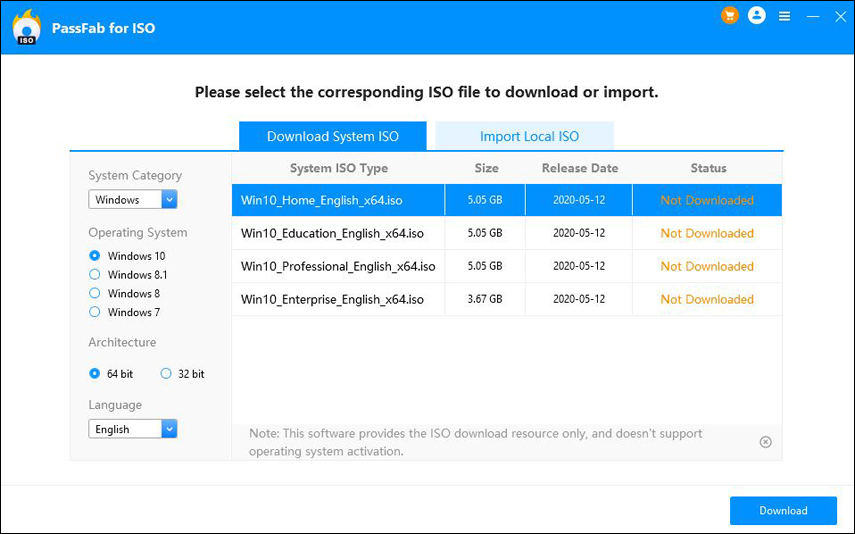 Step 3: Select USB or CD/DVD and then start the process by clicking on "Burn". Click on "Yes" to confirm the process.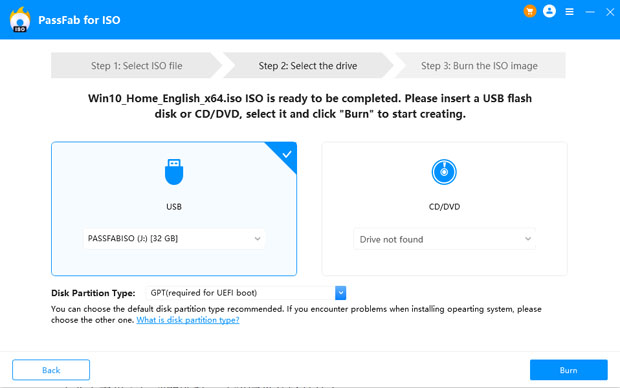 Step 4: The entire progress of the process can be seen on the screen.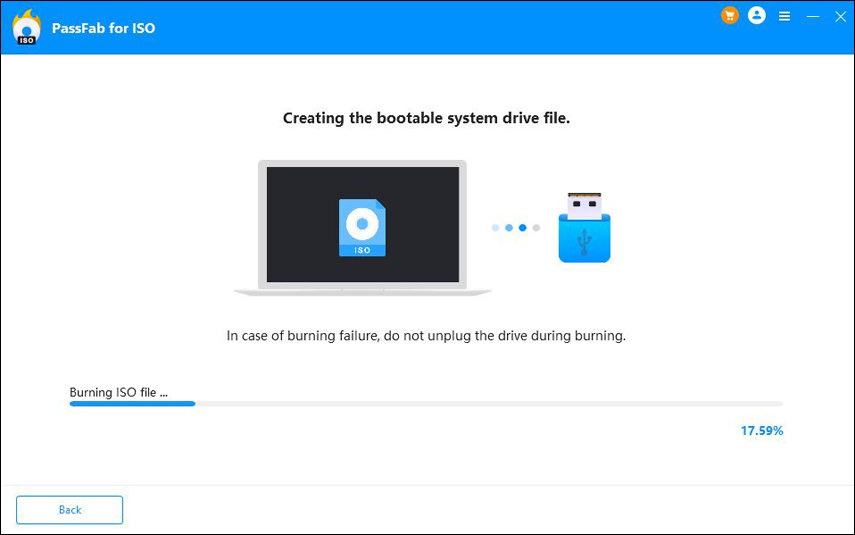 Step 5: You will be notified once the process is successfully completed.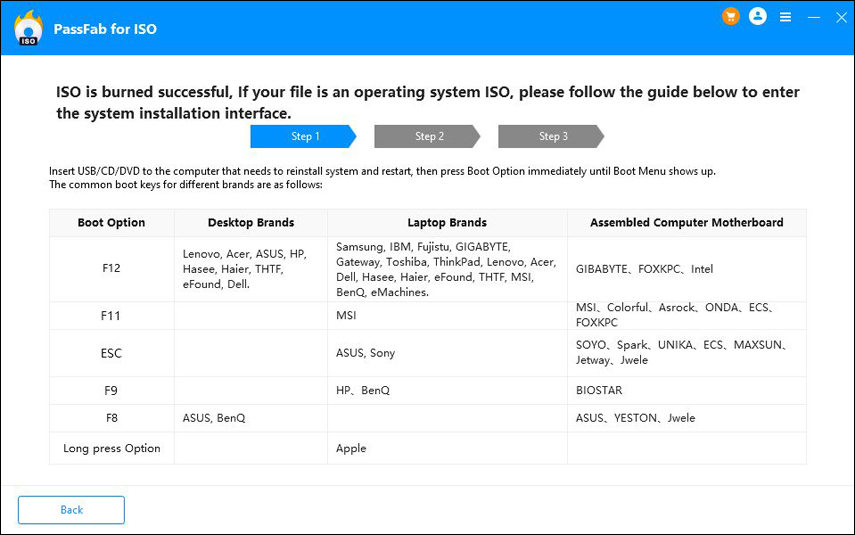 This is the simplest and fastest way to burn ISO to USB on your Windows system.
Summary
You can now easily make bootable USB from ISO Ubuntu without any hassle by referring to the steps above. Many of the methods which are free sure are effective but they are lengthy procedures and almost all of them cannot be performed by novice users. If you want a simpler way to burn ISO to USB on Windows system, you must opt for PassFab for ISO which is not only effective but it also makes the entire procedure much faster and simpler when compared to other methods and this is why it is highly recommended for burning ISO to USB.