Keychain is built-in password manager in every Mac OS that saves your credentials and let you use them when you need to log in or fill-up the form. When you log into you Mac, Keychain is automatically logged in. But most of the Mac users face a common problem "accountsd wants to use the login keychain". Whenever a user logs into his/her Mac a pop-up appears asking your Keychain password which is really annoying, and you have to enter that if you want to use those credentials.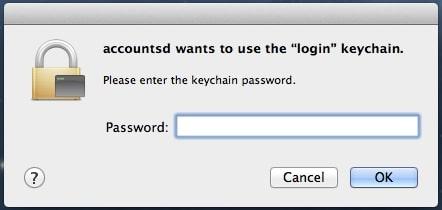 Part 1. Why You See Accountsd Wants to Use The Login Keychain Message?
This is because your Mac password doesn't match keychain password. You might be thinking that how come this? Well, it's you or your Mac administrator could have changed the Mac OS password but haven't updated Keychain Password. That's the reason why Keychain is always looking for the password and logs in with the old password. It might also tell you that the system cannot unlock your keychain. This is because the Keychain is still suing the old password. There are multiple ways to fix this issue. We have enlisted the secure and easy methods along with a detailed guide.
Part 2. How to Fix Accountsd Want Use the Login Keychain
For example, if you are using Mac then repeated pop-ups - Safari wants to use the login keychain or commcenter wants to use the login keychain. There is no way to avoid it but to enter the password. Generally, there exist two conditions taht you may encounter: either you remember the password, or you don't. So, we will discuss both of them one by one.
Case 1. If You Don't Know The Keychain Password
If you have forgot the keychain password and none of you guess works, once you enter the wrong password then it will come up "keychain login cannot be found". However, Mac OS provides you the facility to create new keychain password. But remember one thing while creating new keychain password, all your old credentials will be deleted, and you have to start storing new one from the start. Now if you have made up your mind to create new keychain password follow the procedure:
From the Finder, click on "Go" from menu at the top.
Hold "alt" (Option) key and click on "Library".
As library appears find Keychain folder and open it.
Now move everything from that folder to trash.
Restart your system and your Mac may prompt Keychain on startup.
In the end, select "create new keychain" and provide all your details again.
Case 2. If You Know The Keychain Password
There are multiple ways to resolve or avoid "accountsd wants to use the "login" keychain" error. All of them are 100% secure and easy. You can select anyone of them:
Solution 1. Use Keychain First AID
First and foremost, solution to resolve keychain issue is go for Keychain First Aid. It is Mac OS built-in solution that will help you find the error. Here is complete guide for it:
Open Keychain Access from "Launcher" > "Others".
There you will find Keychain First Aid under Keychain Access.
Now enter username and password and from checkboxes select verify.
Now it will start verification, if error exists it will show in the logs. You can use Repair function to repair that error automatically.
This built-in support provided by Mac OS resolves the issue in no time. But sometimes it cannot detect the issue for that refer to other solutions.
Soluition 2. Turn Keychain Auto-Lock OFF
When you leave your Mac idle for some time it automatically locks and later when you try to resume your work it asks for login credentials. Keychain Auto-lock feature also works on the same principle. Once the feature is turned ON it will automatically Locks your Keychain after specified time and will ask for Keychain password again and again. If somehow this feature is turned ON, you can turn it OFF by following procedure:
Open Keychain Access from "Applications" > "Utilities".
Right Click on login keychain and select "Change Settings".
You will see two check boxes. Uncheck both of them to disable auto-locking feature.
Once the feature is turned off it will never lock your keychain automatically. Once your system is unlocked, keychain will be unlocked as well. You can use it anywhere, anytime without entering master password.
Solution 3. Remove iCloud Keychain:
iCloud is used to access your data across multiple apple devices i.e. iPhone, iPad, Mac etc. Same is the case if you sync Keychain with it you can use those credentials with connected devices. But sometime this may also cause that issue. In order to remove keychain from iCloud follow the procedure:
Go to System Preference.
Find iCloud and double tap on it.
From the list search for keychain and deselect its checkbox.
Now you should restart your system. Once your issue has been resolved you can res-sync keychain with your iCloud.
Solution 4. Reset to local Keychain
You can go for a reset, but this will erase all your keychain data. So, this should be your last solution. If you have made up your mind proceed with the procedure:
From Keychain Access find Preferences and select.
Now select "Reset My Default Keychain".
After you enter your new password, Keychain Access creates an empty login keychain with no password. Click OK to confirm.
Choose Log Out from the Apple menu to return to the login screen.
Log in to your account using your new password. Your account password and login keychain password now match again.
Tips: How to Find Your Lost iOS Passwords for iPhone on Mac
If you have lost your iPhone password and want to recover it with 100% success rate, PassFab iOS Password Manager is your best choice. With this tool, recovering lost password is not a big deal. It is secured and easy to access software. Not only wi-fi password or login details, but you can even recover your screen time passcode through this application. Here is a detailed guide about the usage of PassFab iOS Password Manager.
After downloading PassFab iOS PassWord Manager on Mac/PC, install the program.
Connect your Apple device for which password has to be recovered and execute the program.
After your device is detected by the program click "Start Scan" button.
After verifying your backup password scan will start. It will take time depending upon the complexity of your password.
After successful scan a list of all the password attached with your account will be listed. On the left navigation bar all these passwords will be combined into groups. You can select anyone of it to view the password.

With Apple's Keychain feature remembering your credentials has become easy. With only one touch you can login to your account on any website. You only need to store these credentials to your keychain or enter once from your device and allow keychain to store it automatically. You only need to remember once password that you set for keychain login.

But if you forgot login keychain password or want to find all your iOS password, don't worry PassFab iOS Password Manager is at your service. It will help you regain your password without any delay and loss. With PassFab iOS Password Manager, recovering password has become easy.

Summary

This article mainly talks about how to solve the problem of "accountsd wants to use the login keychain", which is appeared on Mac. Hope your issue has been sloved after using the solutions here. By the way, if you need to view saved password in your iPhone on Windows or Mac computer, PassFab iOS Password Manager is your best option. Don't miss it!