"Hi there! I recently switched from an Android device to iOS device. Every time I login into some website or app, a keychain thing pops up. Now, I'm wondering what is keychain exactly? Can it be of any help? If yes, then what's it used for and how to configure it? Please guide me through as I'm new to iOS. Thanks!"
What is Keychain? Basically, Keychain is the password management system developed by Apple. With the help of keychain, all your sensitive information like account usernames/email, passwords or credit card information is stored safely and securely over your iPhone, Mac or iPad devices. Moreover, you can sync it across all iOS devices configured with the same iCloud account. It is extremely helpful as you no longer need to remember the complex passwords that you've set to login to the websites you have account/profiles on. Furthermore, when you're browsing via Safari or any other third party apps, you can easily access auto-fill functionality for billing information while shopping and obviously your credit card information as well. Let's understand how to enable the keychain and what is keychain password?
Part 1. What is Keychain Password And How to Enable It
To enable and make use of Keychain you need to have a couple of things handy with you. First, your device must be connected to an active internet connection or Wi-Fi network. Second, your device must be configured with an iCloud account. Once the basic fundamentals are in place, then get started with the guide below on enabling Keychain.
Step 1: Launch "Settings" over your iPhone and then hit on your "Apple account", i.e. "[your name]" at the top.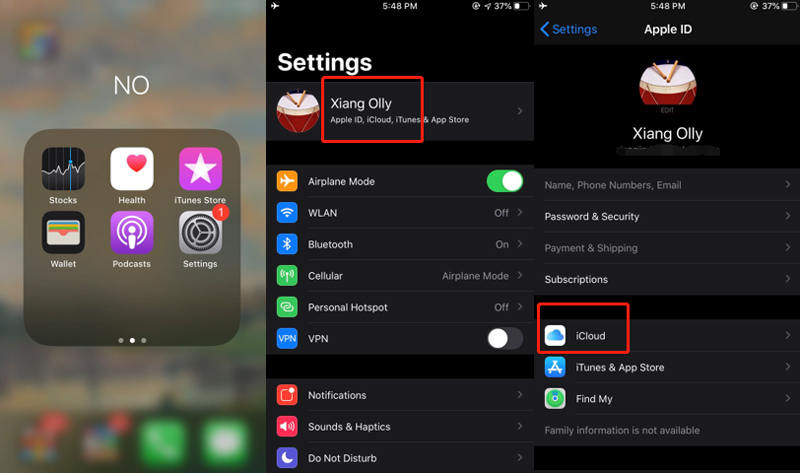 Step 2: Next, select the iCloud option from the appearing window. Then scroll down the menu till you find "Keychain", hit on it followed by toggling the "iCloud Keychain" switcher on.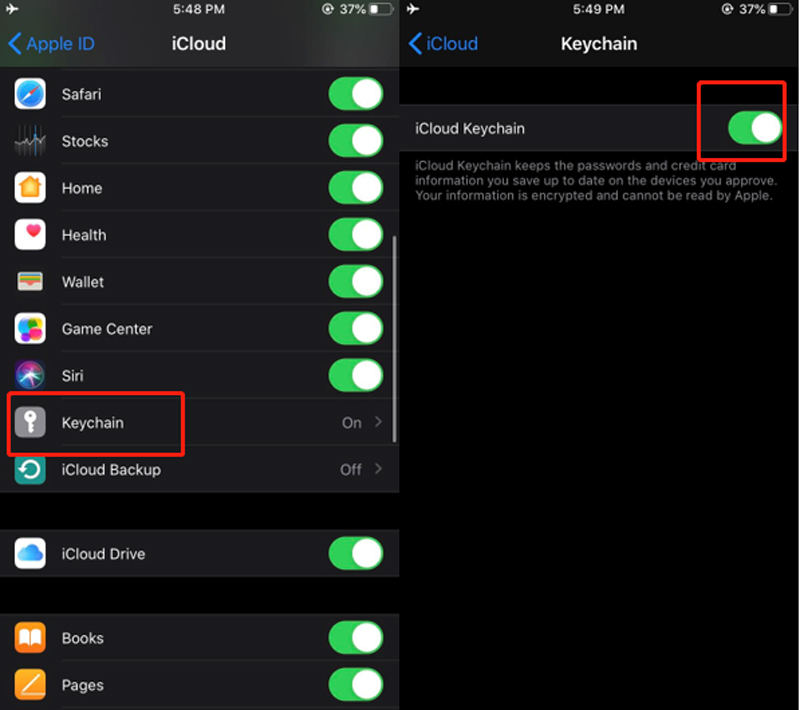 Step 3: Here you'll be asked to key in your Keychain password. You may now wonder what is my keychain password, right? Actually, the Apple ID password is what you need to fill in here. This is your login keychain password.
That's about it. You now have successfully enabled the Keychain service over your iOS device. You can now store all your sensitive information securely with it. But what if you forgot your Keychain password? Let's get to know about how to deal such a situation in the following part.
Part 2. How to Fix Forgot Keychain Password Issue on iPhone and Mac
Assuming that you have no clue about what your Keychain password was, follow the below mentioned streak of steps to change the Keychain password over your iPhone or Mac. Before that, there a thing you should know which is iOS 13, 12, 11 are not supported using the following method. Only for iOS 10.2 or earlier user.
On iPhone
Launch the "Settings" and hit on the "Apple account" (your name) followed by opting in for "iCloud".
Next, scroll down to "Keychain" and hit on it followed by "Advanced" option.
Then, you need to push the "Change Security Code" link and punch in the Apple ID password when prompted.
Lastly, you can now create a new iCloud Security Code for keychain access.
On Mac
Head to the "Apple" icon on the left top corner and hit on it. Then opt for "System Preferences" option. Now, on the appearing window, hit on the "iCloud" option.
The iCloud window will now come up on your screen, hit on "Options" button besides "Keychain".
Then, push the "Change Security Code" button followed by entering Apple ID password.
Lastly, set up a new iCloud Security Code.
Extra Tips: Recommend Product – PassFab iOS Password Manager
Since, you forgot your Keychain password, you surely can create a new one with the steps mentioned above. But, it is important to understand the fact that resetting the Keychain password will also wipe off all iOS passwords that were stored over your iPhone or other iOS device. Now, if you wish to recover all your passwords, then here is a tool that certainly can help you serve the purpose. PassFab iOS Password Manager is that mighty tool which can find and migrate the entire password inforation stored over your iPhone or iPad. Here's how to make use of this powerful tool.
Step 1: Install and launch the tool on yuour computer and then get your iPhone connected to your PC.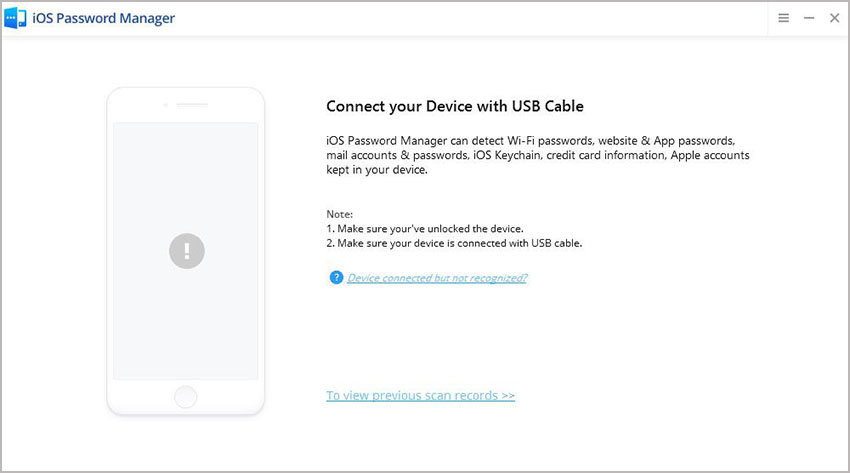 Step 2: As soon as your device is detected by the tool, hit on the "Start Scan" button. Now, you'll be asked to key in the backup password (if any) to proceed further.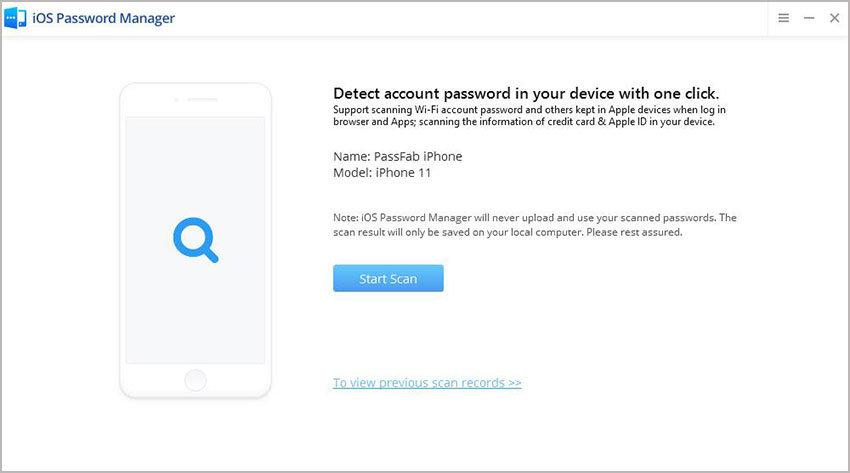 Note: If your iPhone is running on iOS 13 firmware version, you need to confirm your actions before initiating the scan. Hit "Scan" here.
Step 3: Wait for the scan to complete. Once done, you can easily preview all the detected password information over your screen.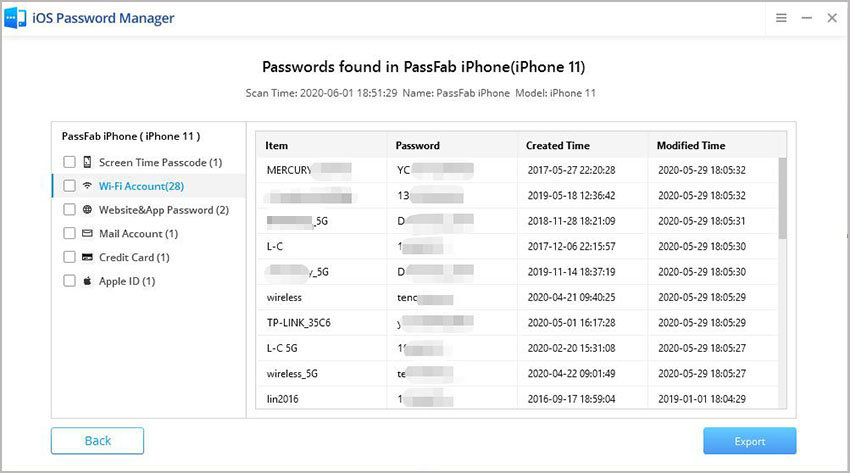 Step 4: Lastly, to export the detected information, select the categories that you require and then hit on "Export" button.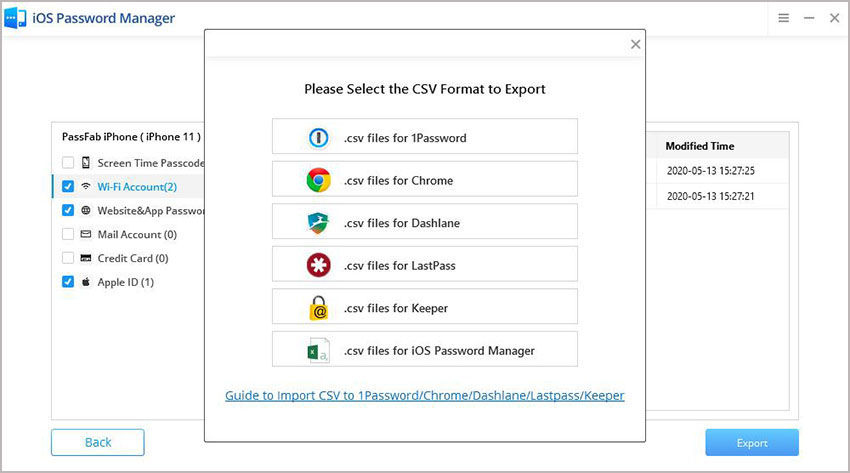 Wrapping Up
Moving towards the end of the topic "what is keychain" and how to make use of it, we are now positive that you have full understanding on enabling, login keychain password and changing the Keychain password as well. If you were helped by this article don't forget share it with your friends. If you have any further question please feel free to contact us.