Forgetting the password to your Acer laptop is quite annoying, especially when it has all your valuable data. Thankfully, there are ways to crack the password and gain access to all those important files. While it may seem untrue, cracking a Windows password isn't a complicated task.
In today's article, we've put together a brief guide to explain how to crack an Acer laptop password. So, if you've been locked out of your laptop, continue reading, the following guide will help you crack the password and unlock your laptop instantly.
Part 1: How to Break Acer Laptop Password on Windows 10/8/7
1. Using Built-in Administrator
Windows has a built-in Administrator account that's disabled by default. However, many users end up enabling this account as well. If you've also enabled the built-in administrator account, it can prove to be useful in unlocking your Acer laptop.
Step 1: Boot your laptop in safe mode. To do so, restart your computer and press & hold "F8". Once Advanced Boot options appear on your screen, select "Safe Mode".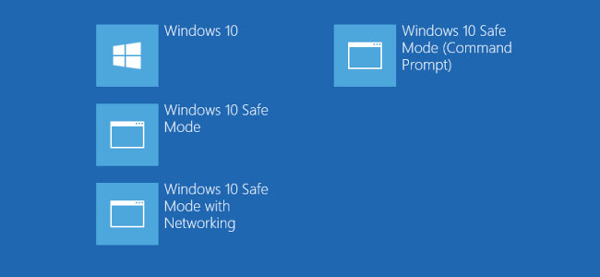 Step 2: Select the "Administrator" account to log-in to the laptop.
Step 3: Now, open Control Panel and reset your forgotten password by tapping the "Manage Another Account" button.

Step 4: Restart your system normally and enter the new password to unlock your system.
2. Using Windows Password Recovery Tool( PassFab 4WinKey)
You can also use a third-party tool like PassFab 4WinKey to crack the password on your Acer laptop. It is one of the most convenient password recovery tools that'll help you remove or reset passwords for both local and Admin accounts.
It doesn't matter which Windows version you're using, PassFab 4WinKey will help you instantly unlock your laptop by either resetting or removing the password.
Step 1: Install the tool from its official website over the computer which you can access at present. Meanwhile, plug in an empty USB flash drive into the PC and launch the tool.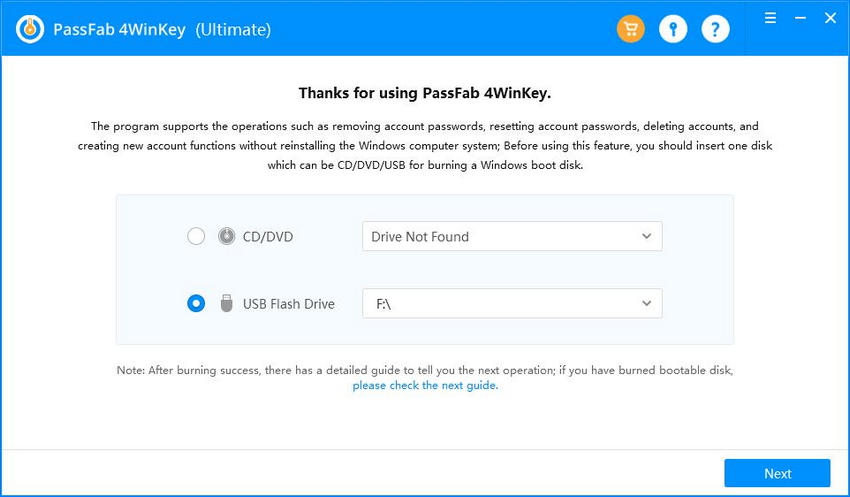 Step 2: Now, opt for the "USB Flash Drive" option over the software window and tap over the "Next" button and confirm your actions. Once done, the software will then start creating the password reset disk.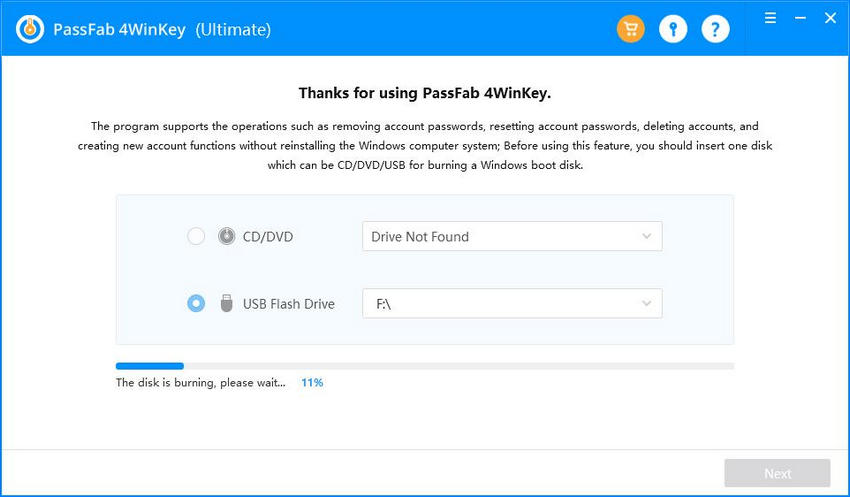 Step 3: Upon completion, plug out the USB drive from the current computer and plug it in the locked Acer laptop. Reboot the Acer laptop now and hit the "F12/Esc" key to boot it into boot menu. Then, you need to navigate and select the "USB device" as the boot media.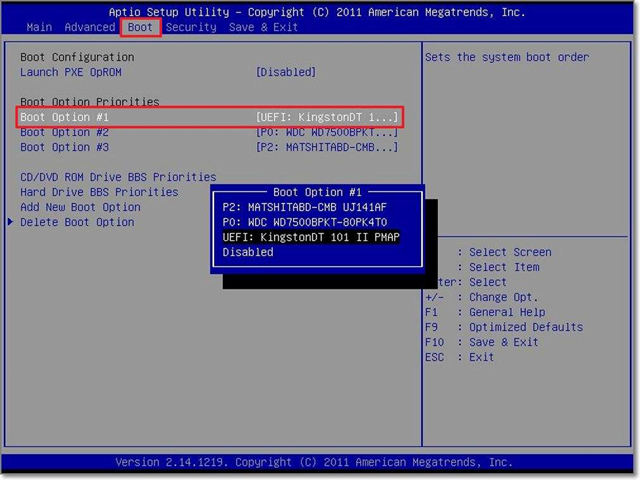 Step 4: Thereafter, PassFab 4Winkey will be launched over your screen and you're required to select the operating system which has the user account in which you wish to break into. Hit "Next" afterwards.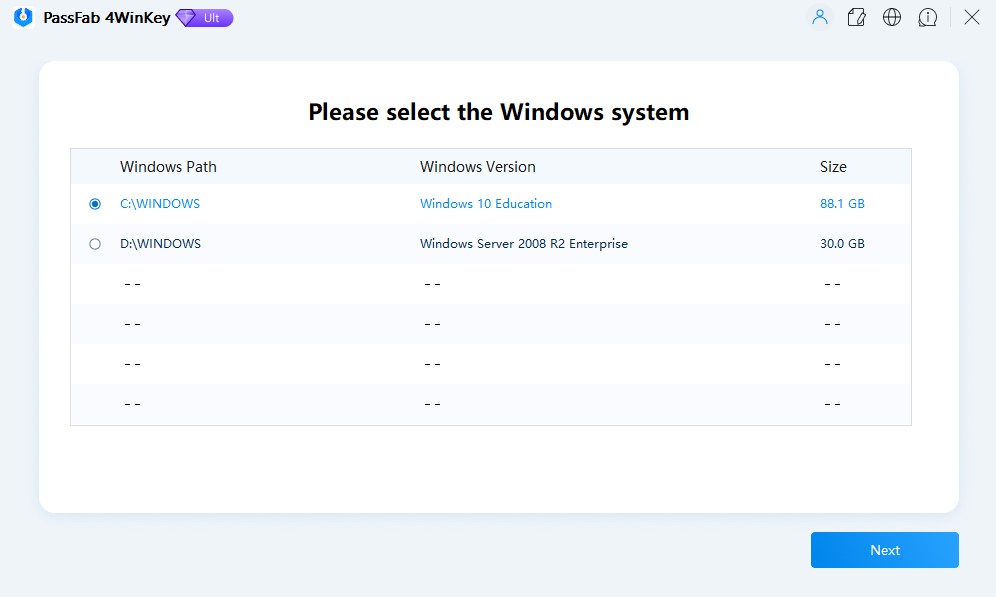 Step 5: You'll now have an entire list of user accounts available in that particular OS. Opt for the desired user account in which you wish to break into and then opt for the option "Remove Account Password" option followed by "Next".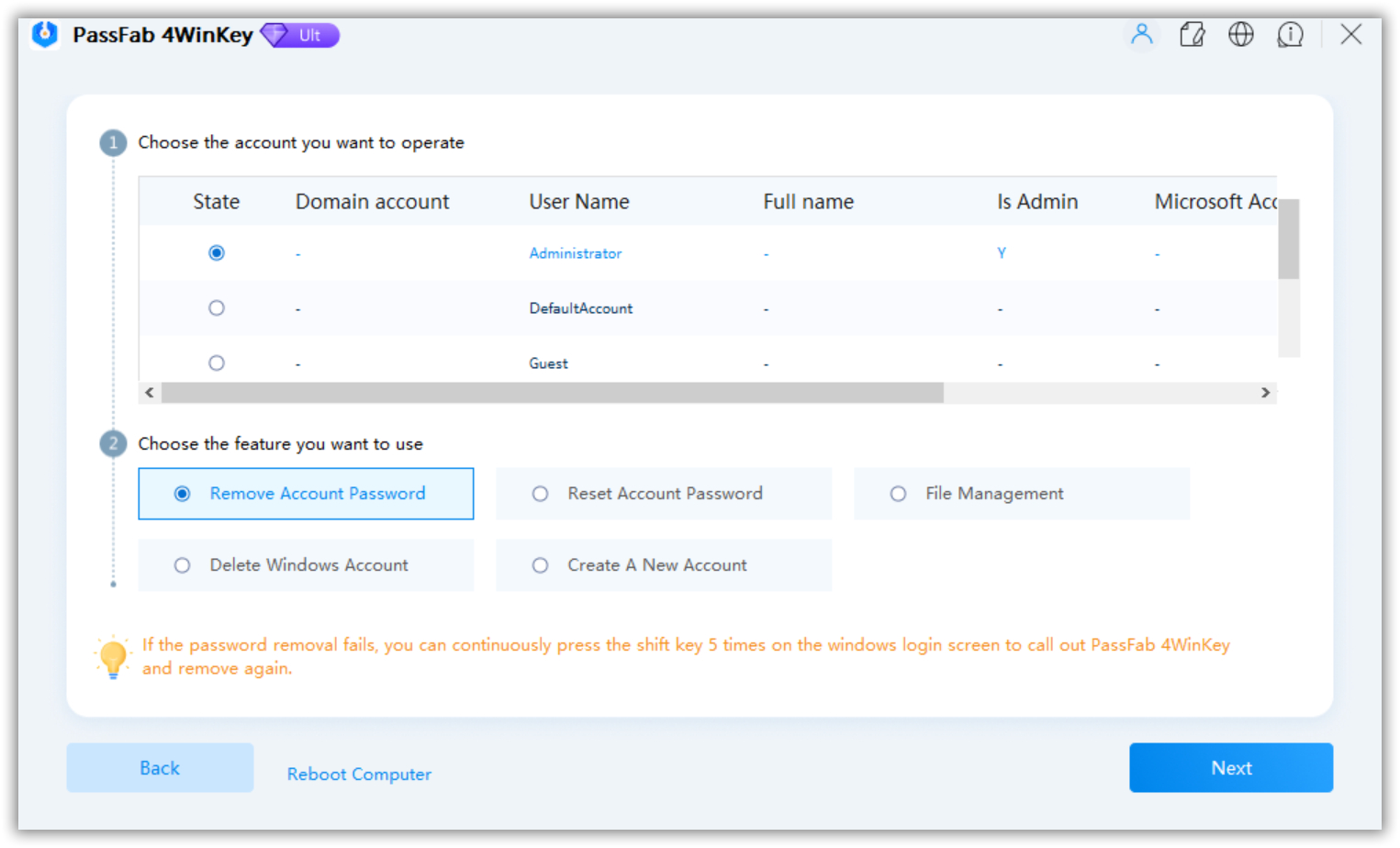 Step 6: Within a short while, you'll be notified that the password has been removed. Hit "Reboot" to restart your Acer laptop and you're done.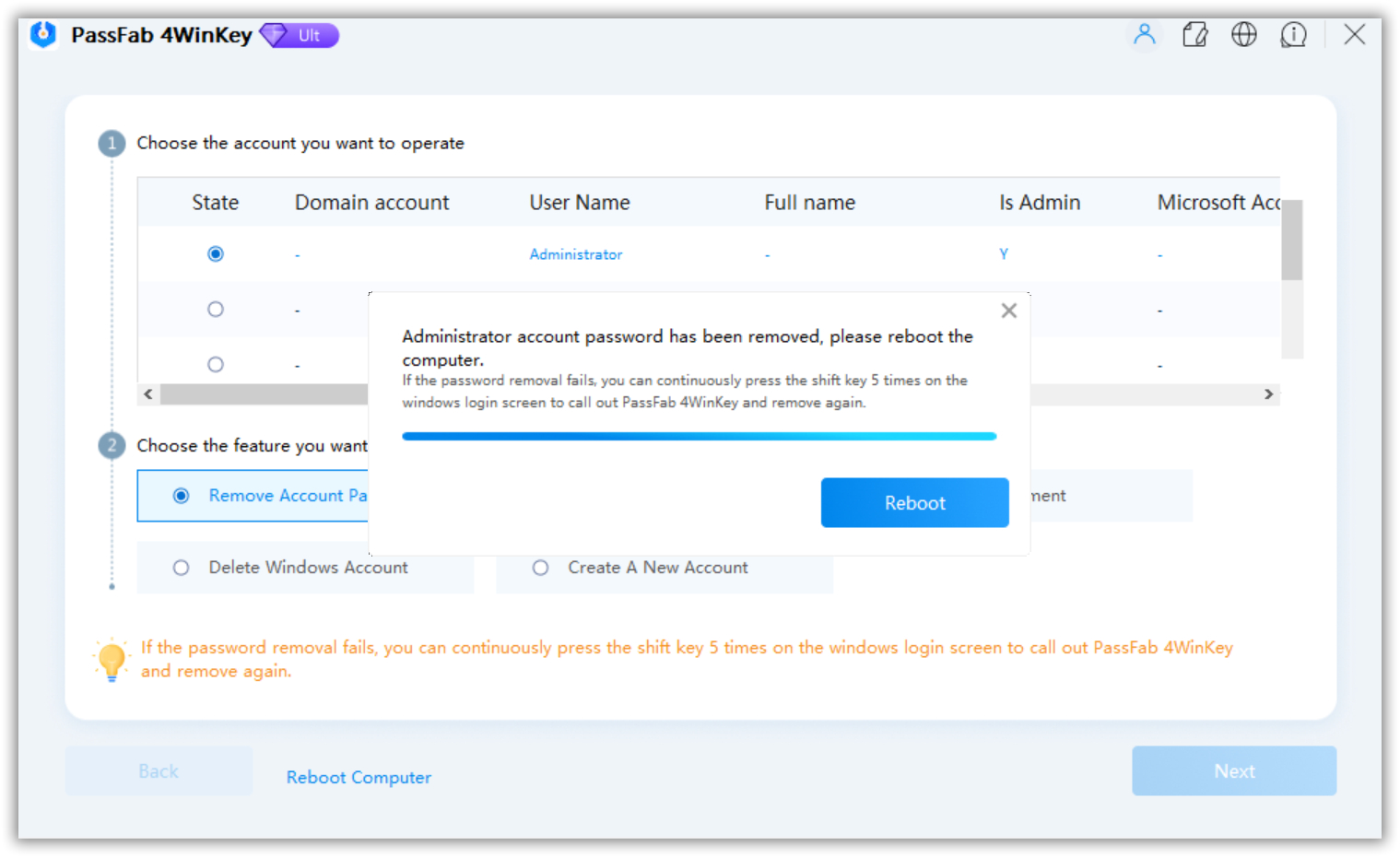 3. Using Command Prompt
Using Command Prompt to crack Windows password is a time-consuming, yet effective method. First of all, you'll need a Windows installation media (CD or USB) to break your password through Command Prompt.
Step 1: Connect the Windows Installation USB to your Acer laptop and let your laptop boot from it.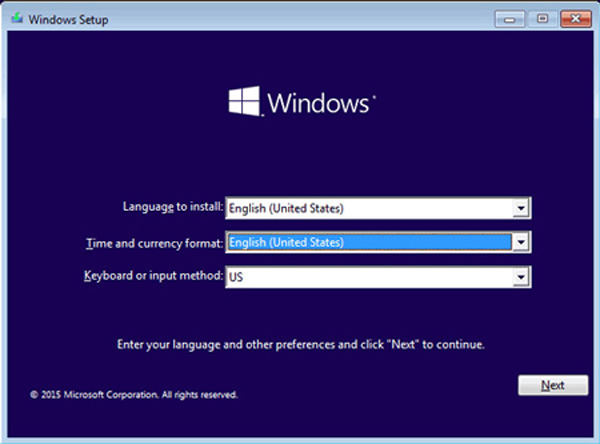 Step 2: Once Windows has booted successfully, press "Shift+F10" to launch Command Prompt. Now, execute the following commands in the Command Prompt window.
move d:\windows\system32\utilman.exe d:\
copy d:\windows\system32\cmd.exe d:\windows\system32\utilman.exe
Note: Make sure to press enter after each command.
Step 3: Remove the USB device and execute the "wpeutil reboot" command to reboot your system.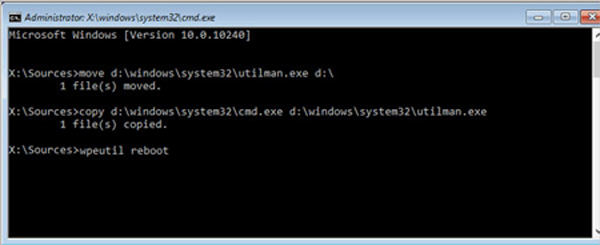 Step 4: Now, tap the "Utility Manager" button to launch Command Prompt. If the Command Prompt window does not launch, you're most likely to have made some mistakes while executing the above three commands.
Step 5: Execute the "Net User" command to reset the password for the local admin. You'll again have to repeat the "Net User" command (see image below) to add a new admin account.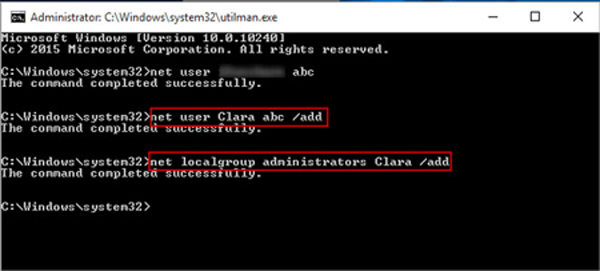 Step 6: At this point, insert the Windows Installation USB drive again and restart your system. Let the system boot from the installation media again.
Step 7: Press "Shift+F10" to launch Command Prompt. Type the following command and press enter.
copy d:\utilman.exe d:\windows\system32\utilman.exe
Step 8: Now, type "Yes" to restore Utility Manager.


Step 8: Close Command Prompt and restart your system normally. At the sign-in Window, you'll notice a new Admin account listed here. Use this account to unlock your computer.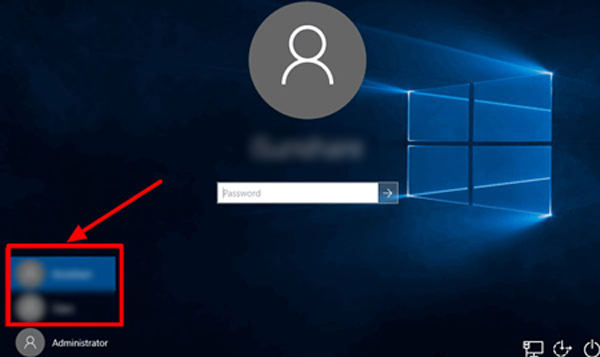 That's how to crack an Acer laptop password using Command Prompt.
Extra Tips: Editor's Choice for Cracking Acer Laptop Password
Of course, using Command Prompt and built-in administrator account is an effective way to crack the password on an Acer laptop. However, both these methods are time-consuming and extremely hectic. Moreover, you can't use an Administrator account if it hasn't been already enabled on your system.
This is why the most convenient and quick method to unlock a Windows system is to use a Password Reset reset disk. It only takes a couple of minutes to break the password on a Windows system using a Password Reset Disk.
In case you don't have a password reset disk, you can use Windows password recovery tool to create a new one. The tool comes with a default ISO image file and automatically creates a Bootable Password Reset Disk. You can then use this disk to unlock any locked laptop instantly.
Conclusion
That concludes our guide on how to crack HDD an Acer laptop password. If you've also been stuck at the log-in Window, utilize the above-mentioned methods and break the password on your Acer laptop.