If you are facing strange password problems on your Mac – like having to enter the Wi-Fi password every time you try to connect or have to enter the password every time when launching the mail app, then you are definitely facing Keychain First Aid issue. Keychain is a great password management system that was originally released with Mac OS 8.6. It manages passwords for websites, SSH accounts, web forms, network shares, FTP servers, groupware apps, Wi-Fi networks, encrypted disk images etc. This article will help you to learn about Keychain First Aid in Mac OS Sierra, why you can't find Keychain First Aid option in Mac OS El Capitan and troubleshooting Keychain First Aid Mac issues.
Part 1: What is Keychain First Aid and When to Use It?
Keychain First Aid is a utility that is used to check and repair wobbly keychains. It holds passwords, private keys, certificates and secure notes in encrypted files on the Mac iOS machine. You can use it when there is something wrong with the keychain entry that is storing any kind of password, such as:
You need to enter the same Wi-Fi network password every single time you try to connect.
Your stored passwords are corrupted.
Your applications refuse to accept the "correct" password.
You are being prompted to enter the password multiple times.
You are unexpectedly prompted to unlock the keychain after changing account information or Home directory location.
Part 2: How to Run Keychain First Aid to Troubleshoot Keychain Issues on Mac?
If you are facing Keychain issues on Mac and have to keep entering your keychain password in Sierra, then troubleshooting it via Keychain First Aid for Sierra will be the smartest move. Here is how you can easily run Keychain First Aid to fix all kinds of Keychain issues on your Mac:
1. First you need to click on the "Go Menu" and then go to "Utilities" to open "Keychain Access".
2. From the "Keychain Access" menu you need to select "Keychain First Aid". Also make sure that the "Synchronize login keychain password" box is checked from the "Preferences" window.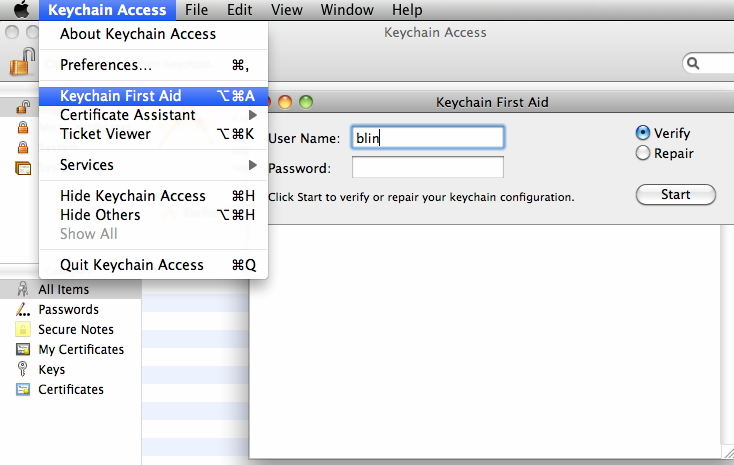 3. In the "Keychain First Aid" box, you need to enter your username and password.
4. You can check for corrupted passwords by clicking on "Verify".
5. Then you can select "Repair" and click on "Start" button.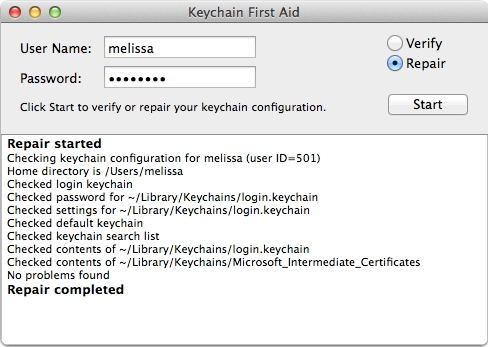 Part 3: Keychain First Aid Missing after Mac OSX 10.11.2 Update, How to Fix Keychain Problems Now?
Keychain access of First Aid disappeared after Mac OSX 10.11.2 update for a security vulnerability, in which malicious software could pose as a keychain component, and create havoc. Apple has removed Keychain First Aid in El Capitan. If you make sure that you are fully updated to OS X 10.11.2 then you won't face any kind of error. Previous versions of El Capitan would give the error of Keychain First Aid missing in Mac. You can follow below methods to fix Keychain issues on Mac:
Reset Your Default Keychain:
Here is the quickest way to reset your default Keychain:
1. Go to the "Applications" folder and then go to the "Utilities" folder to open "Keychain Access".
2. From the "Keychain Access" menu, go to "Preferences".
3. Click on "General" and then "Reset My Default Keychain".
4. Login with your username and password.
5. Now exit Keychain Access and restart your PC.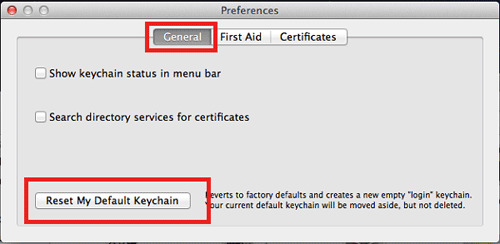 Create A New Keychain:
After you reset your password and login back to your account, you may see an alert that the system was unable to unlock your login keychain. The reason behind this is, the passwords for your user account and login keychain doesn't match. Just click the Create New Keychain button in the alert. If you didn't get any alert about your login keychain, or get other messages that ask for your old password, reset your keychain manually. Resetting your default Keychain automatically creates a new black Keychain with no password. So you won't have to worry at all, if you have already reset your default Keychain.
Summary
If you are facing Keychain First Aid issue on your Mac, reading this article will help you to learn how to resolve your Keychain issues and repair your Mac. If you have other password problme like Wi-Fi password, mail account password, website and app login password, creadit card and Apple ID information. PassFab iOS Password Manager, an excellent iOS password finder, may help you.