"macOS could not be installed on your computer; got this message for the 50th time. What should I do?"
Unfortunate enough, this is a very common macOS error that appears on your device if there are some issues with the installation. But as it is a common issue, it can be fixed very easily using a few dedicated solutions, which are detailed in the article below. Check them out if you are getting Mac OS could not be installed on your computer error.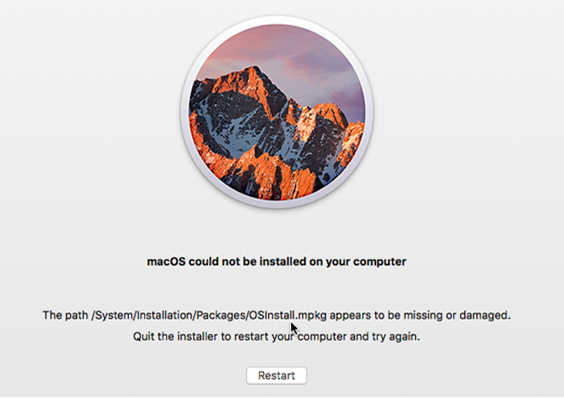 Part 1. Why macOS Could Not Be Installed on Your Computer?
The reason Mac OS X could not be installed on your computer is not always the same. But it can be limited to a handful of the reasons that are capable of causing such error. So, if you are having trouble installing macOS, then you can blame it on the following issues.
Lack of space for the installation of macOS.
The version you are trying to install may have already been corrupted.
The new macOS update may be clashing with the older version or other apps on the Mac.
Your network setting could also be an issue. It may be blocking the download of the update from the Apple server.
A change in boot-loading settings may have caused the issue.
Wrong date and time settings could also become an issue.
If your system has multiple users, then such a problem may occur.
Last but not least, you either have a corrupted system, or it may have been infected by malware.
Part 2. Preparation Before Troubleshooting Your macOS Installation Error
While we have listed the solutions below, we also need to discuss the preparations that you need, or you should take before executing these fixes.
These are easy preparations and all for the well-being of your system and your files.
1. You can start the Mac in Safe Mode.
2. A new backup via Time Machine would be very useful as the following fixes may cause data loss. Which won't be troubling for you if you have a backup.
3. Last but not least, you can check if the latest version of macOS is compatible with your Mac.
Part 3. 7 Ways to Fix the Error "macOS Could Not Be Installed on Your Computer"
Here are 7 effective fixes if you are getting, macOS could not be installed on your computer error.
Fix 1. Restart Mac
Let's restart the Mac to begin with. This may seem like a less effective fix, but a simple restart can do miracles for a device like Mac.
Step 1: Open the Mac, click on the 'Main Menu'.
Step 2: Click on 'Restart'.


Step 3: Possibly Mac will not respond properly. If that happens, just press and hold the Power button to shut down the Mac. After a few seconds, turn it back on again.
So, start with a simple restart of Mac; if this doesn't work, then move on to the next solution.
Fix 2. Check Date and Time
After restarting the Mac, it is time to check the date and time on the Mac if Mac OS could not be installed on your computer.
If the system's default date and times are wrong, it may interfere with the latest update. Although this is an amateur mistake, this happens more frequently than we like to believe.
So, we recommend checking the date and time of the Mac.
Step 1: Click on the 'Apple Menu' then navigate to 'System Preferences'.
Step 2: Click on 'Date and Time'.
Step 3: A new tab for Date and Time settings will open. Here you can set the date and time manually, or you can enable the automatic feature.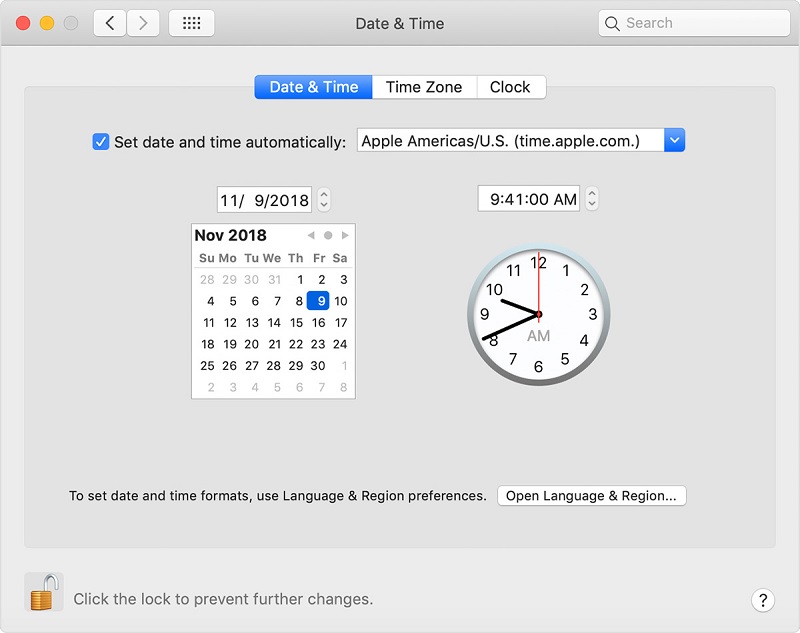 Step 4: There is also a tab for Time Zone. You also need to change it according to your location.
You can do further changes, but this should fix the error you are getting while installing the macOS.
Fix 3. Free Up space
The size of the MacOS is certainly big. So, in most cases where users are unable to install the OS due to occurring error messages, it can be blamed on the lack of disc space.
You may lack space on the system partition, which you need to clear so that the update can be downloaded without any interruption.
Step 1: Navigate to 'Apple Menu' and click on 'About This Mac'.
Step 2: A new panel will pop-up. Click on the 'Storage' tab. Here, you can view more details regarding the partitions and Mac storage.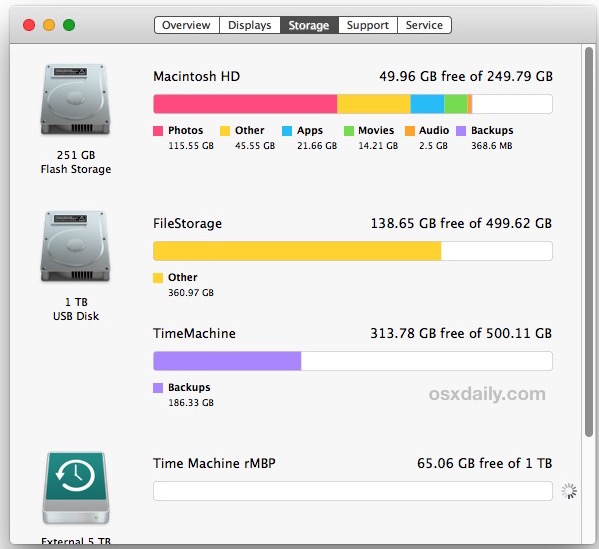 Step 3: The main part is that from here, you can choose any file and move it to the Trash.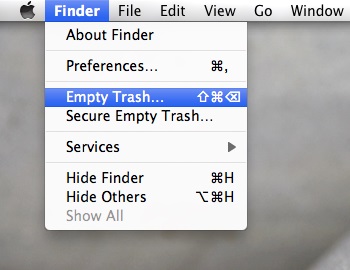 You should also empty the Trash. Otherwise, it will consume space on the system partition as well.
Fix 4. Reset NVRAM
The non-volatile RAM or NVRAM is a part of the computer that stores important information like booting, operating system, and other details.
But sometimes this information could clash with macOS installation, causing Mac could not be installed on your computer error to appear. This issue can be fixed easily using the following steps.
Step 1: Restart the Mac and press 'Command + Option + P + R' keys together as soon as the mac starts again.
Step 2: Keep the keys holding until you hear the startup sound again.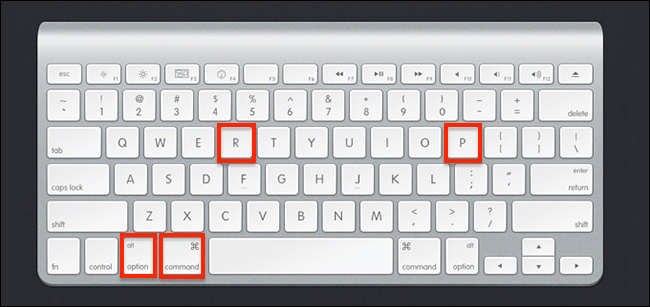 This would reset the NVRAM automatically.
Fix 5. First Aid on Mac
If there is an issue with the storage, then you can use Mac's recovery utility to fix the problem immediately. It is simple.
Step 1: Open Mac, go to 'Application' and click on 'Utilities'.
Step 2: Then, click on 'Disk Utility'.
Step 3: A new window will appear with details about your storage.
Step 4: Select the partition that needs to be repaired and then click on 'First Aid'.
Step 5: After that, click the 'Run' button to initiate the procedure.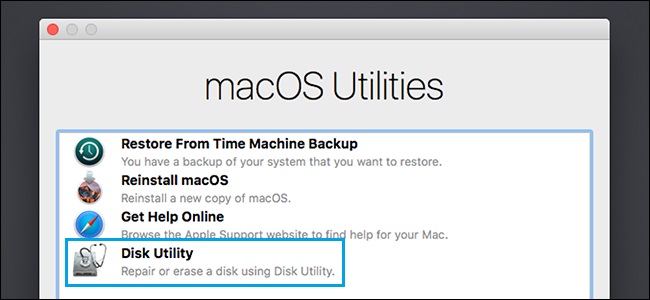 This will fix any issues with the selected partition on your Mac, effectively.
Fix 6. Reinstall macOS in Recovery Mode
If OS X could not be installed on your computer, try reinstalling the macOS in Recovery Mode. Steps are simple; check them out below.
Step 1: Restart mac.
Step 2: While it starts, press and hold 'Option + Cmd + R' keys together.
Step 3: Release the buttons when Apple logo appears on the screen.
Step 4: The Disk Utility window will appear on the screen, click on 'Reinstall macOS'.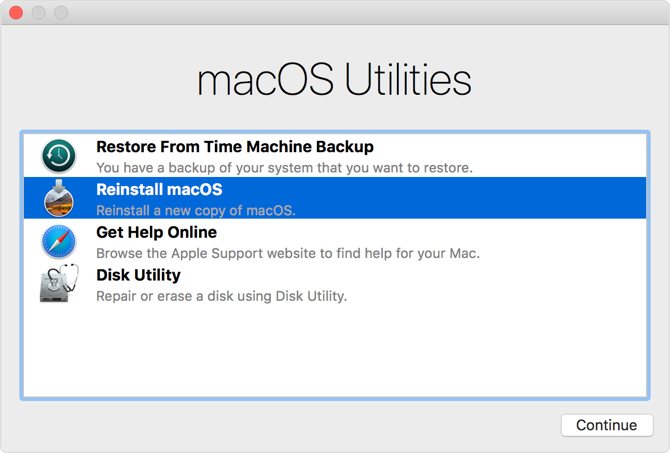 Possibly, you won't have to face the said error while installing macOS in Recovery Mode.
Fix 7. Check the System Status at Apple
Apple is one of the largest tech companies in the world. Still, it is possible that there is a problem at their end. If the Apple servers are down or under maintenance, you could face the said error message while installing or updating macOS.
Step 1: Go to the following website: apple.com/support/systemstatus
Step 2: A page will open. Look for macOS Software Update.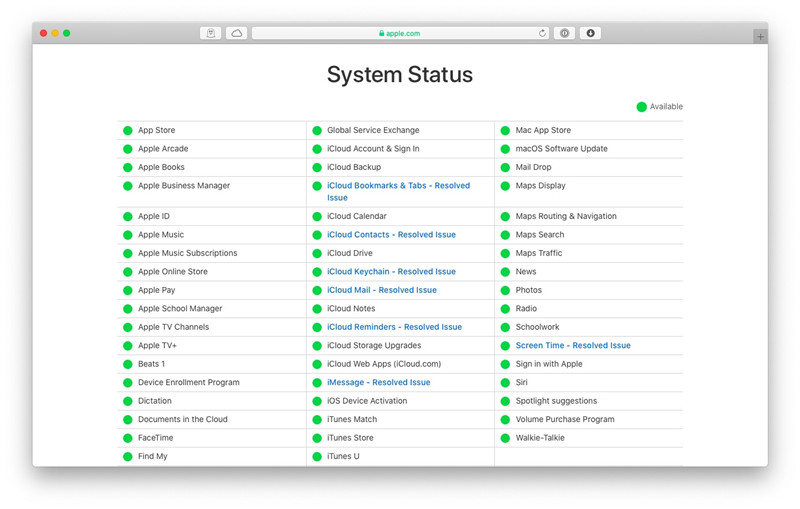 If there I a Green dot beside it, then all is okay, and you may have a problem in your end. If you see any other color, then you have to wait for Apple to fix the issue on their end.
Additional Tips: How to Reset Windows Password on Mac
If you have installed Windows OS on Mac and having trouble accessing the OS as you have forgotten the password, then you need to reset the password immediately. While there are other ways to reset the password on Windows, we recommend using a professional program for this one as you have installed it on the Mac. Using a professional program will be safe and easy to execute.
So, without further ado, we recommend using PassFab 4WinKey. It is a terrific program that creates a password reset disk, first then uses it to reset the password successfully.
The steps are long but simple. Check them out below.
01

First, you need to create a password recovery disk. As your Mac is locked, download and install the 4WinKey on a different computer, then run it.

02 Select USB as the boot media and click 'Next' to proceed. Connect a USB drive.

03 A pop will inform you that the USB drive will be formatted. Click 'Next'to continue.

04 The procedure will begin, and after a few moments, you will have the password reset disk in your hands.

05

Now, connect that USB drive to the locked Mac and reboot. Access the boot menu and change it to USB and proceed.

06 Now, 4WinKey will load on the Mac. Select the locked Windows system and the account that is locked and type the new password in the box beside it. Click 'Next' to proceed.

07 The program will initiate the process immediately. Within a few minutes, the password will be reset, just click on the 'Reboot' button on the pop-up.
This is the most efficient way to reset a Windows account password on a mac.
Final Words
Finally, all we have to say is that if you ever have trouble install the macOS, you should use these methods we have detailed in the article. These are genuine and most effective solutions for fixing the macOS installation issue. While if you are having trouble accessing your Windows account, then only PassFab 4WinKey will provide you access again by resetting the Windows account password.