As we both know, Microsoft account has many powerful features. My users are using Microsoft 365 office or outlook. So, whatever be the reason behind changing Microsoft account email,you must want to keep using the features. When it comes to switching, there are only 2 scenarios, either you know the email credentials and then need to know the tutorial to change it. Or, you forgot the email address and hence, in need to switch to another email account. For this reason, we came up with this comprehensive post to help you deal with the dilemma without any hassles.
Part 1. Change Microsoft Account Email Address by Adding Another Email
Here in this section we're going to explore another way to change Microsoft account email and that too for free, when you didn't forget the credentials. Please ensure to follow the steps carefully to avoid any loss of information from your Microsoft account.
Note: If you forgot the Microsoft password then you have to solve the password problem first. Don't know how? Click
here
to check it.
Step 1: Add a Fresh Email Address first
You need to sign in to your Microsoft account followed by selecting "Your info" from the top.
Now, select "Manage how you sign in to Microsoft" option.
After verifying your account, choose "Add email" for creating a new alias.
On the next screen, you can either create a new email address for adding as alias or add an existing email address. Next, hit on "Add alias".
On adding a new email address, a verification email will be sent to your new account. You need to verify that you're the owner of the account before proceeding. For this, click "Verify" and check your email for confirmation.
Step 2: Set New Email as Primary Alias
You can also set the new email as your primary alias. To do this, visit the Add an alias page and fill out the informatrion. Lats, click on "Add alias".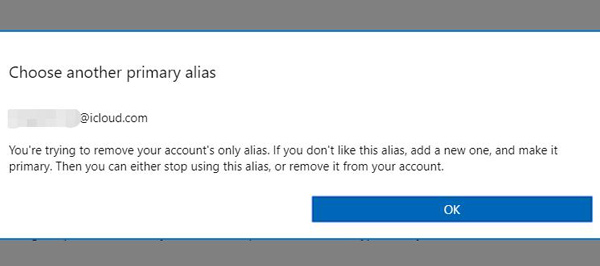 Step 3: Get the not-to-be-used Email Address Removed
To perform this, click on "Remove" given next to the email address that you don't want to use and follow the prompts.
Part 2. Change Microsoft Account Email Address by Creating A New One
Oh, you just didn't remember your Microsoft account Email and to change it with a new email is the only option you're left with, right? Well, you may lose all your important information and settings (that were stored over your old Microsoft account) if you choose to create a new Microsoft account email.
In case, if you still wish to create a new Microsoft account email and wanting to re-register for all other services that you were making use of with your previous Microsoft account, here's the step by step tutorial for you.
Pre-requisite:First, you need to decide whether you wish to register your existing email address as your Microsoft account or require a entirely new Microsoft account email address enabled with all other Microsoft services. Or, you can also register your phone number as a new Microsoft account.
Step 1: Begin with launching the preferred /powser over your computer and then head towards the https://login.live.com/ and then, on the sign in page, you're required to hit on the "Create One" link.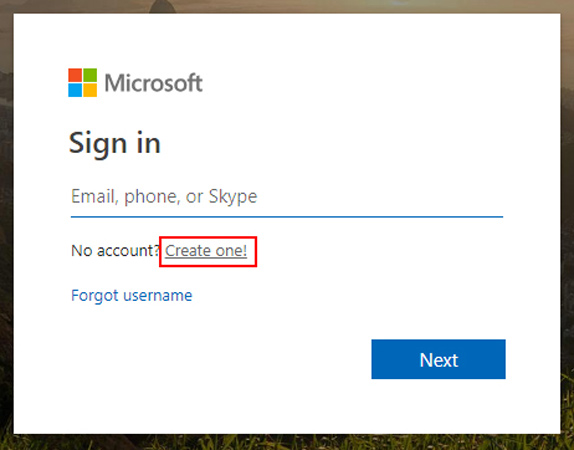 Step 2: Next, you need to either feed in the existing email address as we've mentioned above or you can also opt for any preferred option from "Use a phone number instead" if you wish to set your phone number as your Microsoft account. Or, "Get a new email address" to get an official Microsoft Services enabled email address. We've chosen "phone number", for instance.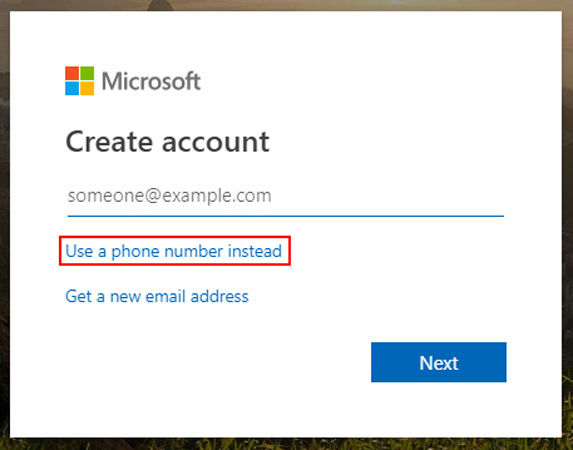 Step 3: Now, enter your phone number to proceed with account creation. Then, you'll be asked to key in the password for your Microsoft account and you're good to go.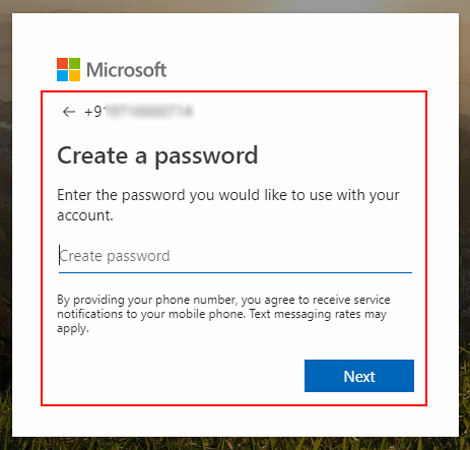 Step 5: On the upcoming screen, fetch the security code from your mobile number. Subsequently, over the account creation page, punch it in the respective field followed by "Next" button.
Step 6: Lastly, you need to verify your actions by typing in the correct captcha code shown over your screen. Once done, you're all set to get the things rolling your all new Microsoft account.
As we mentioned before, if you don't remember the Microsoft password, then you have no chance to add or create a new Microsoft account. But, it's not a difficult thing to reset the password with PassFab 4WinKey. It's a professional Windows password recovery tool which recommended by more 10,0000 users. Experience it by using the free version below.
Summary
We are glad to share such important piece of information with you and are always fully dedicated to provide you every essential related with Windows. We hope that you are now well-versed with the details given in the article and can now change Microsoft account email yourself. You can interact with us by commenting down below and share your views. Thanks for reading!