"I know my password on Facebook, but it says the password I entered is incorrect. Please try again (make sure your caps lock is off). How can I deal with it?"
One of the users asked a question about this login problem. To answer this query of the user, a little background knowledge is necessary. As leading social media applications, Facebook like other social media applications, one meets multiple people from different countries and express their ideas and feelings the way they want. The most common problem they face is "facebook password is incorrect" That is not because one's account has been terminated or hacked, it is because of your failure to remember the username or password.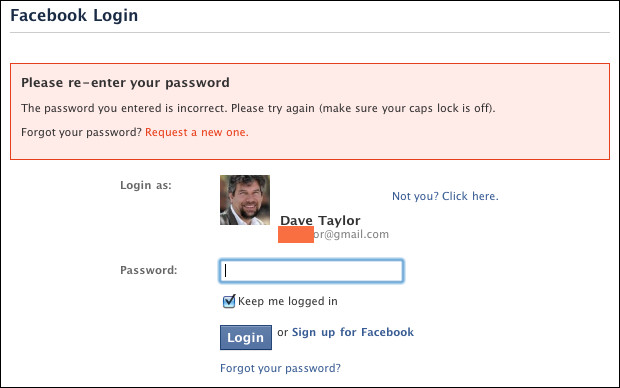 Part 1: What Email and Password Can I Use as Default When Forgot Password
Many Facebook users may be wondering: what is the default email and password when forgotting my Facebook password? I'm entering the correct password why it tells my password is incorrect? Actually there is not default email or password for your Facebook account. The account email and password is exactly the one that you use to log in your Facebook account.
To fix Facebook says my password is incorrect, please read on below.
Part 2: Four Methods to Fix Facebook Says My Password Is Incorrect
Facebook doesn't terminate anyone's account without any valid reason. Whenever you see this type of message, don't panic, and the first thing you should check is whether you are typing your username or password correct? Is there any typo mistake? If that was the reason for the failed login, you should correct it at once and log in again. If not consider the below scenarios:
1. Make sure that your caps lock is turned off and try again
Your username and password are case sensitive. Sometimes while typing a document, you use caps lock to capitalize the letter, or you accidentally hit caps lock while hitting "a" key as they are adjacent. Now, the question is how to check whether caps Lock is ON or OFF? If using an external keyboard, there are three lights on the top right corner. The Second light is for Caps Lock. If that light is ON, then Caps Lock is ON. While using an embedded keyboard on a laptop, there should be a small LED on the Caps Lock button. Some integrated keyboards don't have these LEDs for that you should check by typing something; if its capitalized, then the caps lock is ON, and you have to turn it OFF.
2. Change the login method by using the username
Facebook provides you multiple ways to login to your account:
using phone number
using email address
using username.
So, you can switch between any one of them anytime. Sometimes email contains numbers, and we may mess-up with them so, you should try to login using your Facebook username, i.e., the name you use on Facebook. Under "Email or Phone number," enter your username and in password field enter the password. You will be successfully logged in.
3. Reset Facebook Password
If you doubt that your password might be incorrect, you can go for a password reset. It's simple to reset your password. There is a link under the password box "Forgot your Password?". Click on that, and you will be redirected to a new page. Enter your email, and you will be given three option to get reset directions":
Using Google account
Get code at Gmail Account
Get code on your Phone
You can go for any of the options, and you will be directed to the next step.
4. Upgrade Browser or change browser to login
Check whether or not you are using an outdated browser. If yes, then you should upgrade your browser and retry login. But if your browser is up-to-date and still you can't log in your account, try to login using a different browser. Sometimes cookies of your browser are the hurdle in accessing your account. You can flush your browser's cookies, but it will delete all your login information. Try a new browser if you are 100% sure about your username and password, and you will succeed.
Extra Tips: How to Manger Website and App Password
In this digital world, where everything is on the internet and is accessible by username and password. As there many accounts, the password manager seems is necessary for us. Now you must be thinking about which password manager software you should trust? Well, we will recommend you PassFab iOS Password Manager. The solution is secured and provides easy access to manage passwords through software. It doesn't only manage WIFI password and login details for websites, but it makes recovering screen time passcode easier as well. Now if you are thinking about how you can utilize PassFab iOS Password Manager here's what you can do:
Step 1:

Once PassFab iOS Manager is downloaded, install it on your computer.

Step 2:

Then Connect your Apple iPhone/iPad for which password has to be recovered and run the program.

Step 3:

On the next screen, a pop-up will be shown to your device, select the 'Trust' button, and continue.
After the program detects your device, click the "Start Scan" button.
If you have set a backup password, the program will ask for it.
After verifying your backup password scan will start. It will take time, depending upon the complexity of your password.
After a successful scan, a list of all the passwords attached to your account will be shown. Right On the left navigation bar, all passwords will be combined into groups. You can select any one of them to view the password.
Username and password are the keys to your account. There may be other software that provides you to manage your account, but make sure it doesn't upload your credentials on the internet. Some companies sell your credentials on the dark web. So, if you are looking for safe and secure software to manage your account credentials, you should choose PassFab iOS Password Manager. It will help you resolve the "Facebook password incorrect" issue and all other issues related to password loss.
Summary
This article covers what a user needs to do incase his/her Facebook password not working. In the first part four tweaks guides user to fix the login problem of Facebook. The first one explains checking if the caps lock is enabled the next way teaches them to use username instead of email and phone number. In the very third method, explanation of how user can reset facebook password is mentioned and in following last method users are guided to change the browser. In second part of the article importance of password and ID in modern area and protection of them is explained.