It does not matter if you no longer have access to the email account or phone number that you used to make your account. You can still use a couple of techniques to get your account back since Facebook has taken measures to ensure that the real owner of an account can get access to it, in case the access was lost accidently.
Part 1: Why You Want to Find Facebook Account?
There could be a number of reasons due to which you might have to recover your Facebook password. It could be simply because you forgot your password or that you saved your password in some device that you were previously using and you have lost access to that account and password after shifting to a new device and discarding your old one.
Of course the reason could be worse and you might find out that someone has hacked your account and you need to take extra steps to get it back. You can use features like two-step verification to make your account secure in the first place but not everyone considers these options before they lose their account.
Part 2: What Email and Password Can I Use as Default When Forgot Password
When you forgot your Facebook password, you may want to recover it with a default email or password. So what email and password can I use as default when forgot password? The answer is: there isn't a defaul email or password for your Facebook. All you have is the email and password used to log in.
So if you forgot your Facebook account or password, keep on reading to find solutions.
Part 3: How to Find or Recover Facebook Account Password
Way 1. Find My Facebook Account via Official Facebook Website
Although Facebook offers a wide range of backup recovery options, it can be difficult for you to find and recover your Facebook account if you did not set up one of those recovery options. Nevertheless, there are steps you can take to succeed in getting your account back and you are about to read those steps.
If you have access to the above mentioned items then it will be easier for you to find your Facebook account and recover it.
Step 1: Facebook needs you to find and identify the account in the first place. For that, you need to go to the recover page of Facebook by entering "https://www.facebook.com/login/identify/?ctx=recover" in the search bar. Enter your email address or phone number to find your account. You can also enter your username here to look for your account but you need to have access to your email account or phone number to receive the recovery code later.


Step 2: Once you have succeeded in finding your account, click on it. You will be asked if you want to receive recovery code via your email or phone number. Click on "continue" to confirm it.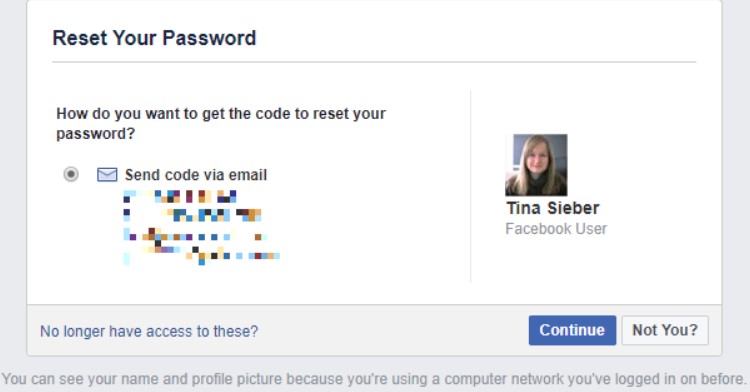 Step 3: You will receive a code on your email account or number. Enter that code on the Facebook recover page and press "continue". Your account will be recovered and you will be asked if you want to set up a new password. If your account was hacked, you need to change your password and set up a stronger one so it is not easily accessible to hackers in the future.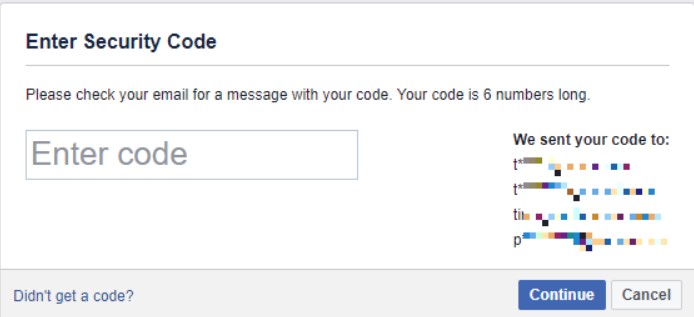 It may not be as easier to get your account back if you don't have access to the above mentioned things but it is still possible to recover your Facebook account without email and phone number if you take proper steps.
Step 1: Find your account using the above mentioned method and repeat step one from the previous section but click on "No longer have access to these?" option at the bottom left of the page instead of clicking on "continue" when asked if you want to receive the recovery code on your email address or phone number. You will be asked to enter a new email address or phone number so Facebook can use it to help you in recovering your account. Press "Continue" after doing so.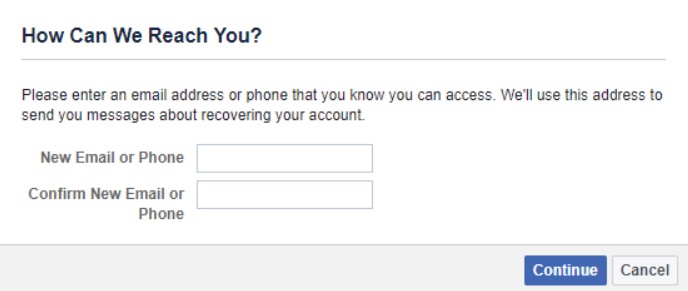 Step 2: At this step you will need the help of your three trusted contacts that you have set up on Facebook because they will receive codes and you can recover your account by entering those codes.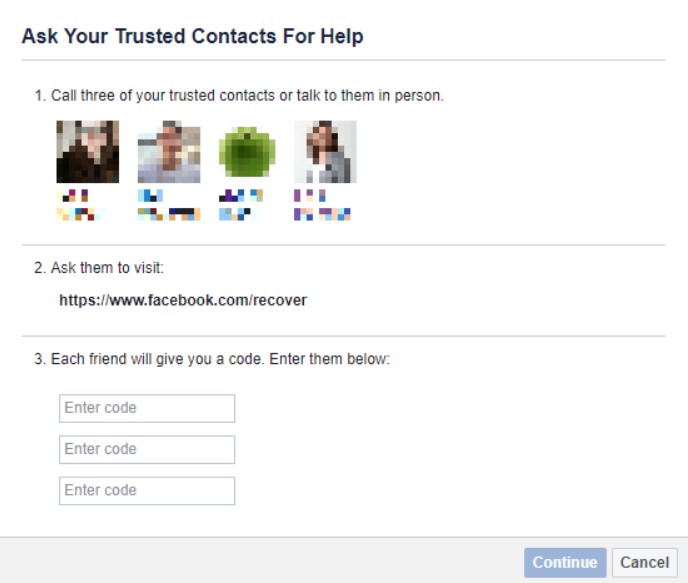 In case you didn't set up this option of trusted contacts, you would have to answer security questions asked by Facebook to verify your identity. You may get the option to set up a new password right then and your account would be recovered or Facebook may ask you to wait for 24 hours while it is confirming your identity and you would get your account back after that.
Way 2. How to Recover Facebook Password without Email and Phone Number
If you are an iPhone user and you have forgotten your account password then you can easily find it back and use it to recover your account with the help of PassFab iOS Password Manager. Instead of going through a long process, all you have to do is use this helpful tool and you will get your account back in no time.
Step 1: First connect your iPhone with the system that has PassFab iOS Password Manager program and run the program.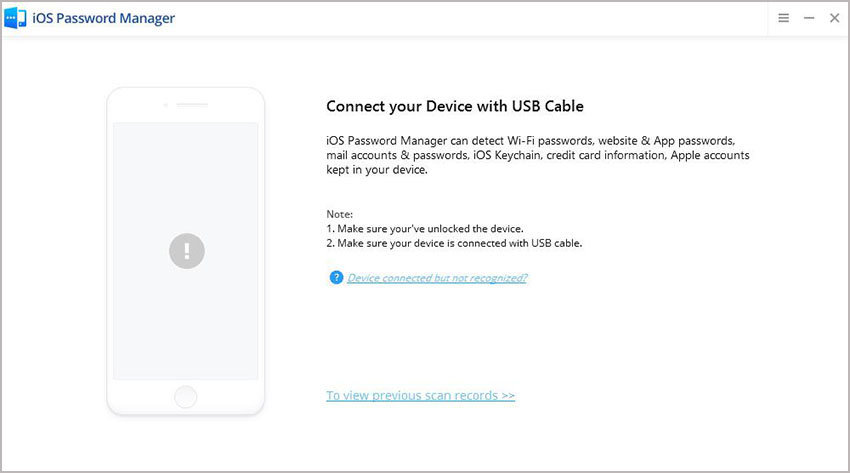 Step 2: Start the scan by clicking on the option on your screen.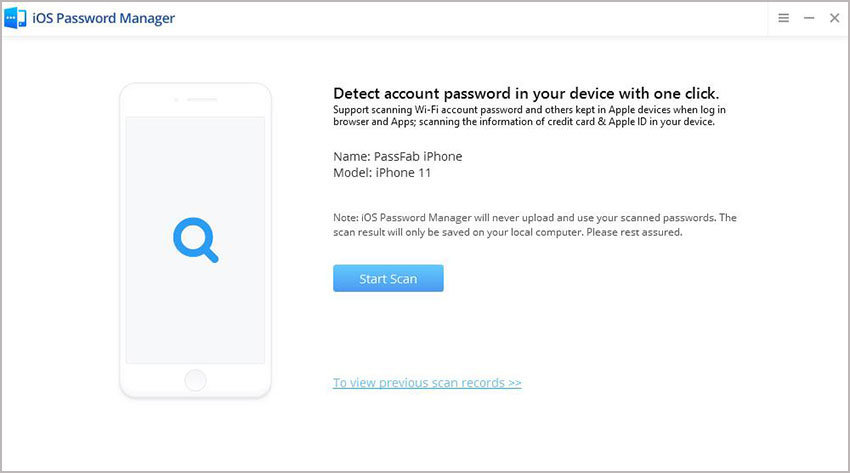 Step 3: You will be shown your password information. Go to the "Website and App Password" section and see your Facebook password.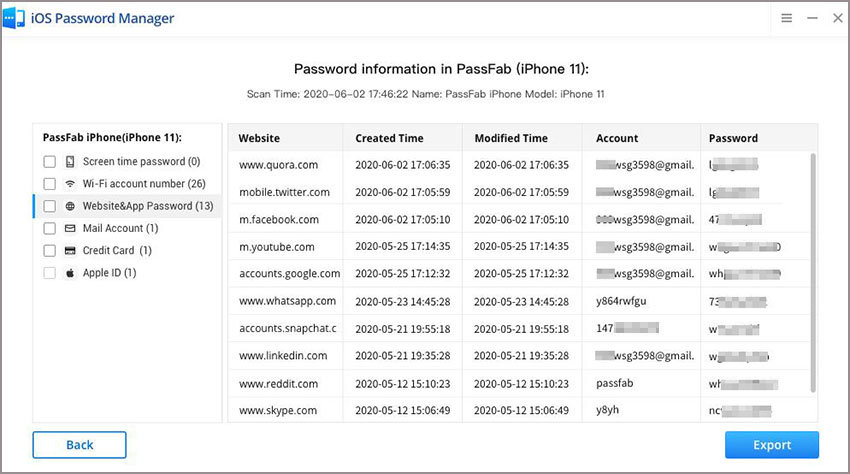 Step 4: Click on the export button to export the required password. You can use it to recover your Facebook account then.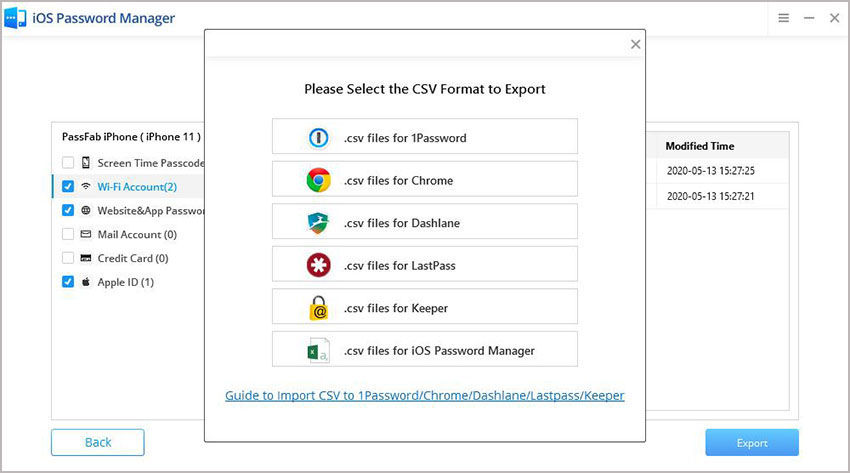 Way 3. How to Recover FB Account via Chrome Browser
If you ever saved your Facebook account and password on Chrome Browser and now you have forgotten it, you can see the saved passwords on Chrome to get it back so you can log in to Facebook from other devices too.
Step 1: Open Chrome Browser and type "chrome://settings/passwords" in the address bar. You will see a list of all your saved accounts. In "saved passwords" section, click the symbol next to password and choose "details".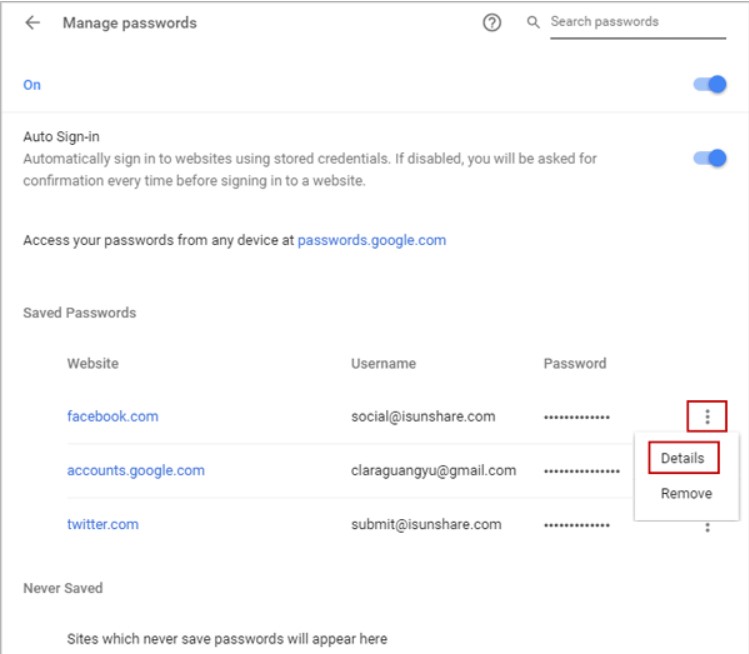 Step 2: A window will pop up where you can click on the eye button to see your Facebook password.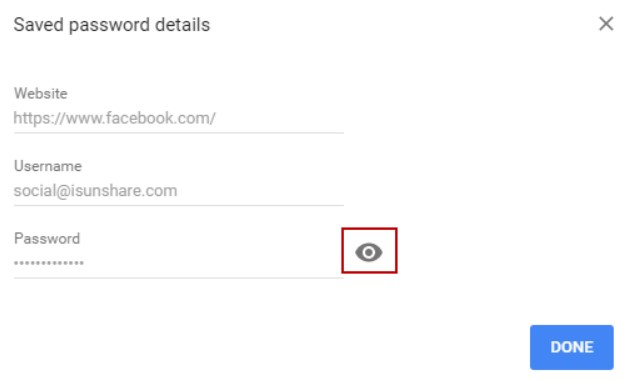 Alternatively, if you have lost your account then according to an update by Facebook, you can use your browser to recover your password without any verification if this is the browser you frequently use to login to Facebook. Just try to login with it again and Facebook will let you reset the password after identifying your browser/device.
To Sum Up
It is not impossible to find and recover your Facebook account these days with so many methods available. All you have to do is follow the above mentioned steps and surely some methods would work for you. Also, from the above methods, the iOS password manage tool from PassFab is your best option.