"What should I do if I lost password to my Instagram original account? If there is any amazing solution then please let me know?"
There can be many reasons for Instagram password recovery, but the few main reasons that we come across are mentioned below:
Few people might want to see their partner's online activities or few parents want to check their kid's online activities in order to ensure their online safety. Few of them got a new device and they want to reset a new password but if they had not the existing password then it becomes difficult for them to reset so they find ways on how to recover Instagram password.
What Email and Password Can I Use as Default When Forgot Password
If you forgot your Instagram, there isn't a default email or password for you to find your password. All you have is the email address that is used to log in your Instagram account to reset password. If you don't have access to that email address anymore, you should contact Instagram support for help.
How to Find Instagram Password
Method 1: How to Recover Instagram Password on iPhone
Now losing password is not a big deal just because of PassFab iOS Password Manager. This amazing tool will help you to recover an Instagram forgotten password at your fingertips. It comes up with lot of features, one can easily find Wi-Fi, Websites and Apps passwords even you can view mail account passwords and lot more. This tool is just awesome when it comes to display the Credit Card information either its card number or expiry date, just in few minutes this tool will list out all your desired information. This software has been rated 10/10 because of its performance and 100% recovery rate.
How to Use PassFab iOS Password Manager
Step 1: Download it on the desktop and install it: PassFab iOS Password Manager
Step 2: In the 2nd step you have to connect your Apple device to the computer and then run the program.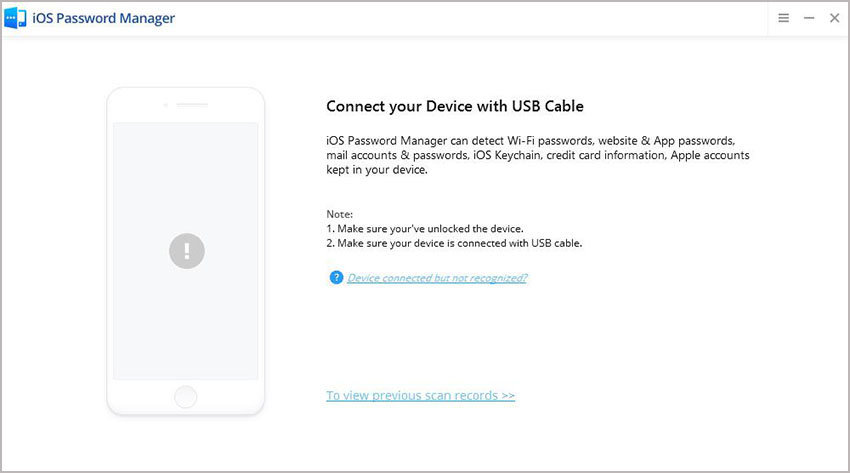 Step 3: Now you will be able to see a Start Scan button simply click it in order to scan the passwords.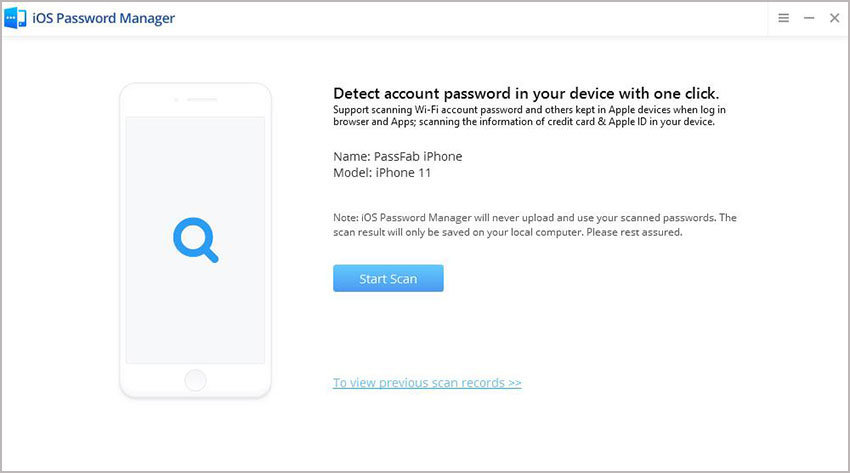 Step 4: After few minutes scanning will be finished and you will be able to see all the password information's.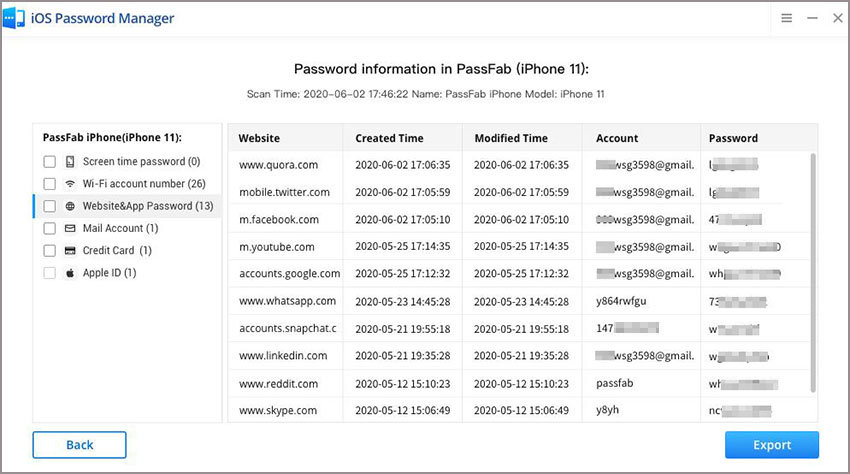 Step 5: It's just the end, simply click Export button in order to export your passwords you can choose export password for 1Password, Chrome, Dashlane, LastPass, Keeper, etc.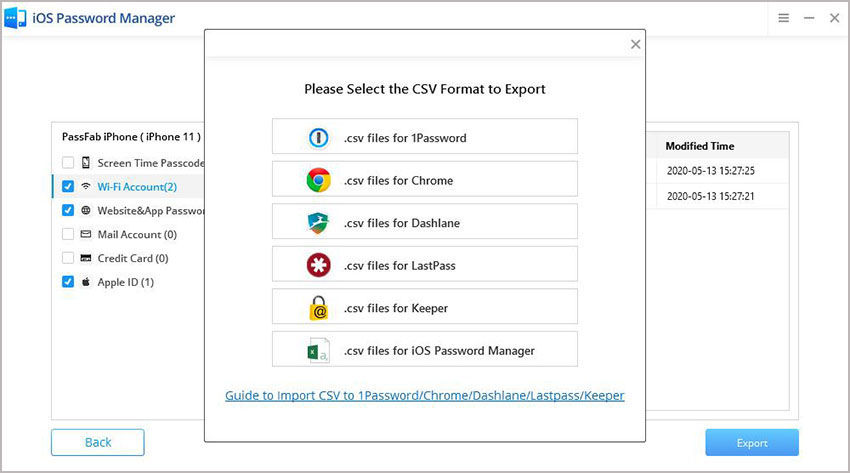 Method 2: Try to Find Your Instagram Password Online
This method is really good if you want to know how to find your Instagram password online.
Google Chrome is one of the best and handy browsers because it is more advanced and comes up with password saving option in order to avoid extra typing. Password saving option comes really handy when you have forgotten your password for a certain website. But for now there is no need of any disappointment because Chrome has a way to show your saved passwords.
Step 1: First you have to open Google Chrome Browser App.
Step 2: Now you have to tap the Menu button.
Note: In Android Menu button will be in the upper right-hand corner and on iOS it will be in the lower right-hand corner.
Step 3: Soon there a pop up menu will appear, choose Settings.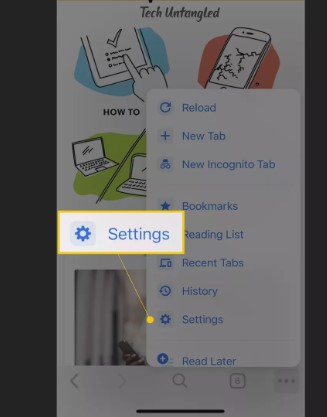 Step 4: Now in settings you have to choose Passwords.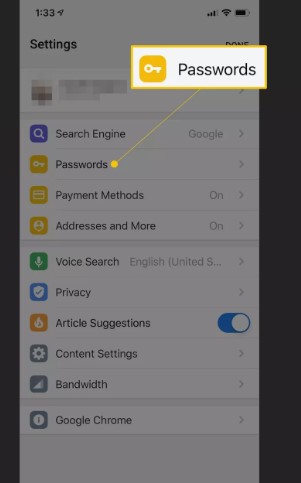 Step 5: Now you can easily see save password for lots of websites, select the website for which you want to see a password.
Step 6: Now you can see series of dots in password field, you just need to tap these dots once.
Step 7: Now simply select the show button.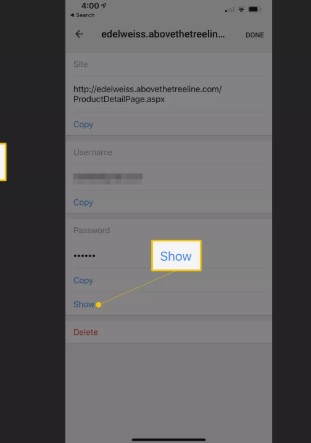 Step 8: After authentication, the selected password will be shown in clear text.
Method 3: How to Get Someone's Instagram Password
Are you looking for amazing monitoring software? If yes then you must try Spyera, it is for those who want to know how to get someone's Instagram password. Let's have a look below to some of its advantages.
It not only monitors Android phone, tablet or iPhone but can monitor Windows PC also.
Its best part is that it let you monitor your kid's activity; you can ensure more security of your kids.
You can even track your employees in order to have more security for your business.
You can have access to all the login details of any Website and App.
Gideline to Use Spyera
Step 1: First You have to download Spyera to the device that you want to monitor. Its installation is really simple, you have to open a web page on the target device and then enter a code.
Step 2: After successful purchase, you will receive a welcome email, that email contains login credentials and login URL.
Step 3: Now you have to login to your account.
Step 4: After log-in you will be able to see Help section on the top of left side.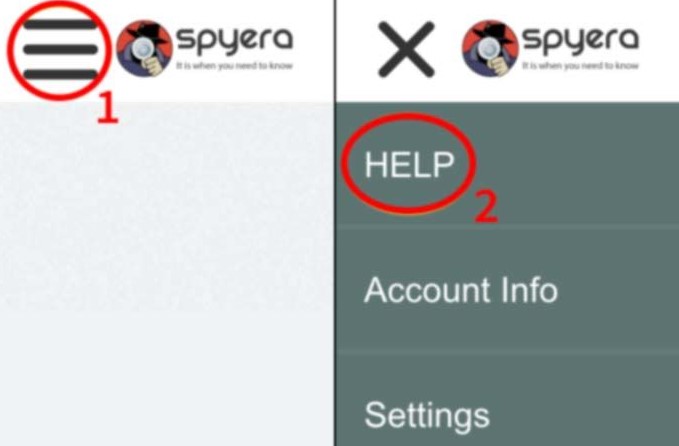 Step 5: In help section you have to navigate to User Manuals -> Installation Guide. There you can find step by step pre-installation configuration and download URL.
Step 6: When you will enter download URL, installation will start automatically.
Step 7: After installation you have to enter your activation code in order to activate it.
Finally installation is complete, now you can easily monitor and easily can have access to Instagram login details.
Summary
The short conclusion of this article is that you will find 3 outstanding easy to do methods for how to find Instagram password. This article is a full package because above mentioned methods to retrieve Instagram password is simply amazing but the first method iOS Password Manager from PassFab is simply. We will strongly recommend this method because it is trusted by experts; best part about this method is that it consumes a very less amount of time. If you find this article helpful then must share it to all those who are stuck with forgotten Instagram password this will surely going to help them. Stay tuned with us because more informative articles are on its way.