How to password protect flash drive? USB may contain data that you want to protect and keep safe from others. Well, anyone can plug your USB in their computer and access your data unless you password protect a flash drive. This article will guide you thoroughly.
Part 1. How to Password Protect Flash Drive
1. Password Protect With Bitlocker
You can password protect a USB flash drive using one of the simplest windows programs called Bitlocker. To use it you have to simply follow the following steps:
Type "Bitlocker" in the search bar on the taskbar and hit "Manage Bitlocker".
Locate the removable drive (Your USB) that you want to password protect and click it.

You will turn on Bitlocker for your USB to password protect a flash drive using BitLocker.

Then you have to select a password to unlock the flash drive.
Read Also: 3 Easy Ways to Change Bitlocker Password
2. Buy A Secure USB
A secure USB is one that utilizes microchips in its hardware to password protect a flash drive. Some brands provide USB drives that require a PIN to be written physically to gain access to the USB drive. They may contain features such as erasing of data if the password or PIN is no correctly written on a certain number of times. The price of these drives is more than those which come without this feature but it is better to buy these USB drives which allow you to password protect USB drive.
3. Use a Third-Party Tool
You can also use third-party tools and software to password protect USB drive Windows 10. You can install different software that can help you to encrypt data securely into your flash drive by providing you with a PIN or a password that you have to type before gaining access to your flash drive. A few of the third-party apps include but are not limited to:
Gilisoft USB encryption
Rohos Mini drive
USB Safeguard
USB secure
DiskCryptor
VeraCrypt
Any of these and many software can be used to password protect flash drive.
Part 2. How to Turn off Bitlocker on USB Flash Drive
Bitlocker is the most common answer to how to password protect a flash drive. However, sometimes you may have to give your USB to multiple people for different purposes so you may want to turn off BitLocker to prevent any inconvenience. You can turn off BitLocker on a USB flash drive by following the method stated below:
Right-click your USB drive after attaching it to your computer. You will see multiple options. You will see an option of "Manage Bitlocker" you have to click on it and then a new BitLocker window will open up. Hit "Turn Off Bitlocker".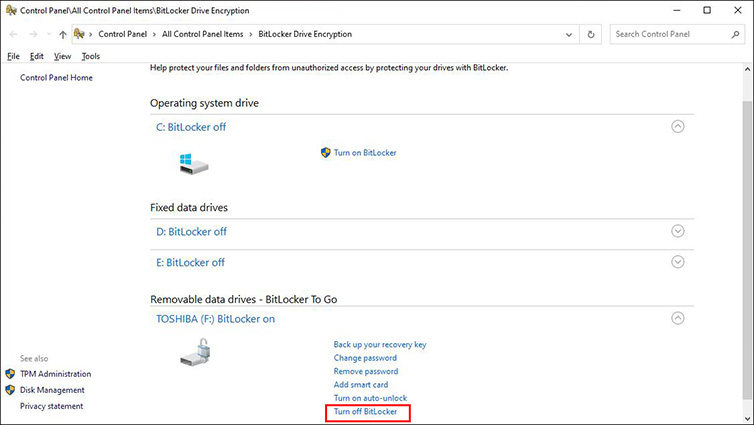 Part 3. How to Create a Password Personal File
To password protect USB drive Windows 10, creating a password personal file is a good option. But how to password protect USB drive by creating a password personal file? Well, it is easy and you just have to follow the method stated below to create a password personal file to password protect the flash drive.
Attach your USB disk with your PC. Go to File Explorer > This PC.
Select the USB Drive that you need to encrypt. Right-click and hit the "Properties" tab.
Hit "Advanced".
Click "Encrypt Contents to Secure Data" then click "OK" you have created a password personal file to password protect the flash drive.
Or you can juat add your files into a ZIP, and create a password to protect the ZIP file.
Extra Tips: How to Recover Password of File Archive
Some ensure that they will have the option to tie down their compacted documents if it's very private to them. To do such, they set up security passwords with this strategy to make sure about the record. Nobody else, aside from the ones that know the secret word, can fire it up. Nonetheless, in some cases, a few of us don't recall the secret word of the ZIP record, which could cause huge issues.
The PassFab for ZIP is a recovery tool that can be used to recover the ZIP file password. You can download it and follow the following steps after launching it.
When you will launch this app, you will see the main interface.

Click the "Add" button to add your ZIP file.

There are 3 types of attack modes that you can select to proceed.

Brute Force Attack

: It is recommended when you have no clue about your password.

Brute Force With Mask Attack

: It is recommended when you have a little bit of a clue about your password. You can configure the settings in this mode according to the clue you have.

Dictionary Attack

: On the off chance that you have a word reference that is a book document posting normal character blends that you may regularly use for passwords. Click "Settings" > "Add Dictionary" to quickly find the password from an inbuilt or customized dictionary. A pop-up window will appear and the process will take some time.

Hit "Start" to initiate the process. In the end, a password will appear which can be used to access the ZIP file.

Now, you can get your ZIP file password.
Conclusion
Your USB may contain sensitive data that is not meant to be accessed by everyone. We have explained the best ways by which you can password protect your flash drive. All the methods are explained in detail. The forgotten passwords of ZIP files can also be recovered and their methods are also discussed. The most convenient method is to use PassFab for ZIP as it is indeed a great tool and easy to use.