If you are in a similar situation and wondering, "what if I forgot my outlook password," or perhaps you already have forgotten it. We have got your back! Here, we will answer "I forgot my Microsoft Outlook password" and share ways to recover it. So, let's begin.
Method 1: I Forgot My Outlook Password, How to Reset It?
If you forgot your Microsoft outlook password lately, you don't have to worry at all. One of the easiest and the most common ways to recover the password is to reset it manually. We will tell you step by step how to recover your forgotten password quickly. So, follow the steps below to generate a new password for your outlook account.
First of all, go to the web browser and open the Microsoft account page. Click "sign-in".
Then, type your username. Make sure you type it correctly and click "Next".
Then, a window will pop up to ask for your password. If you forgot your Microsoft Outlook password, there is an option of "Forgot My password." Select it.
Next, you will see the screen with multiple options. Because you forgot the Outlook password, choose "I forgot my password" and click Next.
It will then direct you to recover the account page. There, you will be asked to enter your email account and type in some characters as a verification check. Once you enter the information, click Next.
Then, if you have already set your recovery email or phone number in your Outlook account, it will appear on the screen. You can choose either email or number. A one-time code will be sent to the selected option.
Enter the code to verify the recovery details. Then, click Next.
A window will appear to reset your password. Type the new password. Confirm it and click Next. It will recover your account by resetting the account to the new password.
Method 2: How Do I Recover My Outlook Password After Forgetting?
In case you are using an iDevice, and if have lost or forgotten the Outlook password, you don't need to worry anymore. If you are facing issues like "I forgot my outlook password," or "I can't remember my Apple ID," this is going to be an all-in-one solution to address all your problems. PassFab iOS Password Manager will allow you to recover your Wi-Fi password, email password, screen time passcode, Apple ID password, and even credit card information quickly and efficiently.
Let's now see a detailed guide on how to use this fantastic tool to recover your MS outlook email in seconds. Follow the steps below:
Step 1. Download and install PassFab iOS Password Manager from its official website on your computer.
Step 2. Next, connect your iDevice to the computer via a USB cable. If it is your first time, hit the "Trust" button on your iPhone or iPad to connect to the computer successfully.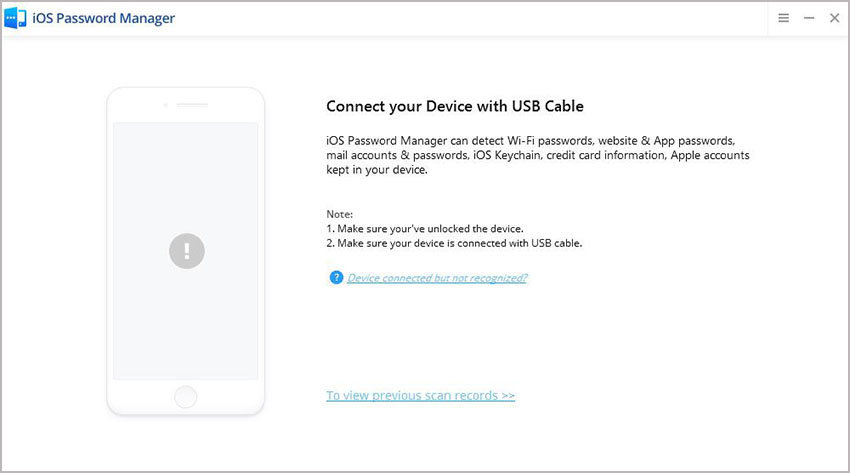 Step 3. Once you have connected your iDevice to the PC, you will see a screen with the option of "Start Scan." Click the option to scan for all your passwords. Then, select "Continue."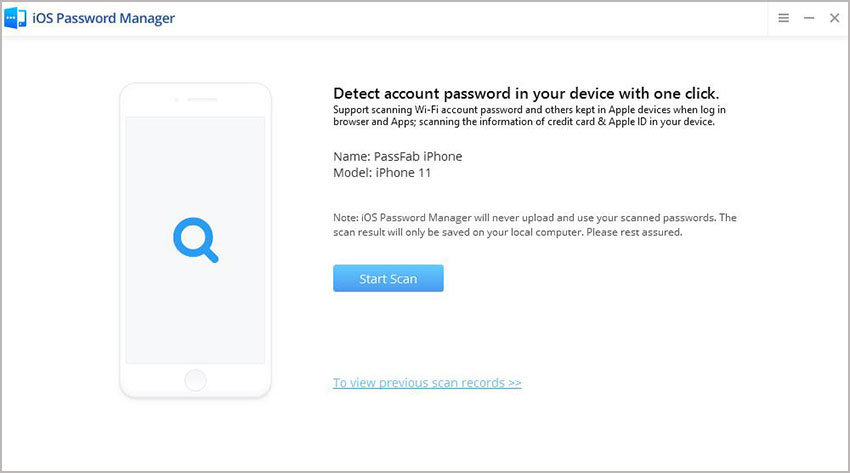 Step 4. Once the scanning completes, you will see all the passwords appearing on the screen. It may include a Wi-Fi password, website & app password, account password, screen time passcode, Apple ID password, and credit card information. We are looking for a Microsoft Outlook account password, so select view "Mail Account" Password.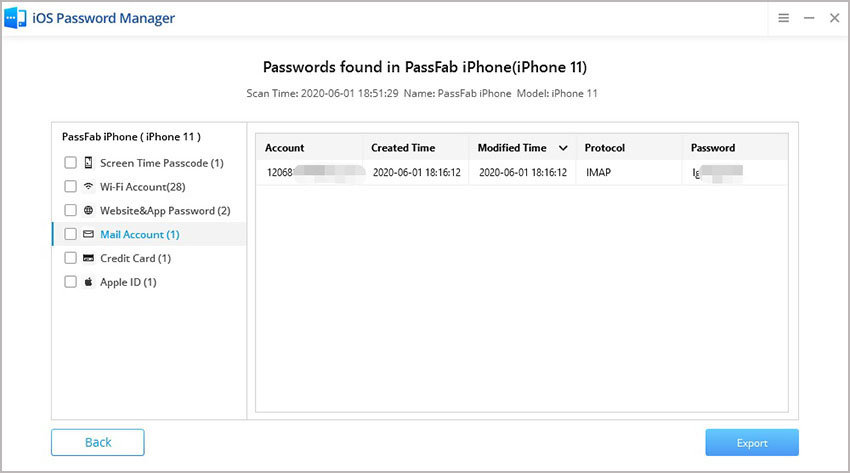 You will see the Microsoft Outlook password that you forgot appearing on the screen. You can use it to log to your Outlook account.
A Little Think: Why You Forgot Outlook Password?
You are here because you forget your Microsoft Outlook password. Right? Before we address your issue, let's understand why it's important to set a strong password and why people forget it. Generally, Email is considered a more professional way of communication, especially when you want to send official information to your clients. Talking about emails, you must have heard of Outlook, which is a part of Microsoft Suite.
It is a personal information manager and handles multiple functions but primarily serves as an email service provider. Now, to prevent data breaching, you should secure your accounts. For that, you can use a strong password that is a combination of alphanumeric and special characters. However, if you set a complicated password for multiple accounts, there are good chances that you forget it with time.
Microsoft outlook email is the best service provider out there. However, to secure your accounts, you must use a strong password; a mix and match of alphabets and numbers. Often when you set a complicated password, your security is promised, but there are pretty good chances that you'd forget it with time.
FAQs About Forgetting Outlook Password
Q1: Is My Outlook account password the Microsoft account password?
Yes, your Outlook account password is the same as your Microsoft account password. In Microsoft account, go to the Security option and select a password to access the option. You may be asked to verify your identity first via a verification check.
Q2: How do I recover my Outlook password without a phone number?
There are several ways to recover your Microsoft outlook password if you forgot it. Even if you don't have your number saved as a recovery option, you can use a recovery email. A code will be sent to it, and you can reset the password using it. Another method to recover your account is to fill in the details here https://account.live.com/acsr?mkt=en-us. Other than that, you can fill the recovery form and submit it to recover your password.
Q3: How do I change my password for my Outlook email?
Basically, you can manually reset your password for the Outlook account. It is the easiest method to do so. However, to do it manually, you must have a recovery email or phone number. In case, the recovery email or number that you gave in Outlook account doesn't exist anymore, you can go for a fantastic tool PassFab iOS password manager. It is easy to use, and you can recover all passwords using it.
Summary
To answer your "what if I forgot my Microsoft outlook password" problem, we have brought you 2 easiest solutions. We first discussed how to manually recover your Microsoft Outlook account password, in case you forgot it. Then, we introduced you to a fantastic tool PassFab iOS Password Manager, that can recover your passwords for you.