PDF is a commonly used file format used for sending and receiving data over the internet. Due to some security reason, some people protect their PDF with the help of a password and then send to the other person. There is no need to panic if you don't know how to password protect PDF file. With the help of this article you will learn everything in this issue easily.
Why Your Need to Password Protect PDF Document
If you have some important data in your PDF document, then you password protect your PDF documents with a password. Following are some reason that shows why people want to add password to PDF.
Password protect PDF is used to stop unauthorized access and sharing.
Password protections help in stop copying, editing, printing, etc.
Limited people can access the PDF who have the password of PDF.
How to Password Protect PDF Document
If you want don't want to share important information with anyone then you must encrypt your PDF with a password. It reduces the chances of data copying, data editing, etc. You can easily add password to PDF file by using the following techniques.
Option 1. Password Protect PDF with Adobe Acrobat
Adobe Acrobat is application software that used to create, manipulate, print, and manage files in PDF. It is the most promising software that used for PDF. It also used to fix the problem in PDF. This software is reliable and widely used by people. You can lock your PDF with the help of this software. Following are steps used to add password with Adobe Acrobat.
Step 1: Open PDF and choose "Tools" then click on "Protect" and then select "encrypt" and then tap on "encrypt with password".
Step 2: A pop-up page will open then you click on "Yes" to change the security.
Step 3: Select "required a password to open the document" and then type the password.


Step 4: Select an Acrobat version from the drop-down menu.
Step 5: Select an encryption option.
1. Encrypt all document content: Encrypt the document and document metadata.
2. Encrypt documents except for metadata: Encrypt the content of the documents but allow the search engine to access metadata
3. Encrypt only file attachment: This is mainly used to create security documents.


Step 6: Click ok, then confirm the password and retype the password and then click "ok".
Option 2. Encrypt PDF with Microsoft Word
You can encrypt your PDF in Microsoft Word. It is a very easy method to add password with PDF. Following are the steps used to encrypt the PDF in Microsoft Word.
Step 1: Open your document and select the "File Tab".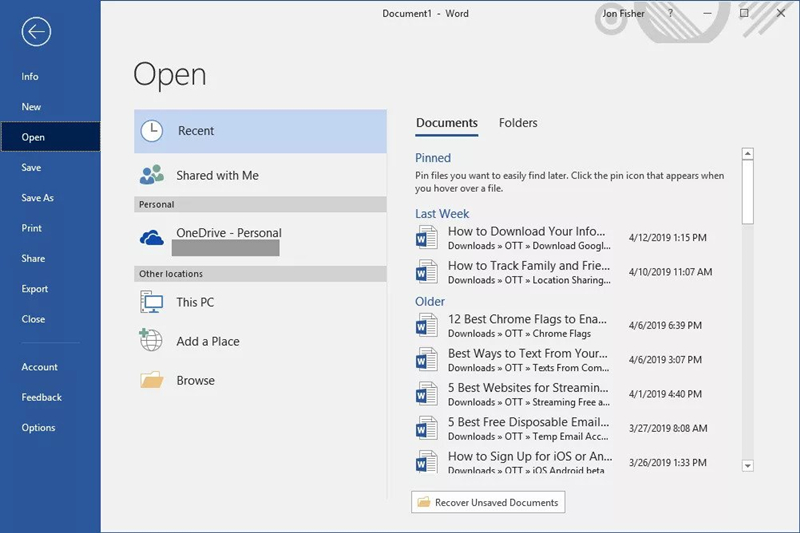 Step 2: Tap on "save as" then select the desired location for the document.
Step 3: Tap on "save as type" button and select the PDF from the drop-down list.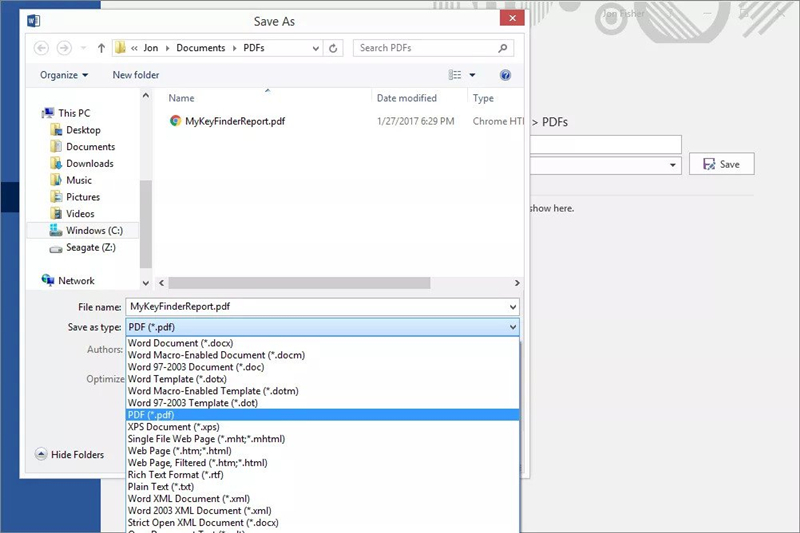 Step 4: Then click on the "options" button.
Step 5: Then mark the "Encrypt the document with a passphrase".
Step 6: Then type the password and re-enter the password. The password must be in between 16-32 words.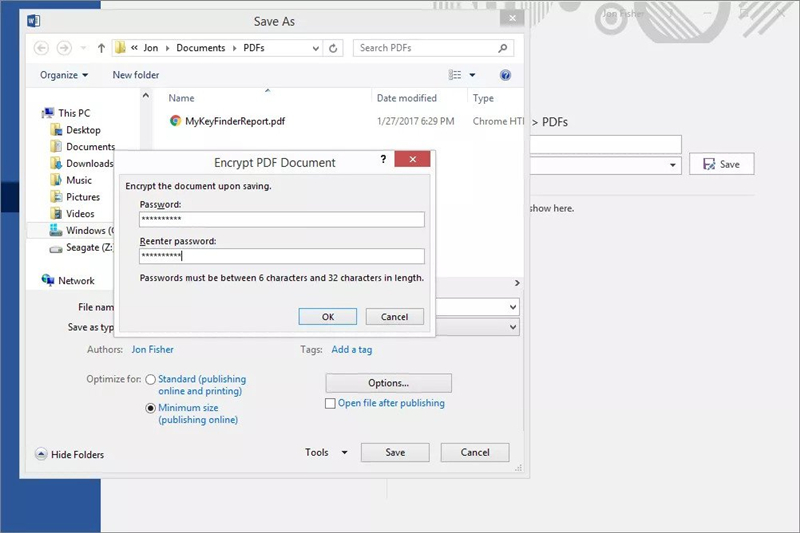 Step 7: Then tap on the "Save" button. Now, your file is encrypted.
Option 3. Add Password to PDF Online
If you don't have any software to protect your PDF with a password, then you can add password to PDF via online. It is a very easy method to encrypt your PDF, but very fewer people use this technique to protect their PDF. The website "PDF protect free.com" is the best way to add the password to PDF online. Following are the ways for how to encrypt a PDF online.
Step 1: Go on Google and type "PDF protect free" in URL box.
Step 2: Drag your PDF files and drop onto the drop zone. You can upload 5 PDF document at one time.
Step 3: Then enter the password in the Text box.
Step 4: Then click on the "upload and encrypt" option. Then uploading of files and encryption process will automatically start.
Step 5: Wait some time, and you will get the downloading link, and your file will be fully encrypted.
Option 4. Put Password on PDF for Mac Users
Password on PDF for Mac users is very simple and quick. Mac user can easily protect their PDF files with password as compare to others. Following are the guide steps of how to password protect a PDF for Mac users.
Step 1: Open Preview app on your Mac.
Step 2: Then open the PDF that you want to protect with a password.
Step 3: Choose "file" then click on "export" than select "encrypt".
Step 4: Then enter your password then Retype the password.
Extra Tips: How to Unlock Password-protected PDF Document
You can open your password protected PDF by entering your password. If you are not able to open your PDF and you forgot the password, then there are too many software available online that can help you to access your PDF document. Most commonly used tool for unlocking PDF when you forgot the password is PassFab for PDF. It's a very fast and easy to use software. Following are the guide steps to use PassFab for PDF.
Step 1: Launch the PassFab for PDF. It will take you to a screen like this.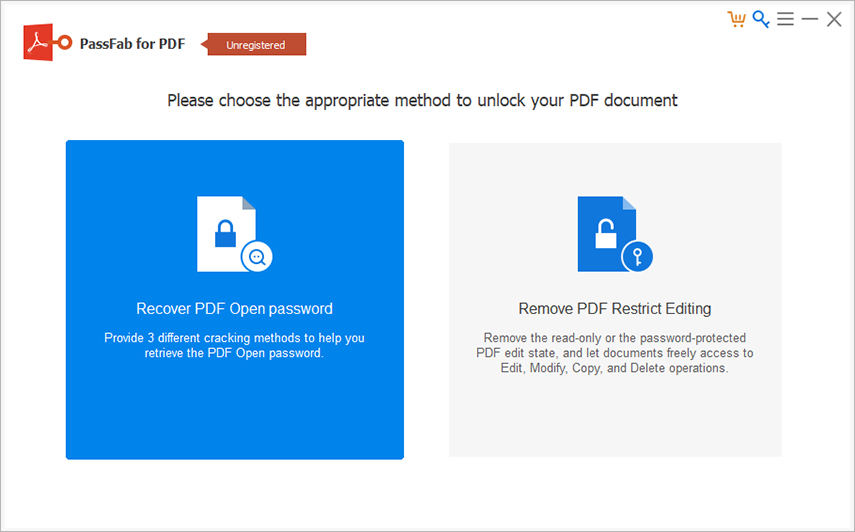 Step 2: Click on "Add" to upload your desired file from your computer. Then, click "Open" to open the file successfully.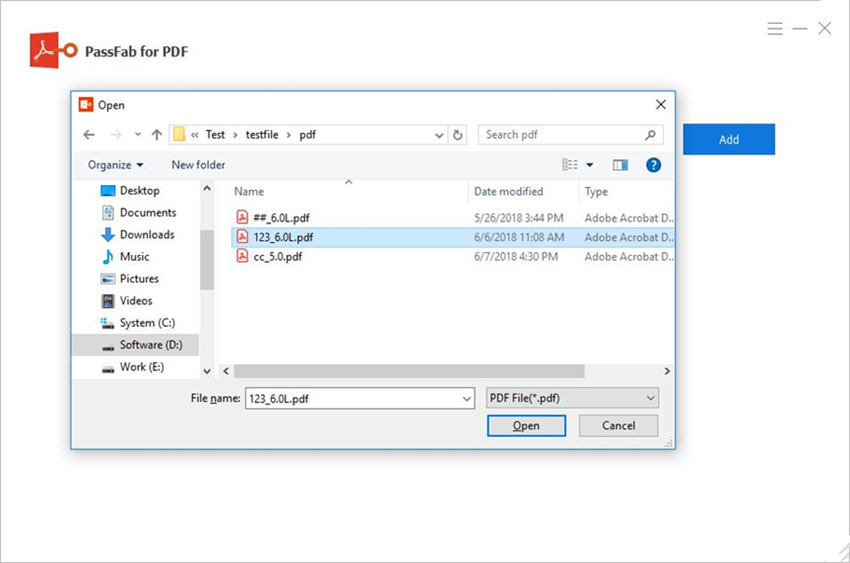 Step 3: Once the file you have selected will be uploaded. You need to customize or select the settings according to your need.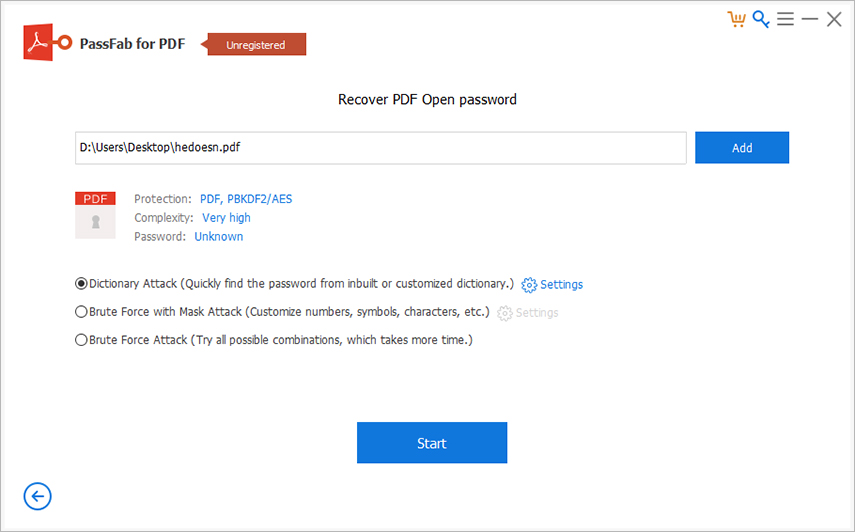 Step 4: There are 3 types of PDF password attack that you can use for decryption. One is dictionary attack, one is Brute Force with Mask Attack, and the last is the Brute Force Attack. You can customize the settings of Dictionary Attack and Brute Force with Mask Attack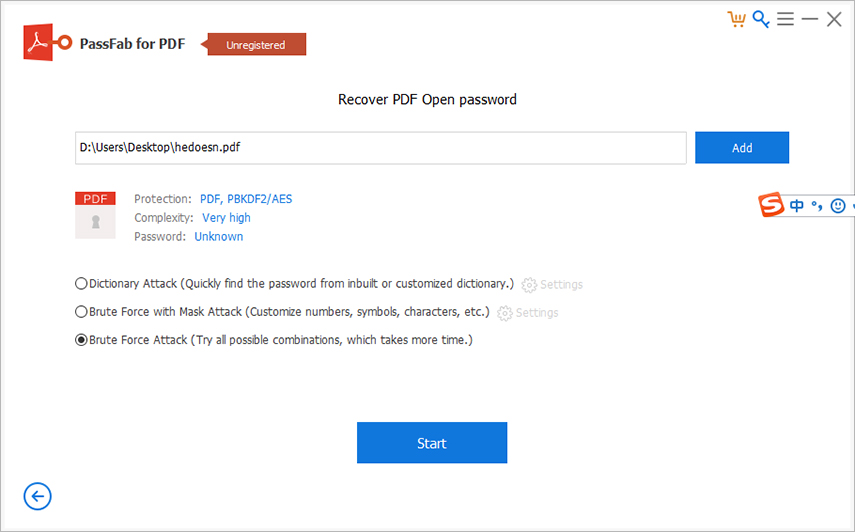 Step 5: After selecting the right settings, click on "Start" for initiating the process.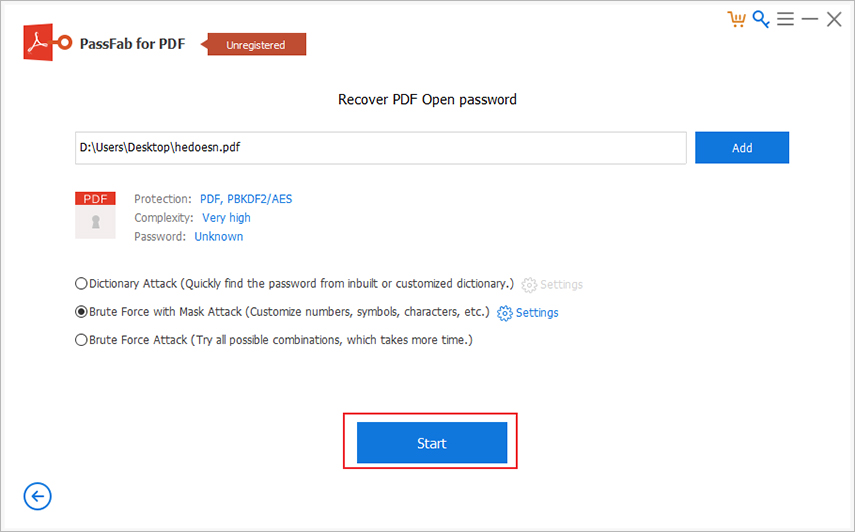 Step 6: Your password will be shown on the box. You can "Copy" it to use it for decrypting the file.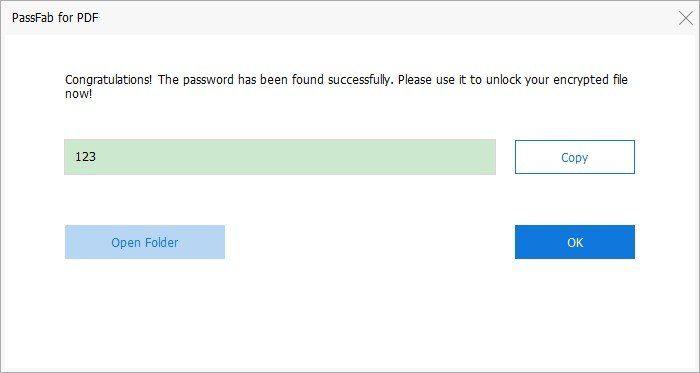 Here is the video tutorial about how to use this tool:
Summing Up
To protect your files and confidential documents passwords are created. Passwords should be strong and easy to remember, so that you can use them to open the files. Also, for security reasons, you can use any of these processes described in this article to password protect a PDF file. For unlocking a password, we strongly recommend you to use PassFab for PDF. Because this pdf password recovery software will give you a 100% successful password recovery of your locked PDF files every time.