"I have very important information in PDF file but now I want to open it in PPT because it allows sharing information in a very systematic manner so please if there is any solution to open PDF in PowerPoint then please do share."
People mostly prefer to opening PDF in PowerPoint because it is the only way that can put amazing visual impact to audience. 50 percent people use it because of its screen capturing video feature. Also the PPT presentations can engage the audience more as compared to PDF. Few people go for it because PPT has an ability to provide a smooth presentation even it allows you to put audio, video, image, animations,etc.
So if you are one of those who want to know that how to open PDF in PowerPoint without compromising the quality of original content then read the below solutions.
Option 1: Open PDF in PowerPoint via PowerPoint
In this solution you will know about how to open PDF file in PowerPoint via PPT. This one is by far the most promising, most common and most used solution to follow. Advantages of using this method are that it is free of cost and requires your few minutes.
Step 1: First you need to open the PDF file in PPT.

Step 2: In the second step you need to open a Microsoft PowerPoint program.

Step 3: After opening, you need to choose insert and then click on the Object menu and then you have to choose the Adobe Acrobat Document.
Step 4: Doing this will makes the PDF file a part of the PowerPoint presentation.
Note: This method is quite easy and simple but keep remember if your PDF file has a very complex data then there might be a chances of some loss of formatting. So if you don't want to compromise on the quality of original content then we will prefer you to follow the below solution.
Option 2: View PDF in PowerPoint via PDFelement
This method is very handy and good for those who are using a very complex PDF file and want to convert it to PPT. This method even allows you to encrypt PDF files or you can convert PDF to variety of formats without losing content originality. Best thing about this tool is that it even allows you to merge or splitting PDF files. The reason of its popularity is that it is a feature-rich tool that makes your work more pleasurable.
Its new version is equipped by advanced OCR feature that let you edit the PDF at ease even you can underline the texts, makes text boxes. You can create different sorts of shapes while editing. When the software has such promising feature then why not to try it? Let read the below content to use this tool.
Step 1: First you need to download it and then install it.
Step 2: After installation you need to run the PDF editor.
Step 3: Now you need to click Open in order to add the file that you want to work on.

Step 4: After opening file you can edit it.

Step 5: After editing, you have to navigate to Home tab and then you have to choose to PowerPoint.
Step 6: Once you done with choosing, a conversion popup screen will appear.
Step 7: Now you have to select the Customized Page Range and the Output Folder.

8: When you have done with all above mentioned steps simply choose Convert in order to start a conversion process. In few minutes the file will be converted, finally you can open your converted file from output folder.
Extra Tip: How to Unlock Password-Protected PowerPoint File
Finally recovering any PPT file password is not a big deal now only because of PassFab for PPT.
This is one of the most rated and NO.1 recovery software.
It is compatible with almost all Windows.
Unlocking process is very easy even a kindergarten student unlock the file if he/she follows steps carefully.
It is free of errors and comes up with 100% security.
Follow below steps to use PassFab for PPT:
Step 1: Download PassFab for PPT and then finish the installation process. Now you can see the below interface.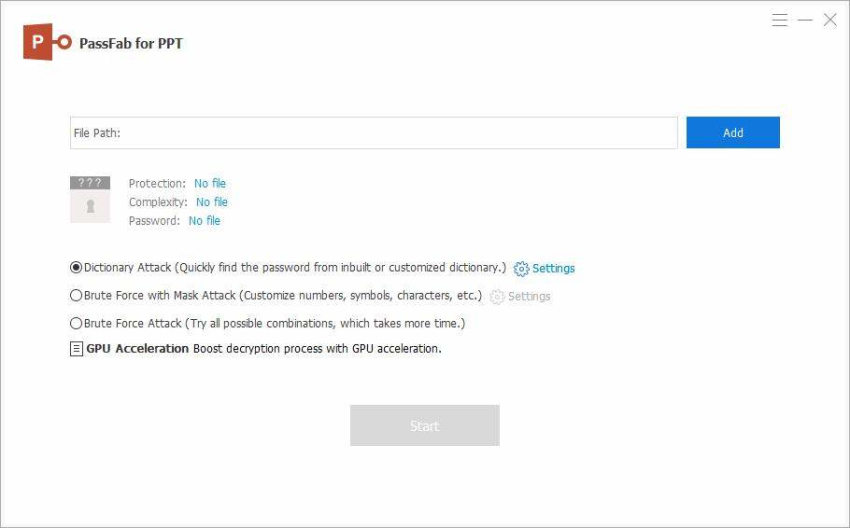 Step 2: Select Add button to add a locked file.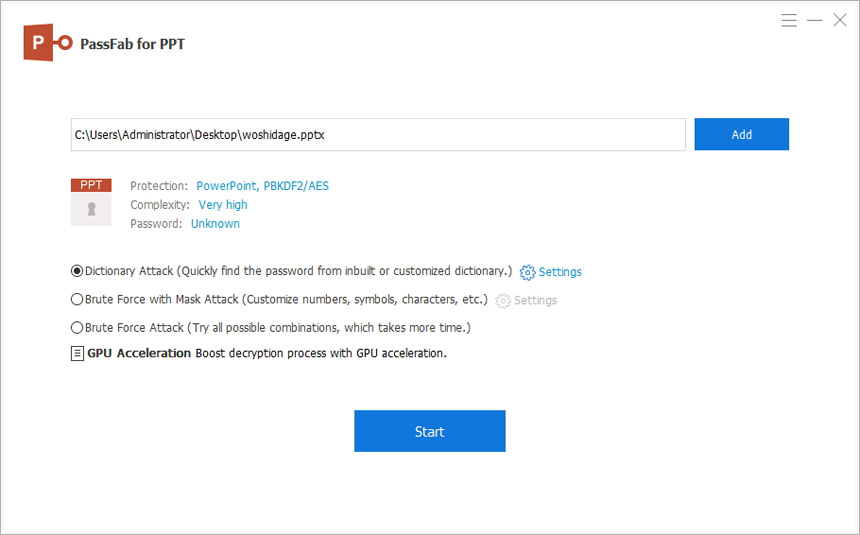 Step 3: Choose an appropriate attack type.
Dictionary Attack: If you used a most frequently used password then go for this option. Make a list of passwords that you mostly use in .txt file. Now for adding the file, go to Settings and Add dictionary. If you cannot make the list then you can even use the system in-built dictionary also. Wait till the dictionary library up gradation process pop up Window completes.
Brute Force with Mask Attack: Have you any hints about your password? If yes! Then good, go for this option. Want to put few limits like length of password etc then go to Settings.
Brute Force Attack: Do you know nothing about file password? Then choose this option, it tries all possible combinations of passwords but it consumes a very high time.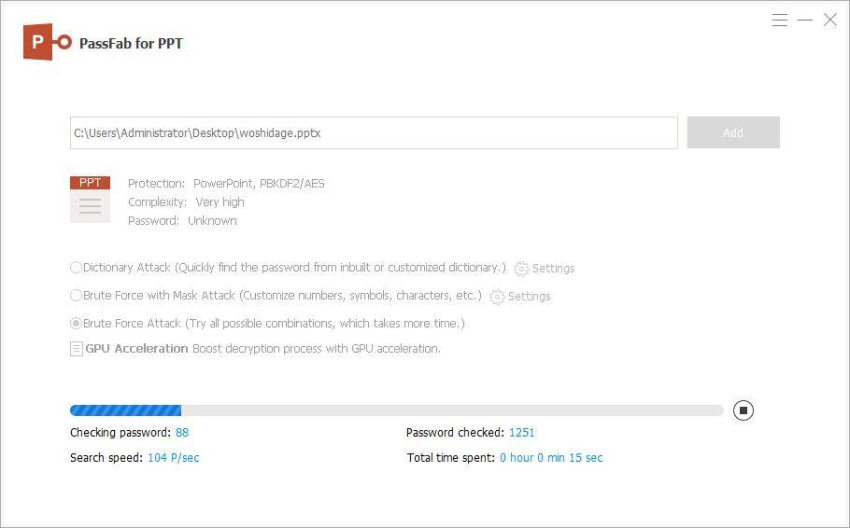 Step 5: Finally select Start button and start the recovery process. Password recovery is successful.

You can also watch this video guide about how to use it:
Conclusion
We have shared two ultimate solutions on how to open PDF in PPT, solutions are very amazing and easy to follow especially the second is very handy. We have also shared PassFab for PPT for those who want to open their locked important PowerPoint files. If you like the article then shares it and if there is anything that you need to ask then do comment. Visit us daily, more informative tips and tricks are on the way.