Microsoft PowerPoint, which is one of the most popular tools provided by the Microsoft's Office suite for creating excellent and creative presentations. And many of us have surely used it either in our student life or in professional. The idea of losing any of the PowerPoint file is so terrible that we will never want that to happen in our life. But luckily there are some mechanisms of preventing and some tools which are embedded in the Microsoft Office suite to fully or in cases partially recover unsaved PowerPoint 2016 files. And in these circumstances, we are here to help you with the 4 best ways to recover unsaved PowerPoint presentations.
Part 1: Best 4 Ways to Recover Unsaved PowerPoint
1. Recover PowerPoint File in Recent Options
We are going to start with the built-in feature to recover PowerPoint files provided by the MS PowerPoint itself. Following are some steps to take for recovering your presentation file which was lost by inadvertent close of the MS PowerPoint program.
1. First of all, open the MS PowerPoint application in your device.
2. Go to the "File" tab present in the upper left corner of the software.
3. Then look for "Open" option in the panel, and click on it. (The new screen will be visible containing the list of recent PowerPoint files.)
4. Here click on the "Recover Unsaved Presentations" option, provided at the bottom center of the screen.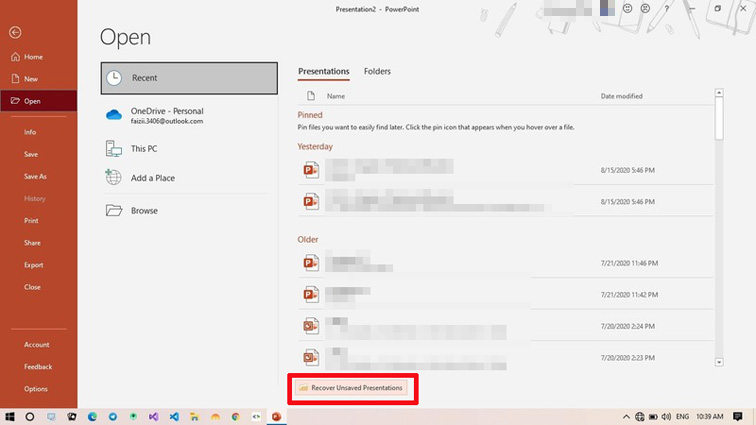 5. A new window will be prompt, containing the saved drafts of the previous presentation files in the device. Now look for the file you are searching in the list.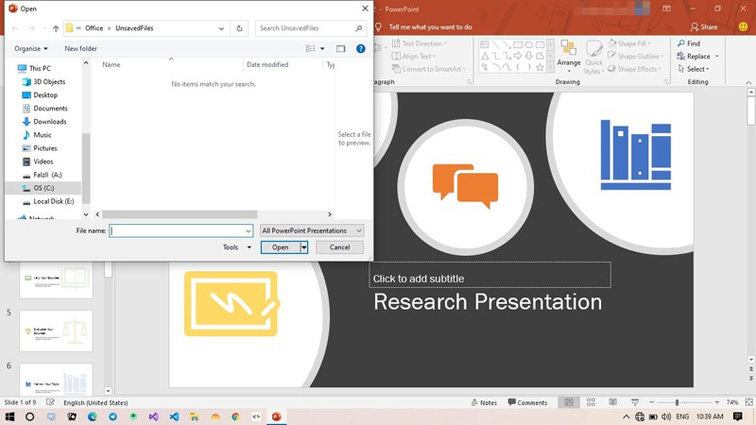 6. As soon as you discover for the file you are looking for, double click and save your precious file properly this time.
Now you will be able to use your PowerPoint file as a normal presentation file. And be sure to save your file in the proper location and remember to save every new file at the start of the work.
2. Recover Unsaved PowerPoint via A Third Party Software
There are some ways to recover the corrupted or damaged presentations which are caused by the unexpected shutdowns and crashes of the applications. One of them is to use the recovery software for this purpose. Stellar Repair for PowerPoint is one of the best software provided in the market to recover PowerPoint file. This software thoroughly scans damaged and corrupted files to restore PowerPoint files back to their original form. Stellar Repair allows you to search for the PowerPoint folders and gives a preview for the file before you can save them again in your desired location.
1. You can start to repair a file by opening it through the Stellar Repair application by clicking "Browse".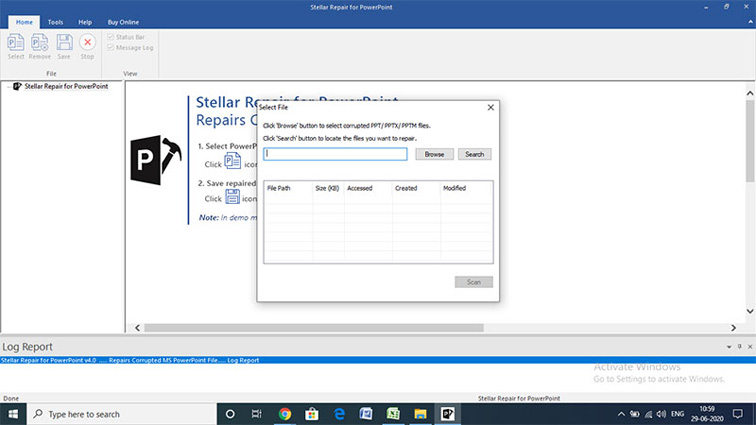 2. After adding your file, press the "Scan" button.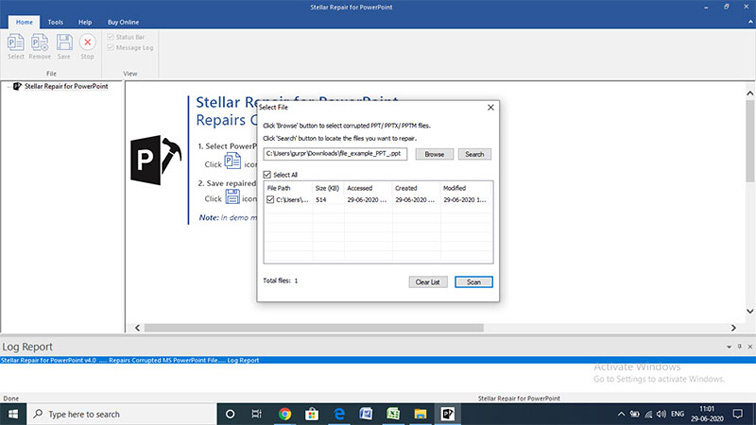 3. After scanning, the Stellar Repair will show a preview of the file to be repaired in the software.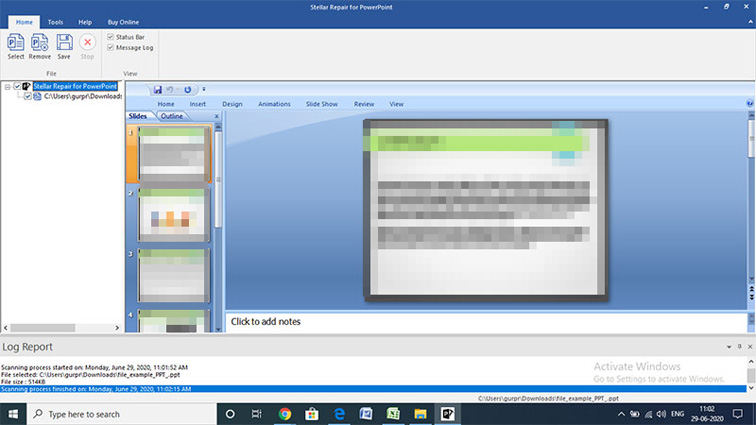 4. After that, save the file either to its original location or your new desired location in the device.
3. Recover Unsaved PowerPoint by Manage Presentations
Another way that can help you recover PowerPoint file is through another built-in feature by the Microsoft Office, which is "Manage presentations". Here are the steps to follow to recover PowerPoint file if you want to use your previously unsaved presentations, which you didn't managed to save where you may have to save them:
1. First step towards this recovery is to open the MS PowerPoint application in the device.
2. Open blank presentation if you have not opened any other PowerPoint file.
3. Go to the "File" option in the upper left corner of the screen.
4. Next step is to click the "Info" option in the left panel of the screen, which will display more of the options after that.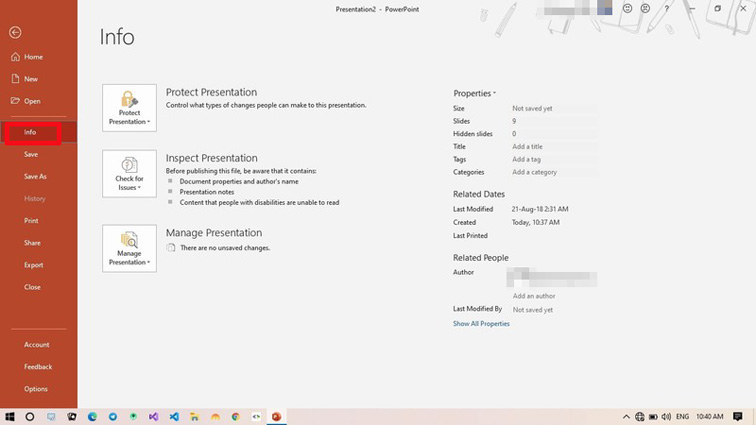 5. Now look for the "Manage Presentations" option and click on it.
6. The click will result in "Recover Unsaved Presentations" and "Delete All Unsaved Presentations" options.
7. Click the "Recover Unsaved Presentations" and browse for the recent unsaved presentation files in the window.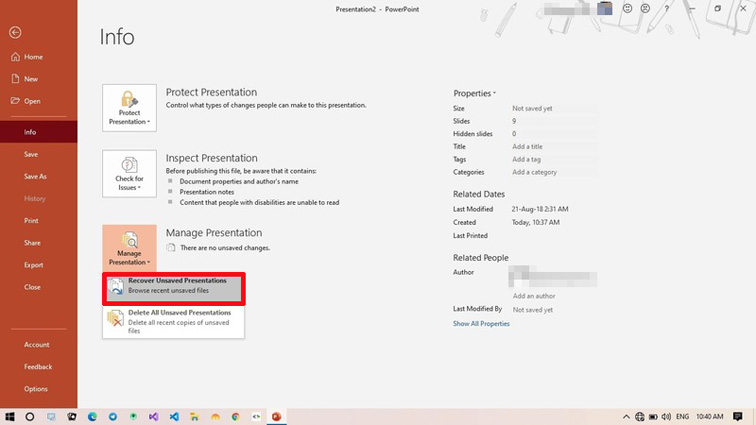 8. Look for your desired file and save it in your device to use in the future.
That's how you will be able to save your presentation by this built-in feature and keep it up to-date every time you make changes to the presentation.
4. Recover PowerPoint from Temporary Files
Unfortunately, unplanned things can happen, like unexpected shutdown, application crashes, power loss or can be a program glitch can cause problems like file or data loss, you are working on. You may think about how to recover unsaved PowerPoint presentations and luckily, we are here to help you find those files when you need them the most. Follow the steps mentioned below to get your presentations from the temporary files:
1. Start with opening the "File Explorer" in your device.
2. Go to the "location bar" in the upper right corner of the screen, and click it.
3. Erase previous location from the bar.
4. And type the location for the temporary folder, which depends on your operating system.
C:\Users\(Your_User_Name)\AppData\Local\Microsoft\Office\UnsavedFiles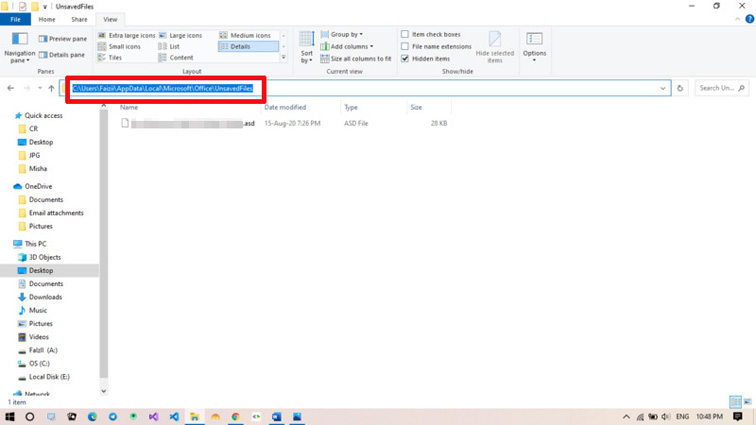 But this way of recovering PowerPoint file does not guarantee that you will find your desired file and it will depend on your luck sometimes.
Part 2: People Also Asked about How to Recover PowerPoint
Q1: How do I recover a deleted PowerPoint?
First and most convenient way to recover a deleted PowerPoint is by restoring it from recycle bin and if you have deleted it physically from the drive, you may need some recovery software to recover PowerPoint file.
Q2: Where can you access AutoSave and AutoRecover in PowerPoint?
AutoSave and AutoRecover options can be accessed by "File>Options" and then by going to the "Save" options after the PowerPoint Options prompt shows up. Select "Save AutoRecover information every N minutes" and "Keep the last autosaved version if I close without saving". You can also be able to see the automatic saved location from the prompt. And after choosing proper selections, click OK to save the changes.
Q3: Does Microsoft PowerPoint AutoSave?
Yes, Microsoft PowerPoint has a built-in feature for automatically saving the presentations. If you have enabled the AutoSave from the options, application will be able to save every presentation file by the provided time entered by the user.
Final Words
After reading these instructions and ways of how to recover PowerPoint through Microsoft PowerPoint and recover PowerPoint files by using Stellar Repair for PowerPoint, if you still have some questions regarding this problem, you can contact and give your feedback about this article. Last but not least, if you have problems on passwords of PowerPoint, you can try PassFab for PPT.