Well, it may seem very callus but such has happened to several users. It is a very common mistake, but there are also justifiable reasons to secure your hard-worked presentation. But it is 2020. And in this day and age, if you have forgotten the password for your PPT; you need not worry. No need to create a new one again. Simply, you can use a PPT password remover and eliminate the encryption.
Microsoft PowerPoint Password Protection
So, before we learn more about a free PowerPoint password remover we need to know more about the password protection provided by Microsoft PowerPoint.
Microsoft provides 2 different types of password protections. Here's a small preview of what you can expect.
Password to Open
If you add a password to open the PPT, then you have to provide the said password just to view the contents of the PowerPoint Presentation. So, even if someone tries to open the PPT, they will have to know the correct password, otherwise, they will fail to open it.


Password to Modify
Here, you also have to add a password. But the purpose can be different.
You can add a password to your presentation and make it a read-only document. If you want to edit the document, only then you have to provide the password. On the other hand, add a password for opening the presentation. After opening the PPT, editing the document won't require any.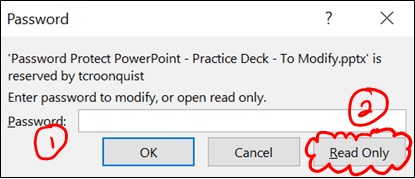 Don't worry, the read-only PPT can be printed, and it can be saved as a PDF file for the slideshow later.
PassFab for PPT - Best PowerPoint Password Remover
Although there are other methods you can successfully remove the password from a PPT, we found that using a professional PPTX password remover is the safest and the easiest way to proceed. The program we are recommending for this procedure is called PassFab for PPT and it provides one of the most efficient ways of PPT password removal. Let's check out its operating procedure.
Step 1: Download PassFab for PPT on a computer, then complete the installation. After that, run the program.

Step 2: After that, click on the 'Add' button to import the encrypted PPT file.

Step 3: Now, you have to choose an attack-type among 3. The options are Dictionary Attack, Brute Force Attack and Brute Force with Mask Attack.

Step 4: Upon confirming the attack typeclick 'Start'. PassFab will start on unlocking the PPT.
You can also watch this video tutorial about how to use this tool:
This is the best way to remove the password from a locked PPT. But you can also try to remove it online.
Other PowerPoint Password Remover Online
Now, if you looking for a PPT password remover online, then you are open to a lot of valid options. But we don't recommend the online password remover as the success rate is pretty low.
Still, we have detailed 2 of the best online password removers capable of unlocking an encrypted PPT. These 2 online password removal services are chosen for various reasons; one of them would be its greater success rate than its competitors.
1. LostMyPass
This is a very popular PPT password recovery service. The success rate is excellent; although, the success rate depends completely on the method of password recovery chosen by you. There is a free option but the probability of it being unsuccessful is greater. So, we recommend taking the paid option. Here are the steps;
Step 1: Navigate to the official LostMyPage recovery panel.
Step 2: After that, upload the encrypted PPT or you can simply drag the file and drop it on the unload area.

Step 3: Lastly, follow the on-screen instructions and wait for the procedure to get finished.
After the procedure is finished, you should get the unlocked PPT. But there is another option available below; check it out.
2. Password-Online Recovery
This is another great password removal service. It is a fairly good program with a user-friendly interface. Check out its operating procedure below.
Step 1: Navigate to the official page of Password Online Recovery.

Step 2: Select the locked PPT file. Then, provide the required information.

Step 3: Lastly, provide your valid email address and follow the on-screen instructions.
This is another highly capable PPT password remover service. It should be able to break the encryption.
Conclusion
Hence, it is easy to remove the password from a locked PPT. Our recommended professional password removal software is PassFab, but you also have the option to use several online services, but their success rate is pretty low.