Like Microsoft Office, Windows 10 also require a specific 25-digit code called product key. This key or digital license helps in the activation of Windows 10 on your PC. Whether you want to install a new Windows or transfer your Windows 10 license to another computer, your product key is going to be the most important asset that you need for this process. To extract Windows 10 key is quite easy, and today in this article we are going to jot some of the easiest ways to do that. So, stick with this article and do take notes of what we are about to tell you.
5 Straightforward Ways to Extract Windows 10 Product Key
Here are a few ways that can come in handy if you want to extract Windows 10 product key.
1. Extract Windows 10 Product Key on Windows Registry
Most of the times your product key can be located through Windows Registry. Here's what you need to do get your key via the registry:
Press "Windows + R" to open "Run" or do that manually without the shortcut keys.
Once the "Run" opens, you then have to enter "regedit" in it and press the enter button to open the Windows Registry.
Now, in order to find the DigitalProductID you have to enter: HKEY_LOCAL_ MACHINE\SOFTWARE\Microsoft\windows NT\Currentversion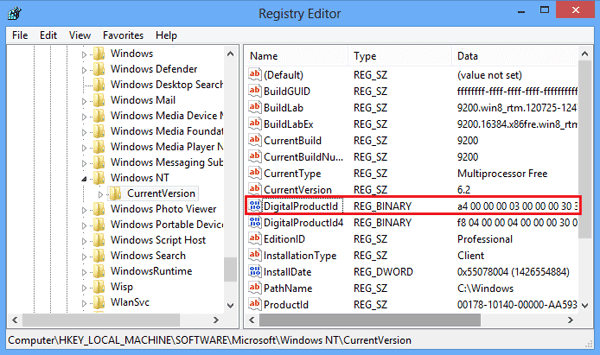 The DigitalProductID is where your product key for Windows 10 is, but you won't be able to read the 25-digit code all by yourself. In fact, you should consider taking help from a third party to know your product key.
2. Extract Windows 10 Product Key from UEFI Firmware
Another way to extract the Windows 10 product key is to check the UEFI or BIOS of your computer. The thing is that when you install or reinstall the same edition of Windows, your computer does not require a product key to activate the Windows in a normal way. In fact, it will be automatically updated after the installation process is over.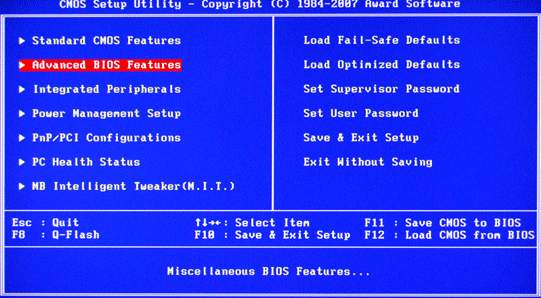 3. Extract Windows 10 License Key Using PowerShell
If you want to get back your product key for Windows 10 activation, then you need to open up PowerShell on your PC with administrative permissions. After that you have to type the following command in PowerShell:
powershell "(Get-WmiObject -query 'select * from SoftwareLicensingService').OA3xOriginalProductKey"
This way you will be able to see your product key for Windows 7, 8, and 10, too.


If none of the above-mentioned methods work then, you can contact your Microsoft Support or the OEM for activating your Windows.
4. Extract Windows 10 Product Key from Email
If you've bought your Windows 10 product key from Microsoft or any other site, then you need to check your email because almost all the product key providers mail the key to the user after purchase. If you are unable to locate the key in your mail, then check your spam and junk folders too. If nothing works and you aren't able to locate your key anywhere in the mail, then contact your Windows 10 license key provider again.
If none of the above-mentioned ways work, then don't worry and stick with us a little longer, because we are now going to tell you about another great software that can help you with the extraction of the Windows 10 product key. Hereby that software we are referring to you is none other than PassFab Product Key Recovery, a quality software with genuine product keys.
5. Extract Windows 10 Key with PassFab Product Key Recovery
It is but an undeniable fact that you cannot activate your Windows 10 without using a product key or a digital license. In short, a product key is a basic asset that you need to run Windows 10, and if you are someone who wants to save himself from the hassle of locating or recovering the product key for his Windows 10, then you are at the right place, reading the right article. We have an amazing software for you that's known as PassFab Product Key Recovery. The best part is that with PassFab Product Key Recovery, you cannot only get your product key, even when you lost the digital key for the activation of Windows 10, this software will help you and recover the key for you.
Here is a step by step guide that can help you recover your lost product key through PassFab Product Key Recovery:
Step 1. First of all, download PassFab Product Key Recovery on your computer. Make sure that your computer has Windows activated on it. Now install the software by following the instructions in the Wizard.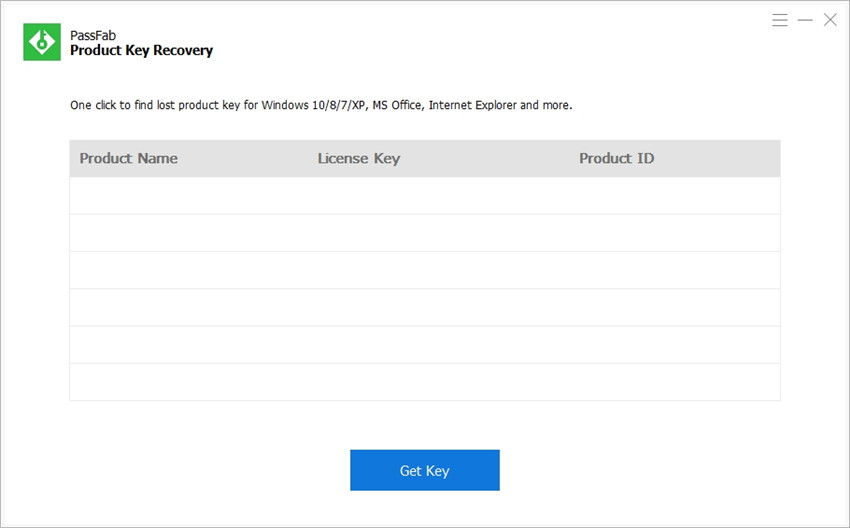 Step 2. Click on the "Get Key" option and then wait for 1 or 2 minutes. PassFab Product Key Recovery will automatically detect all the information about the license. In a short while, you will then be able to see all the information on your screen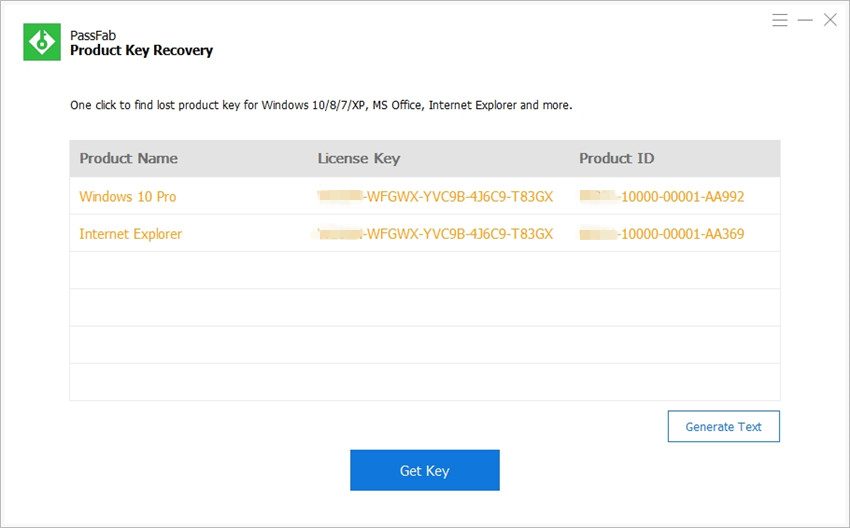 Step 3. Click on the button that says "Generate Text." Now, wait till a window pops up where you can save the file in a txt file.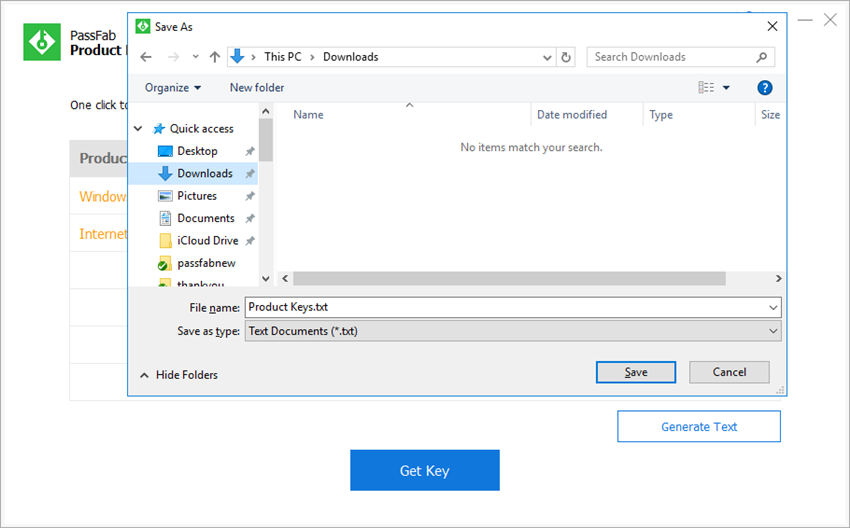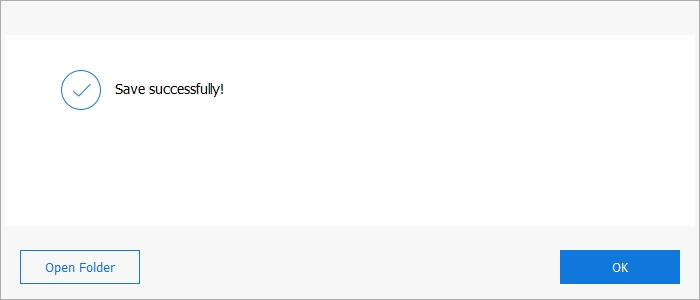 Step 4. Open the txt file and view your product key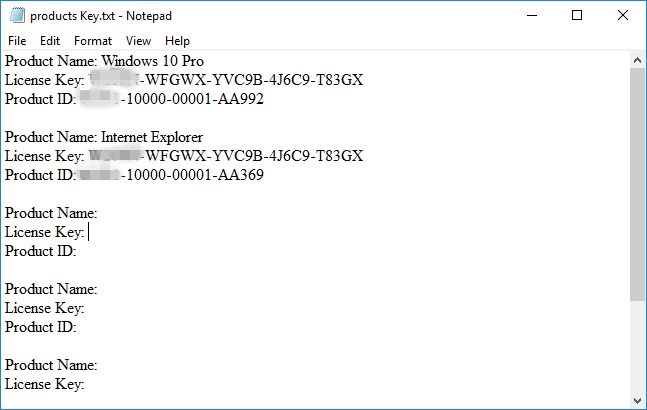 Conclusion
As said earlier, we have covered almost all the ways to extract the Windows 10 product key. You see, you cannot activate Windows 10 on your PC without entering the digital license or the 25-digit key, so, this article is pretty much important for every Windows user out there. Your product key is the most important thing and it's compulsory if you really wish to enjoy your Windows 10 to the fullest. If you want to use an easy way out and get or recover your digital key, then you need to opt for PassFab Product Key Recovery. This software is the best and the easiest to use. Most importantly, it's secure, and you'll get a genuine key for your Windows 10.