Magical Jelly Bean Keyfinder is a piece of software that helps you to retrieve product keys you have used on your computer. If you have forgotten the key to an app on your computer, it will retrieve it for you. Here's a short Magical Jelly Bean Keyfinder download guide and how to use the app to retrieve lost product keys using the full version of Magical Jelly Bean Keyfinder on your computer.
Part 1: Download Full Version of Magical Jelly Bean Keyfinder
I know it's hard to believe but this feature rich program is available for free. Yes, you heard it right. The app offers all its features at no cost and you can download the tool from its official website as shown below.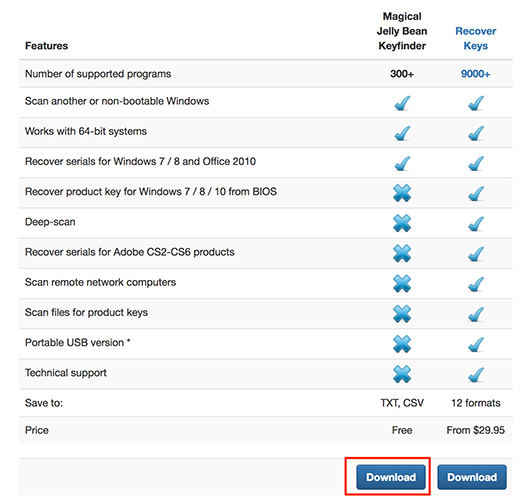 1. Open a web browser on your computer and head over to the Magical Jelly Bean Keyfinder page.
2. When you are there, click on the Download button for the application and the app will begin to download on your machine.
3. Once downloaded, double-click on the app file to install it on your computer.
4. While the app is being installed on your computer, you'll be asked if you'd like to add a shortcut icon for the app to your desktop. It's your choice to mark it yes or no and press Next to continue the install.
5. In a brief time frame the app should be installed and ready for use.
Part 2: Use Magical Jelly Bean Keyfinder to Find Product Keys
Now that the software is installed on your computer, you might want to learn how you can use it to retrieve keys for various software on your machine. The following is a demonstration for it: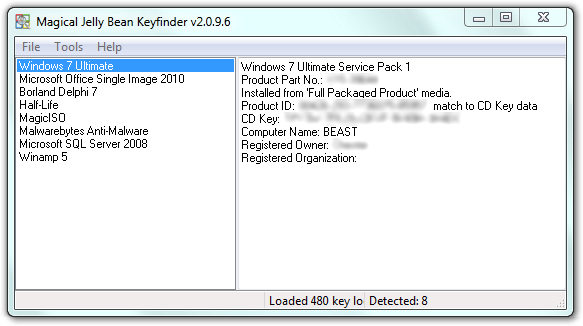 1. Double-click on the app icon on your desktop to launch the app.
2. When it launches, you will see a list of all the software it can fetch product keys for in the left-hand side menu.
3. Click on the software you'd like to retrieve a product key for. In the right panel, you will see the software information along with the product key.
You can now copy and place the product key at a safe place so you can find it easily later. You may also print or write down the product keys so you have hard-copies of all the keys for your installed software.
Since the program is available at no cost, you don't need to Google terms like Magical Jelly Bean Keyfinder full crack, etc. These apps are really life savers as they let you avoid the hassles of finding old CD/DVD labels to get product keys. All you need to do is just launch the app and it will tell you the key for the desired software on your PC and you're good to go.
Note: If your product keys can't be found by this way, there also have a for you to
recover product keys
.
Part 3: Find Serial Keys with Magical Jelly Bean Keyfinder Alternative
In rare cases, Magical Jelly Bean Keyfinder may not be able to retrieve the product key due to some reason. However, there is nothing to worry as there is another app to help you out. PassFab Product Key Recovery, is capable of helping you retrieve keys for various software installed on your computer.
You can download the software from its official website to your computer and use it to fetch keys.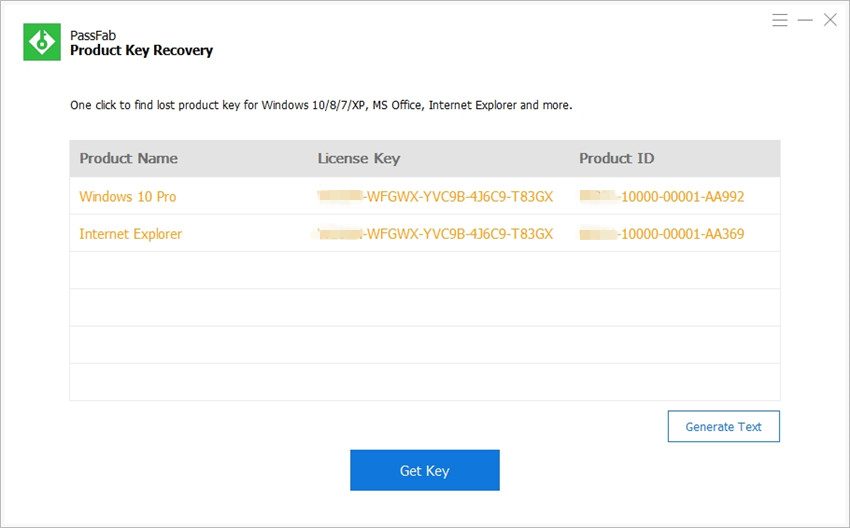 We hope the above guide helps you to learn how you can download the full version of Magical Jelly Bean Keyfinder and use it. And if you don't like it for some reason, we have given you an alternative option to try out as well.