It is an undeniable fact that one cannot activate Windows 10 on his PC without having the digital license or the 25-digit product key. So, the question is "How to view Windows 10 product key?" First of all, you must understand that the location of the product key varies from PC to PC. Those who buy their PC with pre-installed Windows 10 have the product key placed on a sticker in the PC's box, and then some have it at the downside of their device. On the other hand, people who want to upgrade from Windows 8.1 to 10, well they have to buy the product key online. In short, the product key is quite necessary for someone who wants to activate Windows 10. There are a couple of strategies that can help you to view Windows 10 product key for the activation.
Method 1. View Windows 10 Product Key with Windows Registry
The least difficult technique and one of the best to recoup your Window 10 product key is to go to your Windows Registry. And in order to do that, you have to follow the following steps:
Use the backup course of action key "Windows+R" to open the "Run."
Following the above step, the Windows registry will then open before you when you write "regedit" in the Run section and hit enter.
At this point, you need to search the DigitalProductID by entering:HKEY_LOCAL_ MACHINE\SOFTWARE\Microsoft\windows NT\Currentversion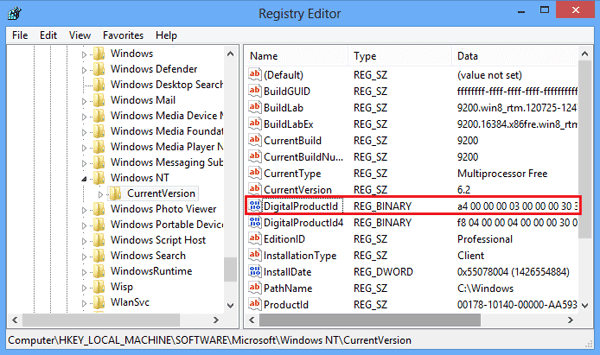 After following these steps, you will see your product key before your screen. Now, you may require some assistance from an outsider remembering the ultimate objective to scrutinize your product key since you won't have the ability to examine it normally without anyone's help.
Method 2. View Windows 10 Serial Key on the Sticker
In case, you have purchased your PC from a Microsoft retailer, there is a very good possibility of having your Windows 10 product key on a sticker that is generally present inside the box in which your PC came. However, in case, you cannot locate your key inside the box, then try to check the posterior of your PC or the downside of your PC, your product key might be engraved on a sticker there.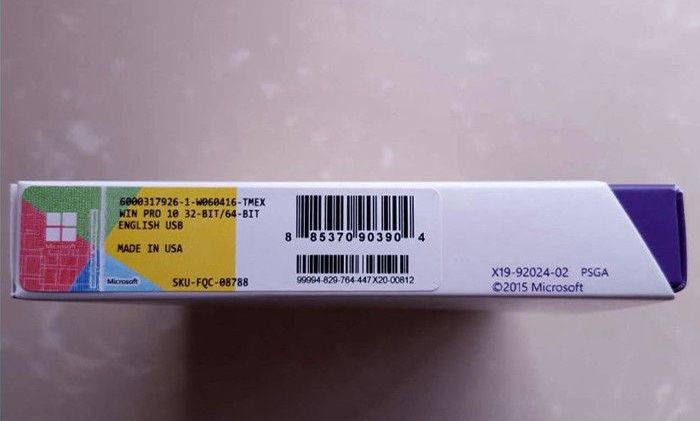 Method 3. View Windows 10 Activation Key from Your Email
In case, you have obtained your Windows 10 online, then, your license key might be sent to you by means of email. Also, it's better to check the junk and spam folder of your account in case you can't find the mail through which the product key of your Window 10 was sent. And if you still cannot locate the key, then you should contact the retailer from which you purchased Windows 10 product key.
Method 4. View License Key with UEFI Firmware
Check your PC's UEFI or BIOS, which is another extraordinary method to recoup your product key. In that way, if you ever install or reinstall a similar version of Windows 10 on your PC by then, there is a possibility that you won't need to enter any product key normally because, in such circumstances, the PC automatically detects your previous product key and authorizes Windows 10 installation.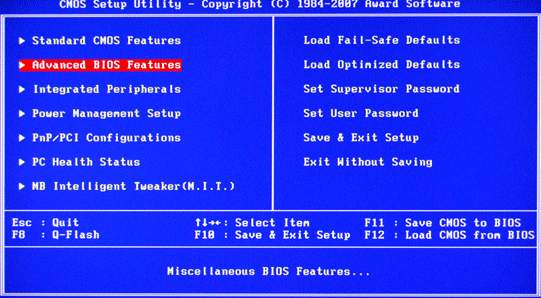 Method 5. Show Windows 10 Product Key Using Command Prompt
This is the most essential approach in order to get your Windows 10 product key. All you need to do is to start up the Command Prompt window with the administrative purposes. In order to do that, simply search for CMD in the Windows search bar, then right-click on it and select "Run as administrator." Once you have a Command Prompt Window open before you, simply type the command: wmic path softwarelicensingservice get OA3xOriginalProductKey and after that hit "Enter" to see your Windows 10 product key.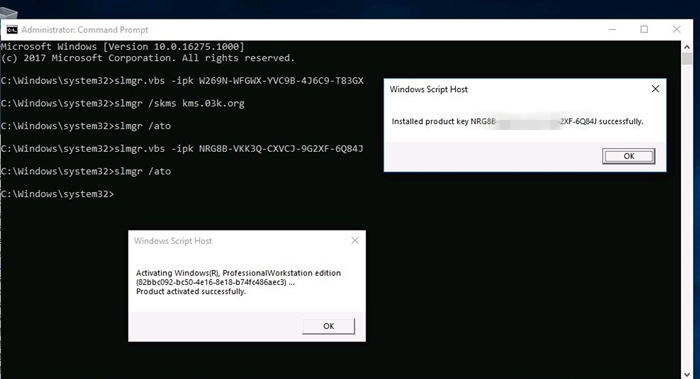 Method 6. View Windows 10 Product Key with PassFab Product Key Recovery
If you've tried all the above-mentioned ways to find your product key and still did not succeed in your conquest of finding Windows 10 product key or you think you've lost it, then don't worry because there is a way out to every problem. PassFab Product Key Recovery is the only solution to a lost Windows 10 product key. This software is so far the best software that can help you recover your key within no time. Moreover, the best part is that with PassFab Product Key Recovery you don't have to get into any technicalities because this software is pretty easy to use. All the instructions are already given on their site, you just have to follow them, and you'll get your key right on your screen.
Here are the steps to show your lost Windows 10 product key using PassFab Product Key Recovery:
Step 1. First of all, you have to download this key finder and then install it on your computer by following the instructions.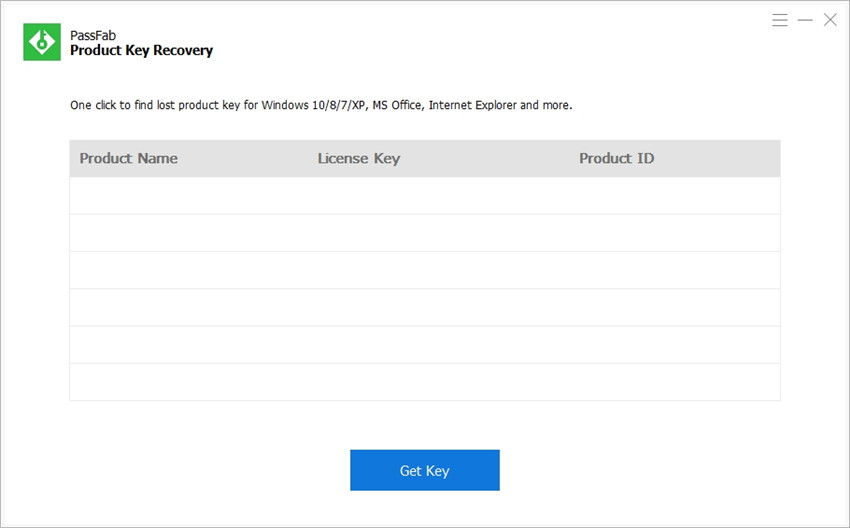 Step 2. Now, click on the button that says "Get Key," and then the software will automatically detect all the product key information and show it on your screen.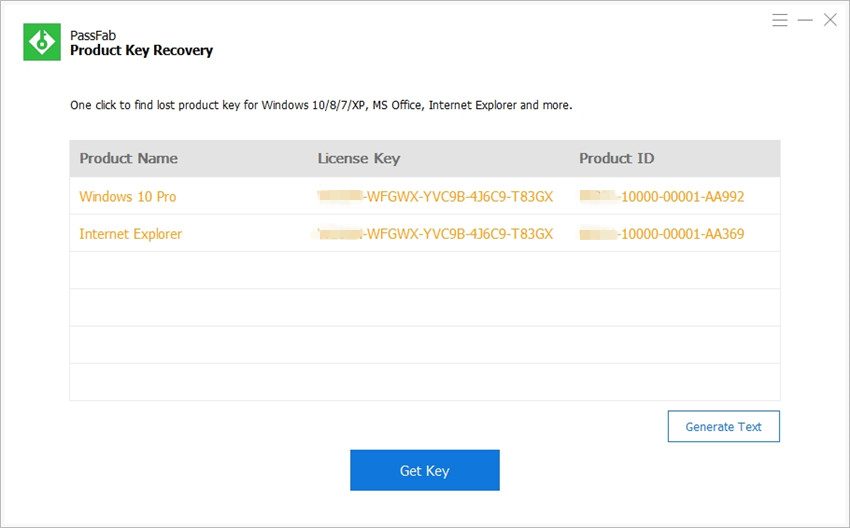 Step 3. Click on the option that says "Generate text," and a window will pop up in front of you where you can save the product keys into a txt file.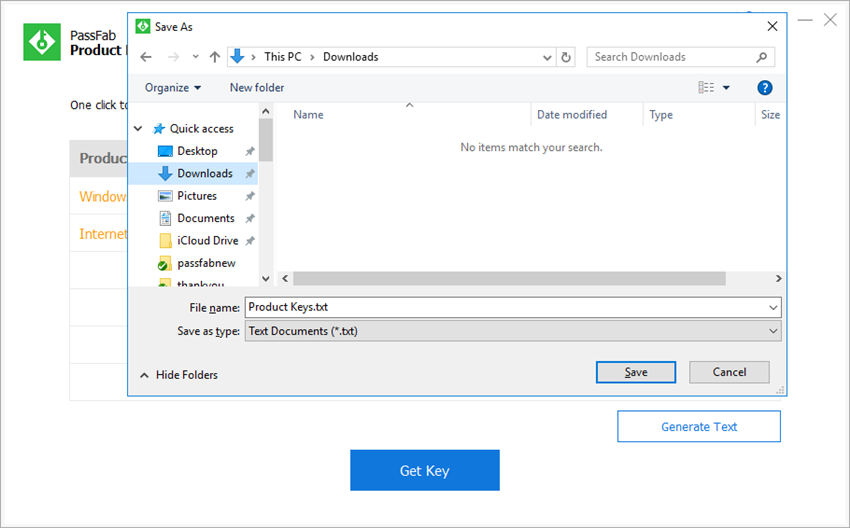 Step 4. Save the file on your desktop.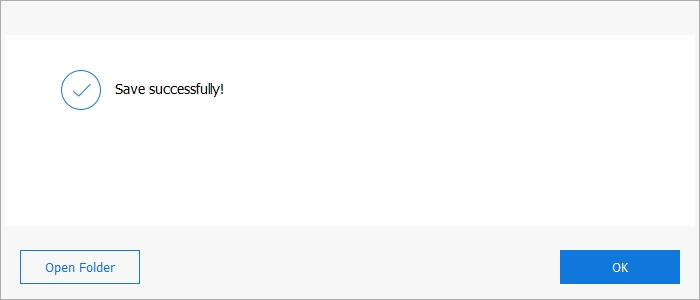 Step 5. You can now open the file and get your Windows 10 update key.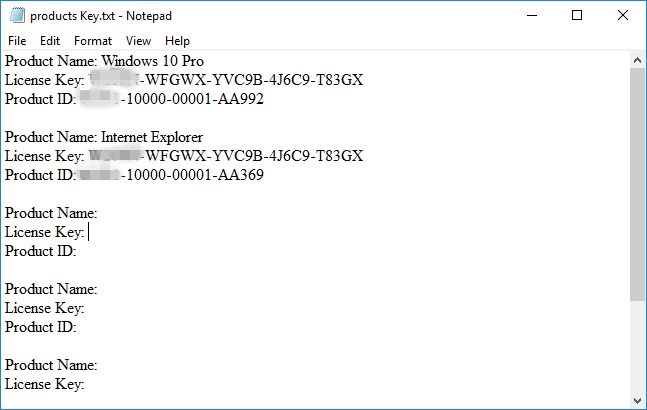 Conclusion
We hope you now understand that why exactly is it so important to have a product key for Windows 10. Now, if you want to activate Windows 10 on your PC right away then don't waste any further time and use the above-mentioned methods to view your Windows 10 product key. However, if nothing works for you, then just use the PassFab Product Key Recovery to get your key recovered. Right now around more and more people have downloaded this software, and almost all of them are fully satisfied with the results with which it comes. The best part again about PassFab Product Key Recovery is that it's easy to use so yes, you should definitely give this one a try.