A product key is needed in order to activate the Windows. Activating the Windows provides you access to all the features that it has and it ensures that the Windows runs smoothly without any annoying messages coming up to remind you to activate your Windows. Even though you can use your Windows without activating, but it is better to activate so that you can easily access everything it has to offer without being reminded to activate it again and again. This is why a lot of people want to get Windows 10 product key so that they can fully enjoy the experience.
There are plenty of ways through which you can find your Windows 10 product key such as through the Windows registry, through command prompt, or by using a product key recovery software etc. Some of the ways you can get Windows 10 activation key are:
Way 1. Buy A DVD License from Amazon or eBay
You can buy a DVD license from online service like Amazon or eBay. This DVD license contains a valid product key which you can use to fully activate your Windows. You can order a DVD license from Amazon or eBay and can use it to install your new Windows. These DVDs are sold by licensed sellers so you do not have to worry about any scam or fraud. Once you receive the DVD, you can get the product key available on it and use it to activate your Windows.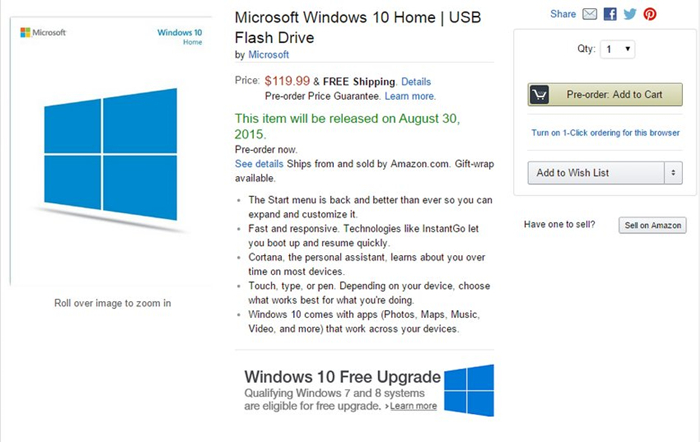 Way 2. Get Windows 10 ISO or Compressed File from Microsoft Store
You can also download the Windows 10 ISO or compressed file from the official Microsoft store and use it to activate your Windows. You can also easily download the installation media which is needed for the installation along with the Windows 10 ISO or compressed file. Once you have downloaded this file and the installer, you just have to follow a few simple steps to activate your Windows 10.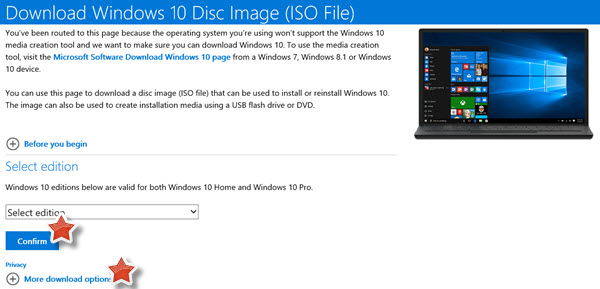 Way 3. Go to Your Local License Vendor
Another option that you can choose to get Windows 10 activated is to go to your local software vendor. These vendors are authorized and they will install the new version of Windows in your PC and you can also buy the license key from them.
Way 4. DreamSpark Account for Students
Microsoft provides another option to get the new version of Windows but this one is only for students studying in particular institutions across the world. The student has to make an account on DreamSpark and then apply to Microsoft to get a copy of the new Windows. Windows will provide the student with an original, free copy of that Windows.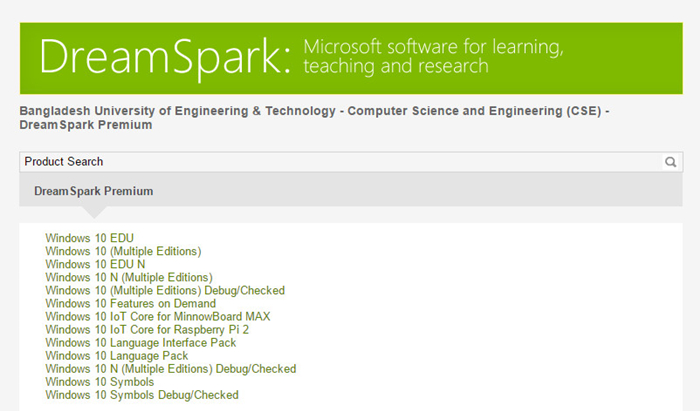 Way 5. Recover Product Key using Command Prompt
You can easily view your Windows Product Key by using the Command Prompt. For this, you have to open an elevated command prompt window from the WinX Menu. Next you have to type in the following command: wmic path softwarelicensingservice get OA3xOriginalProductKey. And then press enter and the product key will then appear.


Way 6. Recover Windows Product Key with PowerShell
You can also get your product key by using the PowerShell window. When you open the PowerShell window, you have to type this command: powershell (Get-WmiObject -query 'select * from SoftwareLicensingService).OA3xOriginalProductKey. And press enter. Your product key will be displayed.


Way 7. Try Shared Free Windows 10 Product Key
You can also try to use the free product keys displayed online. Some users share their license key on specific forum or blog. You can find one from those sites. Good luck to you.
Way 8: Find Windows 10 Product Key with Product Key Recovery Tool
There are a lot of such software available online and in the market. One of the most popular Product Key Recovery software is PassFab Product Key Recovery. It can easily recover your product keys in a short amount of time.
This is a trustworthy software that promptly recovers lost or misplaced product keys and passwords of a variety of software such as Windows, Visual Studio, IE, SQL Server, MS Office and many more. It is very easy to use and it retrieves the product keys and passwords in a short amount of time. You can use its free trial for a limited amount of time or you can also buy it from any of the packages listed on its website. PassFab Product Key Recovery boasts a fast, efficient and 100% password recovery process.
You just have to follow the following simple steps in order to retrieve your Windows 10 product key.
1. Download PassFab Product Recovery software from the below download button.
2. Now you have to install the program. When it installs, you have to open it and the main interface will look like this: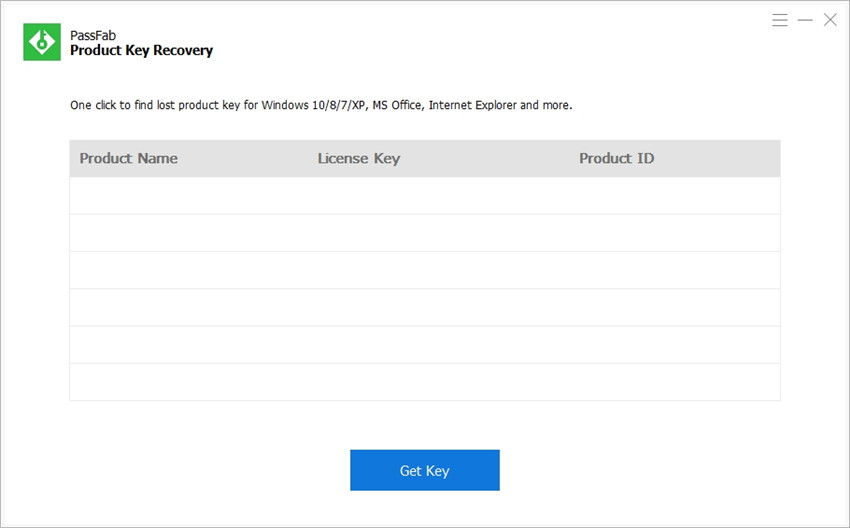 3. Next, you have to click on the "Get Key" button which is present at the bottom. When you click this option, PassFab Product Key Recovery will retrieve all the product keys and all information related to it such as the Product ID, Product Name etc.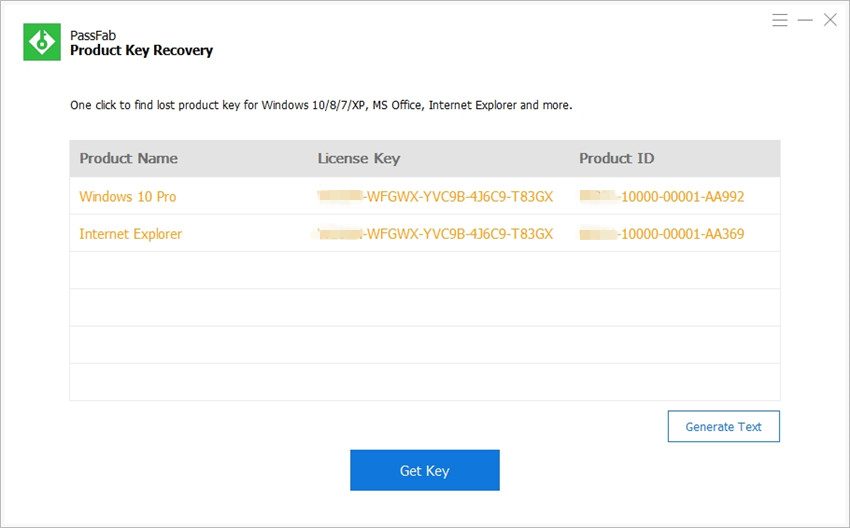 4. Next, you have toclick on the "Generate Key" button at the bottom right corner. This will make a text document which will have all the product keys. The document containing the product keys will be saved.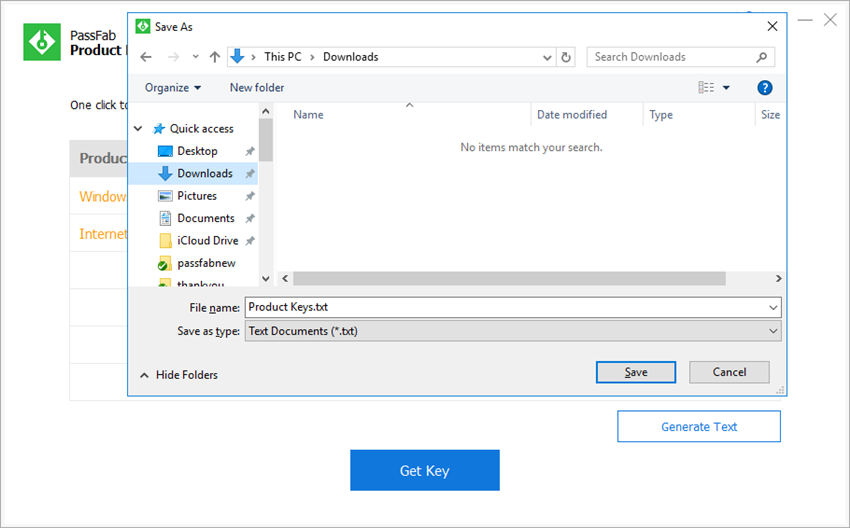 5. Now for the final step, all you have to do is open the text document, copy the product key for your Windows 10 and paste it into the required field and your Windows will be activated.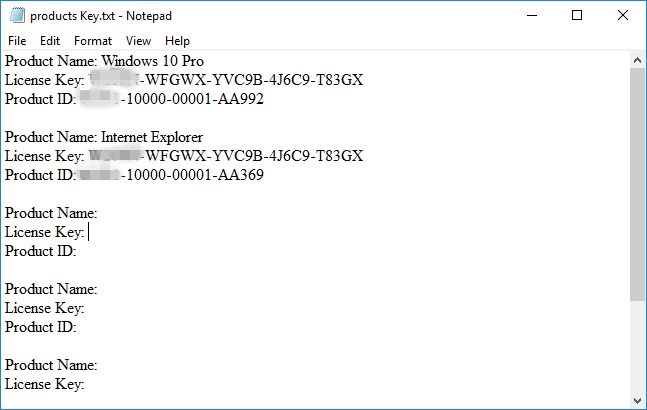 Summary
Now you can get your Windows 10 keygen by using any of the solutions given in this article. PassFab Product Key Recovery can recover your product keys or passwords that you might have lost while reinstalling or updating your Windows. It will also store the product keys for future use so that you do not have to recover them again.