Windows 8 or 8.1, as well as other operating systems users, may would like to find out the product key when they get a Windows 8 system installation and are asked to provide a serial number. However, it is likely that not all users know about product key in Windows systems. In this post, I will share tips and tricks about how to find Windows 8/8.1 product key using a professional product key finder utility.
Where Windows 8.1 Product Key Finder Located
The Windows 8.1/8 product key is a series of 25 letters and numbers and should look like this: xxxxx-xxxxx-xxxxx-xxxxx-xxxxx. Usually, this product key is situated on the original installation disk, or in other situation, in your order confirmation email. In Windows 8 32-bit or 64-bit system, you are able to find it out from the email you received after purchasing Windows 8.1/8 for downloading. If there isn't any info, it may be in the package when you buy Windows 8 in a box with a disc.
How to Recover Lost Win 8.1 Product Keys
Can't get Windows 8.1/8 activation? Now there's a good chance for you to figure it out, which is to retrieve it from Windows Register with a product key finder called PassFab Product Key Recovery. The PassFab Product Key Recovery is an easiest and best application to find out any software product keys in computer. You can see how to recover Windows 8.1/8 product key as below:
Here is a video guide about how to find Windows 8 product key by using this product key finder:
Step 1: Download and install PassFab Product Key Recovery to Windows-based computer and then open this awesome software on your PC.
Step 2: You will see the sub screen of it, showing blank tablet information.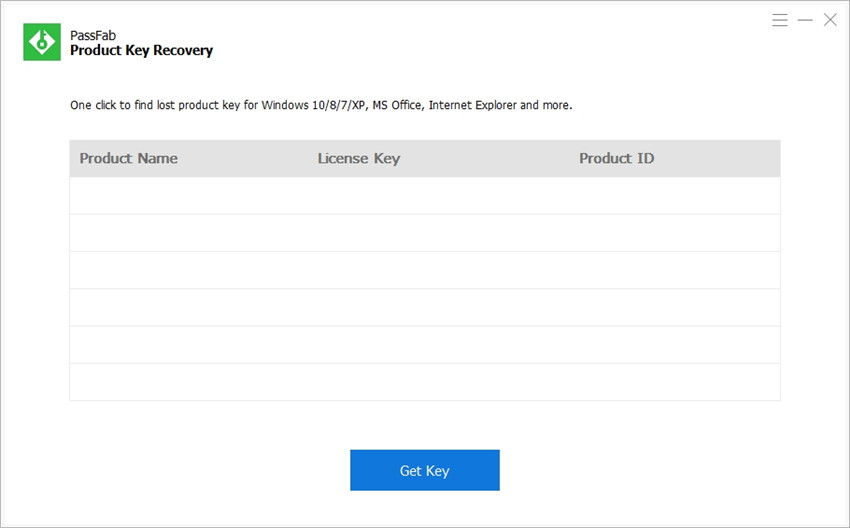 Step 3: Tap on "Get Key" button directly. After a while, a tablet with Product Name, License Key, Product ID and User will be displayed to you. Now you can copy the license key and activate Windows 8.1/8.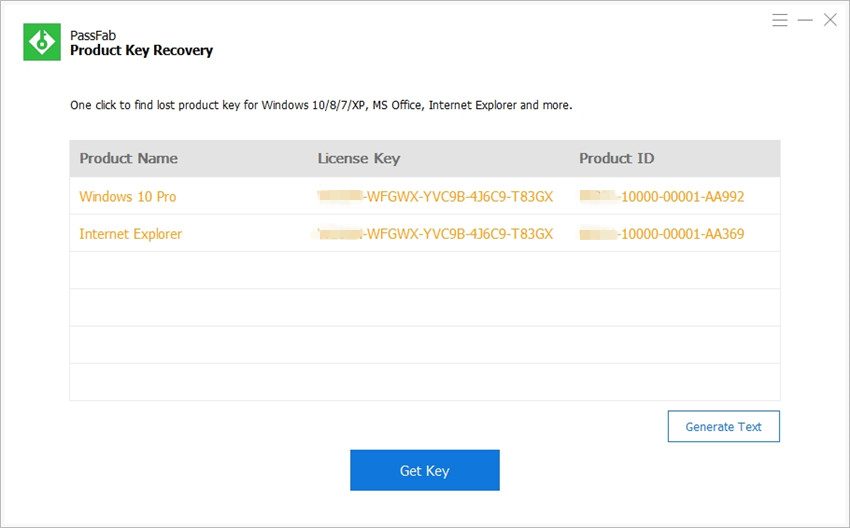 Note: This product key finder works for Windows 8.1, Windows 8.1 Pro, Windows 8.1 Enterprise, Windows 8.1 Ultimate, as well as either version of Windows 8. Therefore, no matter what you need is Windows 8.1 pro product key or Windows 8 pro 64-bit product key activation, there's no worries.
Other Windows 8.1/8 Product Key Tips
Product keys are actually a kind of way to stop users using pirated software, however, we have to acknowledge that it is easy to lose by accident because of the long string of digital numbers. To be honest, you can also utilize CMD(command) to recover product keys, or find product keys in registry. However, both of them are too complicated and in order to nderstand the operation, you had better own technique skills. Furthermore, the probability density to accurately figure out Windows 8.1/8 product keys is relatively low. That's why we don't describe them specifically here. Usually a professional Windows product key finder is working to recover lost product keys.
Summary
In short, we can use Windows 8.1/8 product key finder software to figure out Windows product keys in 2019 with just one click. If you are interested in other features in PassFab Product Key Recovery, just watch our user guide page for more help. By the way, what do you think of this tutorial? Still getting trouble in this product key? Try to contact us in the comment area.