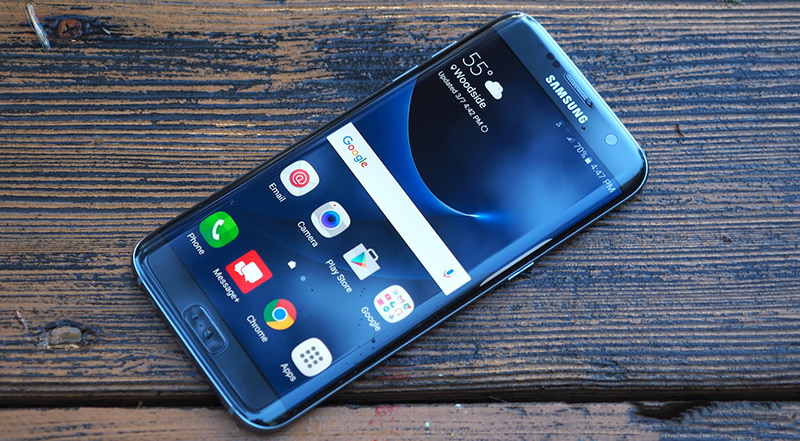 If you are facing some significant problems like unresponsiveness of your phone or you want to delete all of your data before selling your phone. Then, factory reset your device is what you need to do. The reset operation not just erases the information but resets all the device settings as well.
Samsung Galaxy devices are sophisticated devices but can encounter these problems too. All of the Samsung devices come with this reset feature to solve your problems. In this, we will see a complete guide on how you can factory reset Galaxy S10/9/8/7/5 without password. Let's keep reading to explore more.
Part 1: How to Factory Reset Samsung Galaxy S10/9/8/7/5 without Password
To factory reset Samsung Galaxy devices without password you can follow PassFab Android Unlocker, Android Device Manager, Find My Mobile or common way provided by the Samsung Galaxy, both of them are mentioned below:
1. PassFab Android Unlocker
The PassFab Android Unlocker is the best and unique solution among all others. The PC based solution helps the user to perform a factory data reset to fix major issues.
PassFab Android Unlocker performs a factory reset in only three steps, but first, you should download the software on your computer. After installing, you can follow the steps to begin.
Step 1: When your PassFab Android Unlocker is launched, you will be able to see two options on the screen "Remove Screen Lock" and "Remove Google Lock (FRP)".
Step 2: Choose Remove Screen Lock to continue.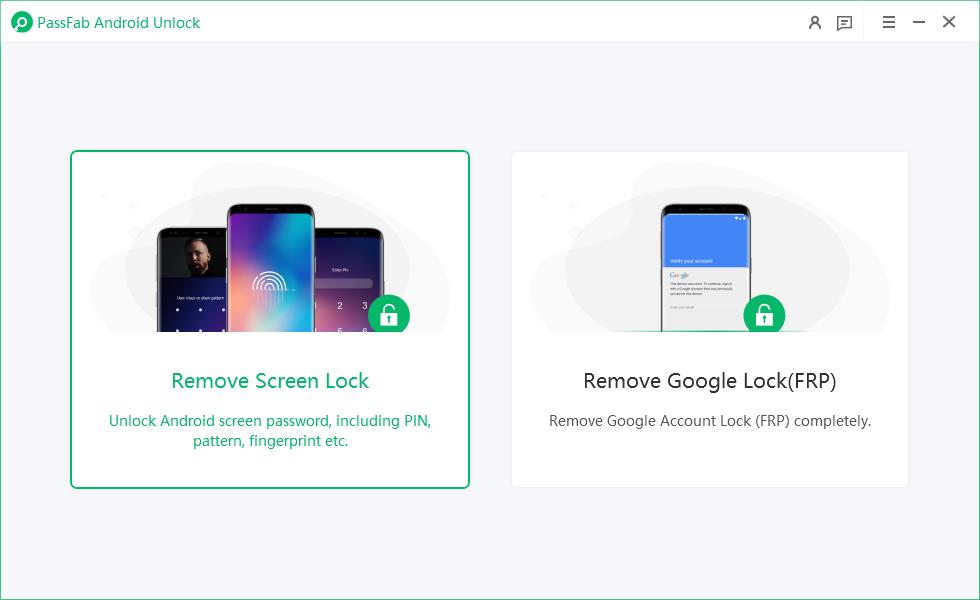 Step 3: Now press the Start button to start the process.
Now the next screen will show a prompt "Removing the lock screen password will erase all data on the device. Are you sure you want to proceed? Yes / No". Click Yes to reset your Galaxy device.
As soon as you hit the Yes, the PassFab Android Unlocker will start its job, and after some time, it will reset your device, and you will be notified with the help of a successful screen message.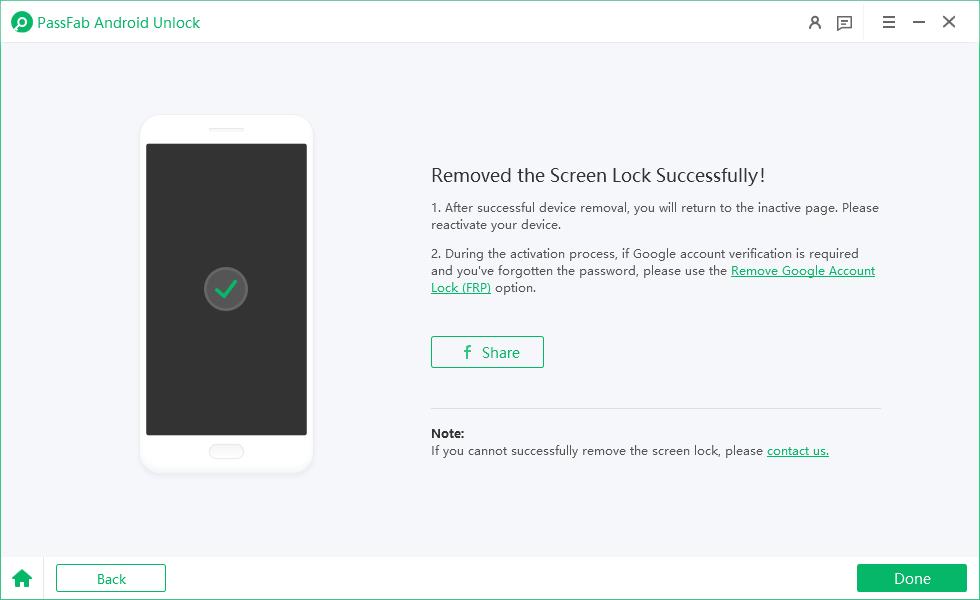 Press did to end the process, and congratulations, you've successfully reset Samsung galaxy device without having a password.
Removing Google Lock FRP on Galaxy S10/S9/S8
The Remove Screen Lock feature of the PassFab Android Unlocker will work fine when your Galaxy device doesn't have Factory Reset Protection. If your device has FRP, you can use a password to perform reset, but if you can't remember your password and you need to reset your device, you can use "Remove Google Lock (FRP)."
The "Remove Google Lock (FRP)" get the work done in the following steps:

Connect Your Samsung Galaxy device to your PC / Laptop.

Select Device OS Version

Before starting, you need to check the on-screen notes and confirm. Then click on "Start". The following guide is divided according to the device OS version you selected, so just choose your Samsung version and go on.

For Android 11:

For Android 6/9/10:

For Android 7/8:

After setting up, you need to restart your SAMSUNG device. Use the PIN code you set to unlock the SAMSUNG device.
2. Android Device Manager
Android Device Manager is a tool specially designed forr Android users. If you know the locked device's Google account and you're sure that the device opened this function and turned on location, you can use this way to factory reset Galaxy S10/9/8/7/5 simpley and easily. Besides, the device should be able to connect to the the internet.
If the device is suitable for this way, follow these steps:
Step 1: Search "Google Find My Device" by using the other devices or laptop or computer and click it to enter the website.
Step 2: Login your Google account of the device you want to factory reset and select the phone you'd like to access from the list of connected devices.
Step 3: Now click "ERASE DEVICE". By doing this, you can factory reset Galaxy S10/9/8/7/5 without password successfully.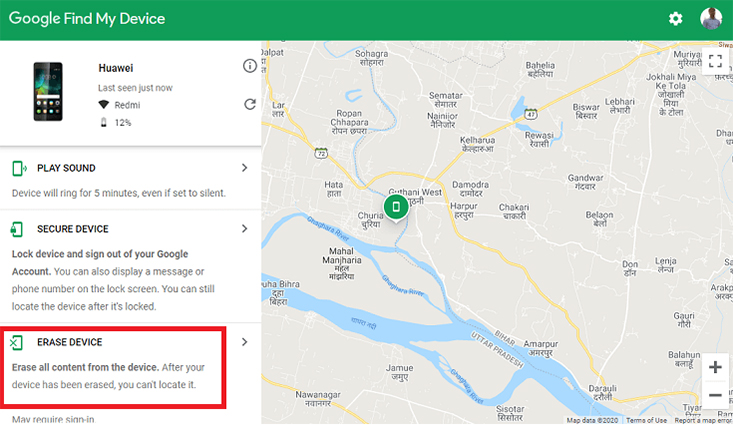 3. Find My Mobile
Another way you can use to solve the problem on how to factory reset Galaxy S10/9/8/7/5 without password is use Find My Mobile. Luckily, this way is only available for Samsung users. It's also easy to operate. But using this way also has ome limitations.
First, you should know the Samsung account of the device which you want to factory reset. Besides, the Samsung device should open "Find My Mobile" and enabled "Remote Controls".
Here is the steps of how to factory reset Galaxy S10/9/8/7/5:
Open your another device/laptop/computer, turn on website browser, enter "Find My Mobile" in the search box.
Click on "Find My Mobile - Samsung" and log into your Samsung account.
Then select the locked device from the top-left panel.

Now tap on "Unlock", and click "Unlock" to confirm your operation.

At this step, you need to enter your Samsung account password to confirm.

Later, your Galaxy S10/9/8/7/5 will be set into factory settings.
4. Common Way
The most common and manual way that is used by most of the user is:
Press and hold the power button and volume up key as well as the home key altogether
If you are using Samsung Galaxy S10, you need to turn off your phone.
Press and hold the Volume up and Bixby buttons simultaneously, then press and hold the Power key.
A few moments later, you will be able to see the Samsung logo on the screen, and after that, a menu will appear.
Use Volume keys to move through.
Go to Factory data reset and press the power button to select it.
The Factory data reset wizard will reboot your phone, and you will be asked to reboot the phone.
If you are following this method, then you don't need anything: Laptop / PC or Internet or other software solution.
Part 2: How to Factory Reset When Samsung Galaxy S10/9/8/7/6/5 Is Frozen
1. Hard Reset
First, turn off your Samsung device.
Then press and hold the buttons to enter recovery mode.
For Galaxy S6/S7, press and hold the Volume Up, Home and Power buttons meanwhile, and release them when you find the device is activated.
For Galaxy S8/S9/S10, press and hold the Volume Up, Bixby, and Power buttons meanwhile until you see the Samsung logo.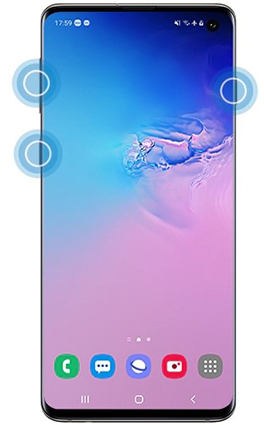 When a reset screen appears, use Volume Up or Volume Down keys to scroll and choose "Delete all user data" or "wipe data/factory reset".
Then confirm your selection using the Power button.
Now, wait for a while, and your device will be factory reset.
When you see "Data wipe complete", you need to use the Power button to select "reboot device".
Finally, your device will restart and yo need to set up it.
2. Soft Reset
Soft reset doesn't affect anything, but Hard Reset will wipe all of your data, so it is recommended to use this method when you are selling your phone.
For older versions of Android:
First, go to

Settings

.
Look for

Backup and reset

.
Select

Factory data reset

.
Scroll down to tap reset.
Upon tap, you will be asked to enter your

PIN / Password

.
Tap

Delete / remove all

.
For newer version of Android:
Access your apps and go to

Settings

.
Click on

General management

.

Select Factory data reset and scroll down to click Reset.
Summary
The users widely use the solutions mentioned here: the soft reset doesn't affect your data and reboots your phone while hard reset asks you to provide a password.
If you have locked yourself out or you don't remember your FRP password, then soft and hard reset will not work for you. The only help you will get is PassFab Android Unlocker that works fine and gets the job done without any restriction. Try this way to factory reset Galaxy S10/9/8/7/5 without password!