"I've forgotten my screen time privacy passcode and now am not failed attempts and get locked out for an hour before I can try another passcode attempt. How do I reset my screen time passcode?"
Screen Time was introduced since iOS 12 as a brand new feature. It lets you control the time you use your iPhone or iPad. It provides detailed information regarding the time you spent on your iOS devices. You will receive a report weekly. But you can also limit the time and set a limit for apps. Now, some of the users saying forgot my screen time passcode. As they are having trouble to reset it. If you want to know more about the reset, recovery, or removal of Screen Time password, read the article below.
Option 1. If You Forgot Screen Time Passcode, Reset It
Apple does have an official method to reset if forgot screen time passcode. Forgetting a password is pretty normal for the users, and in most cases, users get in a lot of trouble as they are unable to figure it out. But it seems like Apple thought of this issue and provided a way to fix forgot my screen time password situation.
The reset of the screen time password is a pretty straightforward procedure, but the procedure differs depending on which device you are using it. Basically, on your device, you have to implement a procedure, but on your kid's device, a different one. We have detailed both of them below, check them out.
On your iOS device
Step 1: Tap on the Settings of your iOS device and select 'Screen Time'.
Step 2: Tap on 'Change Screen Time Passcode' and then tap on 'Change Screen Time Password' again.
Step 3: Now, tap on 'Forgot Passcode?'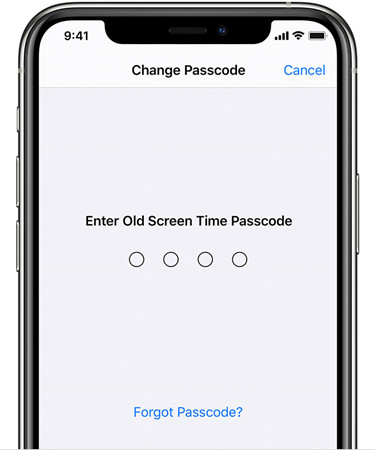 Step 4: You will be asked for your Apple ID and password that you used to setup a screen time passcode in the beginning.
Step 5: Lastly, type a new Screen Time Passcode and confirm it.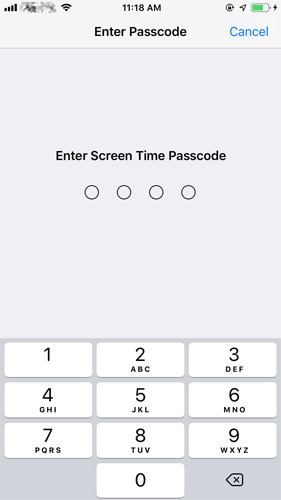 On Your Kid's iOS Device
On your kid's device, then the procedure will be a bit different.
Step 1: Navigate to 'Screen Time' via 'Settings'.
Step 2: Then, scroll down and select your kid's name under 'Family'.
Step 3: Now, tap on Change Screen Time Passcode. Then, tap on Change Screen Time Passcode again. You will also be asked to authenticate.
Step 4: Lastly, you will have to enter a new Screen Time passcode. Enter it again to confirm.
Using this procedure, you will be able to reset the screen time passcode on your kid's iOS device. Just remember that 2 procedures are different.
Option 2. If You Forgot Screen Time Password, Remove It
If you forgot screen time password, then the official method only lets you reset it. But if you want to remove it altogether, you have to resort to a professional 3rd party software. Now, there will be a lot of recommendations when you look for such a program on the internet, but our preference is the software called PassFab iPhone Backup Unlocker. It is one of the best in the market, very efficient and easy to operate. It is also equipped with the capability to recover iPhone backup password or remove iTunes backup encryption settings.
How to use PassFab iPhone Backup Unolcker? You can check out the steps below.
Step 1: Download and install PassFab iPhone Backup Unlocker on your computer. Launch the program, click on 'Remove Screen Tine Passcode'.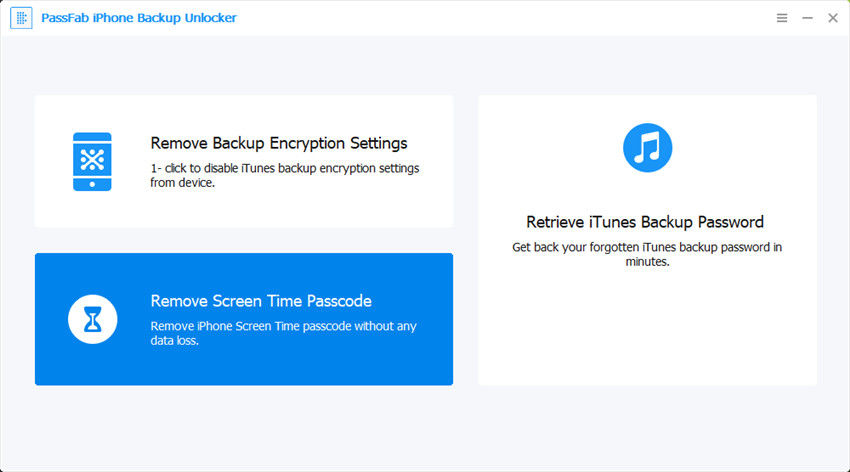 Step 2: Now, connect the iOS device to the computer and click 'Start'. Make sure 'Find My iPhone' feature is turned off on the device.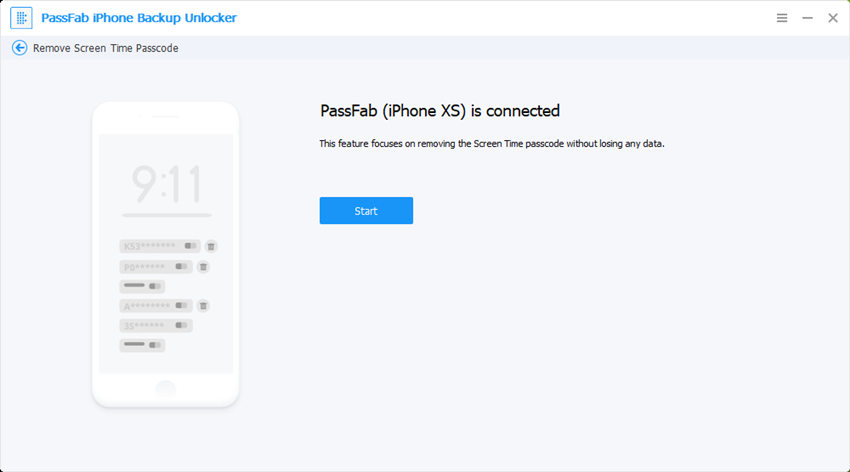 Step 3: Wait a few minutes for the removal procedure to get finished.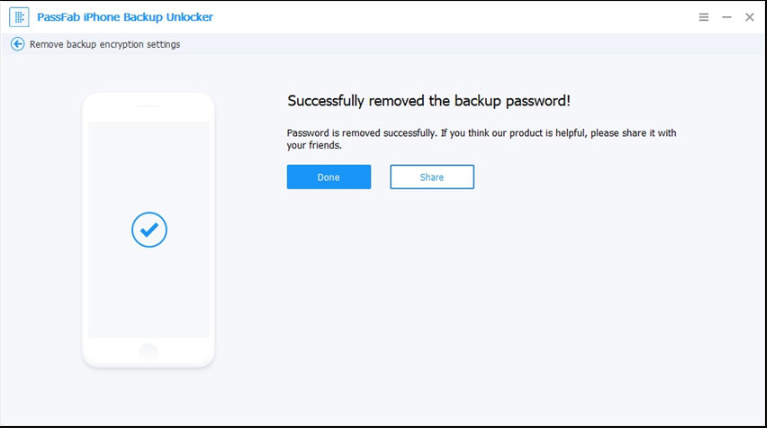 Step 4: After the password is removed successfully, you can set up the device using the on-screen instructions.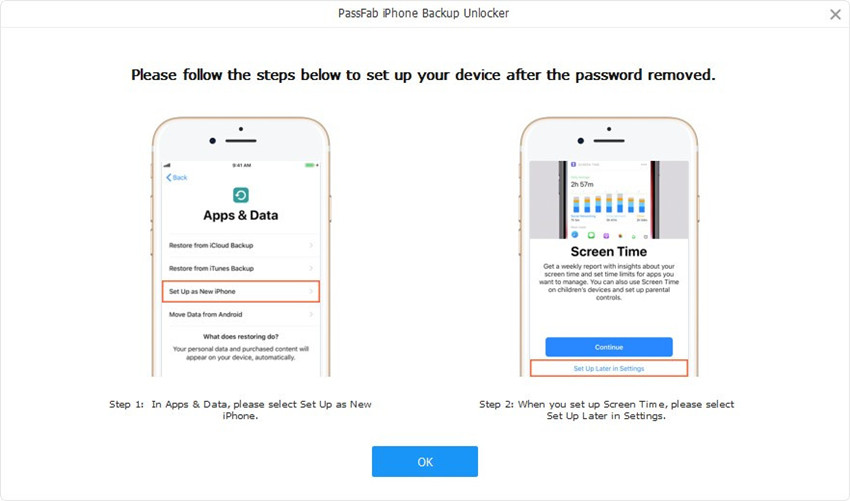 So, officially you can only reset the screen time passcode, but if you want to remove it entirely. It is best to use the PassFab iPhone backup Unlocker to remove when you forgot screen time passcode iPhone.
Option 3. If You Forgot Screen Time Passcode, Recover It
Now, we have a way to reset and away to remove forgot screen time passcode iPad. Both are very effective, but some of the users prefer the recovery of the said passcode.
Recovery is a more efficient solution; it saves you the trouble to set up the device again. So, if you are thinking of passcode recovery, you better use PassFab iOS Password Manager. It the best way to recover screen time passcode by going through all Apple's security.
Check out the steps below.
Step 1: Download and complete the installation of the PasFab iOS Password Manager on your computer.
Step 2: Then, connect the iOS device, and run the Password Manager.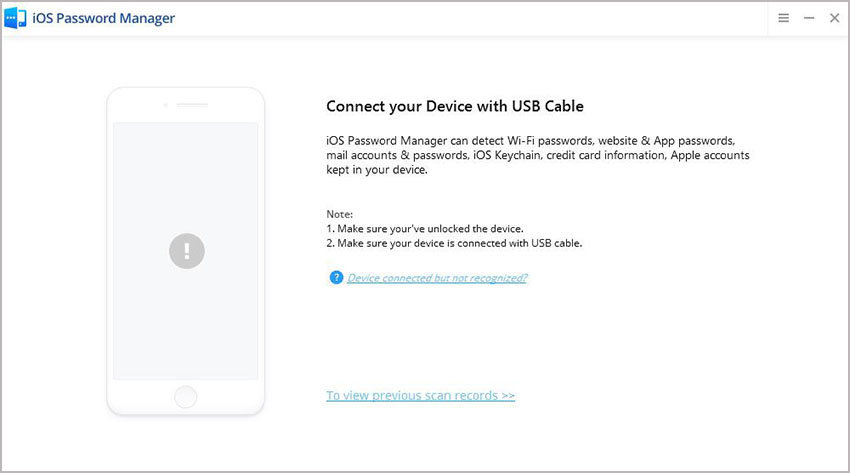 Step 3: After that, click on 'Start Scan'.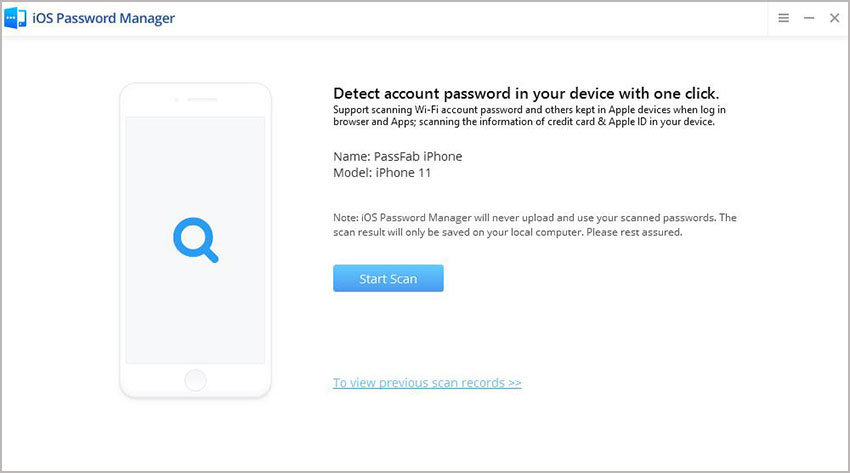 Step 4: After the scan is finished, you will be presented with several options. Select, 'Recover Screen Time Passcode'.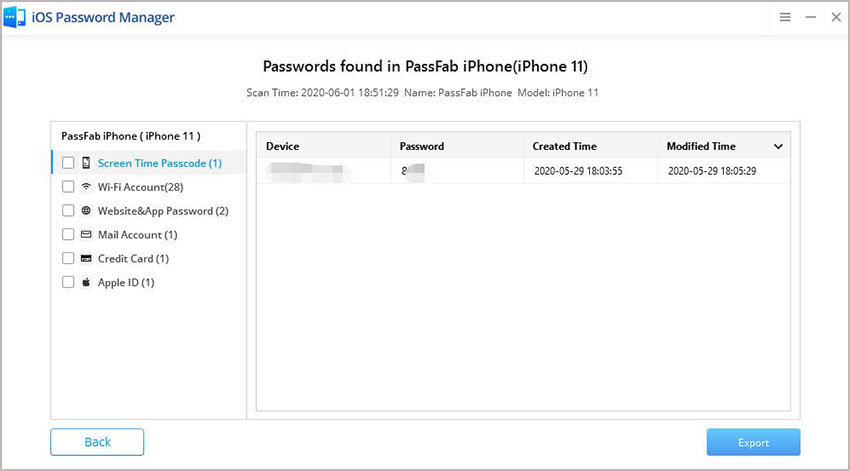 Step 5: Lastly, click on 'Export', and the screen time password will be exported. You can choose to export the password for 1Password, Chrome, Dashlane, LastPass, Keeper, and more.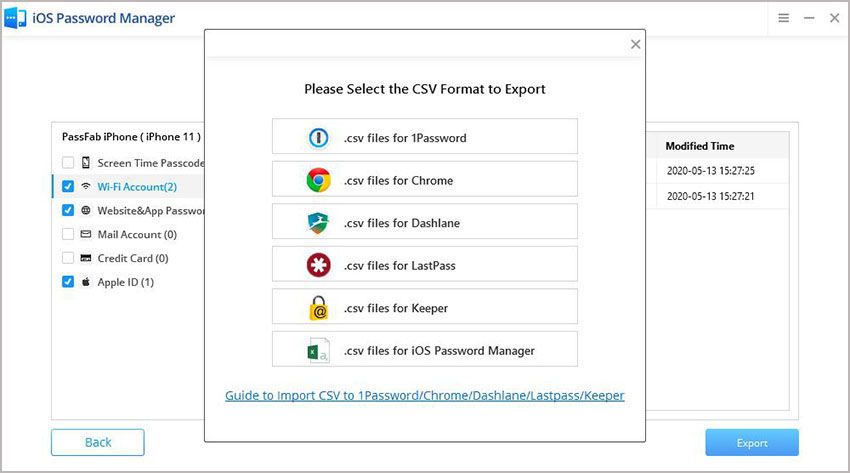 Bonus Tips: How to Avoid Forgetting Screen Time Passcode
Way 1. Using iOS Password Manager
Most of us have unique and complex passwords for every other app that is hard to remember. Now you don't have to write them down on a piece of paper. The best way to keep all your login details of iPhone, iPad, iPod, and other iOS devices safe is to use an iOS password manager. You can avoid losing screen time passcode by simply entering your passcode in the password manager. Only you have to remember is one password to unlock the rest.
Password managers generate and retrieve the complex passwords and stores them in an encrypted database. Here are some password managers that will help you to recover forgotten screen time passcode and avoid losing it: 1Password, LastPass, mSuecure, Enpass, Keeper, Data Vault, etc.
Way 2. Using iCloud Keychain
Apple has created a service for this purpose called iCloud Keychain which creates, stores, and syncs your passwords. However, it should not be the only place to keep all your passwords.
In case something goes wrong, you should have a backup with the keychain. They are digital vaults to keep your important and confidential information safe like PINs, credit card numbers, login details like usernames, passwords and much more.
Last but not least, you can also create a note with secret stuff like important stuff related to your life.
Summary
So, it is not very difficult to fix screen time passcode forgot. You have the official way to reset the passcode; it is an easy method. If you are looking for something more effective, even easier to operate, then you can look into PassFab iPhone Backup Unlocker or PassFab iOS Password Manager. They are worth looking at.
People Also Ask About Screen Time Passcode
Here are answers to some of the questions users are asking about iOS Screen Tine Passcode.
Q1. What happens if I forgot my screen time passcode?
Well, once you forgot screen time passcode, you won't use change the screen time settings on your iPhone or iPad. You will have to recover, reset or remove the passcode.
Q2. How do I turn off screen time if I forgot my password?
You can reset the passcode; then you can turn it off from the settings. There is no official direct way to do it. But you can use PassFab iPhone Backup Unlocker to remove the Screen Time passcode successfully.
Q3. What's the difference between screen time passcode and restriction passcode?
Well, they are similar. Screen Time was introduced as a new feature on iOS 12. But on previous iOS versions, there was a similar feature called Restrictions.