If you find yourself spending too much on your iPad, or have observed your child doing the same then it is important to limit iPad screen time. You can do this using the new Apple iOS 12 with its new feature, Screen Time. This can help you keep track of how much time you actually spend on your device, along with the apps that consume most of your time.
With this information, users can then limit their usage of certain apps or block them for some time altogether. The great thing about the Screen Time feature is that it is Cloud-based. This means that it can gather information on the screen time spent on all your iOS devices. Keep reading to check it out!
Section 1. How to Full Use Screen Time on iPad
Screen Time include four sections, which are Downtime, App Limits, Always Allowed and Conetnt & Privacy Restrictions. You can see what these functions do on your iPad.
Downtime: Schedule time away from the screen.
App Limits: Set time limits for apps.
Always Allowed: Choose apps you want at all time.
Content & Privacy Restrictions: Block inappropriate content.
It is worth mentioning that Downtime feature. You can use some of the following steps in order to schedule some downtime for both yourself and your child. Follow the steps below to begin your screen time life.
Step 1. Next, move on to the Settings > Screen Time window, and select the "Turn On Screen Time" option.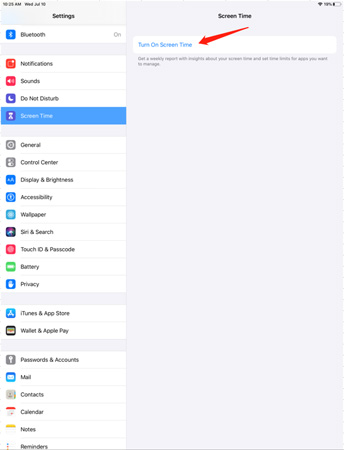 Step 2. You will be asked whether you are using the feature for yourself or your child. Select the "This is my iPhone" option.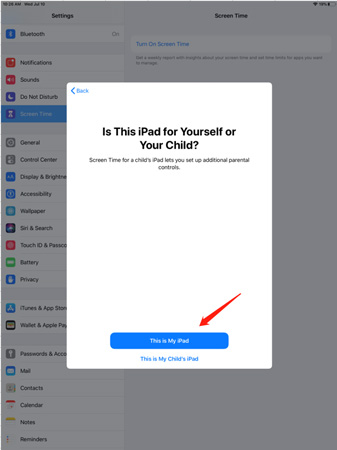 Step 3. Select the "Use Screen Time Passcode" option and set a password in order to further secure your settings in place.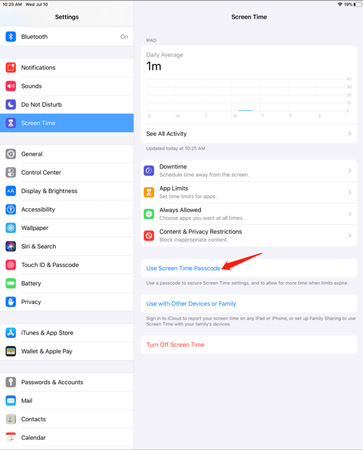 Step 4. Then click the "Use with Other Devices or Family" option to apply the settings across all your respective devices i.e. monitor screen time on all devices.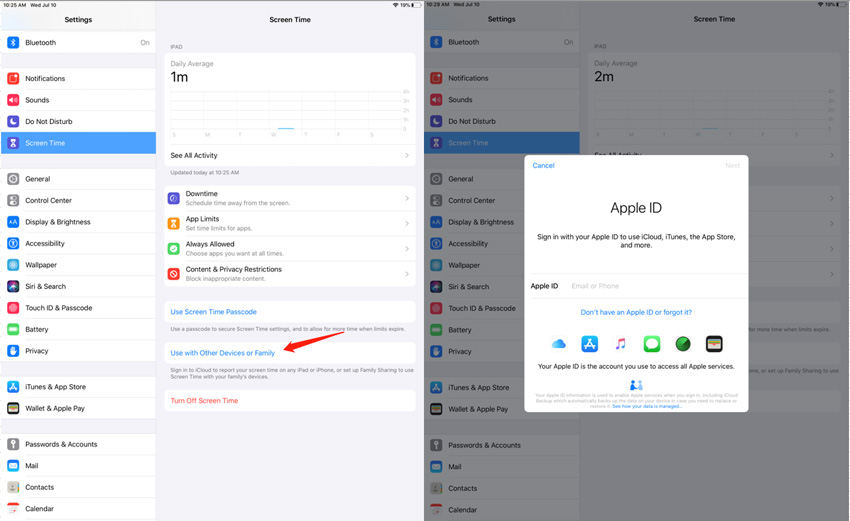 Step 5. If you choose to go forth with the previous step then you will have to use your Apple ID to activate screen time settings.
Now, finally you can set time limits for which you can use certain apps on your device. You can either set some time frames in which you only have limited access to your apps or you can customize these for every day of the week because weekend schedule tends to be more relaxed.
Step 1. Head back to the Screen Time menu, and go to App Limits > Add Limit. You can then go to the Categories menu and customize your settings for all your apps. Click Add to apply and finalize your settings.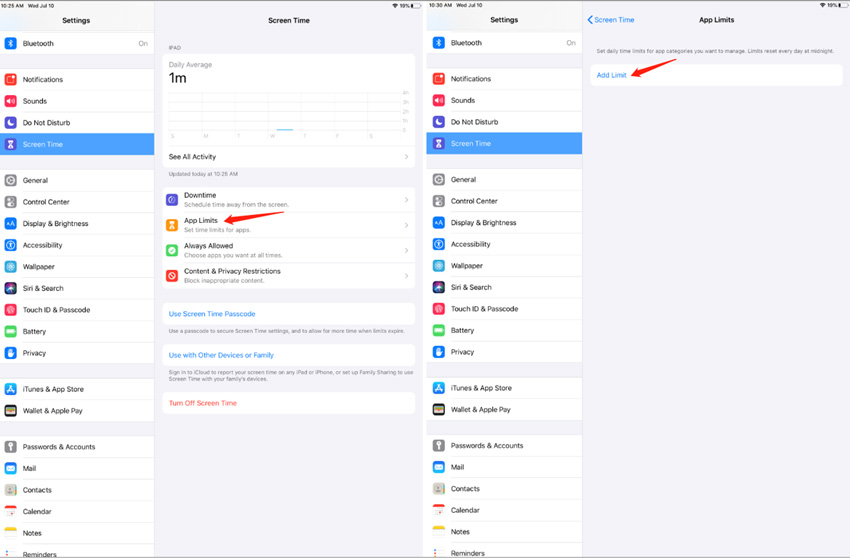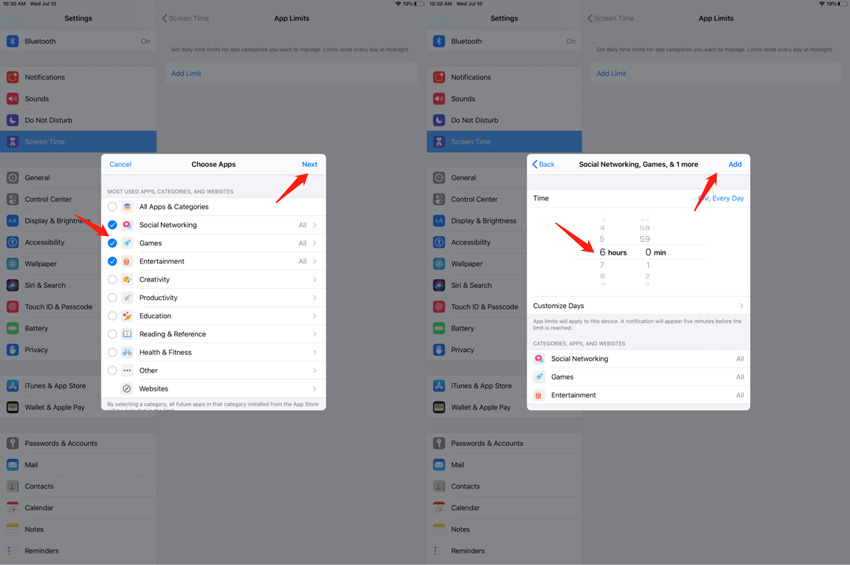 Step 2. Now go to the Always Allowed window to choose certain apps that do not have screen time restrictions such as the Messagess or Maps. You can also remove apps from this list should you chose to do so later.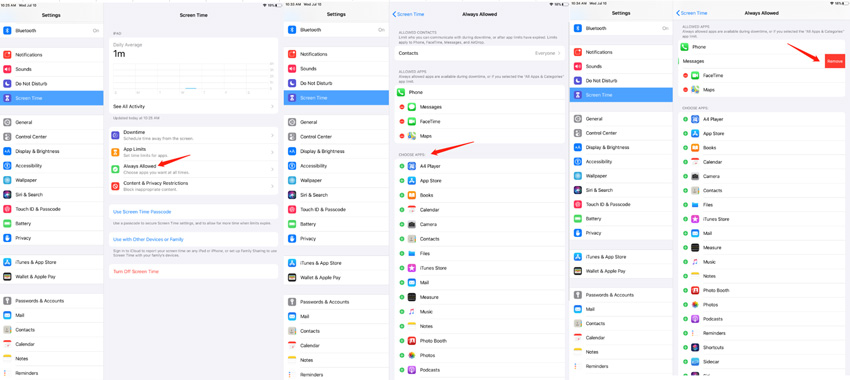 Step 3. Head back to the main screen in order to turn on and set your Content and Privacy Restrictions. You can enable or disable store purchases and redownloads.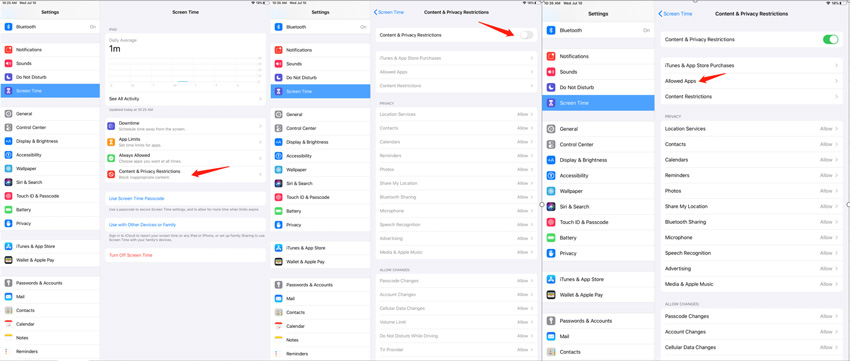 Step 4. You can follow pretty much the same steps in order to set downtime for your child's device(s) as well.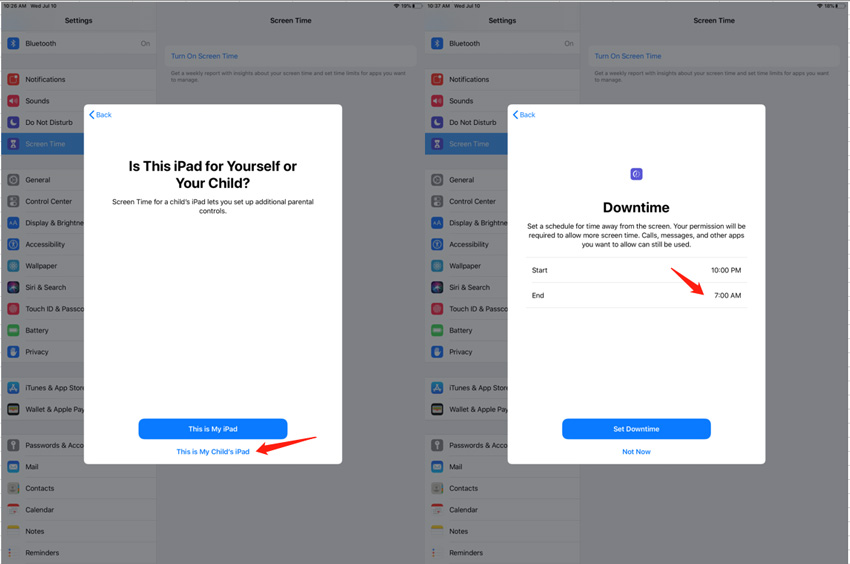 Step 5. To recap, you have to enable Screen Time, set Downtime, App Limits, and the Parents' Passcode. Here are what the steps will look like.
Section 2: Other Tips and Tricks about Screen Time
Step 1. Whether you are using Screen Time for yourself or your child, you will receive a Downtime warning message five minutes before your time limit is up.
Step 2. It is also a good idea to monitor how much time you spend on your iPad in general, and which apps take up most of your time. Your main window lists all your apps and how much time you spend on them individually.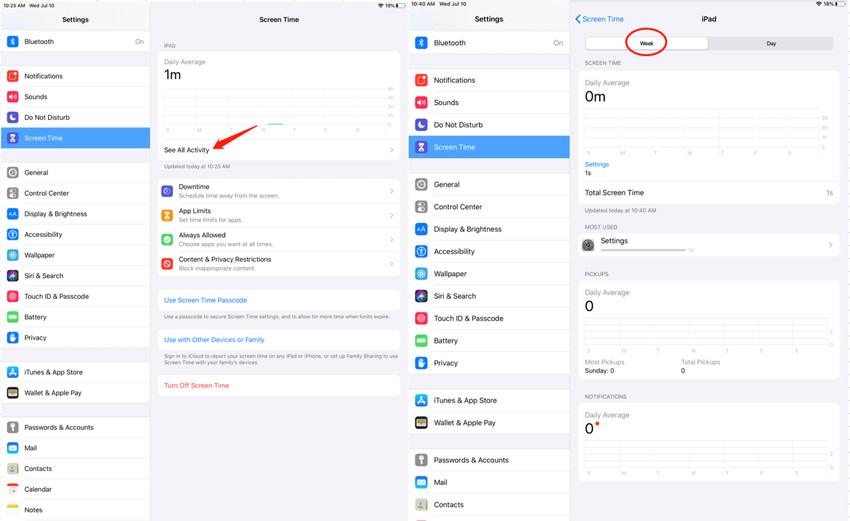 Step 3. In case you ever want to disable Screen Time, it can be done easily. Go to Settings > Screen Time and turn off Screen Time. You will be asked to enter your passcode at this stage and in order to verify.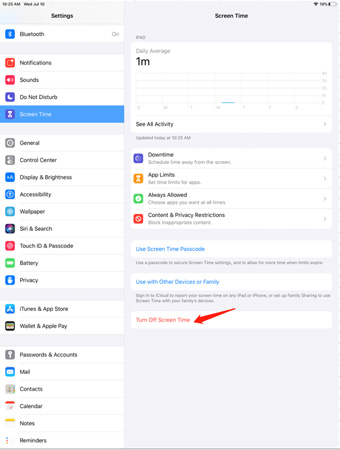 Section 3. How to Remove Forgotten Screen Time Passcode
Sometimes, we will forget screen time passcode if we didn't enter passcode for a long time. It can be frustrating, but there are a few simple steps you can follow in order to remove screen time password using iPhone Backup Unlocker. It has been recommended by many users. Let's take a look how it works.
Step 1. Before you set out to remove your screen time passcode, it is important to back up all of your data beforehand so that you do not lose it.
Step 2. Now, download and install the PassFab iPhone Backup Unlocker on your computer and connect your iPad to the computer. This is the ideal choice because it can bypass the passcode settings on your device with ease.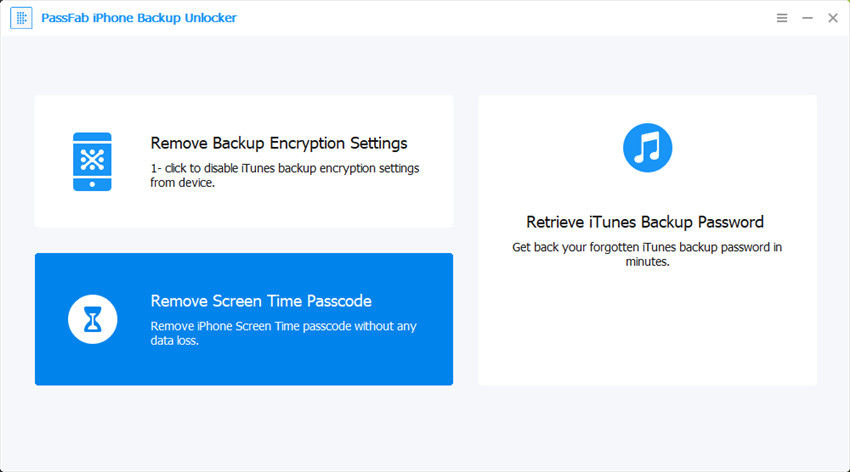 Step 3. Click on the Start button in order to begin the process of removing your screen time password.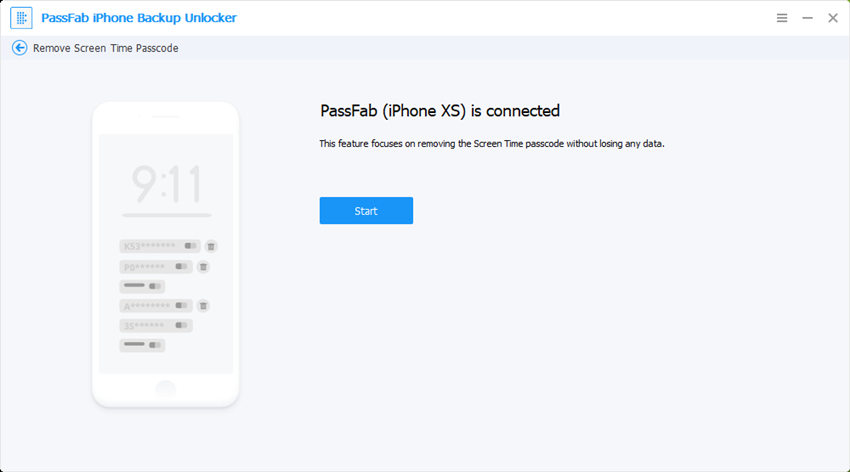 Step 4. You may have to wait for a while but the process should be over soon enough.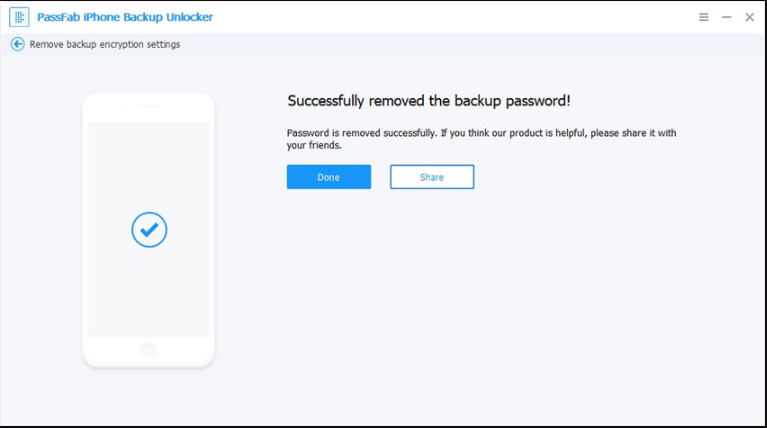 Step 5. Finally, you can set up your device as new according to the instructions that will be displayed on-screen.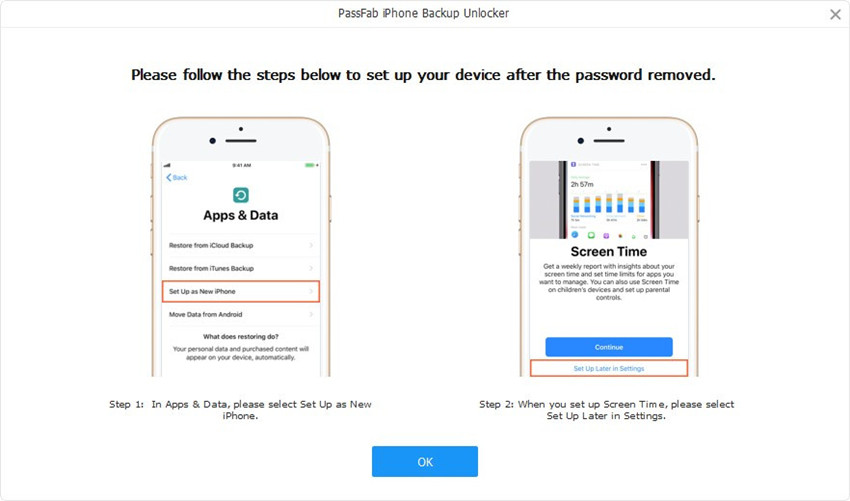 Of course, PassFab iPhone Backup Unlocker makes it a lot easier than the earlier method we talked about. It"s perhaps why it is the most popular method to remove your lost screen time password.
Summary
Yes, the Screen Time is a great feature that helps you pace yourself as well as your child when it comes to iPad usage. For one, it can prevent you and your loved ones from getting addicted to such devices in the long run. Sure, the iPad is great, but it's a productive device and not one that should get in the way of it.