To help users manage the amount of time they spend on their devices, Apple has integrated a feature called Screen Time in all devices that run iOS 12 and newer. Screen Time is a built-in feature in all Apple devices like iPhones and iPads meaning you don't have to go to the App Store and download an App to access its features.
The feature lets you monitor all app activity on your Apple device, from the number of hours spent per app, to the number of times you picked up your phone to access a certain app to even the notifications the app sends to you per day. Most importantly, however, the app lets you set time limits for each app for daily use, something which is very helpful if you're trying to spend less time on your phone. In this article, you will learn how to use screen time iPhone.
Part 1. How to Get to Screen Time on Your iPhone
Accessing Screen Time and all its features on your iPhone is very simple and barely needs any extra leg work since the feature comes pre-installed with you iOS (12 or newer).  With screen time iPhone, you don't have to worry about.
Section 1. How to check the info on Screen Time
To get to Screen Time, all you have to do is go to Settings app and tap on Screen Time. This takes you to the Screen Time main page where you can access all of your Screen Time data and other features offered by the service.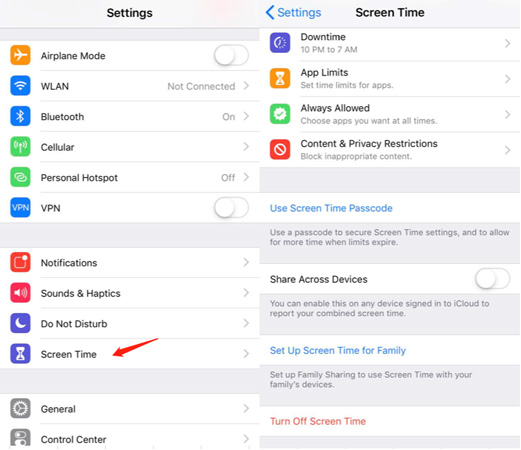 The data on how much time you spent on your most used apps, along with a few other important details can provide you some great insight as to how much time you're spending on your phone and how you can work to manage this time more effectively. To check all this data on Screen Time, follow these steps:
On your device, go to the Settings app and tap Screen Time. You'll be directed to the main page of the Screen Time app where you can already see a short summary of your app usage.
To see more details about your usage, tap on your device's name on the screen. This takes you to a page with a more detailed summary of your phone's usage.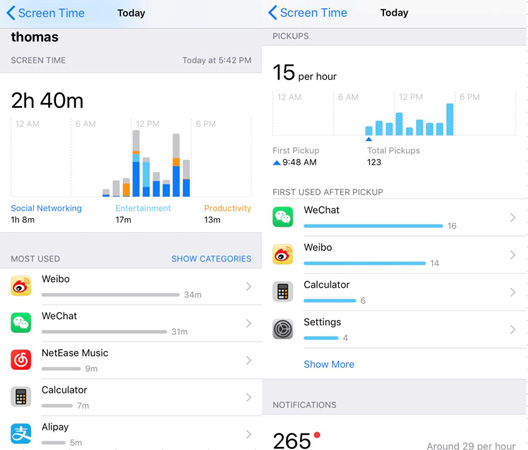 Scroll down to see the number of hours you spend on each app. Scroll further down to see the number of times you pick up your phone in the day, along with what times you frequently use your phone. Scroll to the bottom to see the notification data on Screen Time, which records the frequency at which apps send you notifications throughout the day.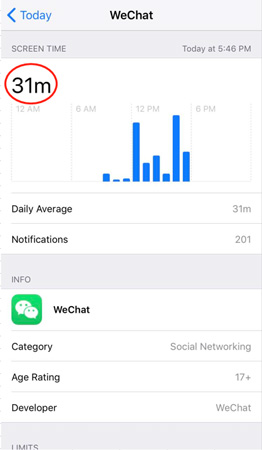 Section 2. How to Limit Screen Time on iPhone
Screen Time also comes with a built-in feature to let parents monitor and even control the amount of time their children spend on their phones. This lets parents teach their children into spending less time in front of screens or even block certain apps form use during certain periods of the day like Bedtime or during homework.
Before you can use Screen Time to monitor your child's activity, you need to set it up on his phone first.
Make sure your child has an Apple ID (set up a child account on his device that is linked to yours) and set up Family Sharing on Screen Time (see next section). Next add a Screen Time passcode.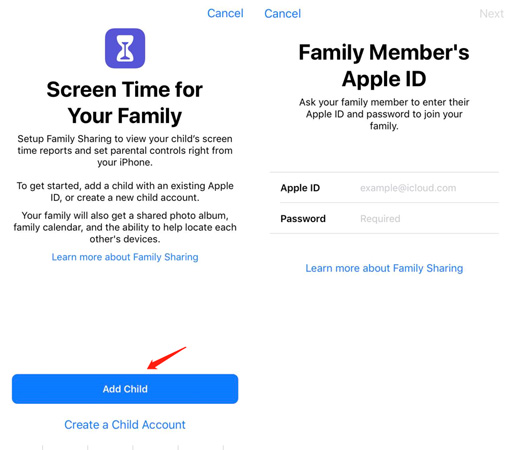 On the Screen Time main screen, tap your child's name to access his Screen Time data.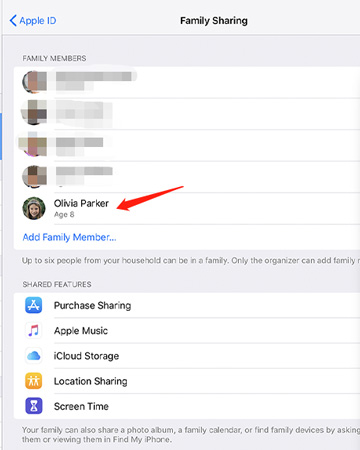 You can view his usage summary here, along with a couple of other options. Tap on your child's name to get a more detailed report of his usage.
To set a limit on an app, tap App limits on his usage summary page and select the app that you want blocked and the time allowed per day. To stop your child from using his phone during certain times of the day, tap Downtime and switch it on. You'll have to provide your Screen Time passcode to apply these changes.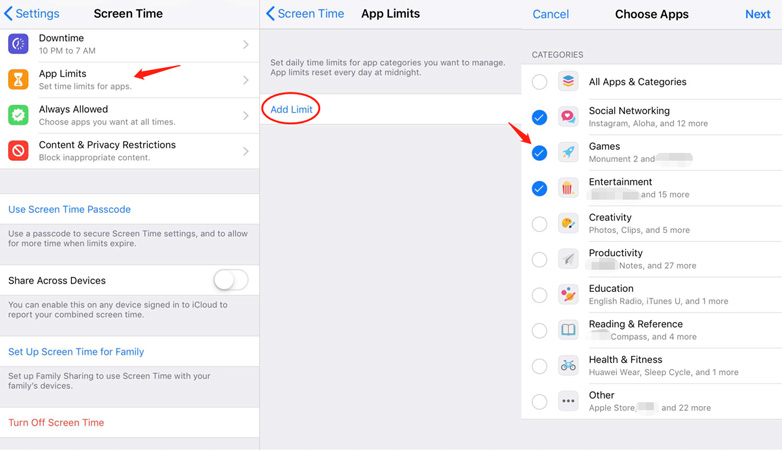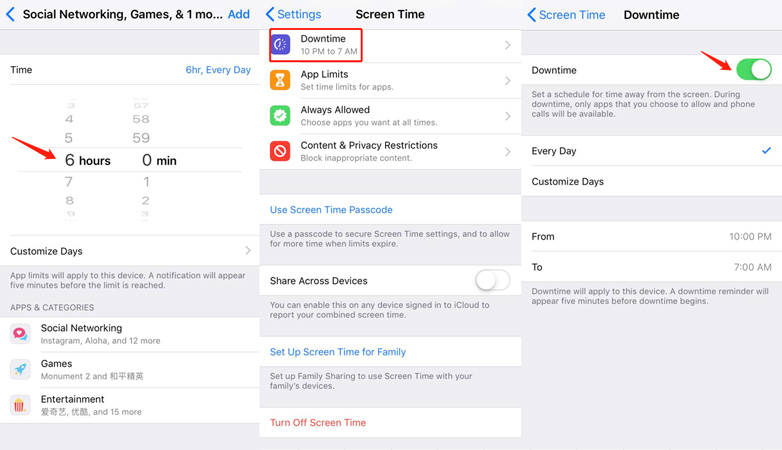 Section 3. How to sync the Screen Time on other devices
Before you can set up Screen Time on your child's device, you need to sync your devices with Family Sharing. This is how to go about it:
Go to Settings > [your name]. If you're using iOS 10.2 or earlier, go to Settings > iCloud.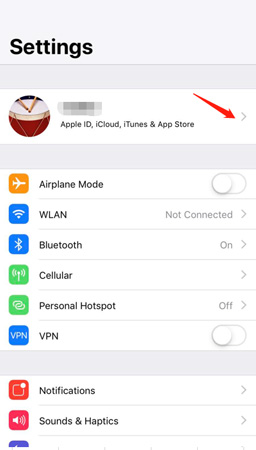 You can even setup Family Sharing for Screen Time from the Screen Time main page in the Settings app.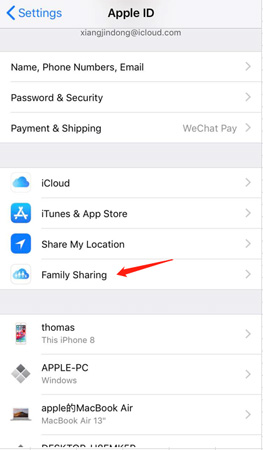 Tap Set Up Family Sharing, then tap Get Started. Follow the onscreen instructions to set up your family and invite your family members. Once you've created a family group, you can view all of your children's accounts on your device's Screen Time main page and use tap on them to access their usage.
Section 4. How to Turn off Screen Time
To turn off Screen Time follow these simple steps
Go to Settings > Screen Time
Scroll down to the bottom of the main Screen Time page and tap on "Turn Off Screen Time"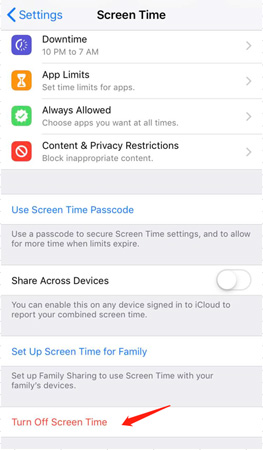 Part 2. How to Remove Screen Time Passcode
Much like a lot of other Apple's features (cough iTunes backup cough), losing your passcode for Screen Time always means you're going to have to reset your device. However, instead of going through the trouble of resetting your device to its factory settings, you can use third party software like PassFab iPhone Backup Unlocker to help you remove forgotten screen time passcode so you can still keep on using Screen Time. PassFab makes the entire process easy, and a delightful one.
Step 1. Download and install the program on your computer.
Step 2. Once the software is finished setting up, just click Remove Screen Time Passcode.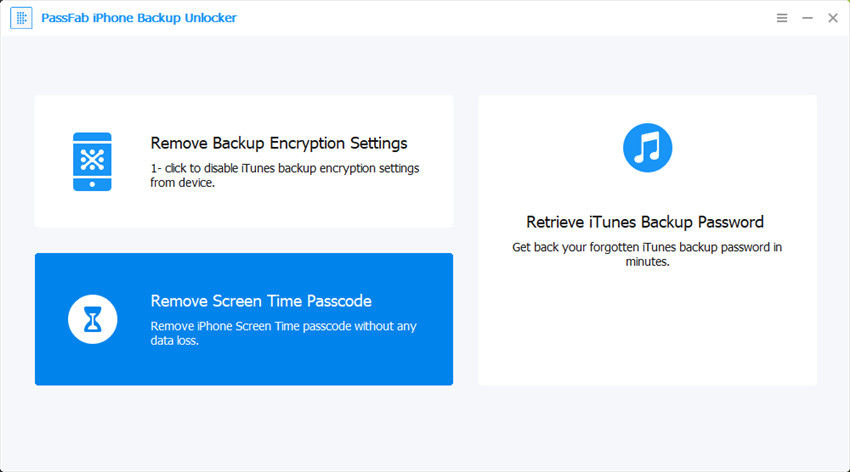 Step 3. On the following window, hit the Start button to commence the Screen Time passcode removing. If the Find My iPhone has been turned on, you need to turn it off first.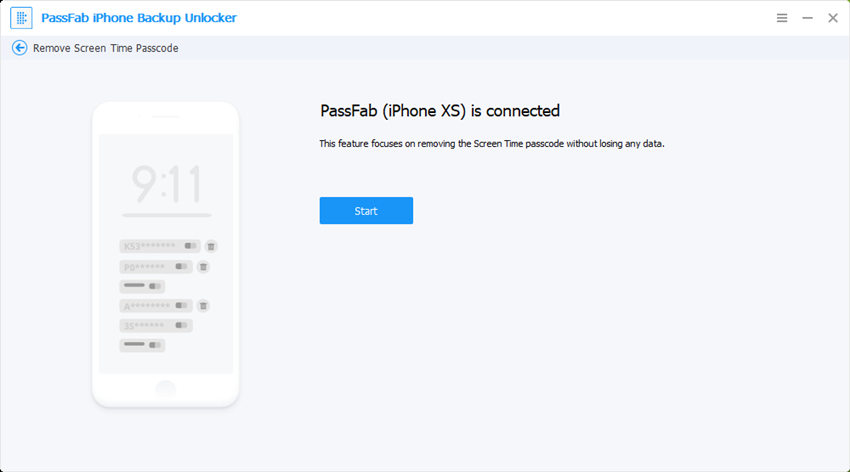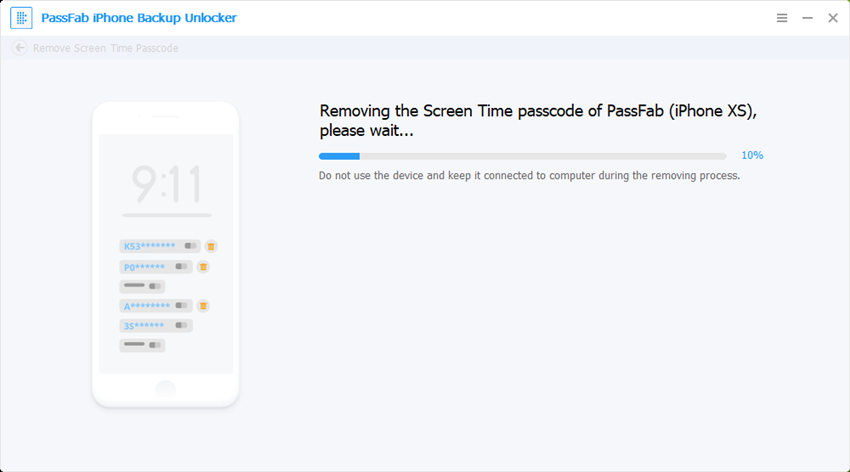 Step 4. Wait for the removing process , the Screen Time passcode can be removed successfully.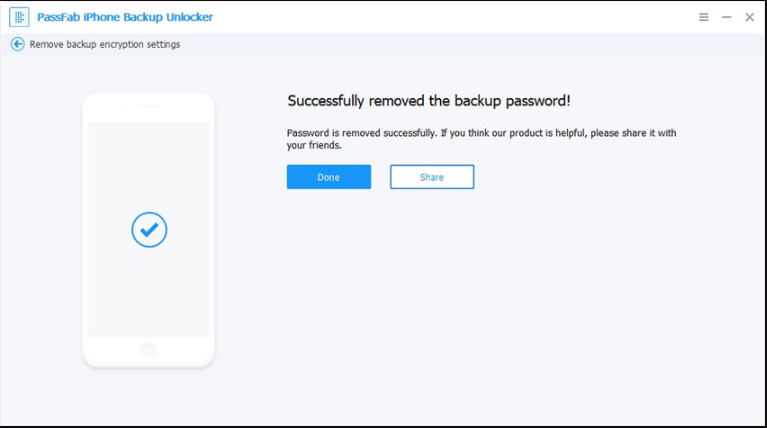 Step 5. Once the passcode being removed successfully, you need to set up your device by following the on-screen instructions.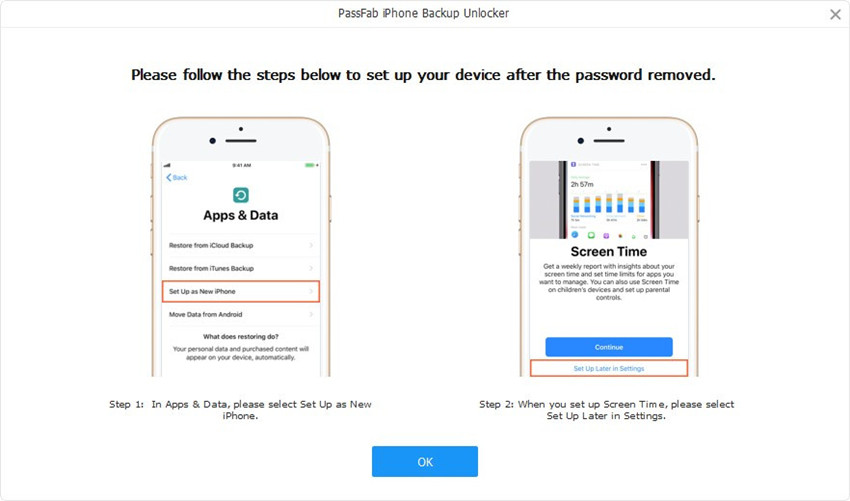 Conclusion
All in all, Screen Time is a very handy feature that can be used to help you and your family manage your time spent on electronic devices more efficiently and even spend more quality time together. Setting it up may prove a little bothersome, but its benefits more than make up for the initial trouble. And with PassFab iPhone Backup Unlocker, you don't even have to worry even if you forget your password. Doesn't that sound cool?