"For no apparent reason the message 'Please insert a disc into Removable Disk (E:).' will come up accompanied by the file explorer application prompting an error noise which goes off around every 10 seconds tabbing me out from whatever window I have open whether it be game application etc."

If you are like the above user and you are constantly faced by the please insert a disk into removable disk Windows 10 error on your machine, we understand how annoying it can be. Issues like these, although are rare, cause a lot of trouble when they occur on your computer. They throw you out of whatever work you are doing in your apps and they even interrupt your gaming experience.
Fortunately, though, there are a few fixes available that you can use and get rid of the error from your Windows computer. These fixes are easy to apply and the issue should be gone in no time from your machine.
Part 1. What Cause "Please insert a disk into removable disk" Error?
First, it is important that you understand the cause of the issue. Once you have this understanding as to what causes flash drive says please insert a disk into removable disk, you will be able to avoid the potential things that may cause the error on your computer in the future. Here are some of the common reasons why you get the aforementioned error on your machine.
1. Drive letter conflict
One of the things that could be causing the issue is a conflict in the letter of the drive. On all the devices you use including your Windows PC, each drive should have its own unique driver letter. No two drives on your machine should share a letter or it will create a conflict.
You will see this conflict happening when two of your drives have the same drive letter assigned to them.
2. Removable disk is corrupted
Another possible reason of the issue is that your removable disk is corrupted. Disks getting corrupted is nothing new but sometimes they cause issues like the one you are currently facing on your computer which is really serious.
3. Bad sectors or other physical damage
All the disks you attached to your computer have sectors and if those ever become bad, your computer will have issues reading your disks. And sometimes, these bad sectors cause issues like the one mentioned above.
4. Virus and malware attack
Viruses and malware attacks happen almost everyday and if you are a victim of one of these, these may be the reason why you are seeing the aforementioned error on your computer.
5. USB disk is corrupted
It could also be that the USB disk you are trying to connect to your machine is corrupted.
6. Flash drive in safe mode
Your flash drive should not be in safe mode or it will not load the firmware resulting in you getting the above error on your screen.
Part 2. 7 Solutions to Fix "Please insert a disk into removable disk" Error
Now that we have made you aware of the possible reasons of the error, you may want to find out the possible fixes to the issue. The following is please insert a disk into removable disk how to fix:
Solution 1. Change Drive Letter
If there is a drive letter conflict, the first thing you will want to do is assign a new and unique letter to your drive. The following shows how to do it.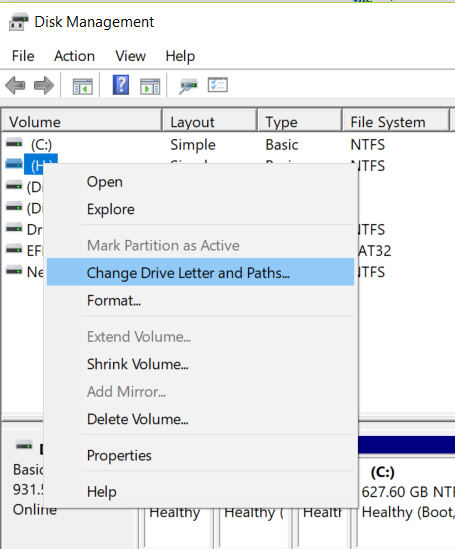 Search for and launch Disk Management from your Start Menu. Right-click on your drive and select Change Drive Letter and Path. Select a new drive letter for your disk.
Solution 2. Run Hardware and Devices Troubleshooter
One of the many good things about using Windows is it provides you with multiple tools to troubleshoot issues on your machine. One of these tools is located in your Settings app and it lets you fix your drive related issues.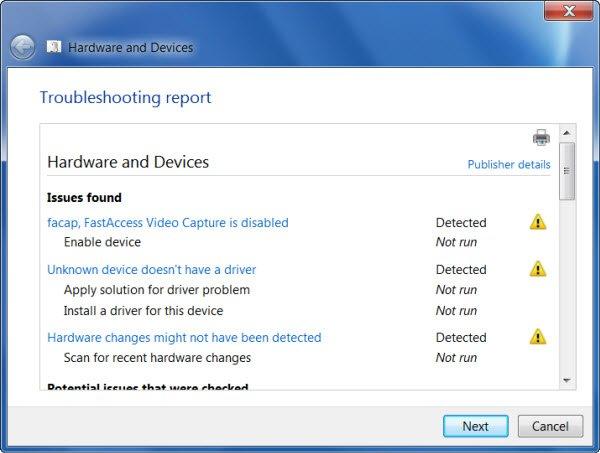 On your Windows PC, head to Settings > Update & Security > Troubleshoot > Hardware and Devices to launch the tool. Follow the on-screen wizard and it will recognize and fix your drive issues for you.
Solution 3. Perform System File Checker (SFC) Scan
If you think the error is caused by your corrupted drive, you can fix your corrupted drive using a command in command prompt on your computer.


Open a command prompt window and type in sfc /scannow and hit Enter. Let it scan the drives, find issues, and fix the issues for you.
Solution 4. Update Driver
It is important that you keep your drive drivers updated all the time and if you have not done it in a long time, you may want to do it now.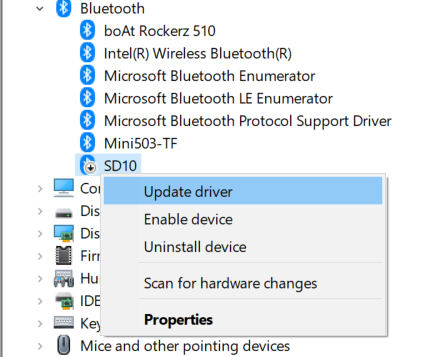 Open Device Manager, right-click on your disk, and select Update driver. It will find and install the latest drivers for you on your computer.
Solution 5. Check Bad Sectors Using CHKDSK.exe in CMD
Chkdsk is one of the commands that lets you find and fix bad sectors in your disks. You can run it as the following in your command prompt to fix your disk.


Open a command prompt window from the Start Menu, type in chkdsk C: /r (replace C with your disk letter), and hit Enter. It will find and fix the disk bad sectors for you.
Solution 6. Format the USB drive using Command Prompt
You may also want to wipe off all the data on your USB drive and start from scratch to see if that helps resolve your issue. Type in the following commands into command prompt hitting Enter after each line:
Diskpart
List disk
Select disk 2 (replace 2 with your disk number)
Clean
Create partition primary
Format fs=ntfs
assign


It will format the USB drive for you.
Solution 7. Delete Volume/Partition
Deleting and/or removing a partition also helps fix the disk related issues on your computer and the following is how you do it.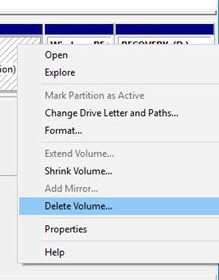 Launch Disk Management from the Start Menu. Right-click on your volume and select Delete Volume. It will do the job for you.
Another common issue you likely face is not being able to easily reset the password when you forget it on your computer. You no longer have to suffer the issue anymore as you now have a software called PassFab 4WinKey that lets you reset the password for your user account on your computer.
Summary
That's all about how to fix "please insert a disk into removable disk" error in Windows 10/8/7 and make your disk accessible again. The "Please insert a disk into removable disk" error is not only occur on USB flash drive, but also can happen during using SD memory card or external hard drive. We hope that the solutions mentioned above can help solve your problems.