Every new iPhone model brings a whole new range of exciting features and gadgets but at the same time, users face unexpected minor bugs. The same can be said for the newly-launched iPhone 13 as many users are complaining about the problem of iPhone 13 not activating.
This issue is very irritating as it makes it quite difficult to use the basic function of your smartphone. Given this, we have scoured the internet and come up with some effective methods to fix the iPhone 13 pro waiting for activation issue.
Here is the Video Guide for You
Part 1: Why Your iPhone 13 Stuck on Activate Screen?
Since iPhone 13 has just launched, thus it's difficult to specify the exact reasons why it may take a few minutes to activate. One or multiple reasons may work in tandem to generate this activation issue, which may include:
Your iPhone 13 has a weak or poor internet connection.
Your SIM carrier is down temporarily.
SIM card is not inserted properly in the slot which is restricting the SIM to activate your device.
A minor bug in your iPhone's iOS may be the culprit of why your iPhone 13 is not activating.
It might be possible that the Apple activation services are down due to maintenance or any other reason.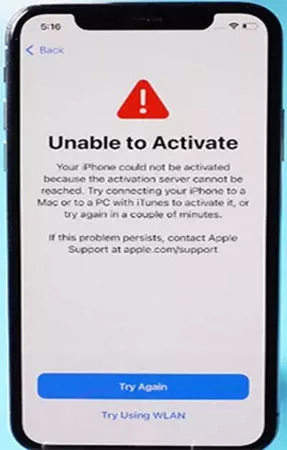 Part 2: Troubleshoots Why Your iPhone 13 Not Activating?
Our research shows that the below tips prove handy to troubleshoot the iPhone stuck in activation mode. Implement them one by one and at least one of them will help you get the job done.
Way 1: Check System Status
First and foremost, check the system status of your new iPhone 13. The system status allows users to confirm whether certain Apple services including "iOS Device Activation:" are running or not.
Apple provides real-time status information for its services, iCloud, and stores. Checking this website lets you know if the issue is stemming from Apple or your device. If iPhone stuck on activation screen issue is due to some maintenance or glitch in the Apple system, the status page will show a chart of recent announcements or maintenance and completion of maintenance.
From your web browser, head to Apple System Status Page.

Of all the available services, check if the status of "iOS Device Activation" is Green or not.

A Green status shows that everything is working perfectly at the system level. So, you can proceed with other troubleshooting methods.

If for some reason, the activation service is "unavailable", wait for a few minutes and check the status again.
Way 2: Check Your Wi-Fi Network
Stating the obvious that the iPhone activation process requires a healthy internet connection. A weak or poor internet service might be the reason why your iPhone stuck in activation mode.
So, your next step should be checking if you have a viable internet connection before you try to activate your device again.
The easiest way to check if your iPhone has a good internet connection is to launch your mobile browser and refresh the page. If it loads quickly, you are good to go. Else, you need to connect your device to another Wi-Fi.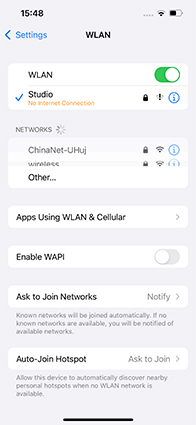 Way 3: Check If a Sim Card Installed
Many a time, users do not insert the SIM card properly which hinders the normal functioning of their SIM cards to activate the device. If you have inserted a SIM card in one or both slots, make sure it is placed in the correct place.
We recommend users to take out the SIM card and place it again in the SIM card holder carefully to confirm it is positioned properly. Also, try changing the slot of the SIM card just in case that particular slot is damaged.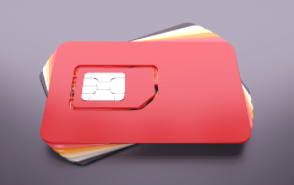 Way 4: Restart Your iPhone 13
Restarting your smartphone is one of the simplest ways to troubleshoot the iPhone 13 pro waiting for activation issue. Sometimes, a minor bug or glitch in the iPhone's system obstructs its working and causes the activation error. This method takes hardly a few seconds – so, it's worth a try:
Press and hold the Side button and Volume Up or Down button simultaneously until you see the power slider on the screen.

Drag the Power slider to turn your device off.

Wait for at least 30 seconds before long-pressing the side button until the Apple logo appears on the screen.
Part 3: How to Activate iPhone 13
This section will discuss a step-by-step guide on how to activate iPhone 13 pro via two simple and safe ways.
Way 1: How to Activate New iPhone 13 with iTunes
The first method on our list is activating your new iPhone via iTunes. It's probably the easiest method for iPhone 13 pro waiting for activation as almost every Apple user is already acquainted with this multi-featured tool. Follow the below steps to use this software:
Install the launch the latest version of iTunes on your computer.

Connect your new iPhone 13 to iTunes via the original lightning cable.

Wait patiently until iTunes detects your device. It will automatically start activating your iPhone. Follow the on-screen instructions to complete the process.

If it prompts the message "Set Up as New" or "Restore from Backup," it means that your iPhone is already activated.

Likewise, if any error message pops up on your screen showing "our SIM card may be invalid or incompatible," then contact your SIM carrier to fix the issue.
Way 2: How to Activate iPhone 13 with iCloud Activation Unlocker
If your iPhone asks you to enter the password while you're activating it, it means the iCloud Activation lock is enabled on your device. Enter the password to proceed but if you don't know the password then, unfortunately, you're in a trouble.
In such an unfortunate scenario, you have no option to bypass the activation lock to fix the unable to activate iPhone 13 issue and regain access to your smartphone.
Contact the Previous Buyer
This issue is common when you have bought the iPhone 13 from someone who has already logged in with their Apple ID and enabled the Find My iPhone feature. The first thing you should do is to contact the previous buyer and ask him or her to either tell you the activation password or remove the activation lock remotely through iCloud.com.
Use PassFab Activation Unlocker
If you're unable to contact the previous owner of your iPhone 13, then you're left with no choice other than to use PassFab Activation Unlocker. It is a third-party tool that lets the user bypass the iCloud Activation lock with just a few clicks.
With this tool installed on your computer, you can easily remove the activation lock and set up your phone as a brand new device. What's best about this software is its compatibility with the latest iOS versions including iOS 15.
Install and launch PassFab Activation Unlocker. Click on "Remove iCloud Activation Lock" to get started.

Hit on Start to get going.

Now, connect your locked iPhone 13 to the computer.

On Windows

The program will automatically detect and start downloading the right firmware package for your device.

Insert a USB drive and hit Start to proceed.

Wait until the program burns the drive. After that, follow the on-screen instructions to complete the process.

On Mac

PassFab will download the jailbreaking tool for your iPhone. Once it's downloaded, hit Start Jailbreak to continue.

Now, click on Start to begin unlocking the activation lock.

Hit Done and start using your mobile as a new device.
Conclusion
This article has discussed many simple yet proven workarounds to fix the iPhone stuck in activation error. With one quick read, you won't find any issue in fixing the error yourself while sitting at the comfort of your home.
Likewise, this article is your perfect companion to learn how to activate iPhone 13 using two easy methods. Use PassFab Activation Unlocker to bypass iPhone stuck on iCloud Activation Lock without Apple ID or password.