I bought an iPhone 5 and when I tried to connect it to my wifi network it says the password is incorrect ( I know it's correct) I think it´s not my router because my iPad wifi work normally.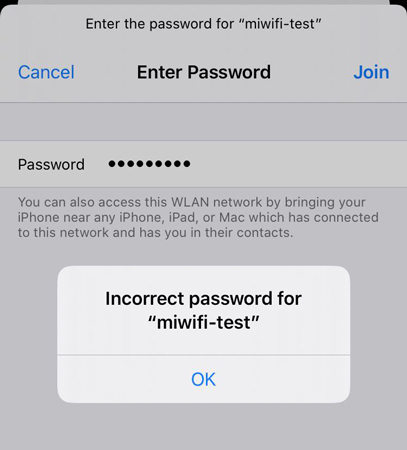 With the revolution of technology, one cannot keep itself away from internet. Disconnected from wi-fi feels like disconnect from the world. Incorrect password wifi not only happens with iPhone 5 users but also to latest iPhone users as well. This issue is not with your device but it could be in your iOS version. Most of the users got this issue after upgrading their iOS version. If you are also facing same issue dint you worry, we got it all covered. We will guide you through this issue.
Part 1: Why iPhone or iPad Keeps Saying Incorrect Password When Joining Wi-Fi
As stated earlier that this error occurs due to iOS version upgrade. Before jumping to any solution, you should consider these two situations:
Check Wi-Fi Password see if it has been changed
This situation may also occur when one of your family members changes wi-fi password. Your device recognizes the wi-fi but when it comes to authentication of password it matches old password with new one and don't connect. Ask your family members whether or no they changed the password. If yes forget the wi-fi from your iPhone and reconnect by entering new password.
Check Wi-Fi Password see if type the wrong password
It might sound weird but you should ask yourself this question: "Whether you entered right password?". Sometimes we may mistype the password or entering the password which is not for the wi-fi. In order to check that while typing password an eye appears in the right corner of box. If you tap on that eye it will show you the typed password rather than black dots. Now you can recheck your password and authenticate it.
Part 2: 7 Free Ways to Fix iPhone or iPad Incorrect Wi-Fi Password Issue
If none had changed the password and you ae typing the correct password then you should go for fixing the issue yourself. These are troubleshooting techniques that you should try before consulting any of Apple's representatives. Here are the troubleshooting techniques with their procedures.
Way 1: Forget Wi-Fi network and retype password
First thing is to forget your wi-fi. For that:
Go to Settings and then tap Wi-fi.
Now tap (i) info button in front of your wi-fi.
Now you will see "Forget this network", tap on it.
Once you forget it you should try to reconnect it, this time it will not auto-reconnect but it will ask you to enter the password. Enter the password you remember and enjoy using internet.
Way 2: Disable Wi-Fi networking services
You should try to disable your wi-fi for some time and then enable it. It will be like restarting your network service. For that:
Launch Setting.
Open Wi-fi.
Toggle the button to OFF.
After some time repeat the above process but this time you should toggle the button towards ON.
Way 3: Check Wi-Fi Blacklist
Check whether or not you wi-fi are in black list. If you wi-fi are in black list you should remove it from there and start using it.
Way 4: Reset the Wi-Fi Password
For this you should go to your router setting and will be needing login credentials. After changing you wi-fi password you should forget wi-fi from your device and reconnect it with new password.
Way 5: Change security option in router wireless control
You can change your router's security option to open rather than password protected. After that anyone can connect to your wi-fi anytime.
Way 6: Force Restart iPhone
If restarting your iPhone doesn't resolve your problem you can go for force restart. After force restart you issue might get resolved.
Way 7: Factory Reset Your iPhone (iOS 9 or below user)
If none you the above solution resolves your problem, lastly you should go for factory reset. This will take back all the settings of your phone to the factory setting. Before doing that be sure to take backup of your data as there is a chance of losing data.
Extra Tips: How to Avoid Forgetting Passwords on iPhone or iPad
If you have lost your iPhone wi-fi password and want to recover it with 100% success rate PassFab iOS Password Manager is your tool. With this tool, recovering lost password is not a big deal. It is secured and easy to access software. Not only wi-fi password or login details but you can even recover your Screen Time Passcode through PassFab iOS Password Manager. Here is a detailed guide about the usage of PassFab iOS Password Manager:
Step 1:

After downloading PassFab iOS Manager, install the program.

Step 2:

Connect your Apple device for which password has to be recovered and execute the program.

Step 3:

A pop-up will be shown to your device, select "Trust" button and continue.

Step 4:

After your device is detected by the program click "Start Scan" button.

Step 5:

If you have set a backup password, program will ask for it.

Step 6:

After verifying your backup password scan will start. It will take time depending upon the complexity of your password.

Step 7:

After successful scan a list of all the password attached with your account will be listed. On the left navigation bar all these passwords will be combined into groups. You can select anyone of it to view the password.
Summary
Now "incorrect wi-fi password" should not be a problem to you. With above solutions you can resolve this issue and if you have forgot your wi-fi password you can get help from PassFab iOS Password Manager to recover your password and reconnect with the world again. Help your friends with iPhone to resolve their issues as well.