These days everyone is looking for free Wi-Fi. Almost with certainty, most of the population is addicted to Internet and Social media and if you get free Wi-Fi with that, it would be like "an ice-cream with a cherry on top". Mostly if people get free Wi-Fi anywhere they don't have to pay for the internet usage. So free Wi-Fi networks are in demand otherwise users would have to use the data on their portable devices, which will cost them. Here are some ways by which you can free Wi-Fi.
Way 1: Share Your Smartphone's Internet Connection
If you own a smartphone and enabled mobile data then you can turn that mobile into a mobile Wi-Fi Hotspot. From there you can share the 3G or 4G connection to other devices. But the procedure to share free Wi-Fi hotspot from your mobile will vary, depending on the type of device you are using.
For Android Users
It is very easy to make your Android device a Hotspot.
Step 1: Open your Android device and go to Settings.
Step 2: Then, go to "Wireless & Network" and tap on "More" option.
Step 3: There you will find the option called "Tethering & portable Hotspot".
Step 4: Now, tap on "Set up Wi-Fi Hotspot". And you also have to type a name for it and choose a password and then click "Save".
Step 5: Lastly, activate "Portable Wi-Fi Hotspot" option.
For iOS Users
Setting up an iOS device as a Hotspot is different but it is also easy.
Step 1: Open your iOS device and run the Settings app.
Step 2: Tap on "Cellular" and then tap on "Personal Hotspot". A slider will appear, swipe it to turn it on.
Step 3: You can use the Wi-Fi Password option to change the Hotspot's passcode.
The password is very important for mobile Hotspots. Intrusion can happen at any moment! So, be sure to protect your mobile with a very strong alphanumeric password that consists of numbers, letters and special characters.
Way 2: Visit Popular Wi-Fi Hotspot Locations
There are a few places you can visit where you can get free Wi-Fi hotspot. So, if you are thinking of how to get free Wi-Fi then you should visit these places and use their network for free. Or better you can move into apartments in nearby locations then you will get free Wi-Fi at your home also.
You can visit like certain Hotels, bus-stands, cafeterias, stations, McDonald's, Starbucks, Libraries, public plaza etc.
Way 3: Use a Hotspot Database
Another thing you can use to look for available Hotspots all over city, it is called a Hotspot Database. There is too much demand for hotspots, so there are apps dedicated only to find the suitable hotspots for you. These apps come with a huge list of hotspots that cover the entire world. Not all of them are free of course, there are a few that are not available for public use or you just have to pay to use them. There are more than a few apps available but you can use the following; Wifi Mapper and Wiman.
Way 4: Buy A Portable Router
A portable router is also a way to make your Wi-Fi free. The Portable Routers or the Travel Routers are available everywhere, they are just slightly different from the regular routers. They are not connected to the Internet through a cable like other routers; instead, there is a slot for a SIM card. It will allow you to connect to the 3G or 4G network, across the whole world. Once they are connected you will be able to create a Wi-Fi network for all your devices.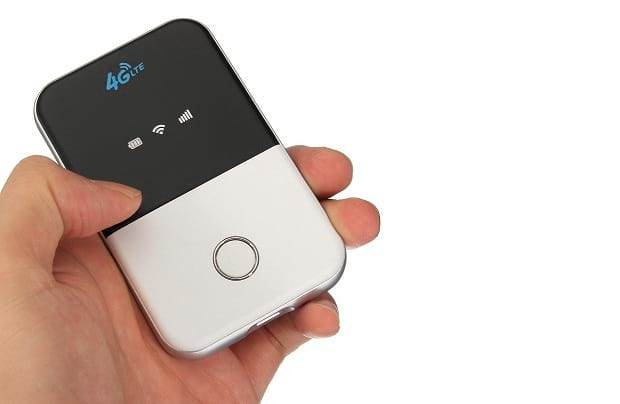 The best part of owning a Portable Router is that they are not very expensive and a fully charged portable router lasts the whole day. So, if you want to buy one then just figure out how many connections it supports and its speed.
Way 5: Look for Hidden Wi-Fi Networks
The Wi-Fi networks are identified with their Service Set Identifiers or SSIDs. It is very easy to hide a network by working a bit with SSIDs. So, the network will be completely hidden and it will be visible on any of the Wi-Fi activated devices.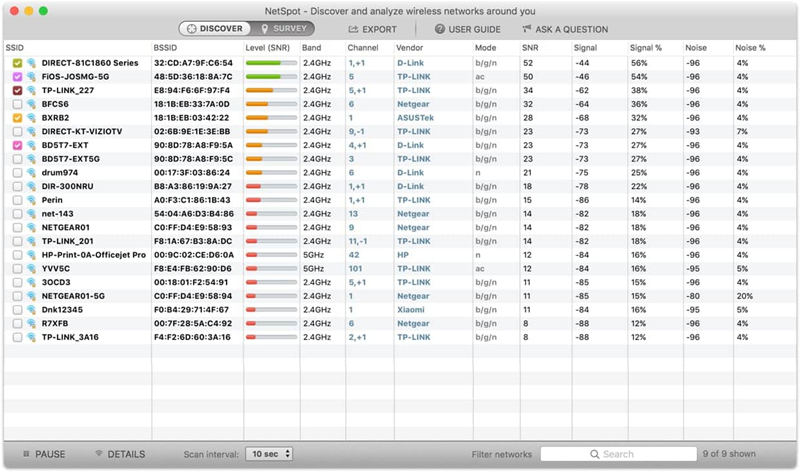 But there is a way to discover the hidden Wi-Fi networks. You have to use programs like a Wi-Fi Analyzer. You can use NetSpot, it is a good program as well.
Step 1: Launch NetSpot and then turn on the "Discover Mode".
Step 2: Then, you just have to wait for the scan to begin and it will discover all the hidden networks nearby.
Way 6: Get Wi-Fi from Your Cable Company
These days you can subscribe Cable Internet at your home. Not a lot of people realize this but it is possible and then you will have free access to all the Wi-Fi Hotspots they are providing, all around the town. It may get even better if you live in a big city, you may get access to Hotspots that is provided by other providers.
So, if you want to look for more Hotspots then visit the website of your Cable Internet provider for the map of nearest Hotspots, if they have any mobile apps available download, and then select the Wi-Fi Hotspot that is suitable to you. 
Way 7: Use Facebook "Find Wi-Fi"
There is even a free Wi-Fi app provided by Facebook. You just have to open the Facebook app on your device and tap on "More" and then open "Find Wi-Fi". You need to make sure that you have downloaded the app and installed it. This app works on booth Android and iOS devices.
This app is designed to help you to find free sources of Wi-Fi in nearby places if they are available. You can select from the Businesses from your local area and you will see their opening hours with their network names. Although, you may not see all the businesses in your area, this is a very useful feature for users.
Way 8: Join Community
There are online communities available where you can opt for crowd-sourced Wi-Fi connections. Both the connections and the password are compiled inside a single platform. Instabridge is one such community that you can go for. There is a free app available for the same at App Store and at Google Play Store as well.
Way 9: By Mac Spoofing
With the help of Mac address or simply or Media Access Control address you can get serious privacy benefits and even unlimited free Wi-Fi as well. You can use free Wi-Fi by simply spoofing the Mac address on your smartphone.
Way 10: By Asking For It
Finally, if all else fails you can just ask for the network password. It is probably the easiest way to get hold of a free Wi-Fi. Most networks are secured with a passcode, so if you can ask for it politely, the owner may give you the network. At least, you can give it a try!
Bonus Tips: How to Get Wi-Fi Password on iPhone iPad
Well, that was all about getting free Wi-Fi but if you do have your own network then you should probably use a password to stop being used by other people. But the Wi-Fi password are forgotten by most of its users due to the fact that, they stay unused after the router is connected to the internet and no one cares about it. But you may possibly need it someday but it will be impossible for you remember something that you set like 1 or 2 years ago.
So, you will need a fast and smart solution. Finding the lost Wi-Fi password is considerably difficult compared to other devices. You can be sure that the device definitely save the password but manually looking for it will be very difficult and frustrating. So, you can use a professional password finder tool like PassFab iOS Password Manager. It is fast and effective.
Step 1: Download PassFab iOS Password Manager program on the computer and install it.
Step 2: Then, run it and connect the iPhone or iPad to the computer.
Step 3: The device will be detected immediately. Afterward you need to click "Start Scan".
Step 4: Now, the complete scan swill take a few minutes. You can follow the progression bar on screen.
Step 5: The scan will provide a provide all of your account details and the password on the screen.
Step 6: Now, you just have to select the password and click "Export" and it will be forwarded to 1Password, Chrome, Dashlane or .csv files.
This is the most efficient way to look for the lost password on any iOS device.
Summary
The article mainly focuses on the ways to get available free Wi-Fi connection. In this year, there are a lot of places, even in your local areas covered with Wi-Fi connections. All you have to do is find them and connect your device to it if they are free or accessible. If there is a possibility that you may not get any available then you can get one for you through the cable internet providers or by purchasing a portable router. And if you have lost your Wi-Fi password for your iOS device then use PassFab iOS Password Manager, thie best iOS Wi-Fi password finder to recover that lost password. It is an exceptional password finder program. Go for it!