It is very frustrating when your Windows computer is unable to boot properly. Let us assure you that you are not the only one who has faced this problem. Although Windows 10 is one of the best OS in the market, you can still face some issues from time to time.
But if you have a Windows 10 system repair disk, it could get rid of all your problems. As the name says, it is designed to repair the system. If you want to know more about the system repair disc, read the article below.
Part 1. What Can Windows 10 System Repair Disc Do?
The Windows System Repair Disc was introduced with the launch of Windows 7. It is Microsoft's way of giving the users a way to get rid of system issues. This disc comes with troubleshooting elements and even restoring the system from a backup, which has to be created beforehand.
Part 2. How to Create A System Repair Disk in Windows 10?
These days all the users know about system repair disc Windows 10. It is the most efficient way to repair the system and restore the system as well.
Although, there are 3rd party programs available that can help you to create system repair disk Windows 10; but you should also know about the default way to do it using built-in tools.
Step 1: Insert a CD/DVD in a computer running on Windows 10.
Step 2: Then, navigate to 'Control Panel' and click on 'Backup and Restore'.
Step 3: Click on 'Create a System Repair Disc'.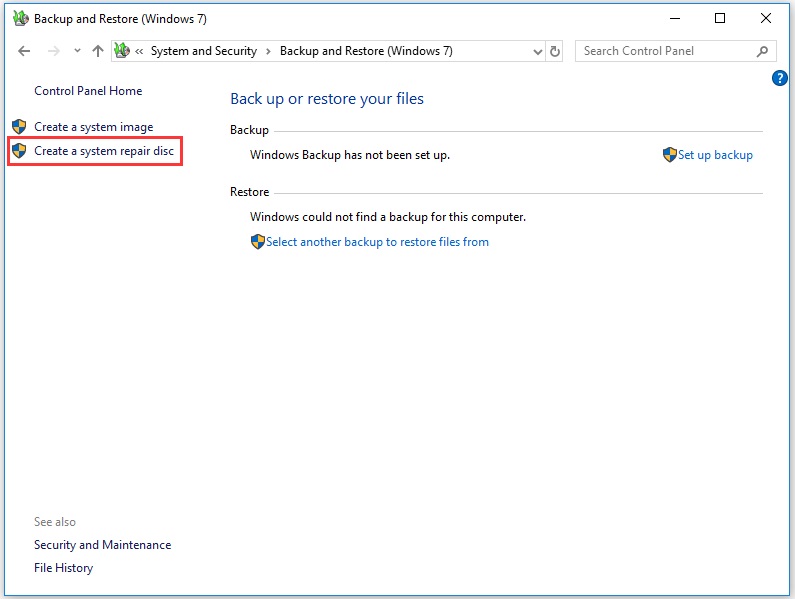 Step 4: Now, you have to choose the inserted blank disc and click on 'Create Disc'. Just wait, while Windows burns the System Repair Disc on to the inserted disc. After the procedure is finished, you will be notified.
Part 3. Difference Between System Repair Disc and Recovery Drive
There is a big difference between Windows 10 repair disc and Windows 10 Recovery Drive. Most importantly, they have a different purpose. So, if you have created Recovery Drive instead of System Repair Disc, you could face problems. So, let's figure out the difference between the two.
Windows 10 Repair Disc
The System Repair Disc was first introduced with Windows 7. Quite simply, it is a bootable CD/DVD that contains all the troubleshooting tools for Windows OS.
This disc can be used if your computer is having trouble to boot properly. This disc will also allow the user to restore the Windows system from the system image, which was created previously. It is a tool to fix your computer from any appearing issues.
Windows 10 Recovery Drive
The Recovery Drive was introduced with Windows 8. This enables you to create a bootable USB drive that contains the same troubleshooting elements as Repair Disc. Additionally, the Recovery Drive will allow you to bring the system back to its factory default status.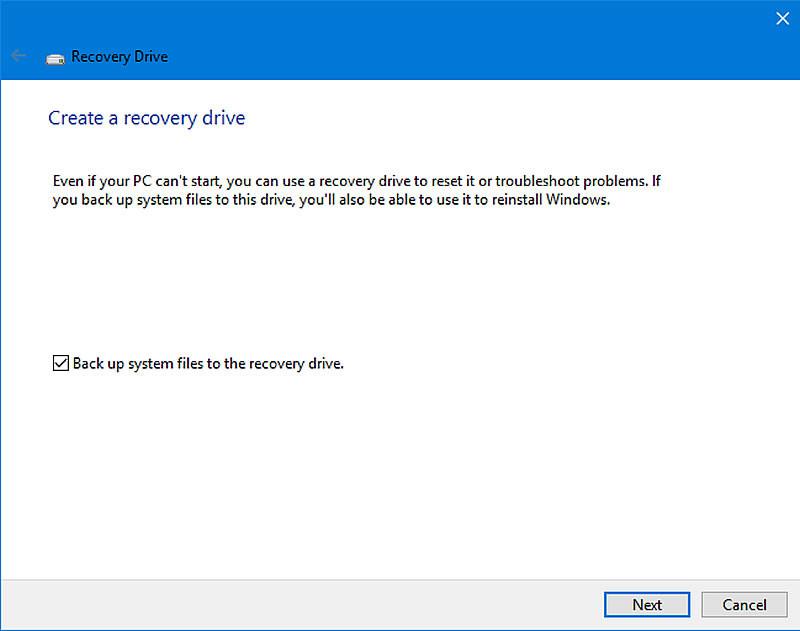 Other Tips: How to Create Bootable Windows 10 Password Reset Disk
In this part, we will learn to create a bootable password reset disk for Windows 10. It is a very simple procedure, but it requires the use of professional software. A simple internet search will reveal several potential programs, but we are recommending PassFab 4WinKey. We have considered a few options, but we found PassFab 4WinKey to be the best suited for this task. It is the fastest and the most effective way to create a bootable password reset for Windows 10.
As we have said, the steps are pretty simple. Let's check them out.
01 Download and install the program on a computer and then run it. On the interface, choose USB as the boot media.

02 Then connect a USB drive. The drive will be formatted and all the contents will disappear. Click "Next" and continue.

03 Now, you just have to wait for a few seconds. The program will start burning bootable disc immediately.
Conclusion
Therefore, there is a significant difference between the repair disc and the recovery drive on Windows 10. If you have any confusion, read the article. We have cleared it out. A system repair disc is very useful, and you can easily create one using the built-in tools on Windows 10. The procedure is elaborated in the article. Check it out. But if you are looking to create a bootable password reset disc, then PassFab 4WinKey is the best and fastest option.