Forgetting password of your laptop is a very troublesome situation. There is a constant fear of losing your files that has significance. People may forget their password due to many reasons and your laptop might get locked due to numerous factors. You might know the password to the guest account but forgot the password to the Administrator account. Hence, people get worried when it comes to Dell laptop password reset windows 10. In order to help you out of this situation, today we have bought some solutions that can help you reset dell admin password on Windows 10.
Part 1. Reset Dell Laptop Password on Windows 10 for Free
Below are some free solutions that can helpto factory reset dell laptopwindows 10 without password.
Solution 1: Reset Dell Windows 10 Laptop Password with Password Reset Disk
This is the easiest way for dell password reset windows 10. But the only condition here is that you must have created a password reset disk beforehand. If you have the password reset disk, then all you need to do is just insert the disk in your Dell laptopand reset the password by tapping "Reset Password" link. This link appears at the time of entering the password below the empty box, where you need to enter the password. In this way, you will know how to reset password on dell laptopwindows 10.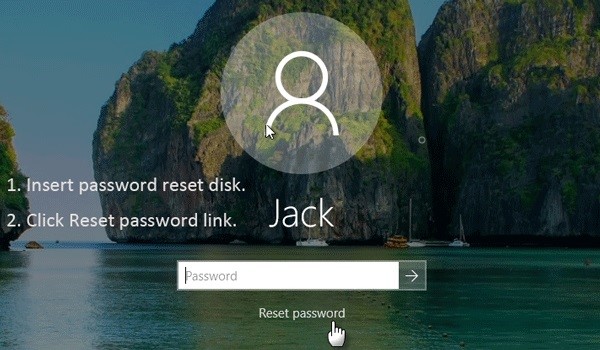 If you do not have the password reset disk, do not worry! We have some handful of more solutions that will helpyou reset dell password without disk.
Solution 2: Reset Dell Windows 10 LaptopPassword by Security Questions
Security questions are asked by the operating system to the users at the time of setting the password for the first time. The system also asks you to enter the answer to the security question.
In case if you ever forget your password, always opt for security question. When you put a wrong password, you will get a notification on the login screen stating "The password is incorrect. Try again." All you need to do is click"OK"below that notification so that a "Reset password" link will appear below the Password box.
Now tapon that link so that your security questions will be shown on the screen. Give the correct answers to the questions so that you can reset your password for your Dell laptopon Windows 10.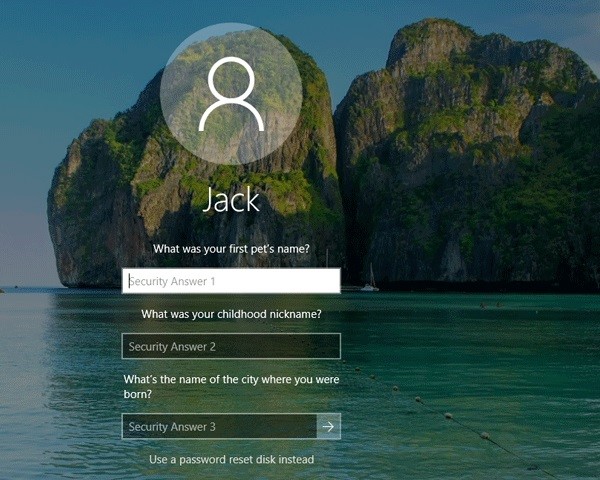 Part 2: Reset Dell Laptop Password With PassFab 4WinKey
Most of the times, people forgot to set upa password reset disk. In addition to this, users also miss out to add a security question. This can lead to a tense situation where you are out of options to reset the password for your Dell laptop. Hence, if you are one of such users, then all you need to use is PassFab 4WinKey.
PassFab 4WinKey is a tool that can helpyou get reset dell account password with no time and too very easily. The software can effortlessly recover any account password on Windows OS within on time. In addition to this, users do not require to reinstall or reformat the system. This is a win-win situation for all.
In order to reset your Dell laptoppassword, here are the steps that you need to follow.
Create Windows Password Reset CD/DVD
Step 1: In order for your dell password reset disk windows 10, launch the software on a device and choose a boot media (CD/DVD or USB Flash Drive).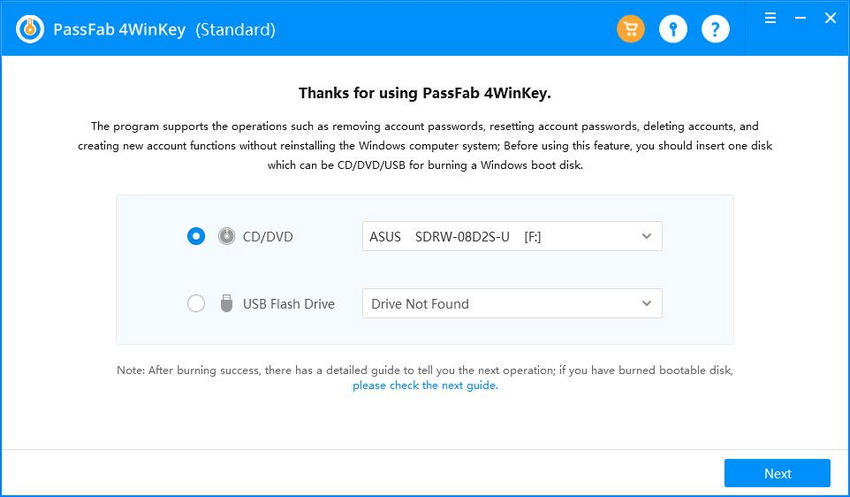 Ste p2: Select"Burn"to begin the burning process of the boot disk. While doing so, the tool will notify you that all the data in the CD/DVD will formatted.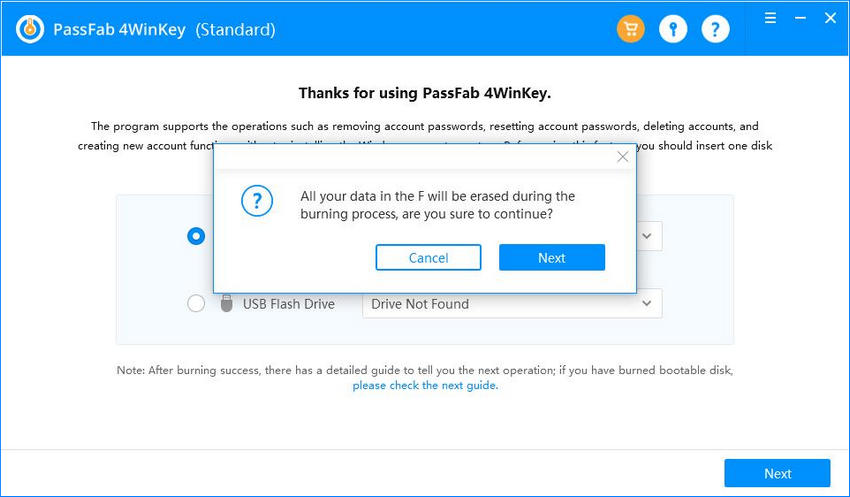 Step 3: Click"Yes"to start the process. After the process ends, your CD/DVD will be burned.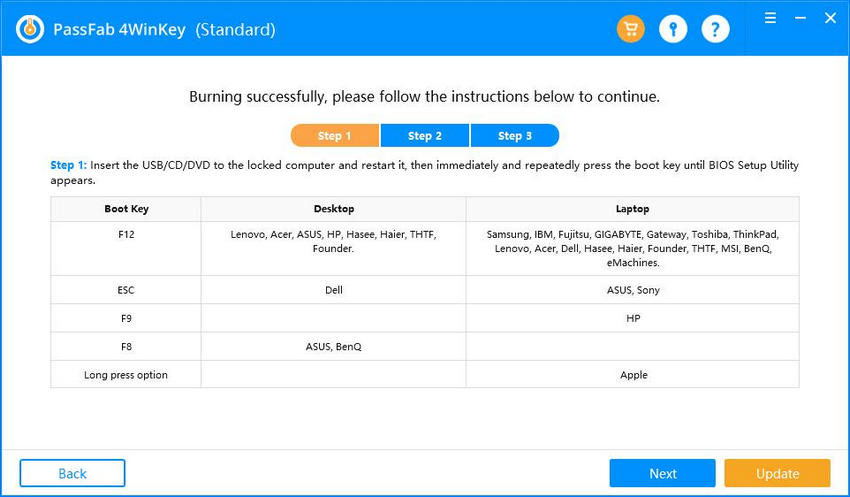 Boot Windows from CD/DVD
Step 1: Insert the burnt CD/DVD in your Dell laptopwhose password you wish to reset. Restart the Dell laptopand press F12 key to enter the Boot Menu Interface.
Step 2: From the list of boot choices, select the CD/DVD that you have entered in the laptopto reset the password and click enter.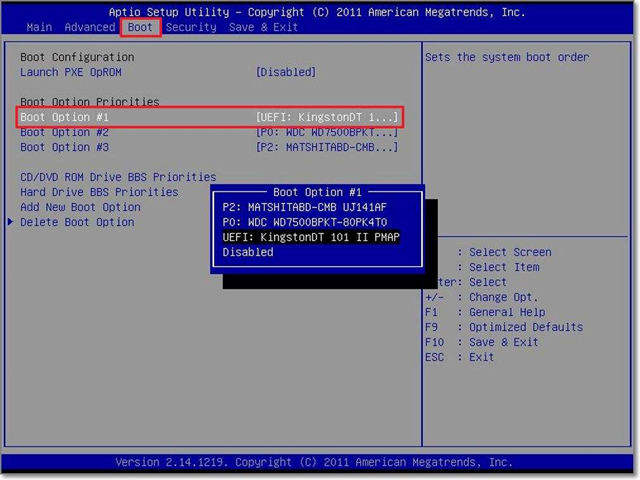 Reset/Remove Windows Login Password
Step 1: After you click enter, a different interface will appear. Select your OS and click"Next."Select the User Account on the next screen.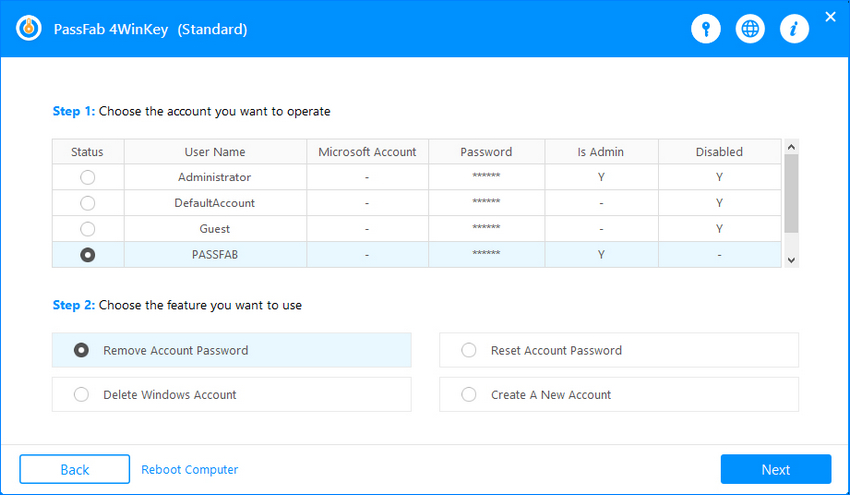 Step 2: After you have selected the account, all you need to do is click Next and you password is reset to blank within no time.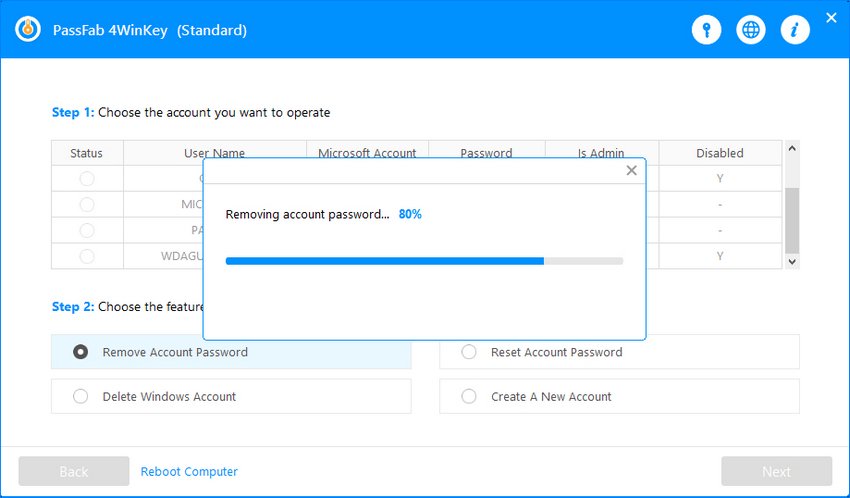 Step 3: On the next screen, select Reboot to restart your computer and set a new password.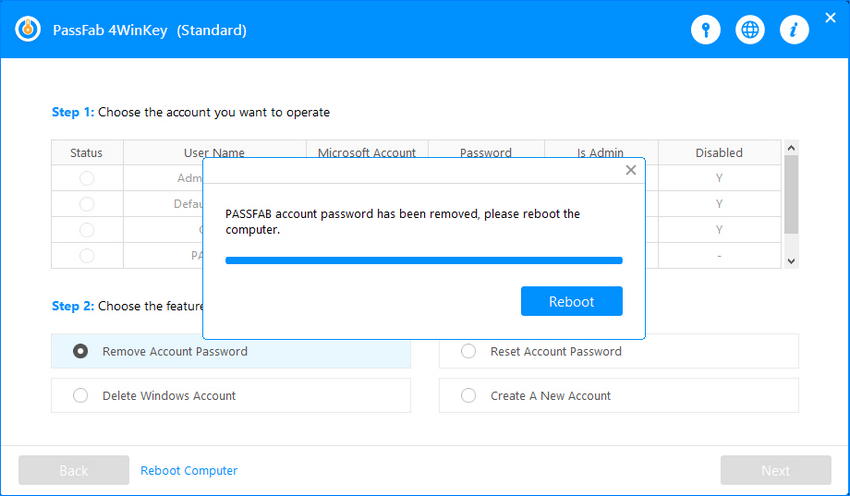 You can watch this video guide about how to reset Dell laptop password step by step:
Summary
Seeing the big picture here, you just had a look on top 3 ways to reset dell no password. And it is clearly evident that using PassFab 4WinKey is the best and easiest method to use. Using this tool will allow you to reset your password easily.